Young children need many opportunities to develop their vision and hand-eye coordination. Here is a collection of our personal household favorites of fine motor activities for kids.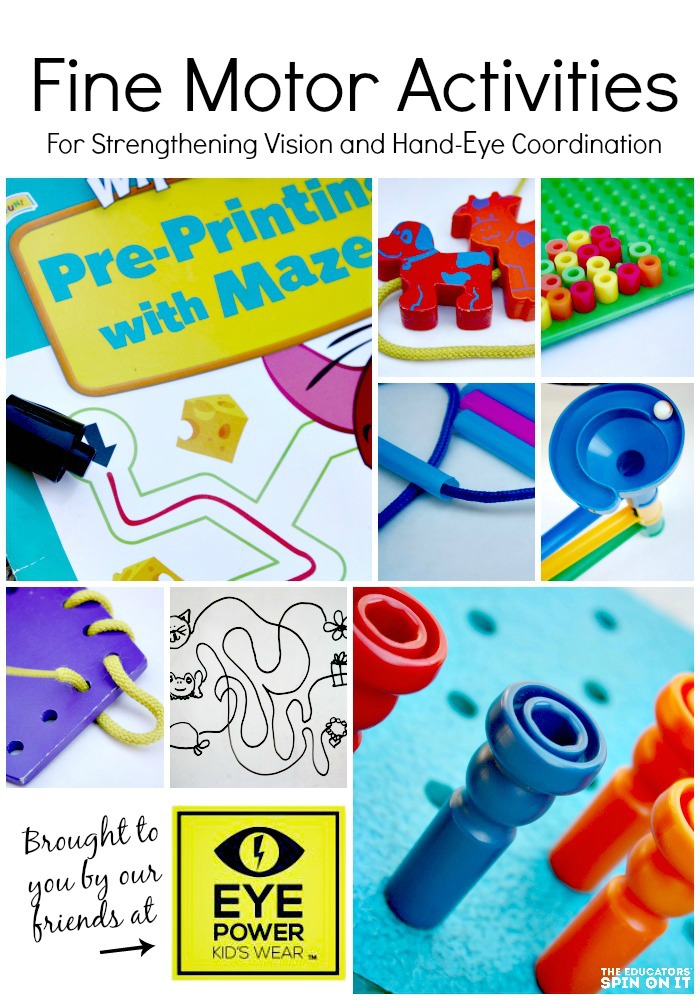 This post has been brought to you by our friends at EYE POWER Kid's Wear!
We try to do at least one activity each day that includes fine motor practice.
These activities are also fantastic ideas to do if you have a little one wearing an eye patch that needs to strengthen their vision, which is why I started doing these daily with all of my kids.
Activities for Developing Fine Motor and Vision:
Peg Boards: This top is great for stacking, sorting and organizing. The best is that they are chunky pegs that need kids to put
My kids LOVE Mazes. Getting the Write-On, Wipe-Off has been the best choice in our household as it has lasted several years and many uses.
DIY White Board Mazes. You don't need a fancy store made book for this activity, just a dry-erase marker and a white board. I draw 2-3 items on one side and the same amount on the other, then I draw lines to the other side in varying difficulties. My kids then have trace the lines to figure out what the kitty likes.
Wooden Beads: We started off with large wooden beads around 2 years old with adult supervision. As my kids fine motor skills improved, we moved to smaller beads.
Melty Beads: As my kids fine-motor improved, we began trying the melty beads. These are really challenging and although my 4 year old is able to do them, my daughter with poor vision still struggles with them at age 7 1/2. We do this in small time frames with great lighting. When she is tired, we stop as I want our vision strengthening time to be challenging, but not a chore.
Stringing Straws: Straws are a great manipulative to string or put on pipe-cleaners.
Lacing Cards: Lacing Cards fit nicely into diaper bags and require fine motor and visual concentration. the pattern of pushing the thread up and down encourages repetition.
Scatterpillar Scramble: In this game, a caterpillar dances and kids remove or stack little balls with their set of tweezers. The dancing is really challenging, so we play it without the movement.
Playing Basketball: Sometimes we use our outside kids basketball hoop, but other times, we just throw a ball into a clothes basket. Either way is fun and can be visually challenging.
Cheerios on Spaghetti (A Fine motor activity): You can work on that pincer grip with a little fun with cereal and dried pasta.
Marble Runs: I think this is my kids ultimate favorite activity. They really enjoy building the run and watching the marble go back and forth again and again and again.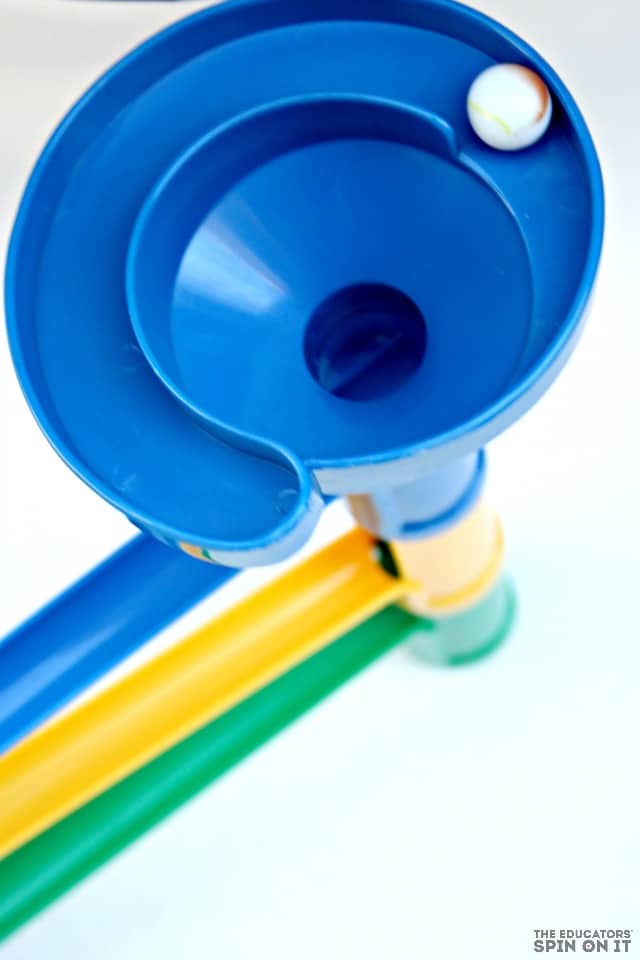 Jessica, from Eye Power Kids Wear is an extremely TALENTED artist who designed our new logos! THANK YOU THANK YOU THANK YOU!!!! We just adore her clothing line that celebrates little ones in glasses and patching.
Her newest design showcases the alphabet in BRAILLE! Each letter has raised dots next to it so that children can "feel" the t-shirt design as well. I bought one for my son the first week it was released and am extreemly happy with how it has held up to washing.
My daughter who is the one with glasses refuses to wear any t-shirts because of their textures, otherwise I would have gotten one for her too!. We have received so many positive compliments on it every time we wear it. I love it because it combines the letters with vision impairment awareness. Even if you don't have a little one in glasses, this t-shirt is STILL A must-buy!
Stop by the store today to see all of her amazing designs
Eye Power Kids Wear creates fun clothing for young kids who wear glasses, contacts, eye patches or have visual impairments. We want to make wearing glasses cool and eye patching fun! Inspired by their son who was born with congenital cataracts, they are on a mission to turn kids into superheroes one shirt at a time.
You may also enjoy these activities with your child…
Save