Start early learning with the best toys for learning the alphabet! Our top picks of alphabet toys for kids to encourage your child to learn the letters of the alphabet.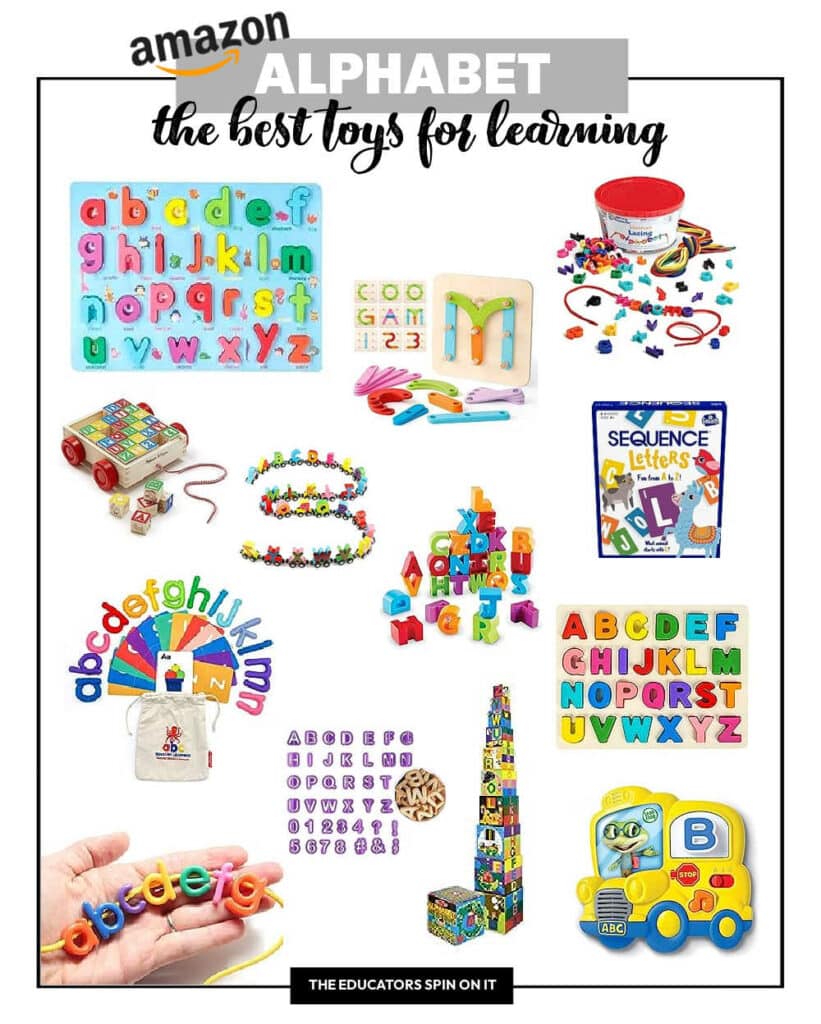 The best alphabet toys encourage your child to learn letters and their sounds. These alphabet toys encourage phonemic awareness and prompt your child to match the beginning sounds of words to the right letter.
Disclosure: This post contains Amazon affiliate links. As an Amazon Associate I earn from qualifying purchases.
Best Toys for Learning the Alphabet
Helping your child learn to identify uppercase and lower letters of the alphabet is a big focus for your child's preschool years.
The best time to start teaching your child the alphabet is when they are ready. There is no one-size-fits-all answer to this question, as every child develops at their own pace. However, most children are ready to start learning the alphabet between the ages of 3 and 5.
There are a few things you can do to help your child learn the alphabet:
Sing alphabet songs and rhymes.
Point out letters in the environment, such as on signs, in books, and on packaging.
Play alphabet games, such as matching letters and objects or sorting letters by shape.
Read to your child often.
There are so many options available for toys and books to buy for kids that include the alphabet. I put together this Amazon List of my top picks of items to keep at home to teach your child the letters of the alphabet. They are what I used in my Kindergarten classroom and with all 3 of my kids at home.
I've hand-picked for you alphabet toys that include magnetic letters, puzzles, stamps, blocks, games, bath toys, and more.
Here are some of my favorite toys to help teach your child to identify uppercase and lowercase letters and letter sounds.
192 Pcs Magnetic Letters and Numbers 9 Colors
LeapFrog Fridge Phonics Magnetic Letter Set
Montessori Felt Letters and ABC Flash Card
Alphabet Puzzle Wooden Puzzles
TOWO Wooden Alphabet Number Blocks – Threading Beads 46 Pieces
Learning Resources Letter Blocks
Coogam Wooden Letter Number Construction Puzzle
Wooden Lacing Toy Alphabet and Number
Uppercase Alphabet Lacing Beads
Learning Resources Lowercase Lacing Letters – 275 Pieces
Lowercase Alphabet Lacing Beads Busy Bag
Puzzle Foam Play Mat Interlocking with Alphabet and Numbers
Munchkin® Learn™ Bath Letters and Numbers 36pc
Bath Toy Sets, 36 Foam Bath Letters and Numbers
MEGA BLOKS ABC Blocks Musical Train with 50 Pieces
Melissa & Doug Classic ABC Wooden Block Cart
30 pcs Foam Alphabet Blocks with Storage Bag
Melissa & Doug Deluxe 10-Piece Alphabet Nesting and Stacking Blocks
SEQUENCE Letters Fun from A to Z
2 Sets Alphabet Scratch Board Alphabet Toys
See & Spell Learning Educational Toy
Wondertoys 27 PCS Wooden Alphabet Train
Cute Animal Alphabet ABC Magnets for Fridge
Melissa & Doug Deluxe Letters and Numbers Wooden Stamp Set ABCs 123
Coogam Wooden Letters Practicing Board
Montessori Letter Tracing Alphabet Learning Toy
Wooden Alphabet Puzzles for Kids
Melissa & Doug Alphabet Express Jumbo Jigsaw Floor Puzzle
Go Fish Classic Alphabet Card Game
Learning Resources Alphabet Puzzle Cards
Coogam Letters Matching Eggs 26PCS
Coogam Magnetic Letters 208 Pcs with Magnetic Board and Storage Box
My favorites for learning letter sounds are the Leap Frog Phonics Letter Set and the Leapfrog Letter Factory DVD. They traveled in the car with us a lot. I'm pretty sure these are a big part of the reason my kids became early readers. Trust me, they are that good.
Here are some of my favorite alphabet books for kids, take a look!
FUN FACT: Did you know that the order in which you teach letter sounds to kids is important? It is recommended to teach the most common sounds first, such as m, s, a, t, p, and i. This will help kids learn to read and write more quickly.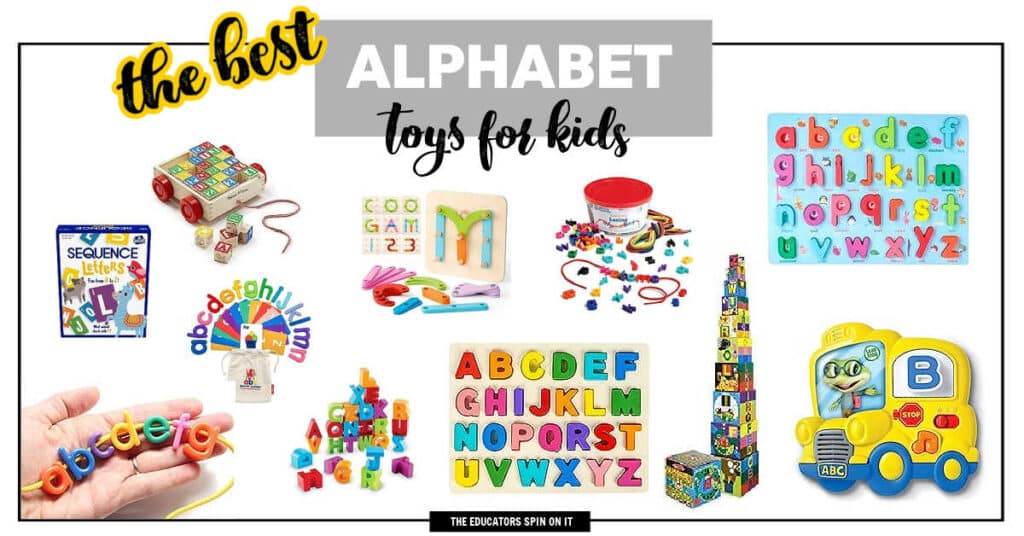 Alphabet Activities for Kids
Once you've selected for favorite alphabet here are some of recommendations for alphabet activities for your child to make and play.