Since it was Valentine's Day last week we worked on making cards for our Family members.  To encourage my Bilingual Babies to use Hindi I had my daughter create her cards with the family members names in Hindi.
As a fun activity we created our own spin of a Family Book based off of Brown Bear, Brown Bear by Eric Carle  from Playing with Words 365 into a Hindi Book For them to read.  You can create your own too with the language you're working on with your child.
I had my daughter assemble the book with me by finding simliar words and then glueing on the family member pictures.  Then I had her write the name as well into the book with her own Hindi handwriting.  We had to use this little cheat sheet I created, it goes at the end of our book to help us out if we ever need to look something up.  I'll be posting a printable version for you to use on Teacher's Notebook next week along with our Brown Bear, Brown Bear version in Hindi.
Here's a printable you can use to Make your Own Family Book.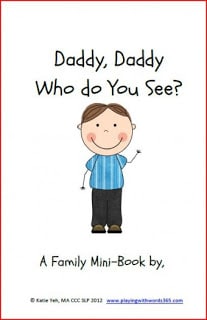 Daddy Daddy Who Do You See? from Playing with Words 365 
We also created a Family Book for my littlest on using this inspiration from our
Pinterest Board
.  All you do is add Family Pictures and Names onto a Board Book that maybe isnt' your favorite book or that you got from a restaurant.
Picture Book by Chef Messy
Have fun learning family names in another language!