Sometimes changing a diaper can mean a lot more to your baby than you think. Here are some helpful tips for bonding with your child during a diaper change.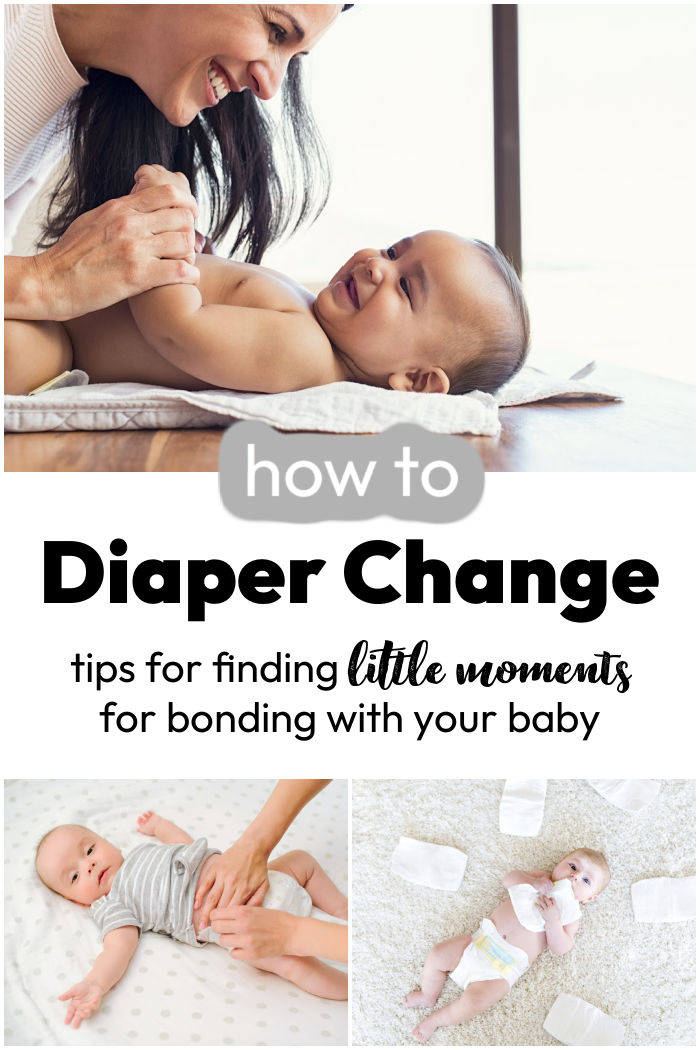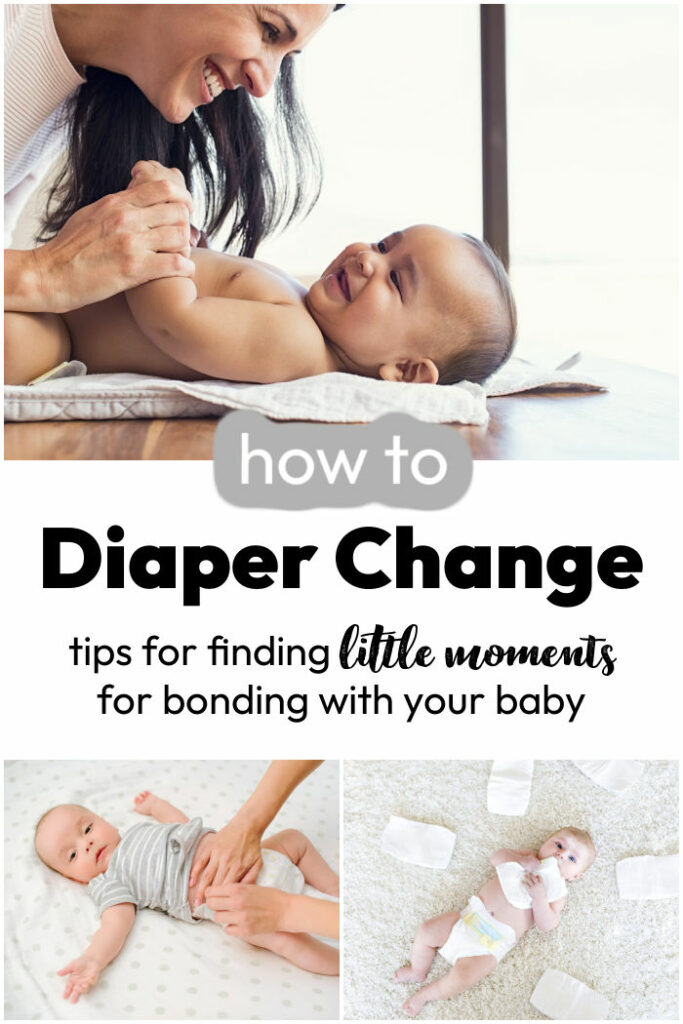 How many times do you change a diaper in your child's day? I know I've stopped counting by this point with my daughter. But here's a secret, don't tell my husband, or else it's my job forever, but I enjoy the time it takes to change my children's diapers.
I know it sounds funny but it's true and I hope you'll agree with me on why.
Quality Time with Babies During Diaper Changing
Diaper-changing times are moments throughout our day when I get to stop everything I'm doing and spend quality one of one time with my baby.
Time to Change the Diaper!
It's time to pick her up
It's time to hug her as we go to the changing table.
It's time to smile at her.
It's time to give her eye contact.
It's time to talk to her.
It's time to listen to her.
It's time to help her learn about her body.
It's time to let her observe her environment.
It's time to sing with her.
It's time to be silly!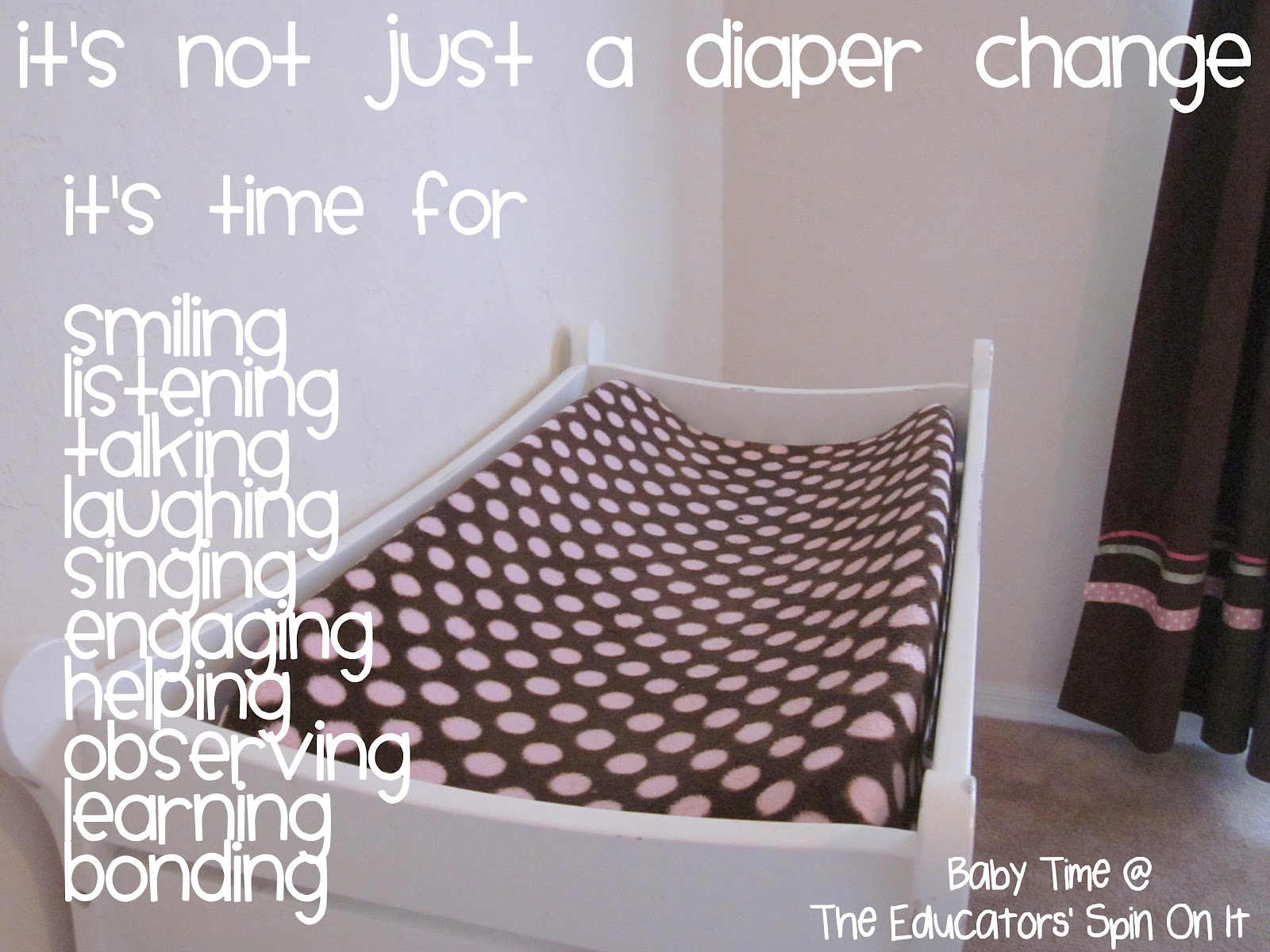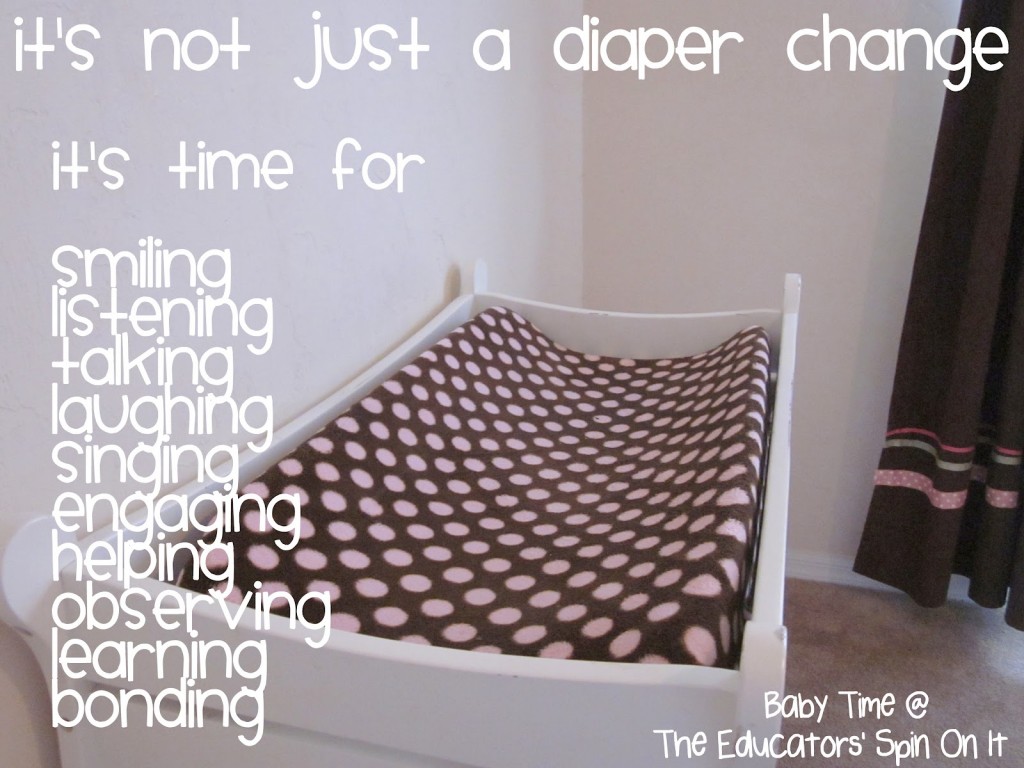 You may have never thought about it before in this way but diaper changing time for a baby is quality bonding time for you and your child. It's a time for your baby to learn self-awareness skills and social skills. It's a time for your baby to have you all to themselves.
When my middle child was a baby one of her favorite places to lay was on the changing table. I don't know if it was the way the curved mat made her feel comfortable or the room or just the feeling it gave her to lay there. If she was crying and nothing was working I'd take her to the changing table and lay her day and she was calm… it was like magic.
We'd spend time just hanging out there and smiling at each other and singing songs together for a bit and life was good again.
With my youngest child, she's a mover on the changing table. She giggles, laughs and loves to have songs sung to her while I'm changing her. Her favorite is to have me sing "Clap Clap Clap your Hands" while she claps her hands. She loves it and I love it since it keeps her hands occupied while I'm changing her diaper.
Here are some other Action Songs we like!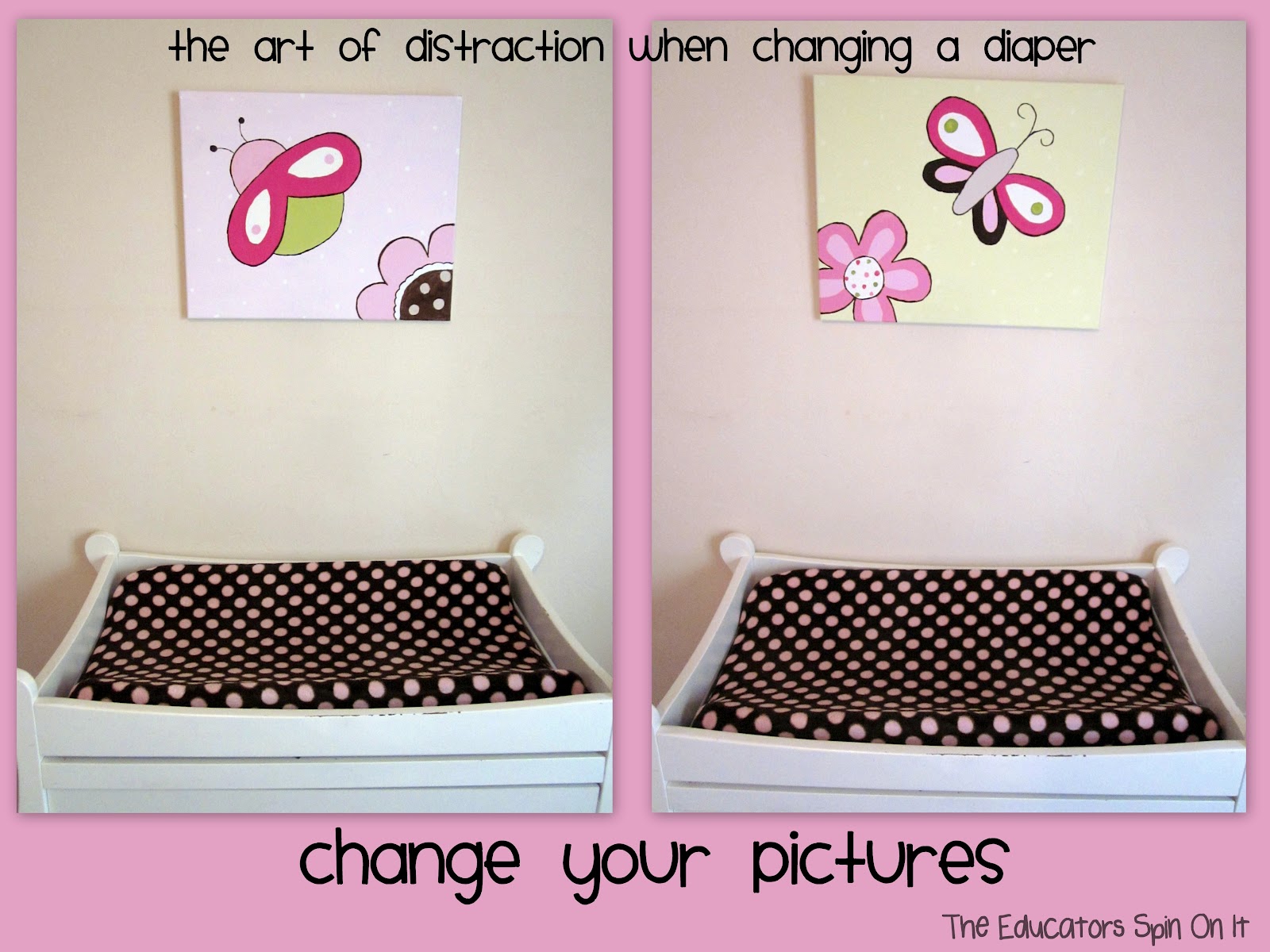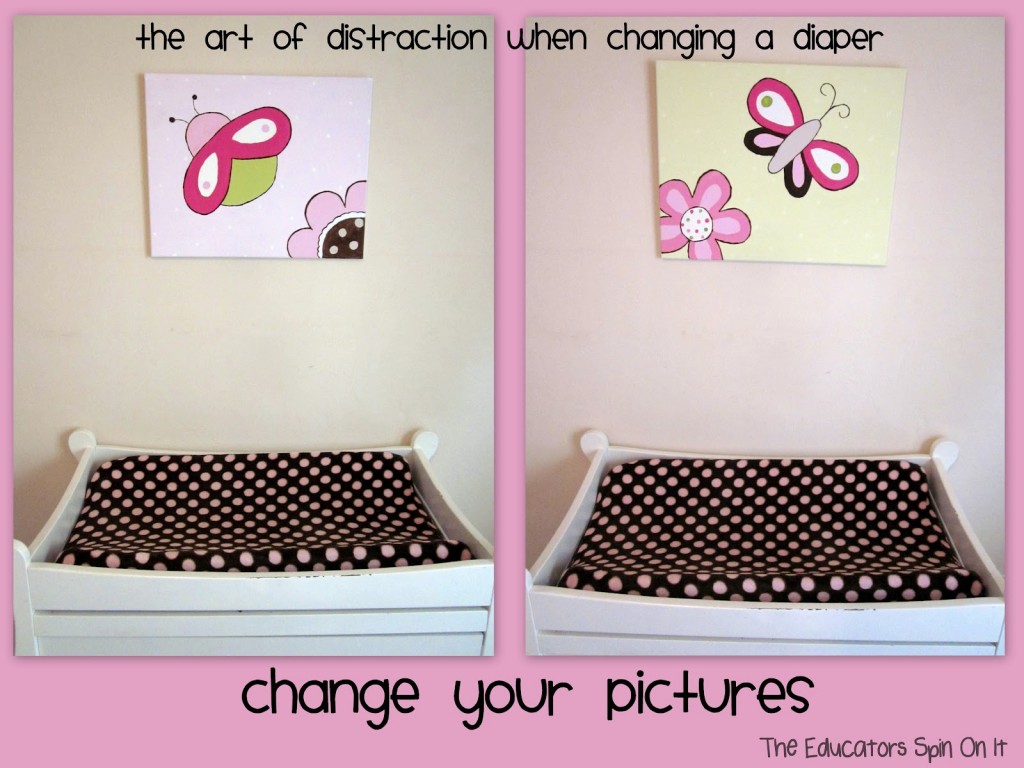 Recently one of the Moms Groups I'm a part of posted a question on our message board. How do you keep your child still to change them once they become movers?
I know we can't be the only Moms with this problem so I figured I share some of the tricks and tips I've learned over the years as a mom and a childcare provider.
Let me share with you "The Art of Distraction" while changing your baby's diaper.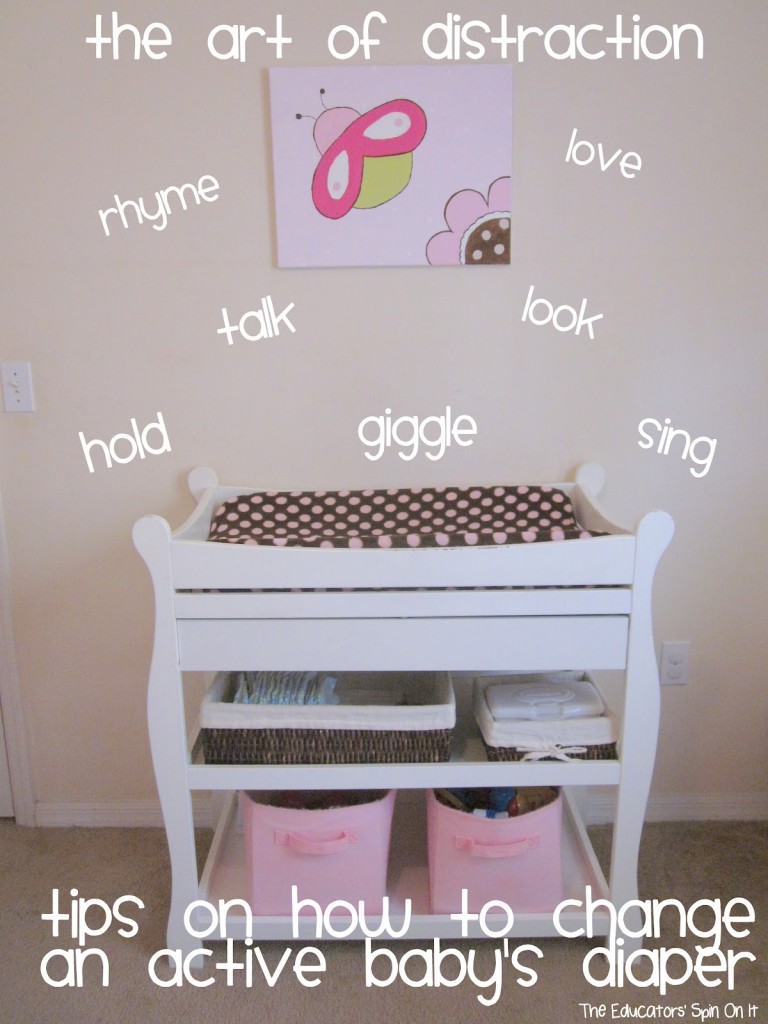 Bonding with your baby during diaper change time is a wonderful opportunity to connect with your little one.
Here are some tips to enhance the bonding experience:
Tips on How to Change an Active Baby's Diaper
Talk to your baby
Change your voice patterns to soft, slow, deep, and fast
Maintain eye contact
Lock eyes with your baby and speak to them in a soothing voice. This helps establish a strong emotional connection and lets your baby know that you are fully present.
Giggle with your baby
Play a little tickle game we count out our tickles1, 2, 3 tickle tickle tickle and then I ask do you want more before I start again
Sing to your baby
Find some special songs they love. Some of our favorites are Clap Clap Clap Your Hands, Twinkle Twinkle Little Star, The Itsy Bitsy Spider, The Wheels on the Bus, & You are my Sunshine
Tell a finger rhyme
Share a special finger rhyme with them. Some of our favorites are This Little Piggy, Round and Round the Garden, Peek a Boo
Make it a playful experience
Use playful sounds and facial expressions to entertain your baby. You can make funny noises, blow raspberries, or play peek-a-boo. Turning diaper changes into a fun game will make it an enjoyable experience for both of you.
Have something for your baby to look at
Artwork on the wall, pictures of your family or other babies, or a mirror can be fun
Have something for your baby to hold
Give them something they usually don't get to hold a photo book, a poster of babies, a special big kid toy, a spinning toothbrush, a plastic cup, a water bottle, a brush… the ideas are endless. Offer different textures and sensations for your baby to explore during diaper changes. You can use soft blankets, sensory toys, or textured wipes. This helps stimulate their senses and makes the experience more engaging.
Make it a routine
Children need structure to understand expectations
Gentle Touch
Always keep a hand on the baby as you are working as this will help to keep them safe and feel comforted… remember to never leave your child unattended on a changing table.
As you clean and diaper your baby, use gentle and loving touch. Stroke their belly, tickle their feet, or softly caress their cheeks. Touch is an essential way to establish a sense of security and comfort.
~ CLICK FOR MORE BABY TIME IDEAS ~
You know what works best for your child, some like the changing table others a special changing pad on the floor. Just make it your special time together.
Remember, every baby is unique, and what works for one may not work for another. Pay attention to your baby's cues and adapt these tips to suit their preferences. Enjoy this special time with your little one and cherish the moments of connection during diaper changes.
I hope that these tips can help your diaper changing time become a special bonding time with your baby.
You may also enjoy these baby activities for your child…