Create a Paper Bag Color Book with Hearts for Valentine's Day. The best part is you can learn a new language with this colorful activity too. Here's how to make this activity with your child.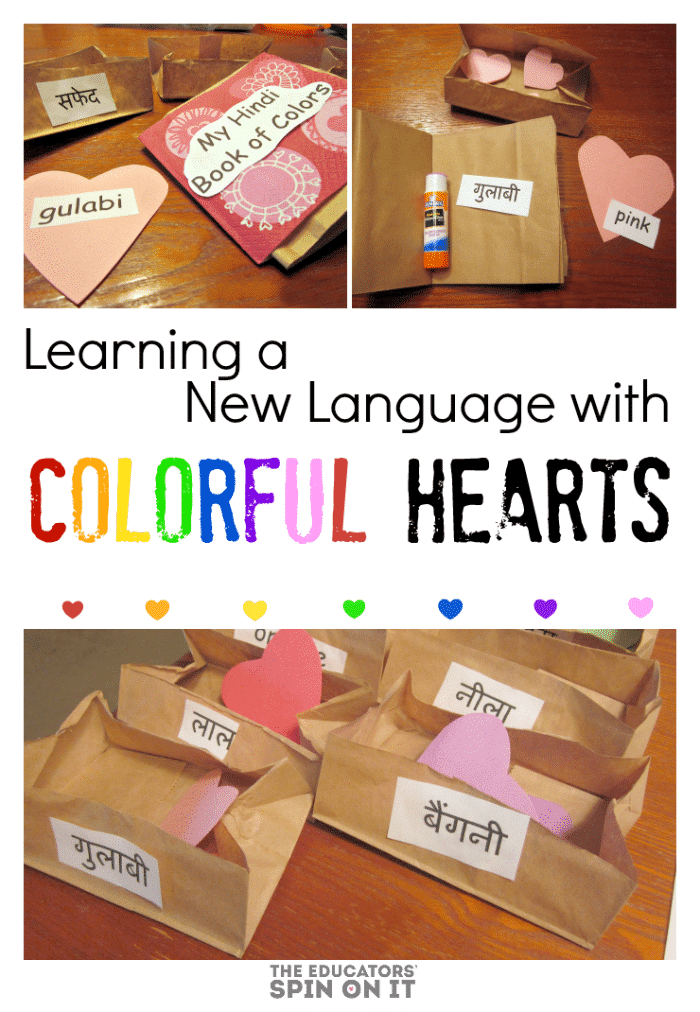 We're working on our Colors! We made a Color Book that uses various learning opportunities to learn how to identify, spell and read Color Words in Hindi. We created Paper Bag Book using Hearts, English, and Hindi Color Words.
You can make your own Paper Bag Book too with ANY language!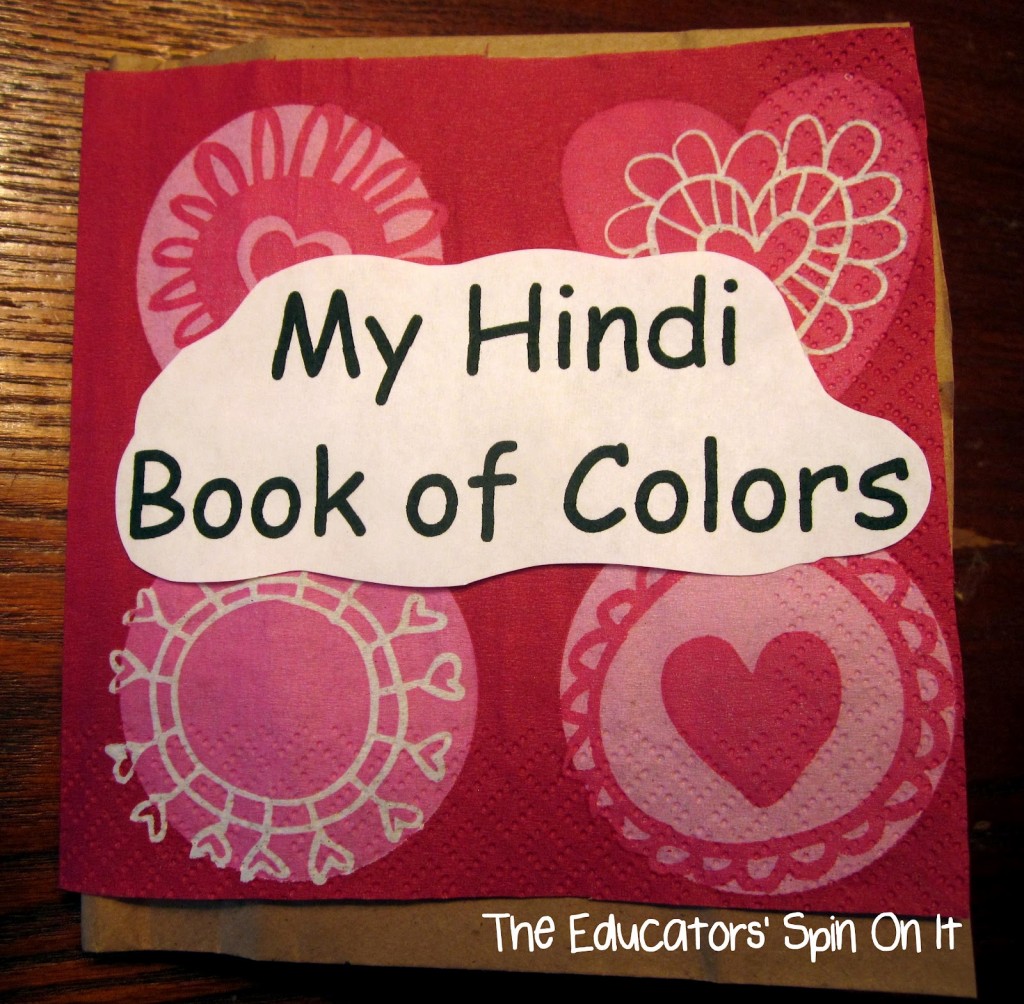 Paper Bag Color Word Book in Hindi
Supplies
For our Hindi Paper Bag Color Book, we grabbed our supplies
5 Paper Bags
Stapler
Glue
Scissors
Colored Hearts
Magazines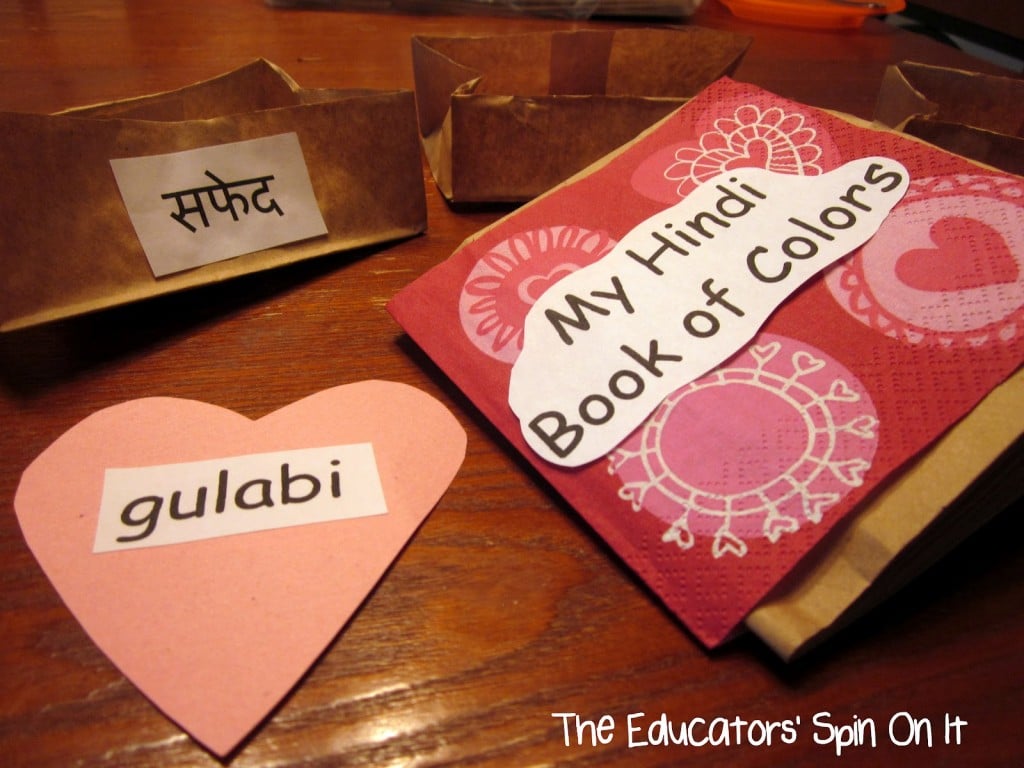 Directions
To create the book we cut off the bottom of the paper bags to create more openings and also to create our containers to sort our hearts into.
Then we stapled the book together and covered it with a Valentine's Day Napkin that we had around the house.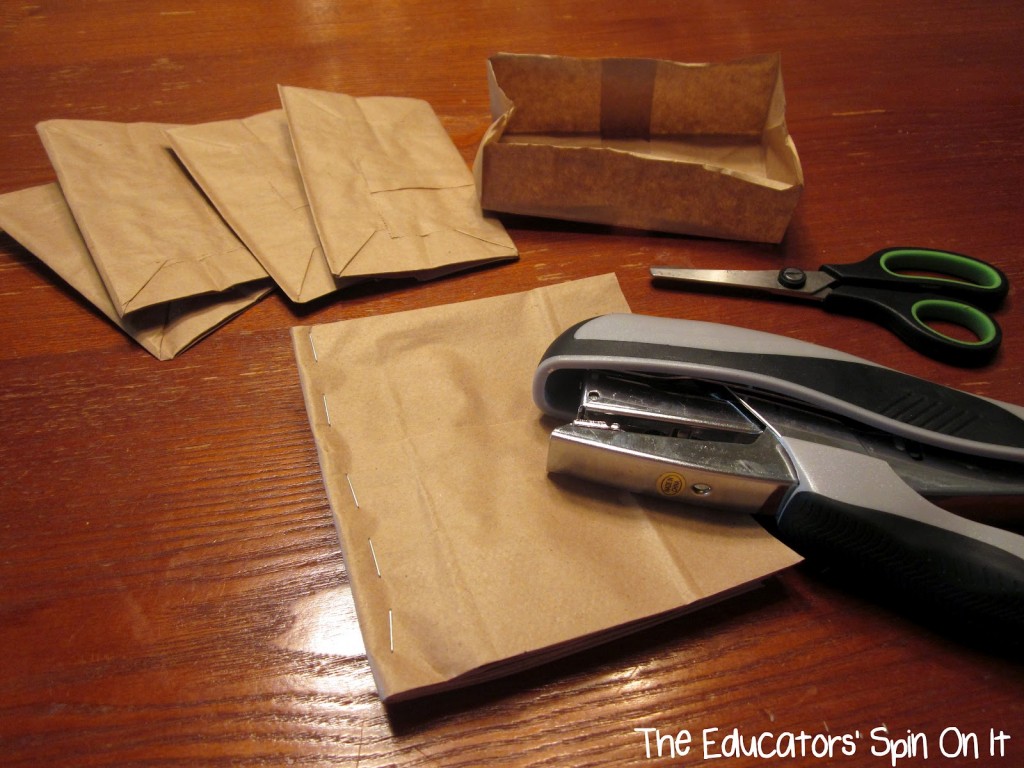 The next step was to cut the Hindi words and glue them on to the book and attach the English Words onto the Hearts.  We also glued the Hindi and English words onto the Paper Bag Containers for sorting colors.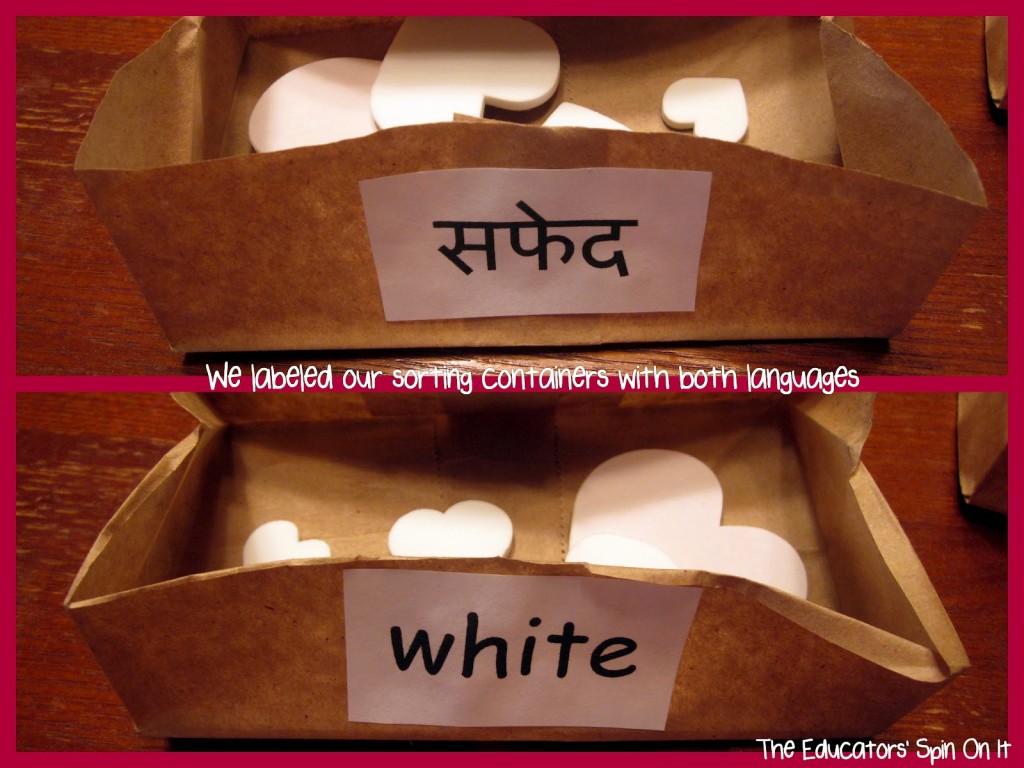 We will also practice writing the color words over the next week on the Paper bags using Markers and Crayons to create more multi-sensory learning. Add to this activity by cutting out pictures from a recycled magazine that related to each color throughout the week and then placing it into our color containers made from the bags.
We also cut out the Hindi Letters so that we can spell out each color word in Hindi. We used these letters Printable Hindi Letters .
You could very easily do this with just English letters to practice learning how to spell color words or another language.
Here's how we use this book with our Afterschool Express with Colorful Heart FUN .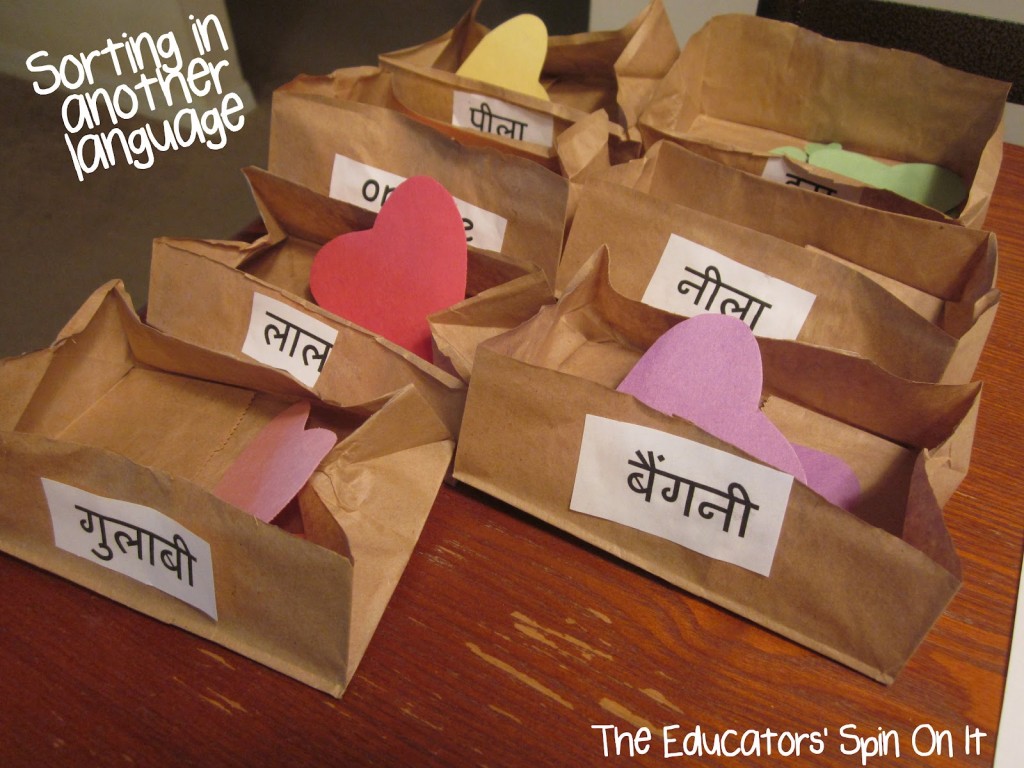 Hindi Resources for Kids Learning
Found this article about Color in India while searching for Hindi Colors and thought I'd share. I can't wait to celebrate Holi soon with our family and friends!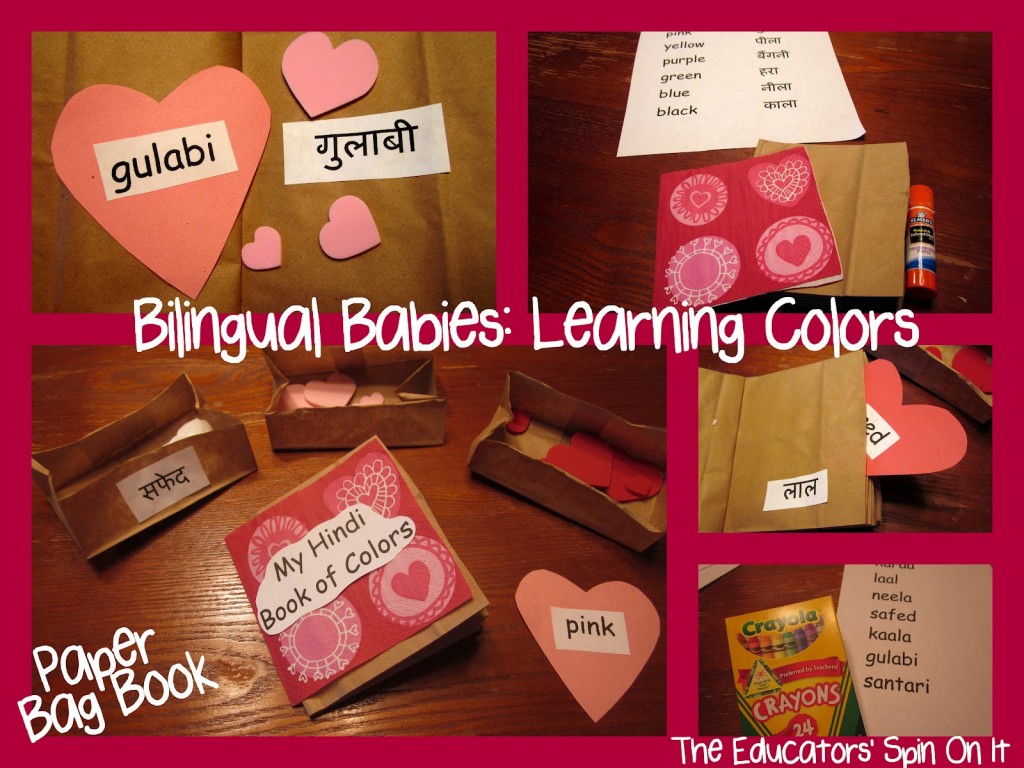 India is a land of colors. A multitude of colors can be seen in the terrain, the sky, the water, and the culture of the people. In fact, a full festival, the festival of Holi, dedicated to color, is celebrated in the month of March every year. Everyone is covered with color, irrespective of their age and status. A lot of meaning is attached to color in India.
In fact even the days of the week have their preferred colors. White clothes are recommended for Monday, Orange for Tuesday, Green for Wednesday, Yellow for Thursday, Red for Friday and Black for Saturday. Red is the color of the bride and the state of being married. Married women can normally be seen with a red dot (bindi) on their forehead. White represents purity, Orange is the color of saints, Green is the color of prosperity.
People in India love color. Color is used effectively to represent various moods and emotions.
Hope you have fun creating your own Paper Bag Color Book. We'd love to see what language you create with your Paper Bag Color Book with your Bilingual Babies!
You may also enjoy these activities for your child…