Create a Chinese New Year Sensory Bin as you learn about the Chinese New Year with your child. We've put together a collection of adorable Chinese New Year Sensory Bin Ideas. They are sure to be a big hit!
Plus we've included a few fun Chinese New Year Books to go along with the fun.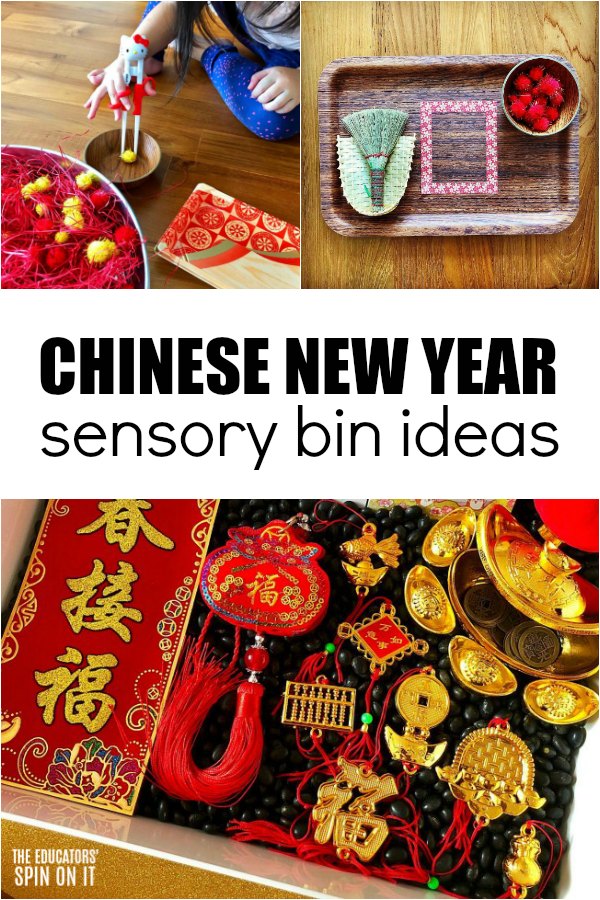 Chinese New Year Sensory Bins
We were inspired by the traditional of the Chinese New Year to share with you these 3 adorable Chinese New Year Sensory Bin Ideas.
They were shared with us from one of our Virtual Book Club for Kids members, you can follow her on instagram as Little Miss Kaye
Each of the sensory bins allows your child to explore some of the traditions and items you'll see families doing to celebrate this special day.
Disclosure: We'd included Amazon affiliate links to easily shop for these items to set up your own sensory bins at home or in your school.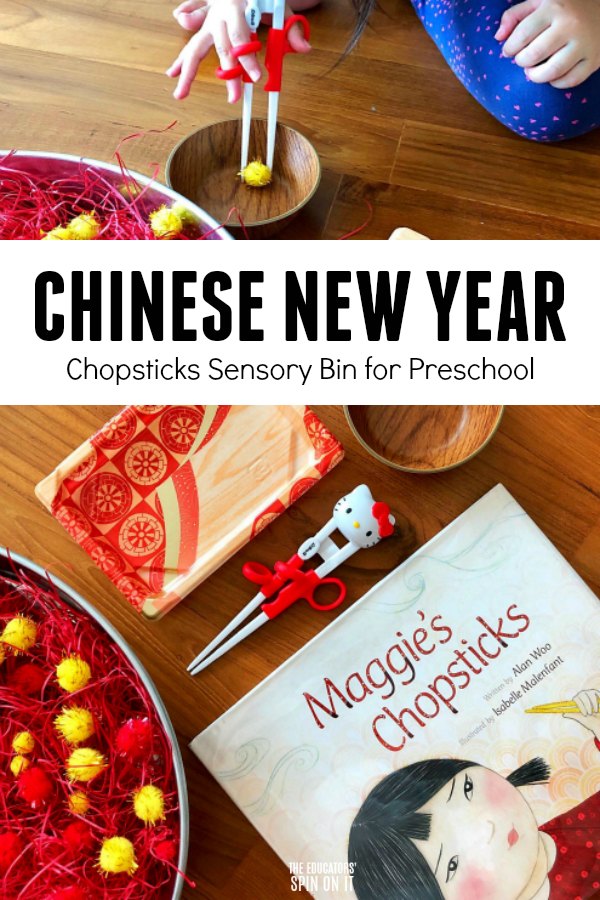 The book Maggie's Chopsticks shares an inspiring message to young children about the importance of being true to yourself as you navigate the challenges of growing up.
Maggie's Chopsticks by Alan Woo
The colorful illustrations capture the family dynamics between the different personalities and beautifully portraying details of a traditional Chinese New Year gathering.
This book is a wonderful resource makes a perfect read-aloud during classroom observances of Chinese New Year. A few Chinese words are even included within the story, with translations and phonetic spellings provided in the front of the book.
Chopsticks Sensory Bin
For this chopsticks sensory bin activity encourage your child to practice their chopsticks skills by transferring sparkly pom-poms into a bowl using training chopsticks.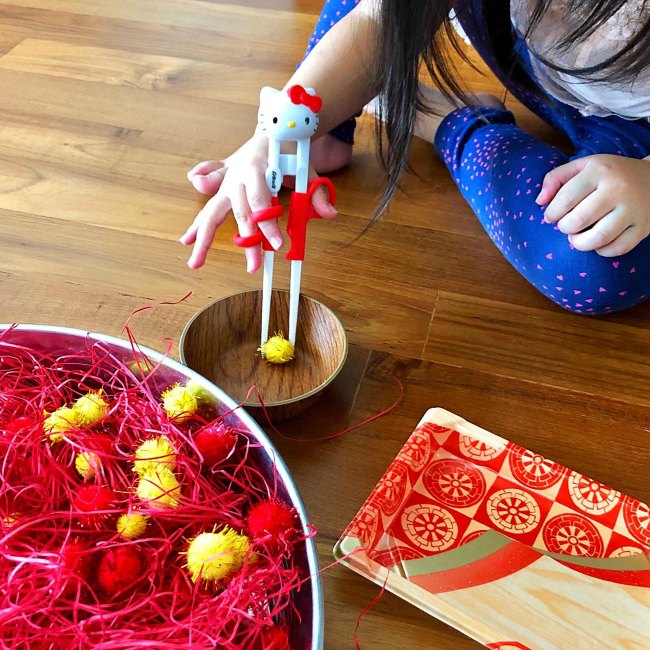 This Chinese New Year is the year of the Ox. These Feng Shui Coins with Chinese Knot have this adorable Chinese ox on this to make this even extra special for the year of 2021.
6 Pieces Chinese New Year Ox Year Charm Decorations 2021 Chinese Feng Shui Coins Chinese Knot Lucky Coins Hanging Pendants for New Year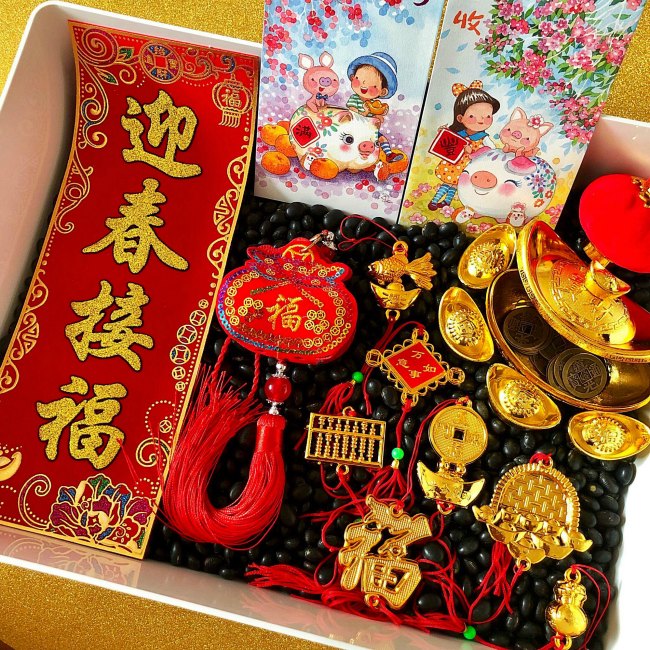 Red and Gold Sensory Bin
Red and gold are the traditional colors associated with Chinese New Year so you can set up a simple bin of red and gold items for sensory play, using black beans as a filler.
The color red symbolizes good luck and the color gold symbolizes wealth.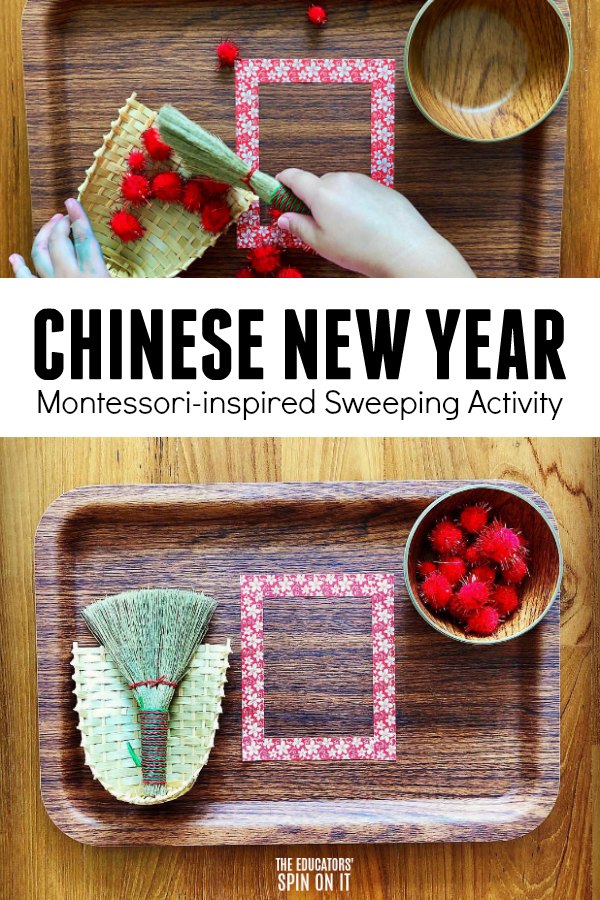 Montessori-inspired Sweeping Sensory Bin
For days leading up to the Chinese New Year, we carry out a complete sweeping of the house to sweep away the "old year" (bad luck) and welcome the New Year.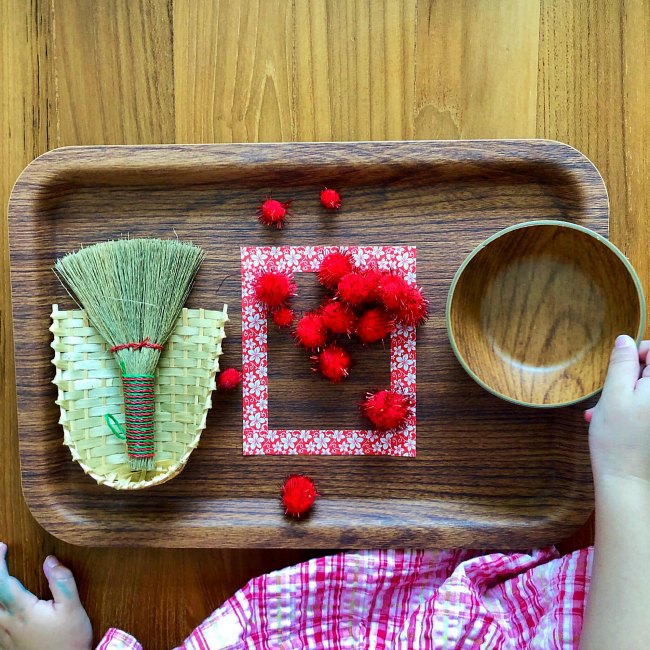 For this activity, the child pours red sparkly pom-poms (dirt) onto a marked square, and sweeps them using a mini broom and dustpan.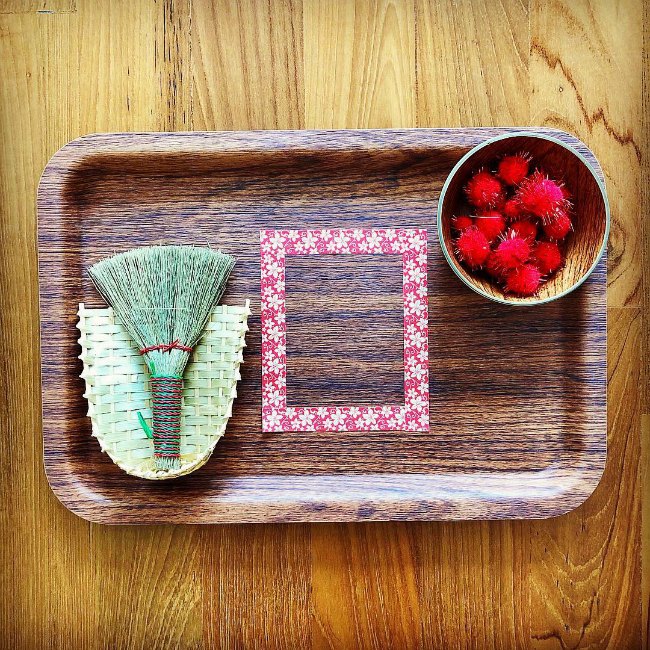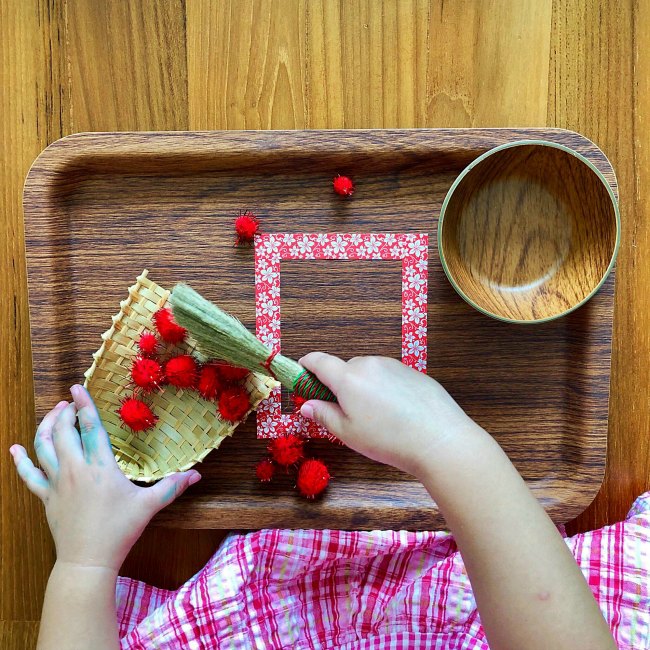 Hope that you have fun setting up these Chinese New Year Sensory Bin Ideas with your child as you welcome the new year.
Toob Chinese Zodiac Animal Set
Here are a few more book suggestions to go along with these ideas.
My First Chinese New Year (My First Holiday) by Karen Katz
Bringing In the New Year by Grace Lin
Here are some Additional Chinese New Year Books for Kids
CLICK NOW FOR 30+ CHINESE NEW YEAR BOOKS
What is the Chinese New Year
The festival lasts for about 23 days, ending on the 15th day of the first lunar month in the following year in the Chinese calendar.
The Chinese New Year is a Chinese festival that celebrates the beginning of a new year on the traditional Chinese calendar. This festival has a history of over 3,000 years.
Click here to see when it will be celebrated this year.
The main Chinese New Year activities include
putting up decorations
eating reunion dinner with family on New Year's Eve
firecrackers and fireworks
giving red envelopes and other gifts
If you're looking for more ideas check out these Chinese New Year Activities and Chinese New Year Books with your child.