When the weather gets hot, we head outside to play. Most of the time, our play includes WATER! Learn how to play this outdoor water game with kids for tons of our fun.
This gross motor game is a spin off the classic Duck, Duck, Grey Duck (or Goose!), but with a cup of water. I can't take credit for creating the game as it was shared with me by a fellow camp counselor 20 years ago! It was a summer camp hit then and still is today.
Grab a bucket of water and a cup and try it with your kids this afternoon!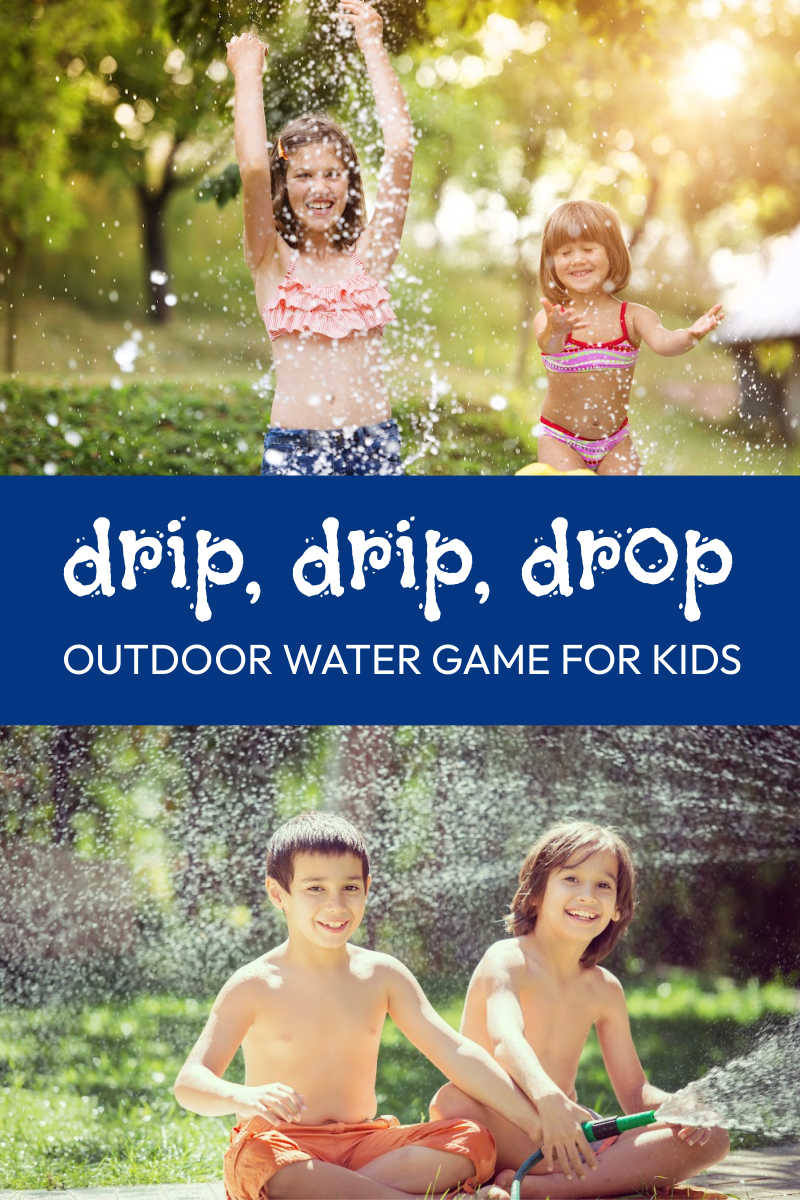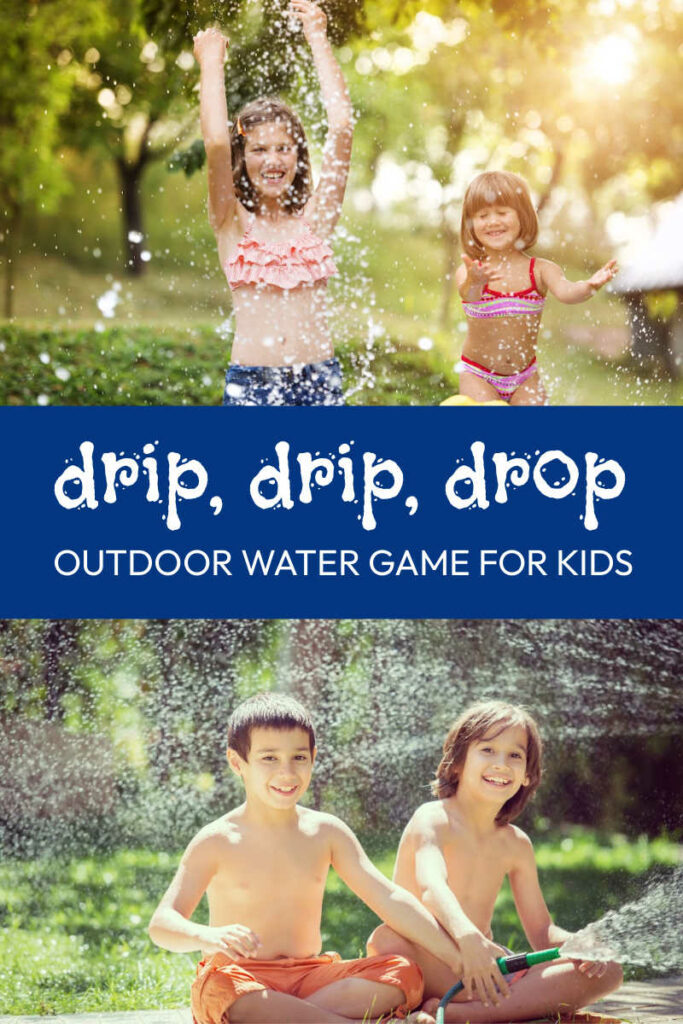 Affiliate links are included in this article.
Drip, Drip, Drop | Outdoor Water Game for Kids
Learning objective: The children will learn to follow directions, take turns, and run!
*This game is best played in a group of 3 or more children.
Materials Needed: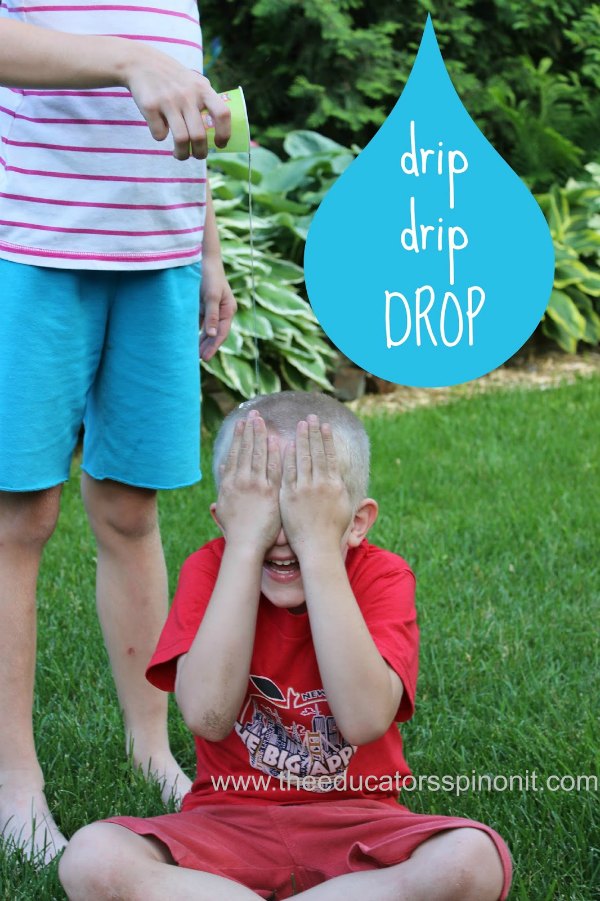 How to Play Drip, Drip, Drop Game
1. Children sit in a circle. One child is "it."  They scoop a 1/2 cup of water from the bucket.
2. Starting where they were sitting, they dip their fingers in the cup and sprinkle a drip of water on the next child's head and say, "DRIP."
3. Play continues with drips until the child DROPS the rest of the water on someone's head and says, "DROP."
4. That person then chases the child who is it around the circle, trying to beat them back to their original space.
5. The player that sits last (or is still standing) scoops a 1/2 cup of water and goes around the circle again.
6. The game ends when all children have had a chance to be it or your water runs out!
* Paper cups will work, but they get soggy fast and you need a lot of them. The plastic disposable cups are a little better, but crack easily. If you have a plastic re-usable cup, they tend to hold up the best!
** Drip Drip Drop Rules: We always had a few kids who did not want to get wet. We had a signal that if they did not want to get wet, they would put their legs straight out and the child who was "it" would drip on their legs, not their head, and for the "drop" just pour it gently on their legs.
You may, of course, adapt the game to meet the needs and wants of your kids.
Water Activities from the #PlayfulPreschool Team: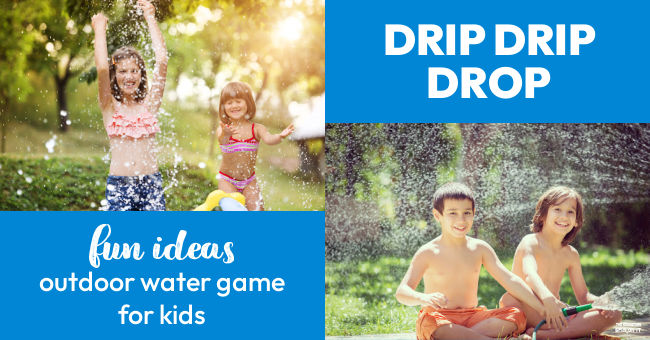 Get your kids splashing around outside with Drip, Drip, Drop game, then dry off and come inside for some quiet reading time.
This level 3 reader from National Geographic provides a great introduction to the science of water. With high color photographs and detailed explanations of concepts and terms, children will learn about water cycles, flow, and evaporation.
National Geographic Readers: Water
Geared for more advanced beginning readers ages 6-9 to read independently. My little guys LOVE this book read to them.
Here are a few more fun ideas for outdoor water games!