It is so easy to get sucked up into afterschool classes, running kids to sports activities, work, and well… life. This year, we are making it a priority to set aside one night every week for a family night BBQ (summer) or Bonfire (fall).
It is our goal to embrace the moment and be more present in our children's lives.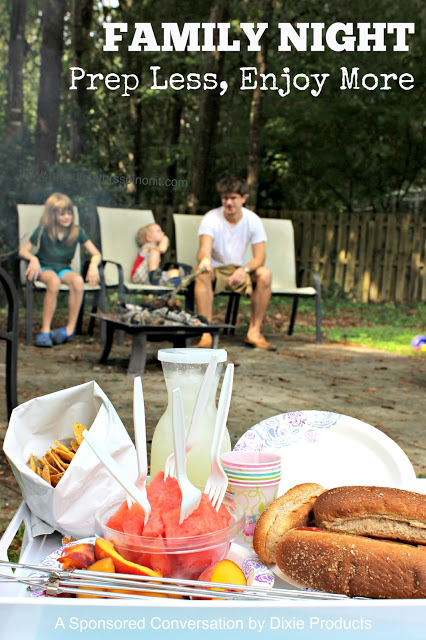 This is a sponsored conversation written by me on behalf of Georgia Pacific. The opinions and text are all mine. Thanks to Dixie #bemorehere campaign – I get to share our family adventures with you!
I'll be honest – our family NEEDS these scheduled weekly dinners to connect.
With the distractions of TV, school, computer games and Facebook, it is easy for our evenings to get away from us without really connecting with our kids. This has been a hot-topic among our play groups and mom's get together.
I really appreciate Dixie starting this conversation online and providing me the opportunity to share about it. Family time is SO important!!!
It's been over a month since we have started this family night and the kids are already looking forward to our weekly campfires. Without the fuss of our typical, what's for dinner rush, these once a week family nights have become a fast favorite family tradition.
See our back-to-school Family BBQ.
You'll never guess what I served!!!
This week, I set "the tray" on the kitchen counter and my 9 year old's eyes lit up. "Can I help get ready for family night?" she asked.
Why of course you can!
Together, we were able to gather and assemble a meal in minutes, giving us more time to enjoy other things (like an impromptu dance party in the living room!)
These family moments are something that I oh, so treasure. It sometimes feels that I will blink and their entire childhood will have disappeared.
7 Tips for Family Nights: Prep Less, Enjoy More
1. Set aside a special time each week to connect.
Pick one night each week to re-connect as a family, BUT don't stress about that one night. IF your night is Thursday night, but Thursday doesn't work, switch it to Saturday at noon (or the time that works). The goal for us to to make these nights memorable, not packed with stress and worry fancy themed decorations, grandma's heirloom serving dish, or that my kids are in cute matching outfits.
2. Use a tray
I cannot speak highly enough about my white tray. It makes bonfire nights so much easier. We just stack everything we need on in: plates, cups, silverware, fruit, chips, skewers and anything else we might need on it. Then it's one trip out to the fire pit.
The kids know when they see our tray that it is going to be a BBQ night on the deck or a campfire in the backyard.
3. Choose easy to prepare meals.
Forgo the elaborately carved watermelon bowl, plastic forks stuck in pre-cut watermelon from the store saves a TON of time and works just as well for serving, if not better. My kids thought this was so much fun and giggled as they forked their watermelon cubes. I could have just given them the biggest kisses they were so cute, except their was watermelon juice dripping down their chin (ewe- no kisses for the moment!)
Go for simple meals like sandwiches that can be assembled quickly. Try something different – splurge and order take out. Eat on a picnic blanket outside.
The reality is, time with family is special. Enjoy it in all it's simplicity.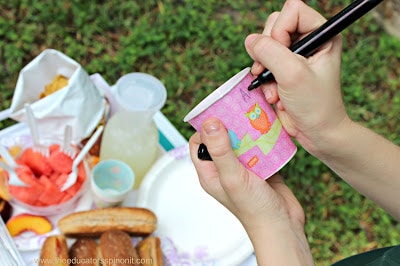 4. Get the kids involved.
As I said earlier, my 9 year old helped fill the tray to take outside with us. I also bring the cups together with a pitcher of lemonade. The kids help label the cups and pour the beverages. This cuts down on waste at big gatherings and lets them practice the life skill of pouring (which uses fine motor skills) and independence.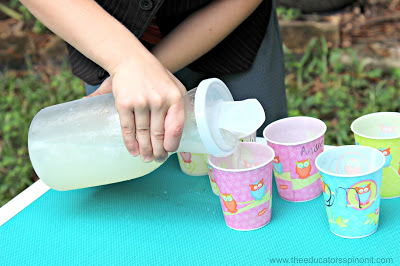 5. Go healthy… or at least healthier
We have a garden and love to bake. I like to think of myself as a part "crunchy" part "realistic" mom. I try to provide my kids with well balanced meals, but offer occasional, not so healthy meals too. Here are some things that work for my family without taking any extra time:
choose whole wheat over white.
use multigrain or sweet potato chips.
water down the lemonade. 50% water 50% lemonade
offer a variety of fruits and vegetables
6. Make sure everyone is in appropriate dress.
We require kids to be in tennis shoes next to the campfire. Pants and long shirts protect from mosquitoes.Family nights aren't any fun if everyone isn't comfortable.
7. Set out EXTRAS for added fun.
We went over to a friends house for a campfire and she had a basket of flashlights for the kids to use when the sun went down. That basket was a HIT! We've brought out glow sticks, flashlights, paper airplanes, hula hoops, and stomp rockets to the backyard for family night.
After a quick dinner clean up, we are able to get silly and make memories together.
The effort to connect: Families and friends like me have made an effort to ditch their screens and enjoy more moments with each other.
However, these amazing moments can be hindered with the unfortunate parts of the gathering. Such as, dish clean up, delicate dishware breaking, spills, and stains.
Don't worry about the small things!
We're using Dixie products (cups, plates, utensils, etc.) to eliminate the hassle or daunting feelings of clean up. That means – more time with the people we love!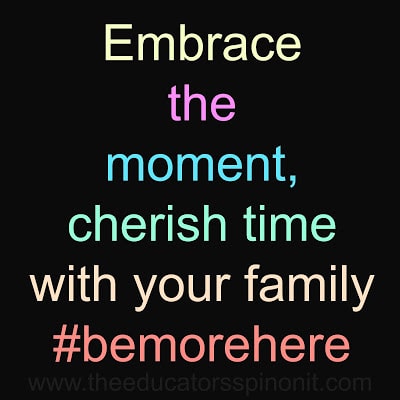 Click to Tweet: Embrace the moment, cherish your time with your family #bemorehere
You may also enjoy these ideas for kids…