Preschool children are all about the here and now. In my opinion, there is nothing better than seeing my kids snuggled on the couch with their Grandparents reading stories. For us, Russia and Minnesota is a FAR away place where our family lives, current technologies bridge the distance just a wee bit and help make connections with family.  Although these virtual meetings will never take the place of lap-time snuggling, they bring our faraway family closer together.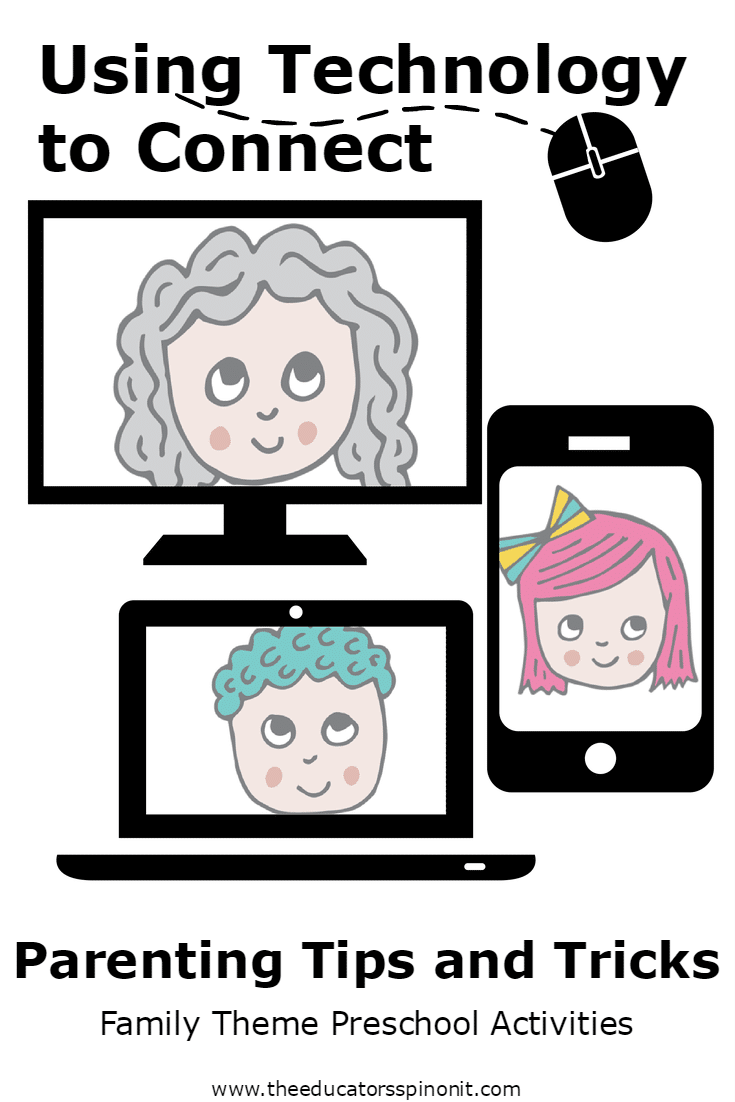 This week, we are focusing on Family Theme Preschool Activities.
 Many children at this age have difficulty understanding the space between family. Thankfully, current technologies have allowed us to bridge the distance gap.
We may call our Grandma to tell her about our cooking project that morning.
We may Skype our Babushka to hear a Russian Lullaby.
We may send an e-mail to Grandpa with a picture of a doll bed we just built.
Children in a preschool classroom may virtually watch a parent present for career day.
All of these technology tools in moderation can help connect our preschoolers with their family.  I know I am NOT the only one who misses my family dearly, so I reached out to a talented group of bloggers around the world to see what their tips and tricks for using technology to connect with family.
Many of us use Skype or Facetime to connect virtually with far away family, but there are other programs as well. These tips would also apply to talking on the phone!
Tips and Tricks For Making the Most of Virtual Meetings (Skyping) with Preschoolers
Keep it Short and Sweet
Keep it short and sweet. Don't call close to bedtime, naptime, snack time, or meal time. Prepare the child for the interaction and allow him/her to leave the conversation when he/she feels like it. Doing these things keeps the call sessions pleasant and non-intimidating. —Rachel over White Sugar, Brown Sugar
Talk About The Call and Possible Things to Say Ahead of Time
As for Skype tips, giving kids ideas ahead of time of what they might like to tell family members before the session starts. That way they won't feel too put on the spot! My kids also frequently play in the room without directly participating in the conversation, and I think this is fine. They are still listening and getting to know their extended family. MaryAnne from Mama Smiles – Joyful Parenting
Have the Family Member Read a Story or Poem to the Preschool Child
"We talk virtually with our "babushka" every day. It is so great! If you meet online often and there is no news that needs discussing, relatives on the other side of the screen can read a story or two to children. Our son likes listening to my mother reading poetry to him." — Liska from Adventure in a Box
Let Each Child Have Their Own Special Time
If you have multiple children, have them Skype one at a time. I generally set up a chair in front of the computer and my boys take turns. Having young kids sit on a parents' lap can help, and I find my kids love to show their grandparents things over Skype – toys, crafts, drawings, etc. With my preschooler, I'll often "prompt" him by suggesting things he might want to show or talk about, and once he gets going I sit back and try not to "get in the way. Lastly, I would add to remember that kids experience the world through action and play – so let them make silly faces, sing songs, show toys, rather than expecting them to have a long conversation." Ellie from Musing Momma
Set Out Props or Something to Play With
 We Skype with Ludo's parents in France about once a week. They like to see what Enzo is doing, so we have him say HELLO and then he after a bit he goes to play… my inlaws have toys (like an owl puppet, for example) that they use to talk to him, and he loves that. Keeps it interactive. So I think props help… something new to talk about. they can do story time on Skype. But I agree, too long and kids will get bored.  Dianna from LadyDeeLG


Let them Hold and Walk with the Device
We use Facetime and my boys usually use the mobile phone. This means they can walk around with it and they show family members things like pics on the wall they've done or what the weather is like outside. We never force them to speak to anyone they have to be in the right mood to do it. But we try and do it as regularly as we can as some family they haven't seen in person since we moved out here over a year ago. www.lafamillebrown.com


Use the Calls to Teach!
My siblings have actually helped my son prepare for his weekly spelling bee tests on skype. We chat and we give him the keyboard… every often we (on both ends) glance at the words list and say out a word which he has to type it out to his aunt or uncle! He learnt to write letters that way too.  Aysh at Words n Needles


Remember It's O.K. for Kids to Get Silly
We also Skype with babushka almost every day. I usually ask children to speak Russian – as much as they can. Sometimes my nephew and my niece are there. It is ok if kids make faces and are silly – we just continue speaking Russian to them. I think the fact that my children see grandma on Skype made their actual meeting in person easier this time when she visited than 2 years ago when we didn't have Skype chats. – @Little Artists from Creative World of Varvara



For more Articles about Connecting with Family and Technology
Building and Maintaining Family Connections
Connecting with Family About Your Day
Keeping Faraway Family Close
Grandparents and Bilingual Children
Technology Makes First Visits Easier
How Technology Can Help Bring Up a Bilingual Child
Technology to the Rescue – Connecting Family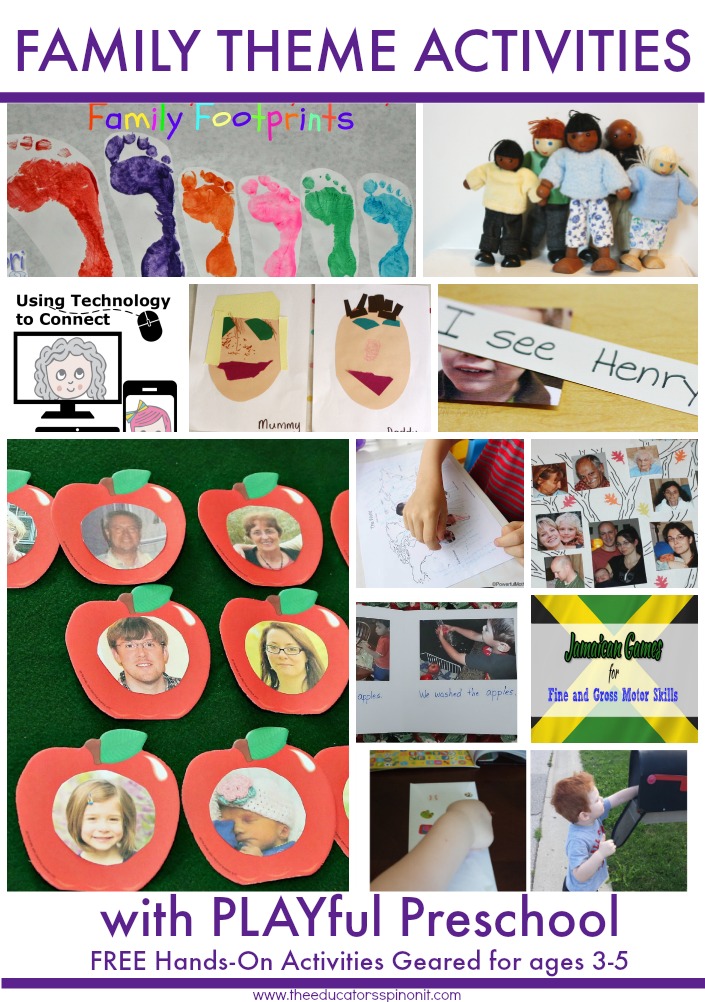 Plan your Family Theme Preschool Activities with these ideas from the Playful Preschool Education Team! #PLAYfulpreschool
Family Theme Learning Activities: Reading – Writing – Cooking – Sensory – Art – Math
Bookmaking for a Preschool Family Theme from Fun A Day
Finding My Family on a Map from Powerful Mothering
Preschool Writing Activity: Letters to Family from Mom Inspired Life
Cooking with Kids: Family Recipe Books from Growing Book By Book
Our Family Tree: Sorting Family Members from Still Playing School
Family Themed Sensory Bin from Little Bins for Little Hands
Tips for Using Skype to Connect with Family from The Educators' Spin On It
Family Portraits from Rainy Day Mum
Family Counting from Tiny Tots Adventures
Jamaican Games for Fine and Gross Motor Skills from Learning 2 Walk
Family Footprints from Capri +3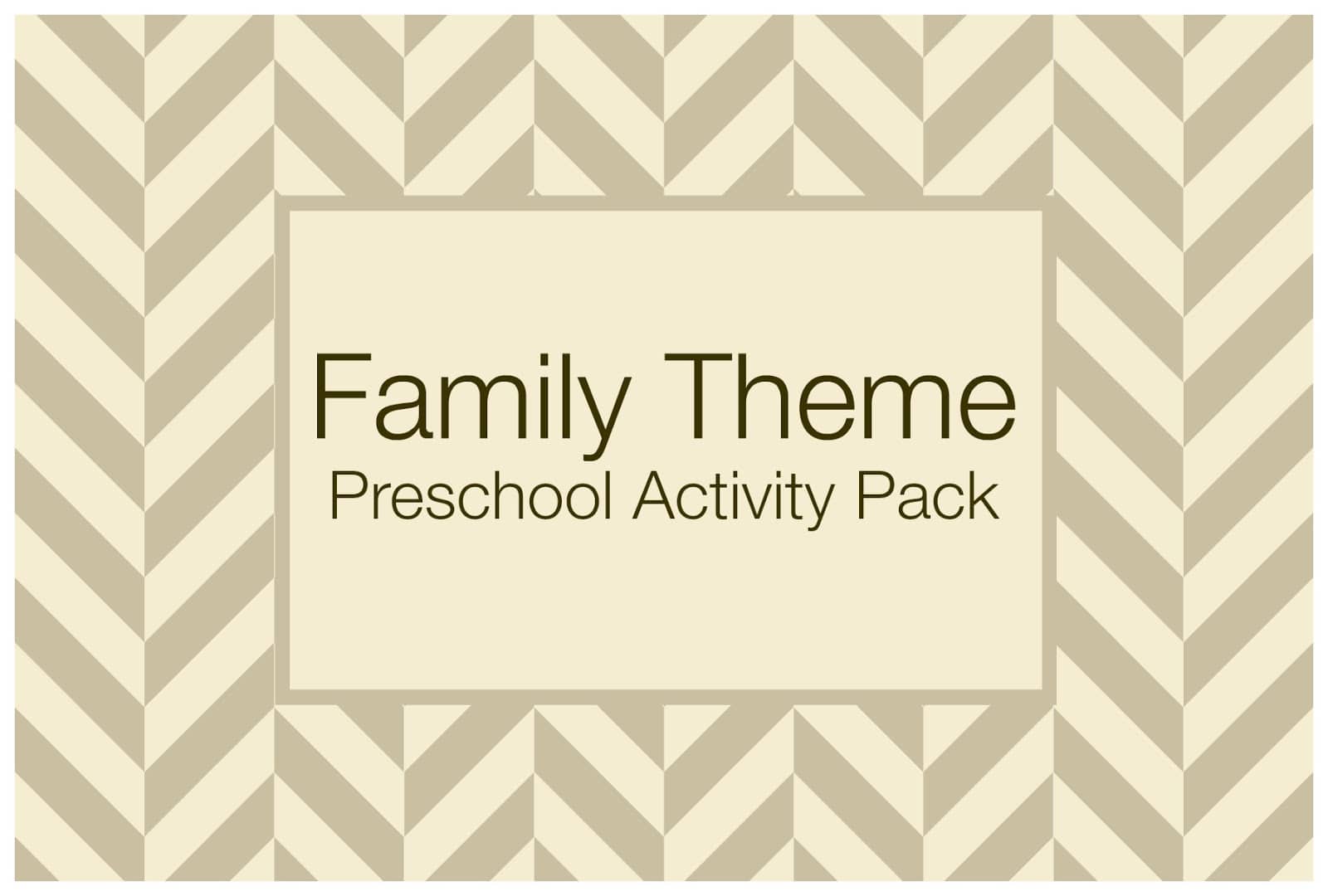 The Family Theme Preschool Activities includes 10 hands-on, printable learning activities centered around the theme of family. These activities address beginning reading skills, sight words, and writing for a variety of purposes. Not only are they great for learning, the product of these activities will be treasured by family members. For Parents, Teachers, and Care Givers of Preschool Age Children. BUY IT NOW
For More Preschool Activity Ideas: