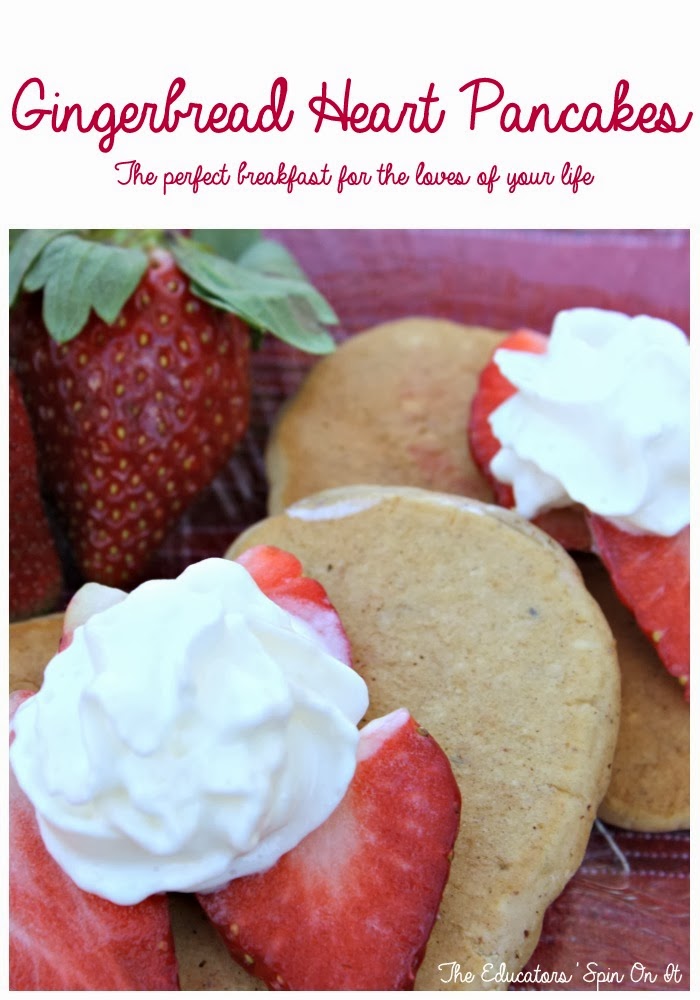 Have you ever tried Gingerbread Pancakes? Gingerbread happens to be a favorite at The Educators' Spin On It. Here's a fun twist on your family' favorite… pancakes!
If you read your kids, "If You Give a Pig a Pancake," by Laura Numeroff, chances are, they will ask you to make PANCAKES for breakfast dinner. One thing I adore is cooking with and for my kids, so when the request came in for gingerbread pancakes and I happily obliged.
Quick and Easy Option for Busy Parents:
With three little ones, breakfasts are quick and busy. I am always looking for healthy, fast, and tasty options for our family. These heart-shaped gingerbread pancakes work great pre-made the night before, stored in the fridge, and popped in the toaster for a quick breakfast. Sure they are not as good re-heated, but I need to compromise my taste for sanity most days.
Tips for Cooking With Kids:
Always make sure they tie back long hair and wash their hands with soap and water before entering the kitchen.
If they can read, let them. If not, I like to point to the words in the recipe as I read it out loud once through even before beginning. This is how kids read for a variety of purposes. Cooking and reading recipes is a great teaching strategy for struggling and challenging advanced readers.
Age permitting, let them measure, add, and mix the ingredients on their own. My 4 year old does all these steps with my support, my 7 year old makes the batter on her own. I just hand her the recipe. (just know it may turn out a little different every time.) As a parent, I still do the hot stovetop, but know that soon, my oldest will be ready for that as well.
No matter how they turn out – enjoy them! My mom taught me that. She would always smile and try anything and everything I made as a kid. Life's too short too worry about over salted pancakes!
Here is a little video to show you how my 4 year old helps in the kitchen! (I know it shows muffins, but the skills are similar for pancakes too!)
I used my Mom's favorite Pancake recipe ( no idea of the original source as this is what I was handed on a recipe card 15 years ago) and made some adjustments. These had a mild gingerbread flavor and all three kids (ages 1, 4, and 7) devoured them. I'm no Chef Dennis Littley , but I do enjoy spending time in the kitchen!
(This is my FIRST shared recipe EVER so, please let me know how it turns out for you! Just be kind, Kim has been trying to get me to share my recipes for a while and I have just braved it today. Your comments may encourage me or stop me from sharing my own creations forever!!!!)
Gingerbread Pancakes Recipe
By Amanda Boyarshinov
Ingredients:
1 egg
1 c milk
1/8 c oil
1/2 cup all purpose flour
1/4 cup whole wheat flour
2 tablespoons of almond flour (use whole wheat flour if you don't have this)
1-2 tablespoons of molasses
1/2 teaspoon of baking soda
1/2 teaspoon of salt
1/2 teaspoon of ground ginger
1/2 teaspoon of ground cinnamon
1/4 teaspoon of ground cloves
Per Mom's Instructions:
1. Beat eggs.
2. Add oil and milk.
3. Add the rest and gently mix.
4. Heat on a skillet over medium heat. When the tops start to bubble, flip them with a spatula and cook until golden on both sides.
They were fabulous with strawberries and whipped cream, fresh tapped maple syrup, and warmed applesauce.
Enjoy!
You may also enjoy these recipes for kids…