Work on basic addition with your preschooler with this pancake math activity to go along with the hilarious story If You Give a Pig a Pancake. Plus take a peek at additional Pancake Themed Activities for Preschoolers featured in our Virtual Book Club for Kids!
Get ready for Pancake Day with this Fun Pancake Themed Activities & Books for Kids!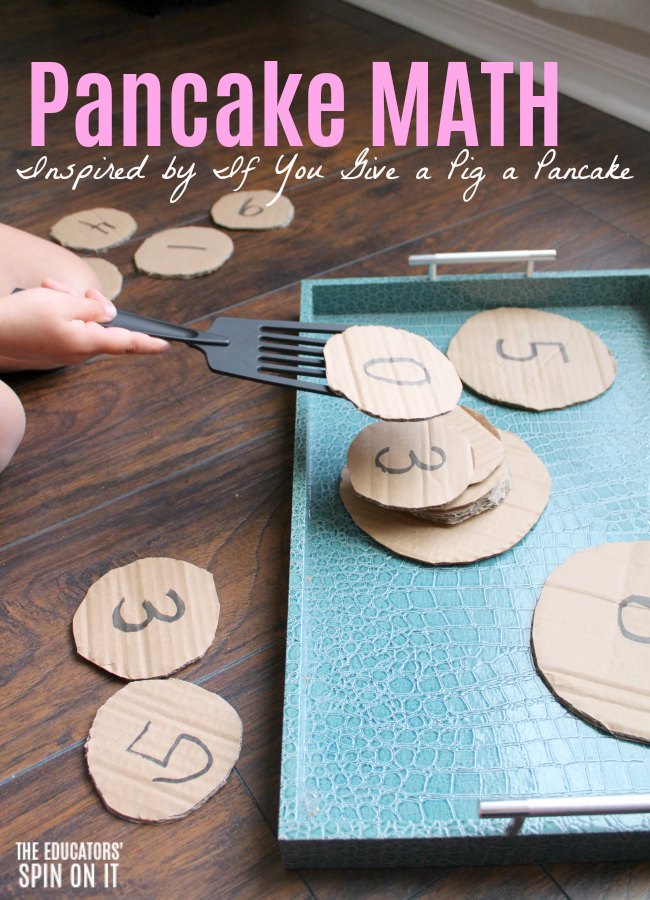 Disclosure: Amazon affiliate links are included in this post. All opinions expressed are my own.
Pancakes are always a hit with preschoolers. We have a lot of fun making shaped pancakes likes these Heart shaped pancakes or adding a special flavor to them like these Gingerbread Pancakes. Do you have a favorite pancake topping?
To go along with this fun pancake theme we read the story If You Give a Pig a Pancake
by Laura Numeroff.
If you give a pig a pancake, she'll want some syrup to go with it. You'll give her some of your favorite maple syrup, and she'll probably get all sticky, so she'll want to take a bath. She'll ask you for some bubbles. When you give her the bubbles… you know how it goes for fans of If you Give a Mouse a Cookie series.
The adorable little girl in the story tries to keep up with the requests of a busy little pig.

If You Give a Pig a Pancake
by Laura Numeroff
Now it's time to get your pancakes ready for the math activity for your preschooler or kindergartener. It's a yummy way to start learning how to join numbers together to make a bigger summer as you introduce addition to your child.
Pancake Math Activity for Preschool
Materials for Pancake Math Activity
Paper or Recycled Cardboard
Scissors
Spatula
Baking Sheet
Permanent Marker
Direction for Pancake Math Activity
1. Read the story If You Give a Pig a Pancake
. Talk about the details and the story and see if they can tell you in order what the Pig requested from the little girl in the story. Perhaps make your own pancakes too to go along with with the story!
I recommend grabbing the Book Bundle of all of Laura Numeroff's Books as each one is such fun to read with your child. You can also use these adorable If You Give a Pig a Party Activities.
2. Cut out 20 small sized circles and 10 large circles to represent the pancakes for this activity.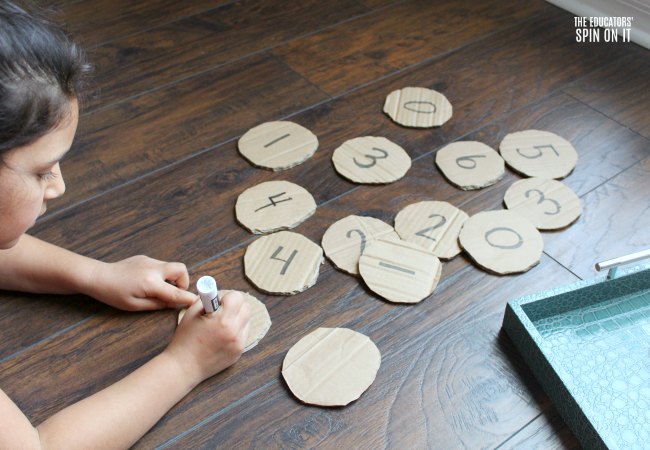 3. Write the numbers 0-10 on the small pancakes. You will have duplicate numbers since you're using 20 small pancakes. I wrote one set and then my daughter copied mine to write the second set.
You can have your child do this or you can do it with them. As you write the numbers down be sure to talk about how they are written and the name of each number.
4. Write down 0-10 on the large pancakes.
SELF CHECK On the back of the large pancakes you can write out each math fact that equals that number for self checking. (Example 0+6=6, 1+5=6, 2+4=6, 3+3=6, 4+2=6, 5+1=6, 6+0=6)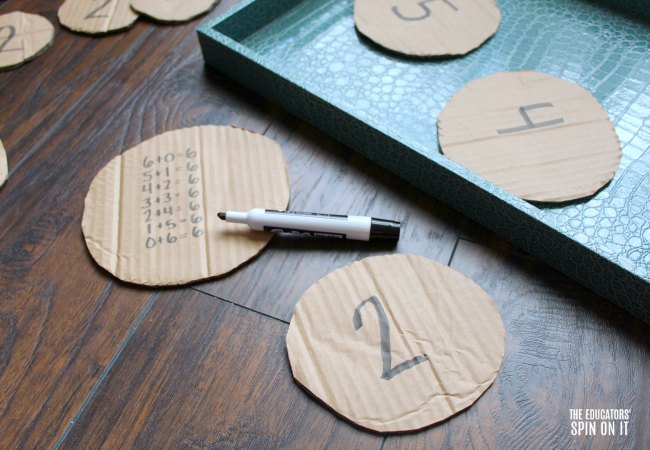 How to Play Pancake Math Activity
1. To play the game spread out all of the small pancakes onto a the floor facing the number upwards.
To make if more difficult you can place the numbers facing down.
2. Then place the large pancakes on a large baking sheet facing upwards so your child can see the numbers. I would recommend starting with one number as you start this activity. And then advance to a few numbers and then numbers 0-6.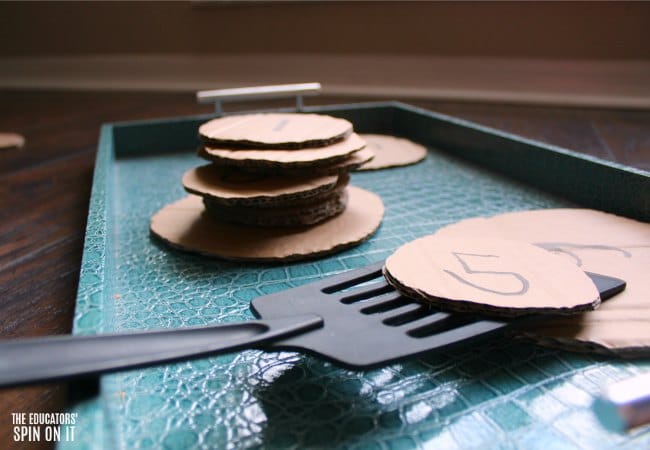 3. The goal of this pancake math activity is to find as many ways as you can do add up to the number to make your pancake stack. Your child can use the spatula to pick up each pancake and place it onto a pancake to make a number sentence.
For example to make number 3 you can have the number 1 and number 2 pancakes or the number 3 and number 0 pancakes. 1+2=3 or 3+0=3.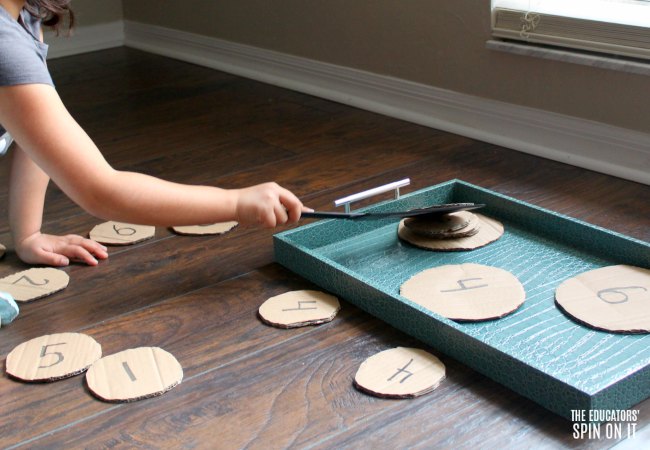 4. Child your child to see how many ways they can combine the pancakes to make it make the large number pancakes. Once they find the correct number sentence you can put them back and make additional ones.
** For younger toddlers you could simply make this a matching game with the number pancakes.
Pancake Themed Books for Preschoolers
Visit our Pancake Themed Activities for Preschoolers and then take a moment to check out below the cohost's of our Virtual Book Club for Kids Pancake Themed Activities for hours of fun and learning with your child.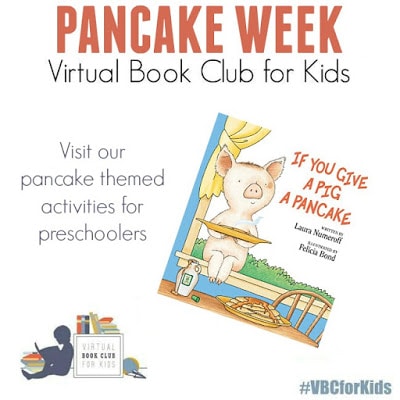 Pancake Number Stacks – Rainy Day Mum
Snowman Pancake Decoration Station- Toddler Approved
Printable Pancake Math Activity – The Educators' Spin On It (You're HERE)
How to Make Swedish Pancakes – Mama Smiles
Kids Cooking Lesson: German Pancakes- Teach Beside Me
Felt Pancake Busy Bag – Views From a Step Stool
Shape Matching Pancake and Butter Pat Game by JDaniel4's Mom