Talking with kids about Thanksgiving is quite special as a parent. Pausing with them to see the little things we count as blessings. Here's a special way to share thanks in your home this Thanksgiving with a handmade banner.
We are so thankful for our Readers at The Educators' Spin On It. It's been a joy spending the year with you and sharing ideas for you to experience with your child. Amanda and I both have acknowledged that teaching is our passion and gift and we feel so blessed to be able to share our gift with you with The Educators' Spin On It.

Of course no holiday is complete without a few fun books to go along with it. We have a little basket already set aside for the in-laws to read to us on Thanksgiving. I figured it might be fun to feature an author that you can spend the holidays with. Books make the perfect gift, especially ones that come with activities to go with it. So when you're done reading our post and finding a few last minute ideas for Thanksgiving don't forget to check out the ideas below from all of the participating blogs.


The featured author this month for the Virtual Book Club for Kids is Karma Wilson
Karma writes humorous, rhythmic picture books for the very young and books that share her faith in a fun understanding way with even the youngest readers.


Karma Wilson has her own website which includes Teacher Resources I encourage you to visit. She's worked with many illustrators but we've selected the Bear Books to feature that are illustrated by Jane Chapman in our Virtual Book Club this Month. I adore her sweet bear and his friends that she illustrates. Karma has created some inviting stories to follow along with this bear. Since it's Thanksgiving we're focusing today on Bear Says Thanks by Karma Wilson.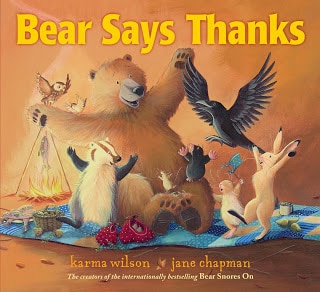 Bear Says Thanks
Here are a few more books by Karma featuring Bear
Click here to see more of Karma Wilson's Books
!
Don't have the Book? Here's a video of Bear Give Thanks on Youtube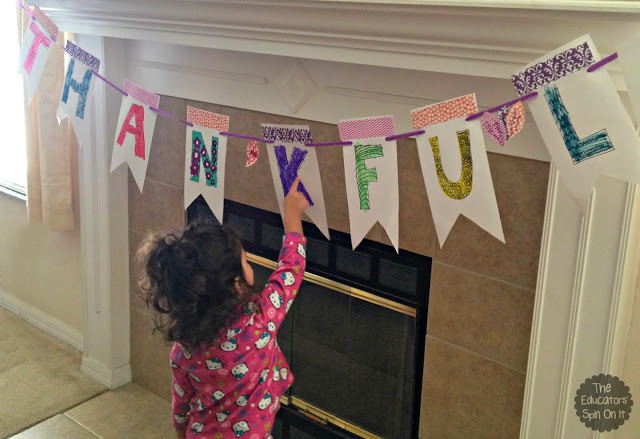 Here's a quick and simple way to get the house ready for Thanksgiving Day with your kids! Grab a ribbon and some paper! We took the word THANKFUL and divided each letter onto a piece of paper. I encourage my daughter to write a BIG letters the word THANKFUL . Then we added paper leaves with things that we are thankful for. As each guests arrives we're going to have each of them write down something that they are thankful for on a leaf too to add to our banner! Here's more directions


GIVE THANKS PAINTING DOOR HANGING
First we carefully taped down paper that said GIVE THANKS. We then took our hands and painted them with colorful fall colors and printed them all over the paper. Once we were done we removed the Give Thanks words and were left with thankful hands and a sign for our front door. Here's more directions


SCRAP PAPER TURKEY FEATHER FUN
We have a few pieces left from the scrapbook Paper that we used to line the tops of our Banner so we cut them up into feathers and created little turkeys to decorate for Thanksgiving. They make fun little placesetting cards or Gratitude Cards for your holiday guests too!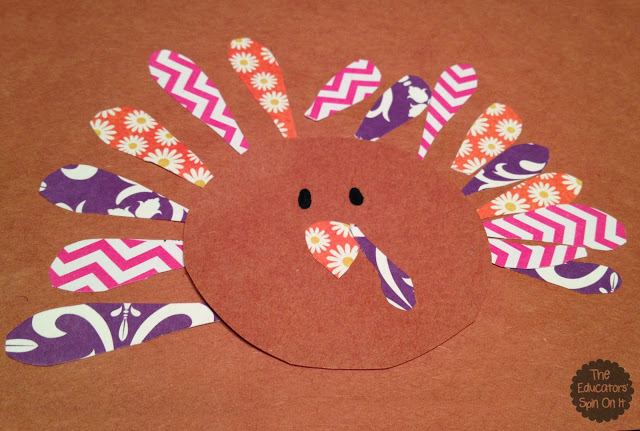 Wishing you a Happy Thanksgiving
from The Educators' Spin On It!