Here at the Educators' Spin On It, we LOVE to tinker around. As a former classroom teacher, now write-at-home mom, I am always looking for ways to enrich my child's afterschool learning. I know that our kids are not getting enough hands-on math, science, and engineering during the school day.
As a parent, it's my job to find ways to support my kid's learning after school.
This week, we were fortunate to receive one of the first Halloween Tinker Crates to share with you!!! My kids were over-the-moon excited to make and play with this project –
EEK! Can you tell I'm excited?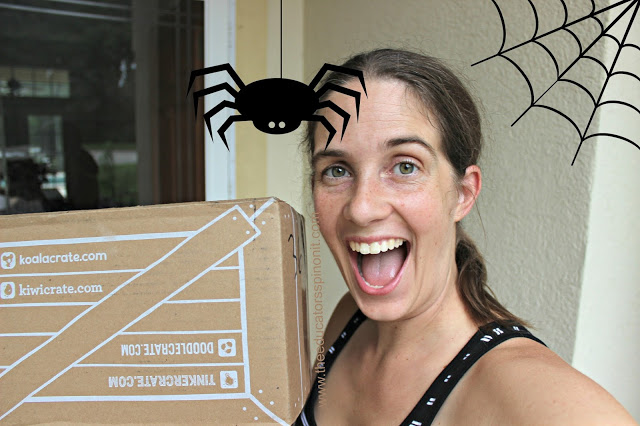 THANK YOU TINKER CRATES!!! ~ Affiliate links used in this article.
I love that tinker crates are:
science and engineering delivered to my doorstep
include all materials
have detailed, easy to follow instructions
challenging enough that my child need to THINK
things that I would not normally assemble and do with my child.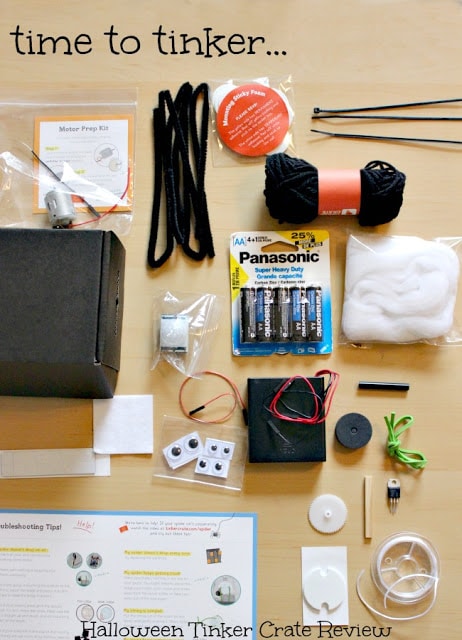 The Halloween Tinker Crate
The Halloween Tinker Crate is by far the most awesome crate E-V-E-R!
Circuits – yup, they are awesome.
Motion Sensors – SWOON
Spiders – Oh yeah, they are creepy!
Besides… think of how much fun you could have…
Yes, they spookified their playhouse outside and took turns "scaring" each other and screaming down the slide – and videoed it per my 5 year old request! It's true – Spider webs and motion sensor spiders can turn any playtime into a new experience! You can't see in the video, but they have battery powered tea lights set up there too!
Order your Halloween Tinker Crate NOW!
It is always fun when you can make something turn on by connecting things together correctly.
* Make sure to secure your box tightly as ours shook off the ledge once!
We had a good giggle, because her biggest challenge was making the pom-pom spider. As a parent it is sometimes REALLY hard not to just step in and tell our kids what's wrong. She kept wrapping the yarn around the fork, then taking it off. I "think" she may have even stamped her feet she was getting a wee bit frustrated. After a few attempts, I encouraged her to re-read the directions…
"OH. I forgot to put the first piece on the fork to tie it." she realized.
After that, she was making pom-poms like crazy. It was super cute!
If your child gets frustrated when working on projects, here are some things that work for us:
Only start complicated projects when you are in a good mood.
Have a healthy snack and glass of water before beginning.
Eliminate Distractions
Turn off the TV/ Radio (unless your child works better with music.
Clear a workstation
If you have a 2 year old dressed as a firefighter trying to hose off your work station, it may be even harder. If you can, play with the little firefighters nearby and let your big kid tinker away. Lend support when needed.
If frustration stalls work. STOP and try again another day.
Her workstation while making the Halloween Tinker Crate – UN-EDITED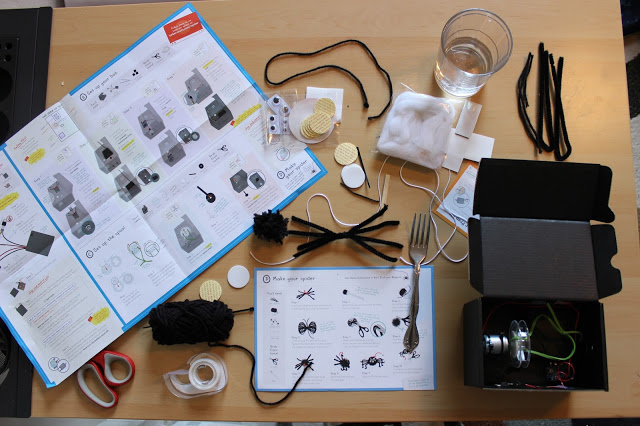 The Halloween Tinker Crate is a little more complicated than most.
Be forwarned.
It is one of the funniest challenges you will have this October!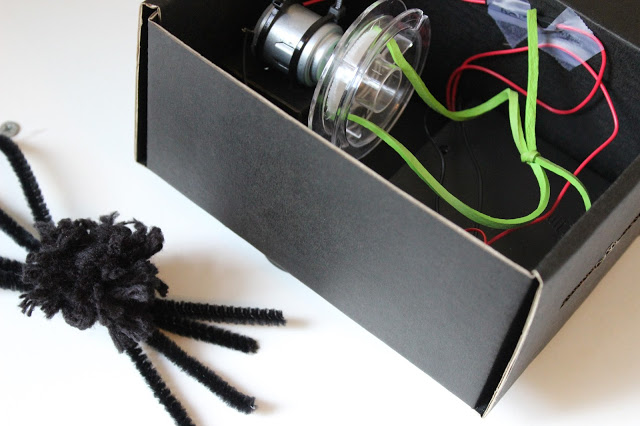 My child was totally ok with the extra challenge. She is 9 and her brain works in the most amazing ways.  I am always amazed at her memory and ability to put things together. Most academics come easy to her and so it was nice to have a little challenge.
I like when my kids need to think and problem solve!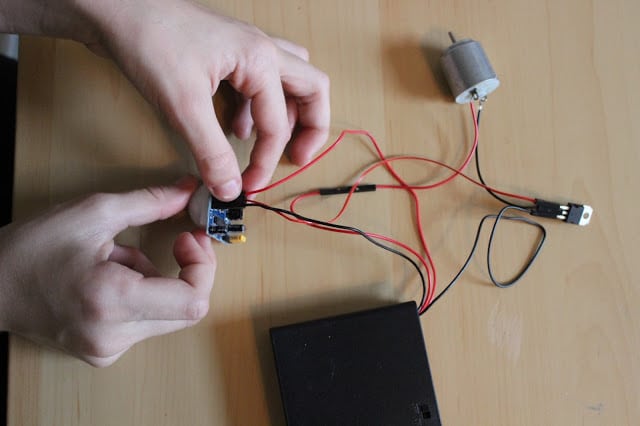 Note, the wire in the printed instructions is yellow, the one IRL (in real life) was red. She was a little confused – did they forget to send a wire or is it a different color? Ahh… problem solving at its finest.
Mom's advice: Look at the diagram. Align the parts in the same order and use the process of elimination to solve your problem. Start with the most obvious part.
Solution: Our yellow wire was actually red.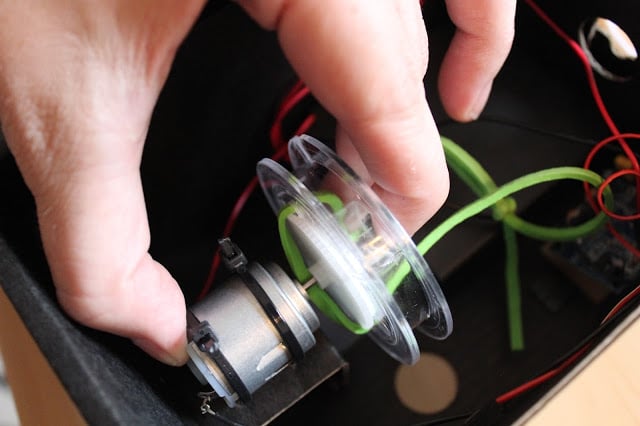 She had trouble with Step 3 of the spool. I'm sure that will be a bugger for most tinkerers. The gear does not go on easy at all.
Mom's advice: Reread the instructions to make sure you are doing it right.
Solution. She was, it was just hard. I jumped in to help her at that step and even pulled out the parts of the other kit to see how I needed to put it in. The deal is, you just have to push hard. One hand (like pictured above) didn't cut it, I used 2 and a ton of force. 
It almost felt like I would break it all, but it finally snapped in.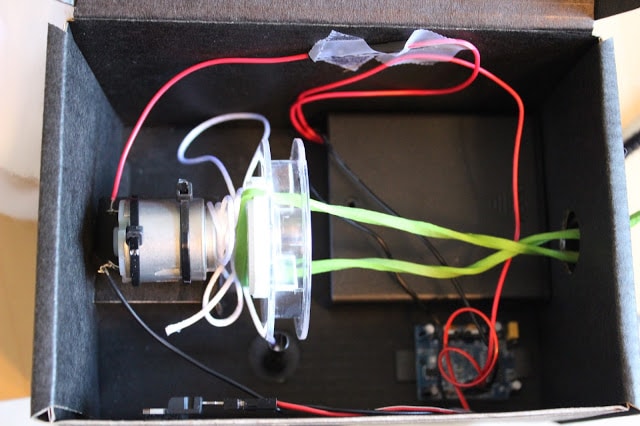 Once the motion-sensing spider was complete, we had some trouble with the string getting "all funky." This happened when we were setting it up and happened often. Make sure your motor is turned off and gently tug the string downwards from the bottom of the box.
Mom's advice: Umm… No idea?
Solution: She decided to make sure to check the string after each time it was moved from place to place. We also read the troubleshooting guide and they recommend not tilting the box. Which is totally hard for excited kids who have been playing with this spider for days.
Would I recommend the The Halloween Tinker Crate?
Most definitely!
It is a fun, learning activity for older kids to do.
It gets them thinking, building, and creating.
Also, it's a kit that I really would have a hard time putting together myself.
AND… After my 9 year old did this, she told me I was the BEST MOM EVER for getting this for her!
If you have a younger child, they would need much more adult assistance than my daughter did. My 5 year old was content to watch her build, help with the pom-pom's and set the motion sensor off OVER AND OVER again!
Order your Halloween Tinker Crate NOW!
More from Kiwi Crates:
Kiwi Crate is a box of creativity delivered to your doorstep. Each kit contains enough supplies for 2-3 themed projects and instructions. It is geared for kids ages 4-8
Read more details about Kiwi Crates here. 
Tinker Crate is STEM in a box, delivered to your door each month. SWOON.  Yes, no more trying to pretend I'm really good at building, creating, and finding ways to get my daughter engaged in math, science, and engineering, Kiwi Crate has me covered!
Read MY review of the Tinker Crates here.
Read more details about the new Tinker Crates here
Doodle Crate is created especially for the older kids who like to create and DIY.  FINALLY a craft box for older kids! (Ages 9-16)
Read my review of the Doodle Crates Here
Koala Crate is specially designed for preschool learning and crafting (ages 3-4). It's preschool delivered to your door.  I LOVE that one of my favorite magazines, HIGHLIGHTS, also helped create it!
Read more details about the new Koala Crate
You may also enjoy these with your child…