Grab a package of bright colored pom poms and your muffin tin from the kitchen for this brain busting math game for young children.
When you combine the value of numbers 0-12 and the fine motor use with the grabber, you can almost see their brains working.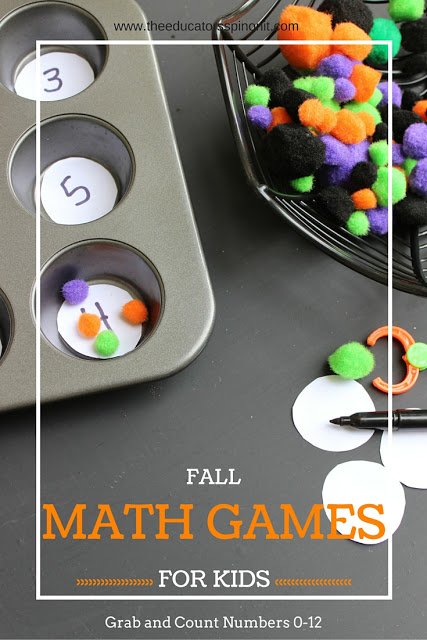 Fall Math Games for Kids: POM POM GRAB & COUNT Numbers 0-12
Learning Objective: Represent the value of the numbers 0-12.
For younger children, adjust the learning objective to numbers 1-4 or 1-8.
Materials Needed:
How to Make Fall Math Games for Kids:Grab and Count Numbers 0-12
Cut 12 circles out of paper.
Write the number 1-12 on the circles.
Place one inside each muffin pancontainer.
Put the pom poms in the container or bowl.
How to Play Fall Math Games for Kids:Grab and Count Numbers 0-12
Read and point to the number circles.
Using the grabber, fill each muffin tin with the same number of pom poms as the written number. The grabber will increase the games concentration and use of fine motor skills. If you do not have a grabber, encourage children to use their thumb and pointer finger to pick up each pom-pom individually.
Count to check.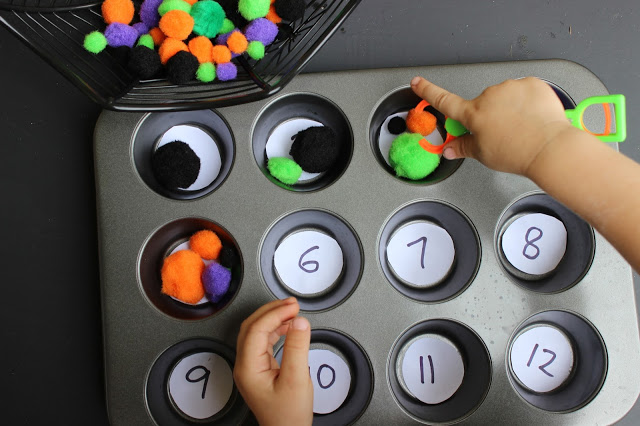 Game Variations
Place the number circles out of order for an added challenge!
Write a number sentence on each circle. 2+2= Use the pop poms to show the sum.
Use just the number 1-4 on the number circles and repeat these numbers 3 times in the muffin tin.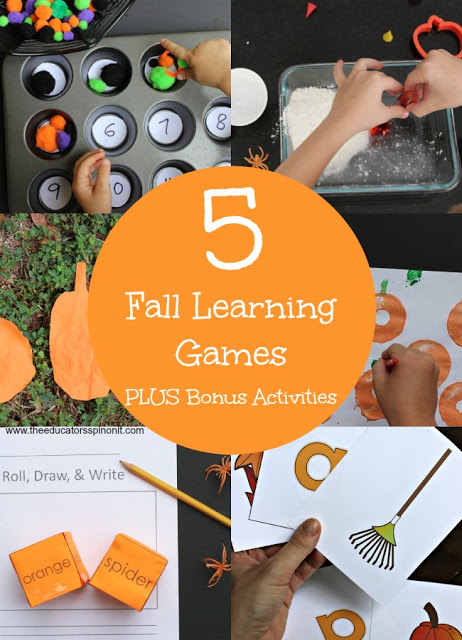 This game is part of a Fall Learning Games for Kids Pack.
Complete with printables and lesson plans.
Included in this Download are:
Do You Have? Fall Reading Game
Pom-pom Grab and Count Math Game
-Numbers 1-4
-Numbers 1-12
-Simple Addition 0-3
-Syllable Counting
Pumpkin Pattern Path Math Game
Pool Noodle Pumpkin Patch Painting
Roll, Draw, and Write Writing Game
BONUS
Science Exploration: Fall Ooblek
STEM Challenge: 3D Leaf Sculptures
Q-Tip Tree Painting
BUY NOW AT OUR TEACHER PAY TEACHER SHOP 
The Educators' Spin On It Newsletter
Literacy Connections to Fall Counting Game:
Counting on Fall (Math in Nature)

How Many Seeds in a Pumpkin? (Mr. Tiffin's Classroom Series)

Count Down to Fall