Create a delicious heart shaped treat for kids this Valentine's Day by using just a few ingredients. Enjoy a yummy chocolate treat you've created for someone you love. Plus these holiday shaped pretzels are perfect to make for Valentine's Day Treats for school or a playdate with friends.
Here's how to make these heart shaped pretzel candy treats!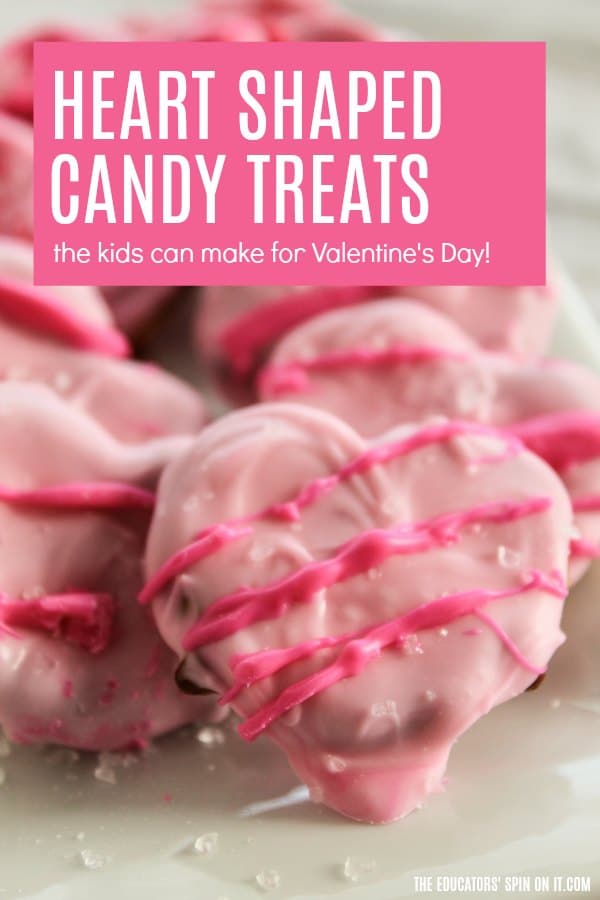 Heart Shaped Pretzel Candy Recipe
Disclosure: This post contains affiliate links to Amazon
Supplies & Ingredients

To create this Valentine's Day Treat following these simple directions. Your child should be able to help you in the process of making them based on their age. Younger kids can do the sprinkles and drizzling steps. Older kids should be able to help with the whole process from spooning the melted chocolate candy to decorating this heart shaped treats for kids

Instructions for Heart Shaped Pretzel Candy
1. Melt about 4 ounces of chocolate per package directions (typically you microwave it for 1 minute at 50% power, and then stir and continue to heat it for 30 second intervals until it's smooth)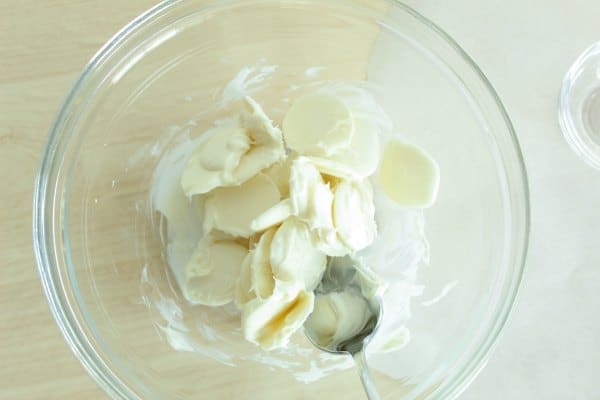 Note: If you're using Milk chocolate, it's important to temper the chocolate – stir in un-melted pieces to the hot melted chocolate mixture. This will help the chocolate remain shiny after it hardens.
2. Dip a toothpick in the pink Candy colors and stir it into melted white chocolate. Repeat with a clean toothpick until you get your desired shade. [For white candy skip this step]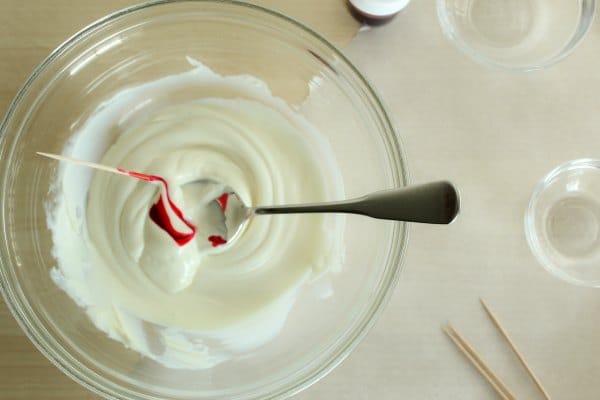 3. Put a strip of Parchment paper or waxed paper onto a small cutting board, and set a pretzel down on it.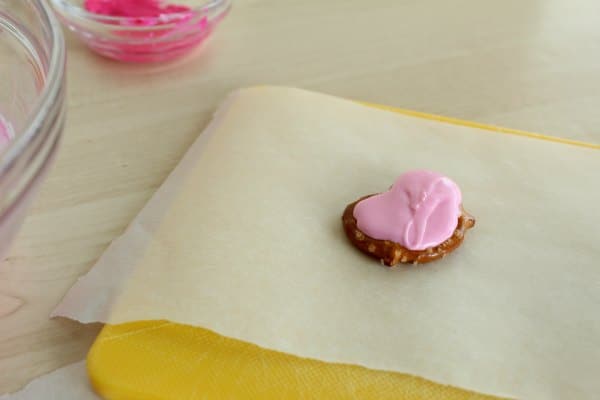 4. Spoon the melted candy onto the pretzel as shown. Then, use the toothpick to sweep around the edges forming a heart shape.
TIP: It may take you a few pretzels to get the hang of it. If they look ugly you'll just have to eat them!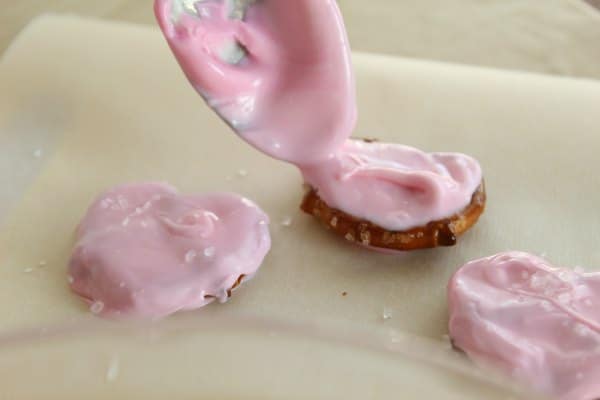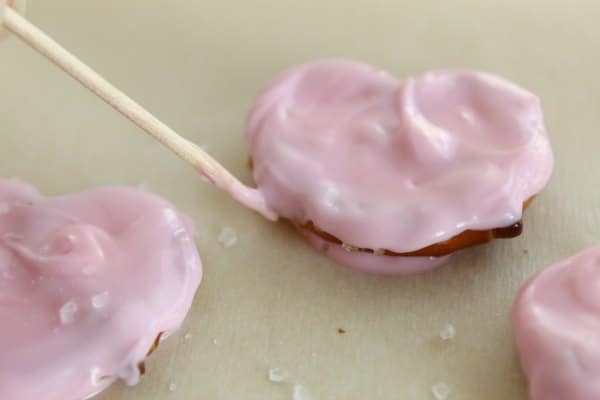 5. Tap the cutting board on your work surface to spread the candy out further and to get the air bubbles out.
6. If you want to decorate with sprinkles, add them before the chocolate hardens. Since these are pretzels, you can even decorate with a little kosher salt or extra coarse salt from a salt grinder – just use it in moderation. Yum!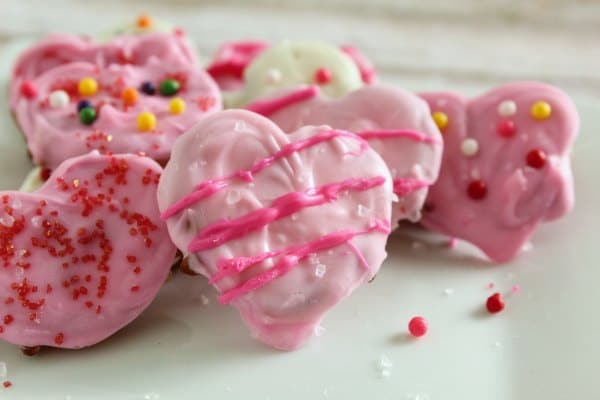 7. Repeat with several more pretzels. When your cutting board is full, put it in the freezer for about 5 minutes to harden.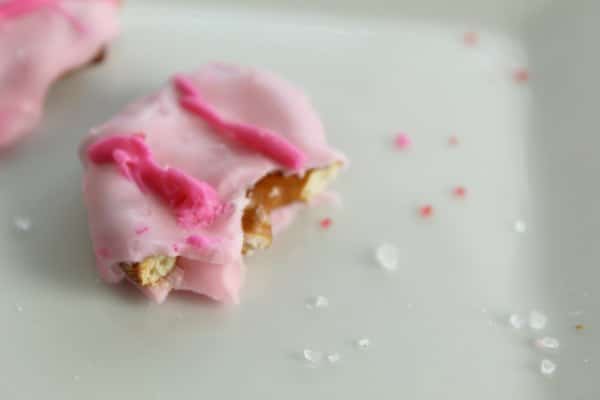 8. If you want to drizzle on stripes in a contrasting color, melt some additional chocolate as in steps 1 & 2 above. Lay the candy pretzels out on waxed or parchment paper and drizzle melted chocolate across it with a small spoon. It helps to start the drizzle on the paper and then continue across the candy to the paper on the other side.

Valentine's Day Treat for Kids
There are so many ways to decorate these delicious Valentine snacks for the classroom or for a playdate with friends with your child. I can't wait to see how your heart shaped pretzel candy treats turn out! Happy Valentine's Day!
Try these heart shaped cake balls too!
Looking for more Valentine's Day fun?
You might like our resource of 101 FUN Valentine's Day Activities for Kids. There's a few more Valentine's Day Recipes there too for your little chef.