Growing Carrots with kids gets them excited about eating healthy! Carrots grown in the garden taste much different than the carrots you can purchase in the stores.
My kids are not big vegetable eaters, but they adore eating a carrot fresh from the garden (a little bit of dirt and all).
If you are willing to start a small backyard garden, carrots do not take up a whole bunch of space and may be a great addition to your learning garden adventures.
Disclosure: Amazon links to products included
Growing Carrots with Kids
You will need:
Sandy loose soil
A sunny area
Access to water and Watering Can
First prepare your soil by adding in some compost and mixing well. Remove all rocks and large sticks.
Lightly scatter the carrot seeds on the surface. Cover with a very thin layer of soil. Water thoroughly.
Continue watering the carrots daily for the first few weeks, then water as needed.
We have found our carrots like water every other day.
Thin to 3 inches apart when the leaves appear. This is the HARDEST part of growing carrots, but the most essential if you really want to grow carrots.
The more space they have to grow, the bigger they will get.
Why You Should and Should Not Grow Carrots with Kids:
We grow carrots because nothing can replace the joy in the eyes of my children as they harvest the carrots that they planted, they watered, they grew.
Growing carrots with kids teaches many life skills.
My five year old said, "Mom, can you pack me our carrots every day for lunch, they are the best." And I can agree. My two year old can't get enough of them and heads to the garden to find his one for the day. He won't let me forget it!
Carrots are a slow growing, finicky crop, but worth every penny spent on seeds when they do grow!
6 Reasons Why We Grow Carrots
We want to teach our children where their food comes from.
We want them to understand the value of time and the patience it takes while gardening.
Carrots from the garden have a flavor that you will be unable to replicate in most grocery stores.
You can grow a bunch of different varieties to preserve vegetable diversity and encourage healthy eating.
We can teach our children that everything we do from preparing the soil to water has an effect on the food we grow.
Growing carrots with kids teaches patience and care for another living organism.
5 Reasons Why You Really Shouldn't Grow Carrots
1. They take a LONG, LONG time to grow.
2. You can purchase carrots in the store for relatively inexpensive.
3. They need the right amount of water at the right times.
4. Many gardeners report "no luck" growing carrots, leggy carrots, too many roots, or stumpy carrots.
5. Even a small twig in the soil can stunt or change carrot growth.
Tips and Tricks on Growing Carrots with Kids
Start with a small area and have low expectations.
Let the kids plant, but make sure to thin the sprouts to give each carrot room to grow. I know it's hard, but if you give each their own space, they will grow better.
Re-plant a new area in your garden with carrot seeds every few weeks for a continuous harvest. I start a small area of seeds every 3 weeks during the growing season so that we will have a continued harvest.
The greens will get tall and parts of the orange roots will begin to peak out from the soil. This will help signal to you that they are getting big enough to harvest.
When you pick the carrot – cover the space back up with dirt. This seems to help the carrots nearby continue growing better.
We often have "flop" batches that do not grow well at all, but this is OK, as we plant more than one time and more than one kind.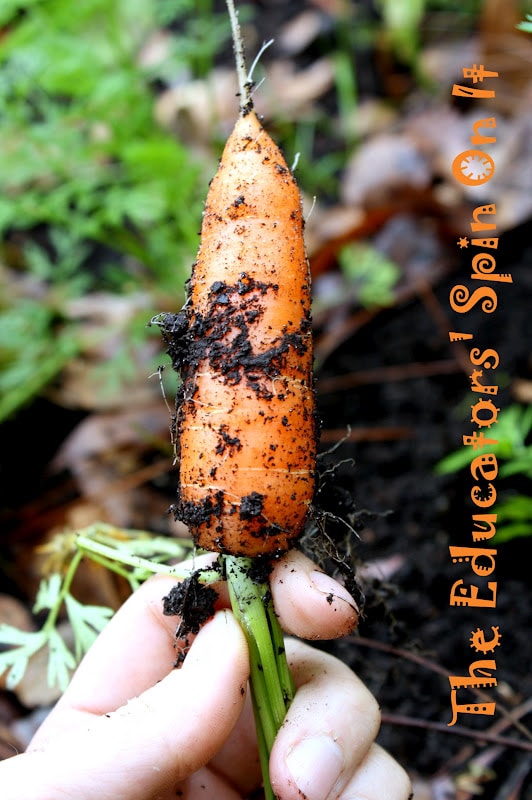 When you are looking at which seed to choose, I would start with a mid-size carrot which works best in most soil types.  Look at the picture and read the information on the seed packet.  One year we bought a carrot with a name like, "Thumbkin." 
We waited 3 months to harvest the carrots and they were the size of a thumbnail – just like the package described.  It was not a very stomach filling crop and we all were disappointed!
Literacy Connections for Kids:
Our kids are active participants in the garden. They help prepare the soil, plant, water, and harvest.  We often connect the vegetables we plant with related books and are even known to spread out a big quilt in the yard and read to the vegetables.
Reading a combination of fiction and non-fiction books about carrots helps introduce and reinforce vocabulary and give them a broader understanding of how they grow.
Here are a few carrot themed books that would be fun to read to your carrots!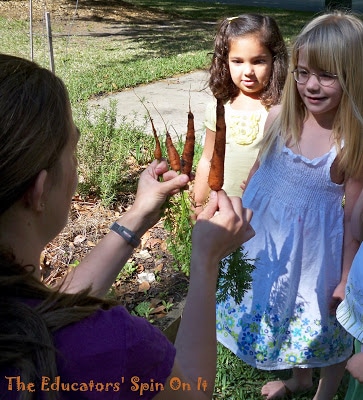 Will you be growing carrots this year? 
Looking for more gardening activities for kids? Try these…
Save