Raising kids is an everyday challenge, especially when it comes to how to react to emotions and our child's personal thoughts. Now imagine that as a student or classroom teacher with around 20 children growing and changing and developing their own personal thoughts and emotions.  It can be quite a challenge.  Having a child that is confident in how they react to their emotions is key to their success.  
Teaching your child to identify with their emotions is so very important.  Feelings are normal they are part of being a person. Sad, happy, angry, excited, scared, shy, and jealous are all feelings they need to learn to express appropriately. Parents and teachers play a vital role in helping a child identify those feelings and encourage them to express them.  As our children mature their inner thoughts can become something very powerful and how to help them understand them is even more powerful.
How many times a day do you use your thought monster?
You know the person that reminds you that you didn't get the laundry put away. Or that you're not teaching enough to your child. Perhaps the one that tells you've been too busy to see your friends recently. The one that told you that you are a super star getting all the kids to bed on time with no drama! All these inner thoughts challenge the way you think of yourself as a mom, friend, wife and for me even a certified educator who's not in a classroom.
Can you imagine what goes through our children's thoughts each day about themselves as they are developing? Then add friends and classmates into the mix who share their thoughts about our children at time kind and at times not to so kind. How do we give them the tools to deal with all of these emotions and self thoughts?
I'm so excited to have found this book by Katie McClain called How to Tame Your Thought Monster
She's created it as a workbook for you to do with your child. The program is designed for teachers as well. Helping schools create a culture of kindness, cooperation, self-confidence and success. The program has the option of a coloring book which would work well at home or as a class set for a classroom.
Visit Kid Think for more information about How to Tame Your Thought Monster
Teachers Sign up for Teaching Training Class
Download a free copy of the eBook There's No Such Thing as a Bully
Parents Sign up for FREE for the Kindness Class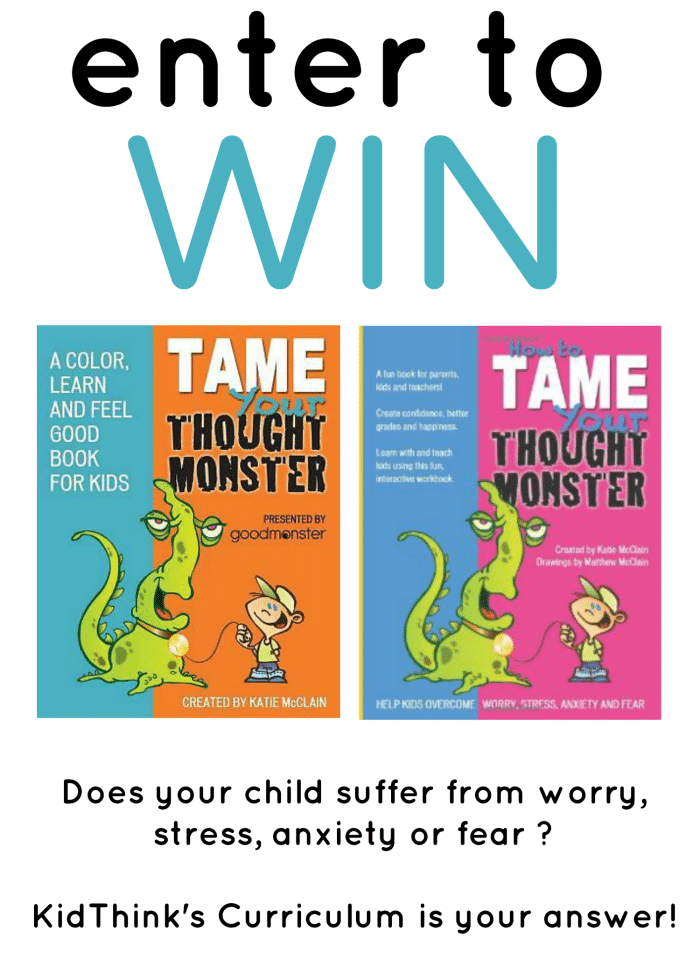 To purchase your own copy of Katie's book and to find out more about her free video training course Visit her website at http://kidthink.info/ Or scroll down to enter the GIVEAWAY of her How to Tame Your Thought Monster book and coloring book.
Hangout On Air with author Katie McClain
You're invited to watch a Parenting with Purpose Hangout On Air Series below. Here's an opportunity to listen to Kim Vijand special guest life coach and author Katie McClain as she shares her advice for helping your kids overcome worry, stress, anxiety and fear.
How to Tame Your Thought Monster

We discussed Katie's book "How to Tame your Thought Monster" and ways that you can implement it at home as a parent as well as at school as a teacher. Grab a paper and pen so you can create your own "Thought Monster" along with us as you watch the Free Parenting Video.
Visit her website at http://kidthink.info/
Finding a Tool to Empower our Children
As an educator, I can't express to you enough the success of students who are confident and feel supported at home by their parents. Discovering a way to connect with them in their deepest thoughts is something very special. How to Tame Your Thought Monster
 gives you the opportunity to do just that.  Katie guides you through the process we go through within a linear process using the model.
Self Coaching Model
Circumstances
Thoughts
Feelings
Actions
Results
Discovering a way to empower your kids by helping them overcome worry, stress, anxiety, and fear, what a powerful tool to share with your child and students.
For more Parenting with Purpose Tips
Snapshots of Parenting with Purpose Series
Or Follow our Parenting Parenting Pinterest Board
Disclosure: This HOA, Giveaway and Review is sponsored by Kid Think