Ice Cream Activities for Toddlers! Host your own Ice Cream King Playdate with friends with these fun and tasty activities.
Here's how to host your own ice cream tot school!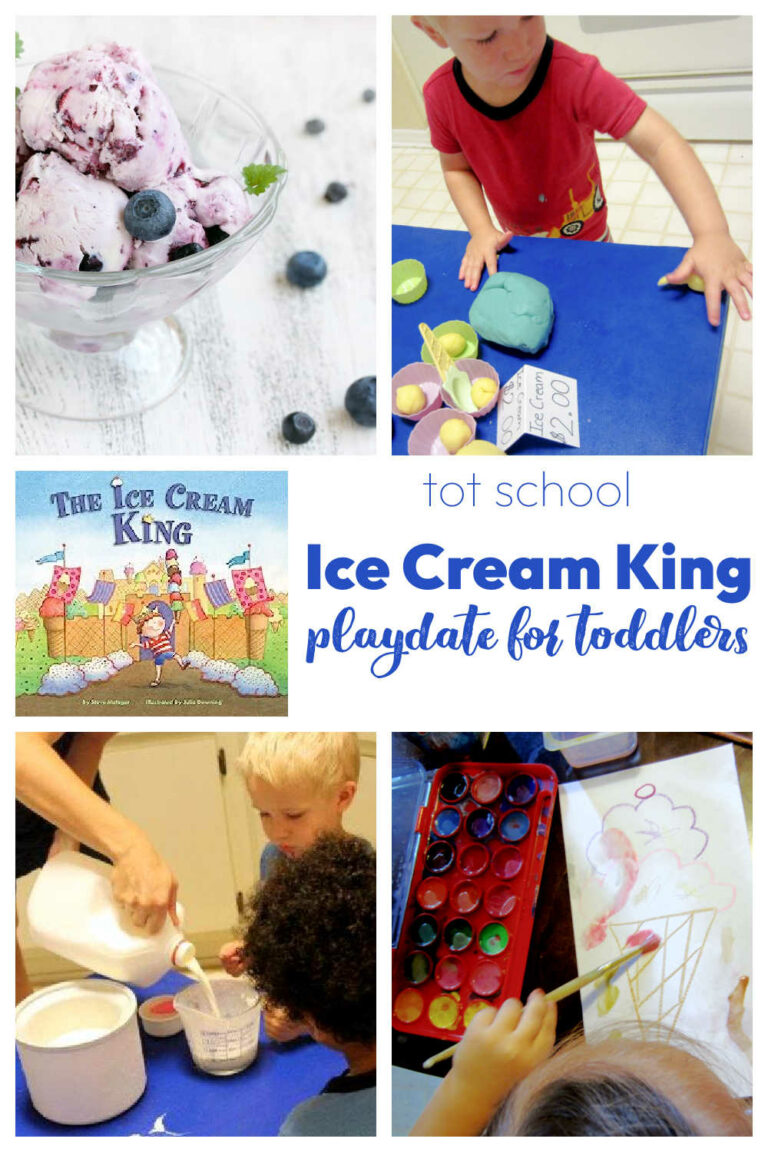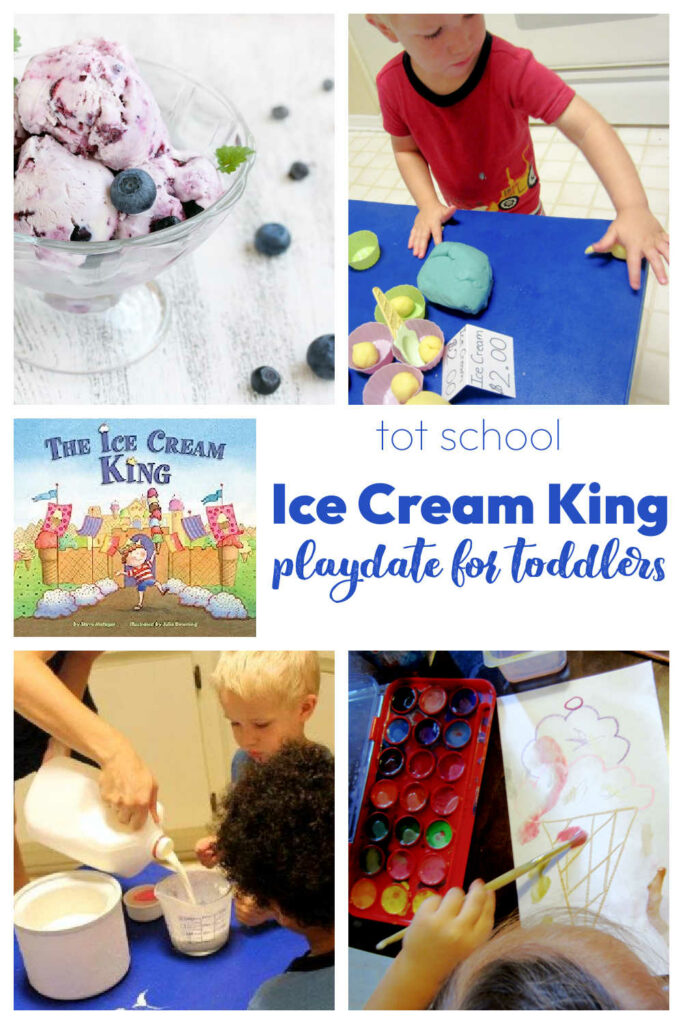 When my now 30-month-old was just a wee, plump lad, we had bestowed upon him the title of "Blueberry King. He started picking blueberries with us when he was only 8 months old and finds great joy in being outside amongst the blueberry bushes. (See our Blueberry Picking and Cooking Post)
We decided to combine some of his absolute favorite things for a Blueberry Ice Cream King play date!
As an Amazon Associate, I earn from qualifying purchases.
Ice Cream Activities for Toddlers
We invited some toddler friends over for a playdate!!! The morning began with some free play in the pretend kitchen, Legos, and puzzles.
Ice Cream Storytime
The Ice Cream King by Steve Metzger
The toddlers then came over and intently listened to this cute story about a boy's trip to an ice cream shop. The illustration makes ME want to lick the "rainbow sprinkles from mint-chip ice cream walls."
Ice Cream Shop with Playdough
Earlier, my tot and I made homemade lemon play dough and blue play dough for making our own play dough ice cream shop.
Rolling and smooshing is such a great way to strengthen those little hand muscles!
I set out the ice cream spoons and my tot went rummaging through the cupboards to find my silicone baking cups. He got the idea of what we were doing!!!
Then he got a piece of paper and handed me a marker and said, "Ice cream 2 dollars." Don't you just love this kid? I know I am biased, but he does have great ideas. It is always good to include writing and math to your pretend play. This environmental print develops early reading skills!
He spent the morning rolling and smashing the warm play dough!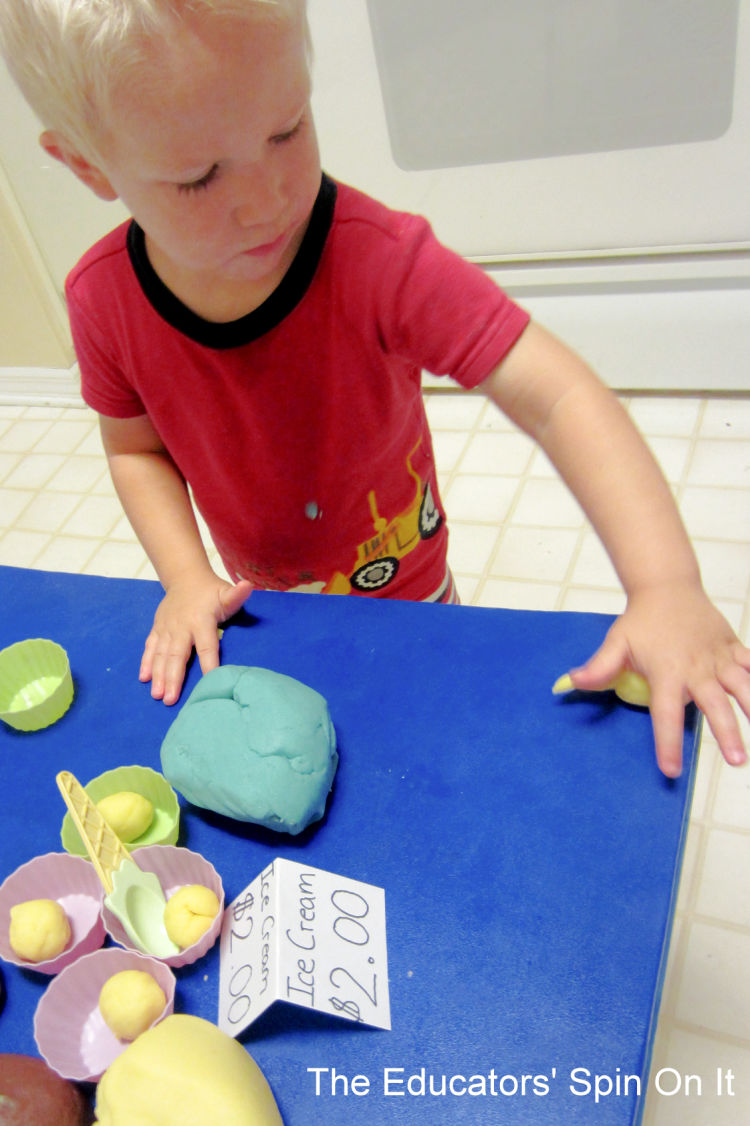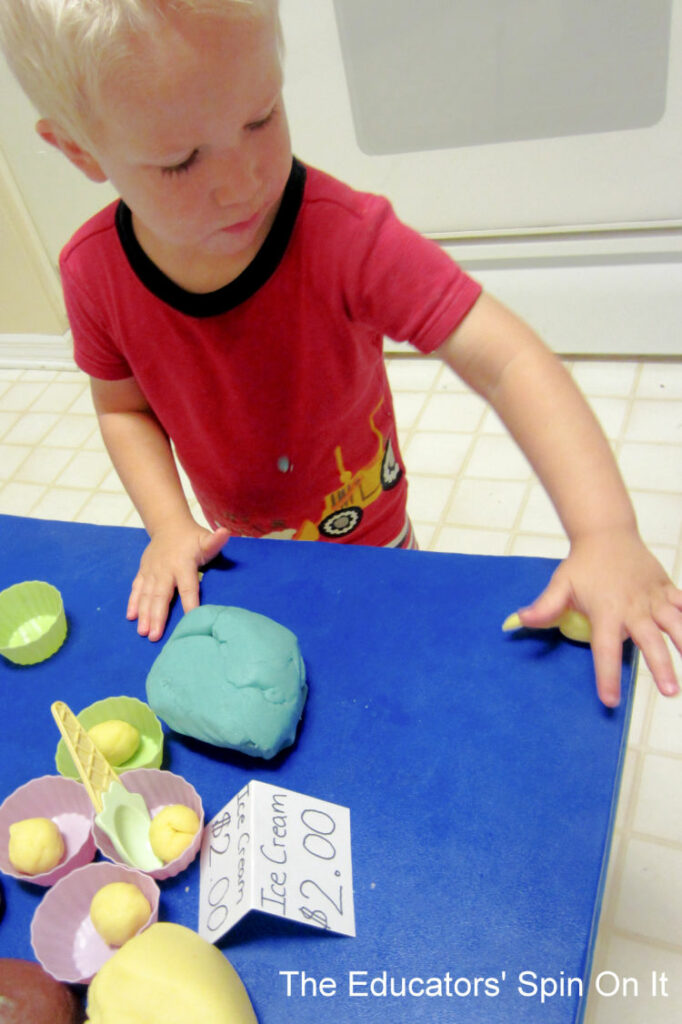 When his friends came over, they seemed to enjoy this ice cream shop play dough station too! The kids baked and rolled. They made ice cream, cupcakes, and pancakes.
By the end of the playdate, the colors were all mixed into a lovely yellow, blue, and brown! I split the dough into 7 bags and sent all the tots home with a pre-mixed bag of play dough. They were all delighted.
Ice Cream Watercolor Art Project
I also set up a watercolor painting station. I had the moms help draw an ice cream form with crayons and encourage their children to help, then paint over the ice cream shape for a crayon resist painting.
Two of the kids kept ice cream forms and the others just went wild with paint. It was fun to see how all engaged in the painting process in their own way!
Make Your Own Ice Cream with Toddlers
***We actually did this activity first as the ice cream takes 30 minutes to soft set. ***
Then, just because we love cooking with kids, we made our own ice cream. The kids all helped pour the ingredients into the ice cream maker. I used a smaller measuring cup for my sugar so that the kids could all have a couple of turns adding ingredients.
I had pre-made the blueberry sauce early in the morning and set it in the freezer to cool.
Next time I'll use Ice Cream Magic Personal Ice Cream Maker or Set of 6 Makers for friends like we did with our Pumpkin Ice Cream Playdate.
Unfortunately (or fortunately – whichever way you look at it) The ice cream never really "set". I think it was a combination of my blueberry sauce still being a little warm and having toddlers help with the cooking process (which warmed up the cream, milk and ice cream maker).
I asked the moms and toddlers if they minded having blueberry milkshakes instead. There were no complaints!!!
Hip- hip HOORAY for a delightful toddler playdate!!!
Ice Cream Books for Toddlers
Here are a few book suggestions to go along with your ice cream tot school about ice cream and about blueberries for a little extra fun.
Here are some additional Ice Cream Books and Blueberry Books for Toddlers.
Additional Tot School Ideas
Save
Your toddler may also enjoy these activities for their next tot school lesson.