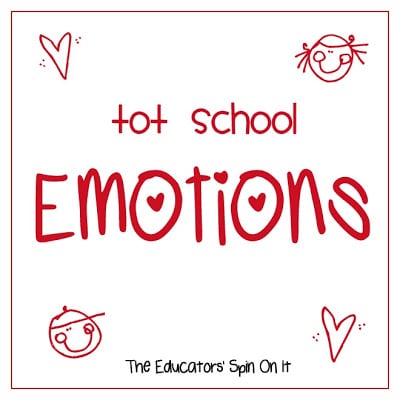 Let's face it our Toddlers at this stage in life are full of emotions that they just don't quite understand just yet let alone verbalize.  My daughter is 24 months and she just started using the word sad and happy which has helped us quite a bit in communicating her wants and needs.
Our focus this week was Emotions for Tot School.
Here are a few books we read during Tot School  Baby Faces, My Many Colored Days, and Today I Feel Silly.  
We used a child safe mirror and emotions poster as a station during the week.  We had so much fun looking in the mirror together trying to make different faces.  Hopefully I can snap some photos of her with each emotion soon and create this Emotions Game from our Love Books Swap this summer.
Monday Music:
We had a lot of fun signing If You're Happy And You Know It.  However we changed it up a little bit and added sad and mad.  We practiced changing our faces to the emotions.
Tuesday Science:
We focused on textures and the way that things feel and they make us feel.  Our weather has been so nice that I pulled out the water table and added various objects in there for her to play with.  We talked about smooth and rough and hard and soft as she explored the objects.
Wednesday Math:
Since we were working on emotions we counted faces for our counting and sorting activities.  Here's a link to the faces we used.
Thursday Art:
She practiced drawing faces on a special template with expo markers that could erase.  Here's a link to use for blank head outlines.
I also made a bigger version with shaving cream on it to create a face on it.
The last thing she did was create a collage out of faces from a reused Baby Magazine.
Friday Field Trip:
This week we took at trip to our local science musuem and explored their discovery room.  We also had a special treat of visiting Amanda's house for a Snow Themed playdate which you will hear more about on Sunday for After School Express!
Toys of the Week:
Puzzles, Stacking Blocks, Little People House and Bus and Baby Dolls
These were to toys we focused on using throughout the week.  I'm trying to set aside specific toys each week to role model with her and we bring the holiday toys in and take out some of the toys she's outgrowing.
Hope your learning week was as delightful as ours!  If you want to connect with other tot-schooling families, we will be linking up with the tot-school at 1+1+1=1. 
{This post contains affiliate links}