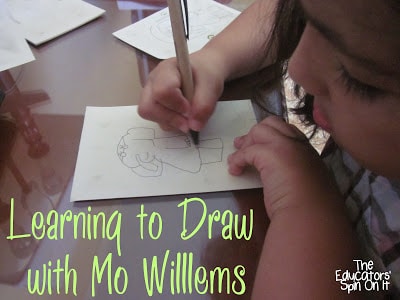 Mo Willems is our focus for June's Virtual Book Club! The fun thing about studying different authors is you get the chance to learn something new about them. As my daughter and I did a little searching to learn about Mo Willems we discovered all sorts of things about him. Plus he has so many great books that my daughter couldn't wait to read. We were surprised to discover that he used to write for Sesame Street where he earned six Emmy Awards for his writing.
I have a confession, Mo Willems
is an author that I have not had the chance to read much with my children, so I was excited to discover a new author to me and to my daughter. As I did my search, I clearly realized that I was missing out. I found that he is the author of groundbreaking picture books, including Don't Let the Pigeon Drive the Bus!; Don't Let the Pigeon Stay up Late!; The Pigeon Finds a Hot Dog!; Time to Say "Please"!; Leonardo, the Terrible Monster; and Edwina, the Dinosaur Who Didn't Know She Was Extinct. He is also the author of the Elephant & Piggie Books, an early reader series, as well as the popular Knuffle Bunny books. Some of his more recent books are Big Frog Can't Fit In, City Dog and Country Frog, and Cat the Cat; Who is That?
Let's get to know Mo Willems in person!
One of my goals for my daughter this summer was to get to know a few authors on a more personal level. Here are's a quick video of Mo discussing how he gets inspired with his stories.
I think it's important for young readers and writers to see that writing is a process and it takes time to get inspired and to challenge yourself to create a terrific story.
We searched to get to know Mo Willems a little bit better as an author. We found out that his books inspired us to write our own stories.
We've been working on writing stories in Kindergarten all year long so I felt this would be a great fit for my daughter to get inspired with her own stories.
"I designed my characters so that they could be easily drawn to create your own story."
Mo Willems
Here's a few fun videos about Mo Willems books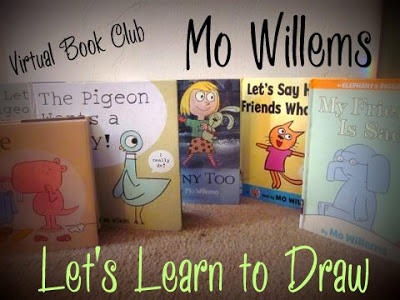 One of the things I like best about his stories are the characters.
They are so easy to identify to and also to recreate on your own. Once I viewed his videos from above I realized that this was his intent all along… to inspire future illustrators and writers.
Learning how to draw from an illustrator is a great way to learn how to draw.
My daughter spent some time learning how to recreate the characters from Mo Willems' books.
Now that she has mastered illustrations she was ready to create her own versions of some of her favorite Mo Willems inspired characters and stories .
Notice the addition of eye lashes to the characters to make them her own, female versions. Plus I encourage her to illustrate more so we used a quick tip for writing with smaller children. We allowed her to dictate her story to us as we typed them out onto the computer. It's an instant way of teaching your child what they are saying has meaning and that they can create their own stories. I encourage you to try it with your little ones, they'll love it! Make sure you use a large font for their eyes to be able to follow easily.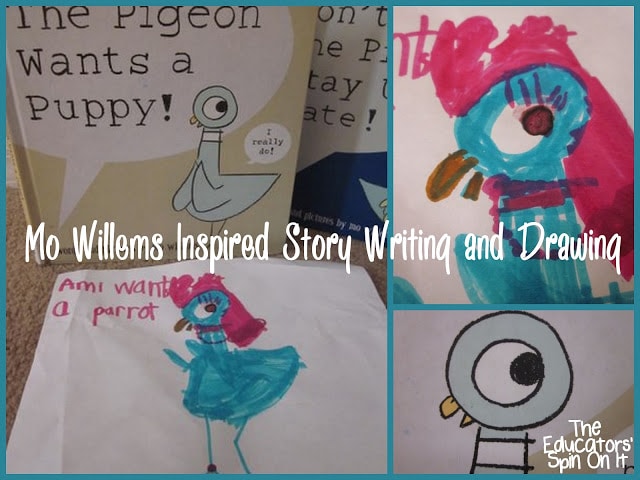 Resources for Mo Willems Books
Go Mo
for Games Activities and Books
Here are some of our favorite Mo Willems Books…Which Mo Willems book is your favorite?
Summer Virtual Book Club Participating Blogs:
Cat the Cat Series … why Mo Willems decided to write for younger children.
WORDS OF WISDOM…Sometimes you have to listen to friends and try a new author
Thanks Imagination Soup for encouraging me to try Mo Willems, love your photos of when you had a chance to meet him in person.