Get kids excited about reading with this DIY Reading Star Book Countdown Chain. Hang your child's star in a visible place, add a title of a book to the chain each day and celebrate reading.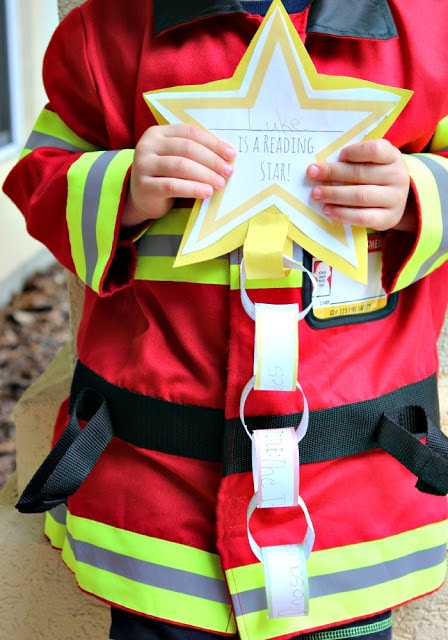 My kids love to read, but every so often, they need an extra boost to get and stay excited about reading. When that happens, we make a reading star book counting chain. My 5 year old and 8 year ask for this activity every summer, so much, that it has now become a family tradition.
Affiliate links are included in this article.
The reading star book counting chain
is easy for kids to help make.
is FUN to add chains to.
encourages daily reading.
sneaks a little handwriting and fine motor work in.
highlights the title of the books read.
provides an opportunity to go back and talk about the books read.
I have to admit. We go strong and add new books in for a good 2 weeks, and then my interest wanes a little bit. The kids keep their starts up and add to it for a good 2 months off and on. I'm hoping to have an end of the summer book family book party where we take the chains off and have a books we have read countdown.
My toddler has also requested a star of his own now too. Who can resist a toddler's pleading eyes? I let him scribble on a star and we are going to do a Read-to-Me Star Book counting Chain for him.
Make a Reading Star Book Counting Chain
Learning Objective: Record and discuss picture books that have been read to or the child has read themselves.
Materials Needed for the Reading Star Book Counting Chain.
This project can be made by creating your own template or purchasing the one I have already made. It is included in this Reading Motivation Kit from Teachers Pay Teachers.

Directions to make the Reading Star Book Counting Chain
1. If you are using the Reading Star printable from the Reading Motivation Kit, print and cut the star out.  Glue the cut star to the yellow construction paper. This will reinforce the star and make it stronger to hold all those book chains! You can also cut a star from yellow paper and write the words: ___ is a Reading Star! in the middle.
2. Cut a slender rectangle 1″ x 6″ from the yellow rectangle and attach it to the star in the front and back, making the first loop.
3. Read a book. Then write the title of the book on the title chains (print from the Reading Kit or use long rectangles cut from white multipurpose paper. Slide the paper through the first chain. Glue one end of the chain and close in a loop. Have the child hold the loop closed while counting to 20 in their head.
4. Read and repeat.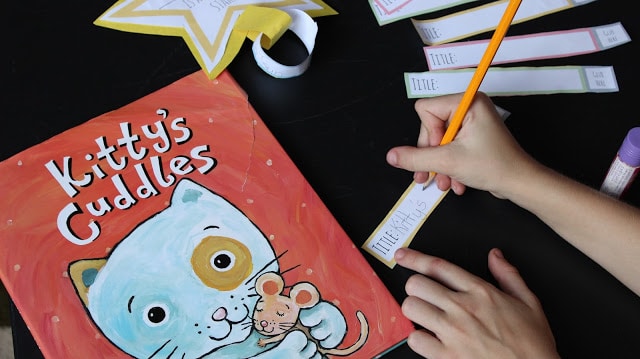 Teacher Tip:
Every time you add a new book chain to your Reading Star, re-read the names of the books (or just a few of them) your child has read. Choose one book to talk about. See if they can remember the story line, characters, or details.
More ideas how to celebrate reading with your child from the #PlayfulPreschool Education Team:
You may also enjoy these activities for your child…