Preschool is a mix of playtime, story time, building, reading, and crafting!  I LOVE when you can combine two or more for lessons like this one: Make a Shape Scarecrow!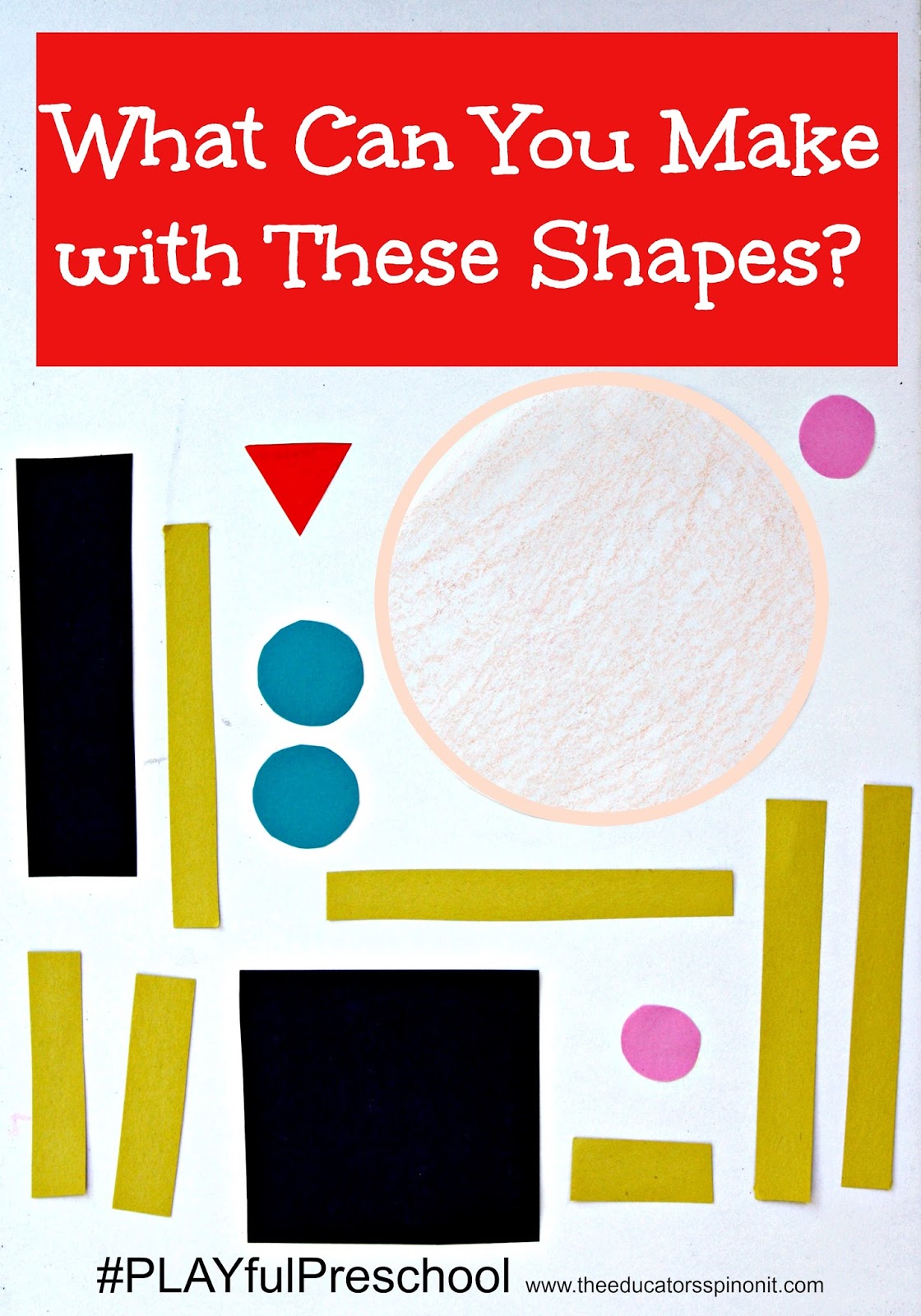 Make a Shape Scarecrow!!!
Read a book about scarecrows with your child.
Talk about the purpose of the scarecrow and how they are made.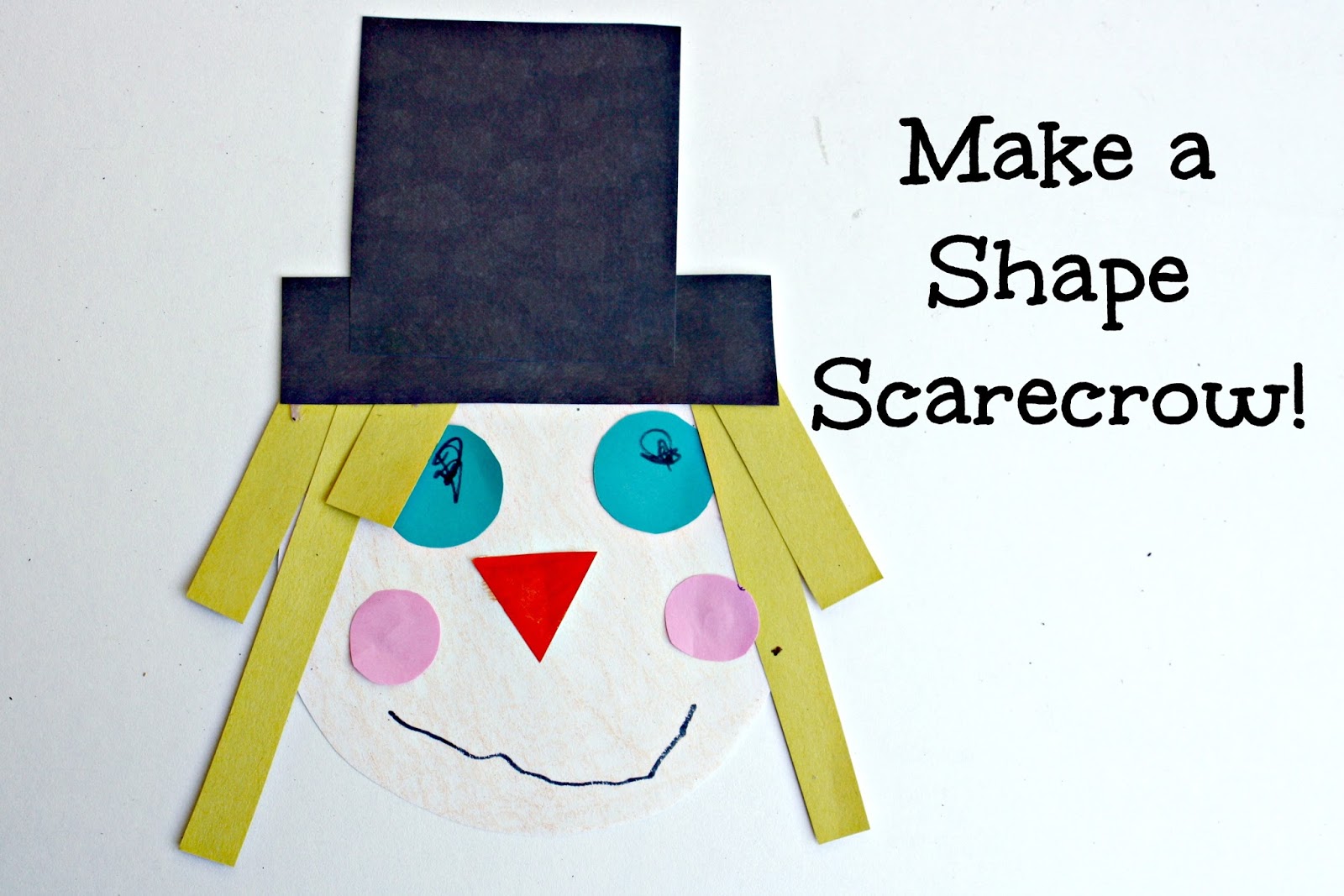 Learning Objectives for the Shape Scarecrow
The child will identify the shapes by name: square, rectangle, triangle, and circle.
The child will practice position words: top, middle, and side.
Materials Needed for the Shape Scarecrow.
1 black square
1 black rectangle
2 blue circles
2 pink circles
4-6 yellow rectangles
1 large pinkish circle
1 small orange triangle
Glue
Directions on How to Make a Shape Scarecrow.
1. Cut out the shapes.  The adult may draw the shapes and have the child cut them out for an added fine motor practice.  If you don't have the time for this, the adult can cut the shapes out and let the child assemble the scarecrow.  For many children at once, pile up the shapes and let them gather the ones they need.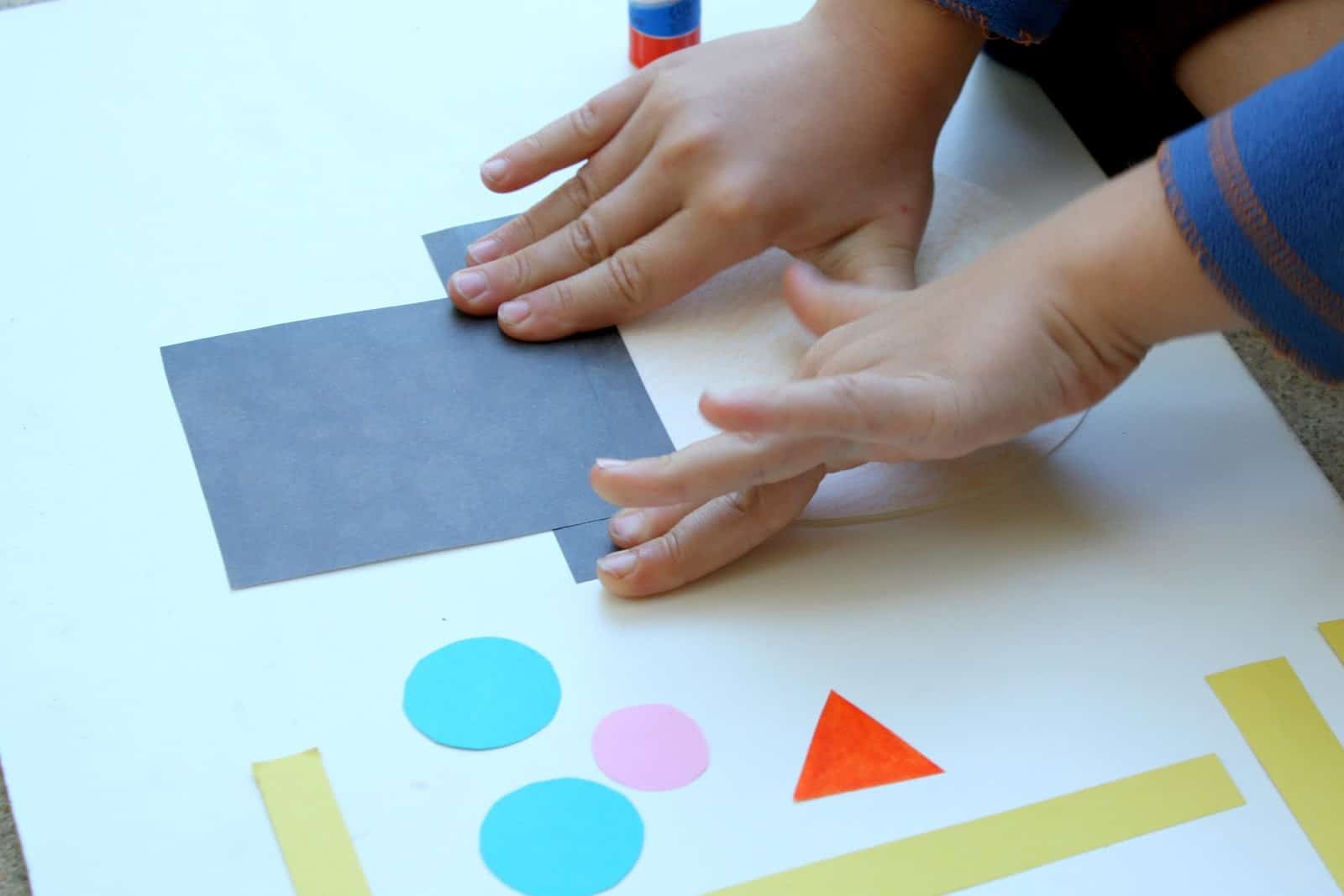 2. Point to the top.  Glue the hat on the top.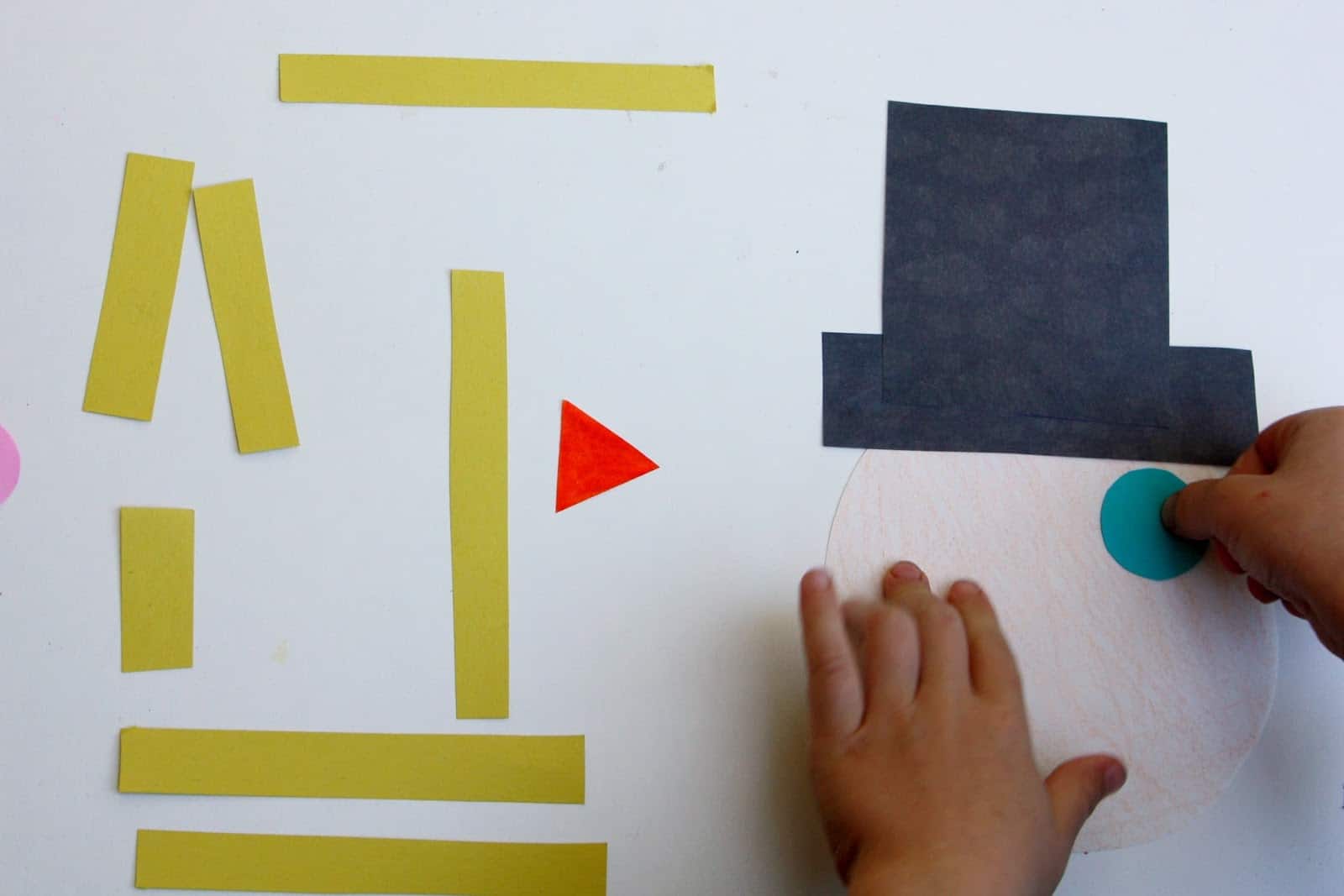 3. Under the hat, add two blue circles for the eyes.
4. In the middle add an orange triangle nose.
5. On the sides, add the yellow rectangles for hair.
6. Add the pink circle cheeks.
7. Using a marker, add a smile and the pupils on the eyes.
8. Have the child write their name on the back of the scarecrow.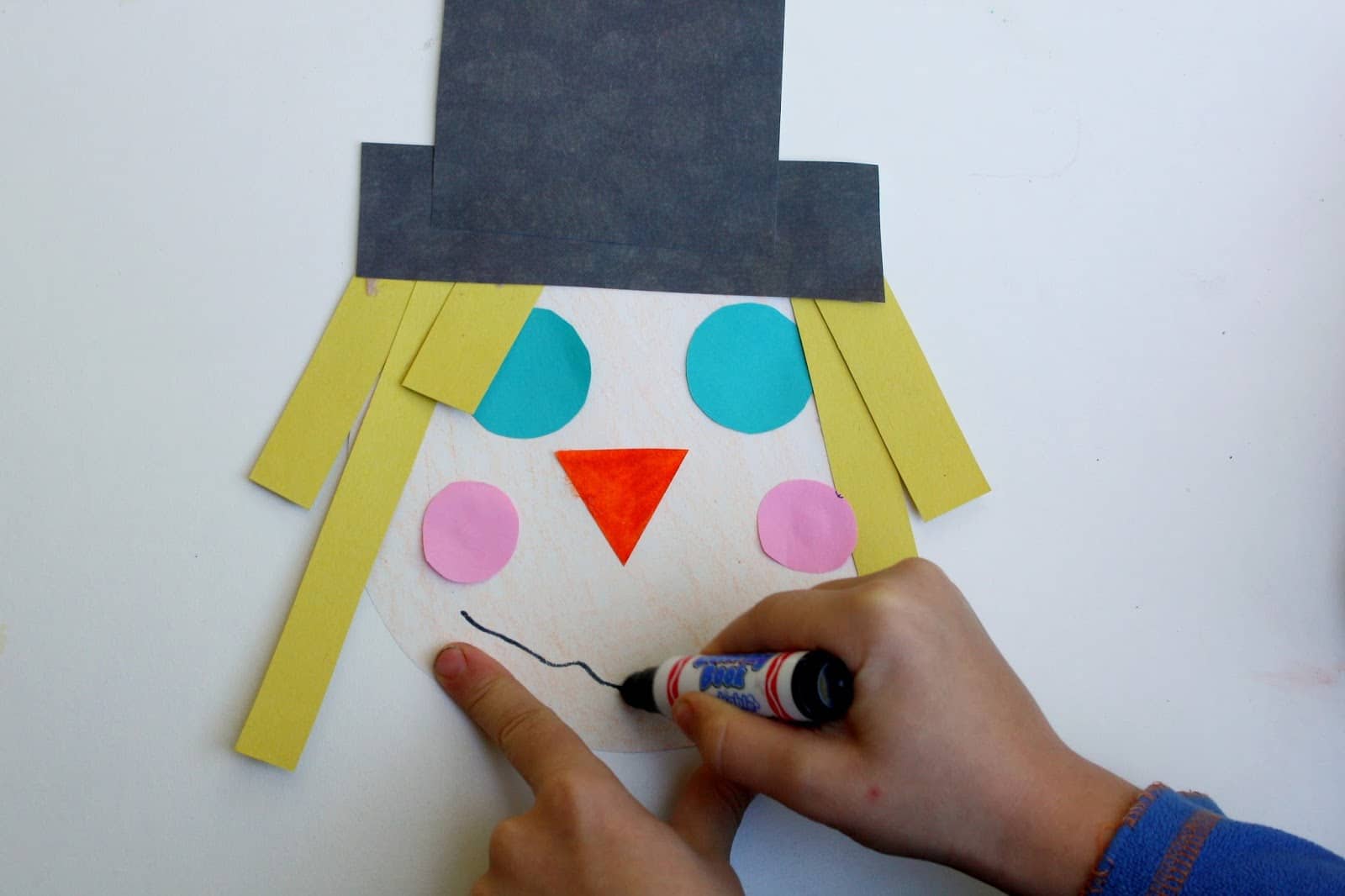 Activity Extensions for the Shape Scarecrow
Attach the scarecrow to a paint mixing stick for a fall puppet.  Make up plays in the dramatic play area.
If the child is writing, have them glue the scarecrow to a pice of writing paper and write a story about it.
Read books about scarecrows.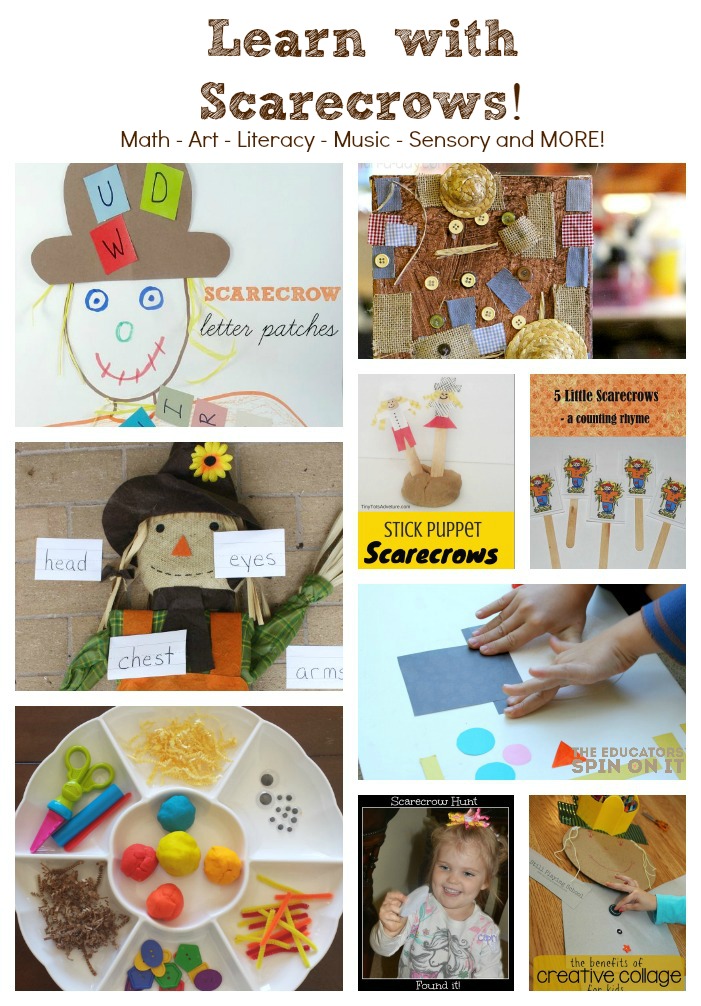 For More Scarecrow Learning Activities for Kids
Scarecrow Process Art by Fun-A-Day
Shape Scarecrow by The Educators' Spin On It
Invitation to Build a Scarecrow with Play Dough by Mom Inspired Life
Alphabet Activity: Scarecrow Letter Patches by Growing Book by Book
Scarecrow Hunt with Free Printable by Capri + 3
Build A Scarecrow by Learning 2 Walk
5 Little Scarecrows Poem and PowerPoint for #PlayfulPreschool by The Preschool Toolbox
The Benefits of Creative Collage for Kids by Still Playing School
Exploring Scarecrows with Technology by Rainy Day Mum
Stick Puppet Scarecrows by Tiny Tots Adventures