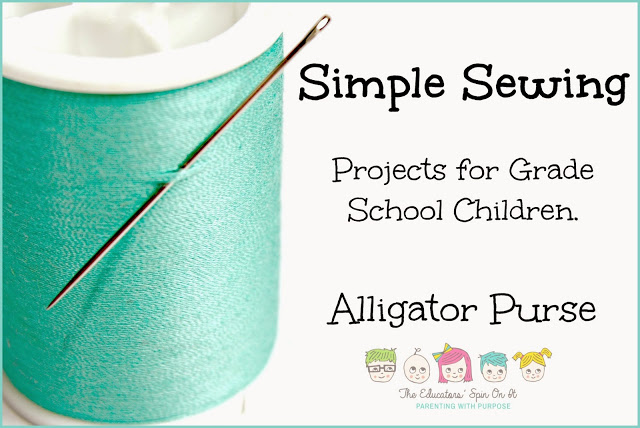 Alligator Purse Learn To Sew Activity:
Sewing is a great learning activity for parents to do with their children that combines fine motor skills, life skills, and creativity.  In this activity, grade schoolers will sew their own Alligator Purse to go along with the story, "The Lady with the Alligator Purse."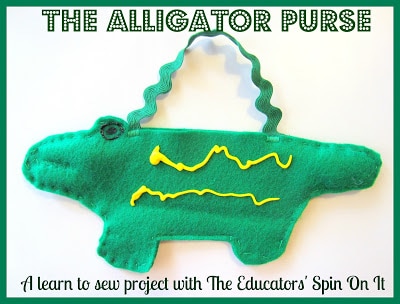 Alligators are SO much fun to learn about and with that we can't leave our grade schoolers out of the fun! If you missed our tot-school A is for Alligator post or Kim's post about what she did with her grade schooler – chomp, I mean stomp, no wait – stop, on over for lots of ideas!  When afterschooling (the learning that happens after school gets out) I try to think of the things that I feel are important skill and life lessons that I know my daughter is not getting at school.
Sewing is one of those skills that I believe helps with math, hand-eye coordination and life skills.  At my house, if there is a hole in your clothing, it gets mended, not thrown away.  The only way to learn this skill is to practice it!  And so, this week, we made an alligator purse!
Depending on the age and experience of your sewer, you can adapt this activity to meet their level!  My daughter is in the early stages of sewing and so I provide her with enough support that she can feel like she successfully completed a project on her own.  We are working on the straight stitch.
For this project, you will need
1. Green felt
2. Scissors
3. Green Thread
4. Needle
5. Ribbon or Ric-Rac
6. Sewing machine (optional)
7. A bit of stuffing
8. Fabric paint for extras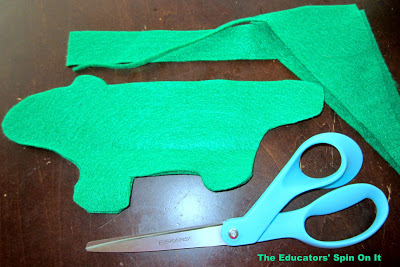 I started by just free-hand cutting 2 alligators (same shape and same size) out of felt.
Because my daughter gets frustrated when the 2 pieces do not line up correctly, I added zig zag teeth.  One because they look neat and two, because they act as a stay stitch for that area, making the two felt pieces stay together while she stitches, sans needles.  Then, I attached the handle securely, also as a way to hold the pieces together AND because I know this is the part that will need strength.  Lastly, I straight stitched the tummy to break the project into two parts, to reinforce the bottom of the purse, and to again, hold the felt pieces together.  You may not need all these little before preparation things for your sewer, but they really helped her to feel successful and not frustrated.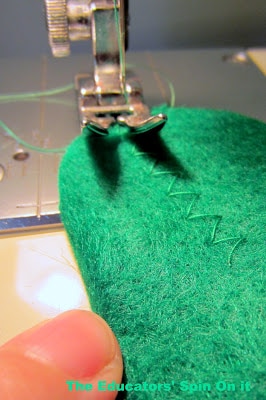 After prepping the project, I threaded the needle, and handed it over.  Many 6 year olds can thread their own needle, but my daughter cannot see the hole well.  My goal is to help her learn to sew, not get frustrated and disappointed.  Let your child try it on their own before threading it for them.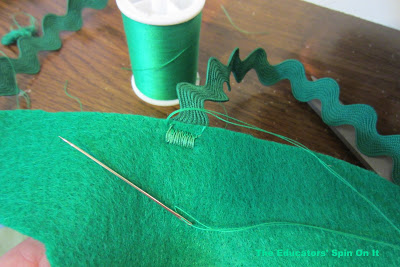 And then, let your little sewer, sew away!  I usually demonstrate once, watch her do one, then let her sew the rest on her own (This is the I do, We do, You do instruction philosophy)
When they are done straight stitching around the edges, have them stuff a bit of stuffing into the head and tail.  This just gives it a little extra depth.  Then, using fabric paint add eyes and any design your little one may choose!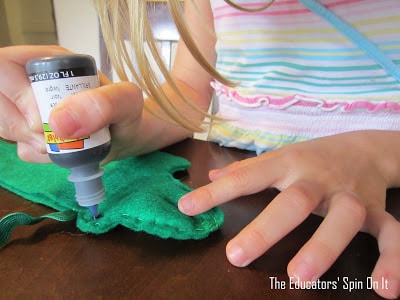 And here she is…  "The lady with the alligator purse!"
PS – my daughter spend another hour making her own Lady with the Alligator Purse book and said, "Wouldn't it be cute to make this purse even bigger for a trick-or-treat bag and dress up as The Lady with the Alligator Purse?"  Loved her idea and thought I would share!!!
The book that inspired it all…
Save