Disclosure: I was provided this Mitsubishi Outlander Sport 2.4 for a week courtesy of Mitsubishi and DriveShop. All opinions are mine alone and 100% honest. I did not receive compensation for this review. #DriveMitsubishi
A crossover SUV that puts your family on the road to adventure! The 2018 Mitsubishi Outlander Sport 2.4 has many features for your busy family including a next-gen audio system with touchscreen and more. Our family spent some time test driving how this vehicle could handle our adventure this winter in the Rocky Mountains of Colorado.
Here are some of the highlights from our test drive of the Mitsubishi Outlander Sport 2.4 with our family!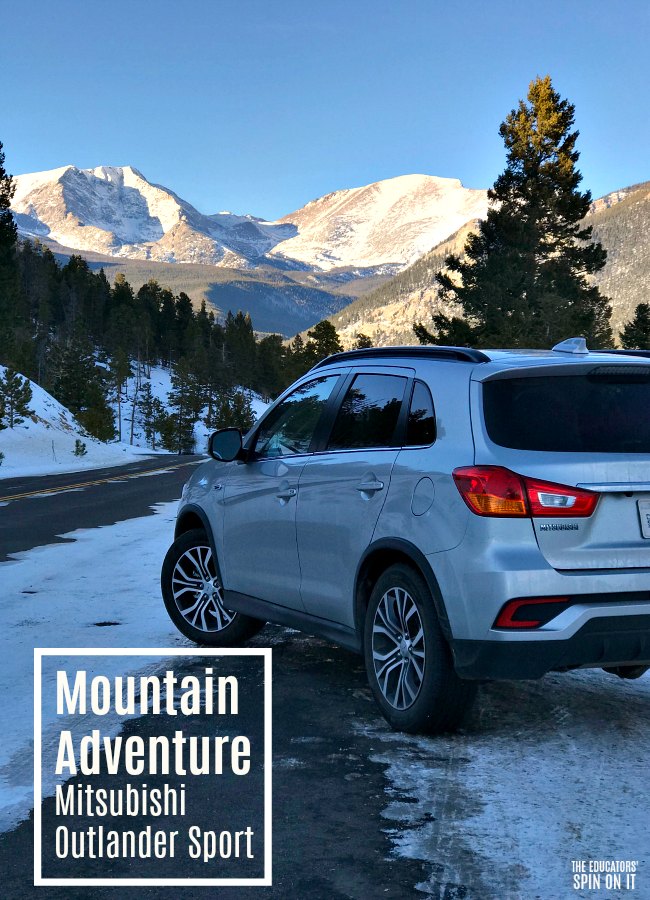 Mitsubishi Outlander Sport 2.4
Thanks to DriveShop and Mitsubishi Motors this winter our family had the opportunity to drive the 2018 Mitsubishi Outlander Sport 2.4 while we were traveling to Estes Park, Colorado and the Rocky Mountain National Park. In case you haven't driven this part of the country, it's a small town with around 6300 Population at the base of the gorgeous mountains that requires driving through a few canyons. Once you're in the Rocky Mountain National Park (a destination everyone should visit at least once in their lives) there was the opportunity to test how the Outlander handles icy and snowy roads and some cold weather. The warming front seats were an added bonus to cold trip for this Florida family.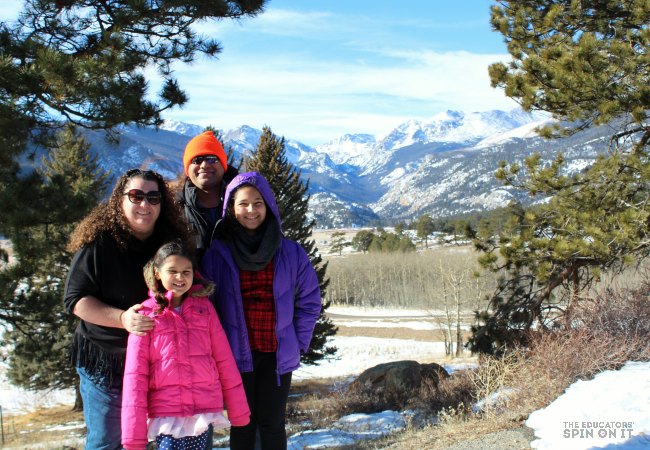 To get things rolling you should probably know that I typically drive a minivan, the same one that I've had for many years since we had kids, so one step into this new 2018 Mitsubishi Outlander Sport felt like we'd stepped into the future with all of the features that it came with. My kiddos thought the Outlander Sport rocked!
The fact that it snowed a few times our winter trip to Colorado made it even more special to experience the mountains with my kids and family. It was first morning of the trip when we looked out my parents front window and into the yard and realized that it had snowed on the Outlander and it looked simply magical.
The snow gave us no trouble at all, with a quick dusting, it came right off and with a little encouragement from the defroster and ice scrapper the windshield was ice free.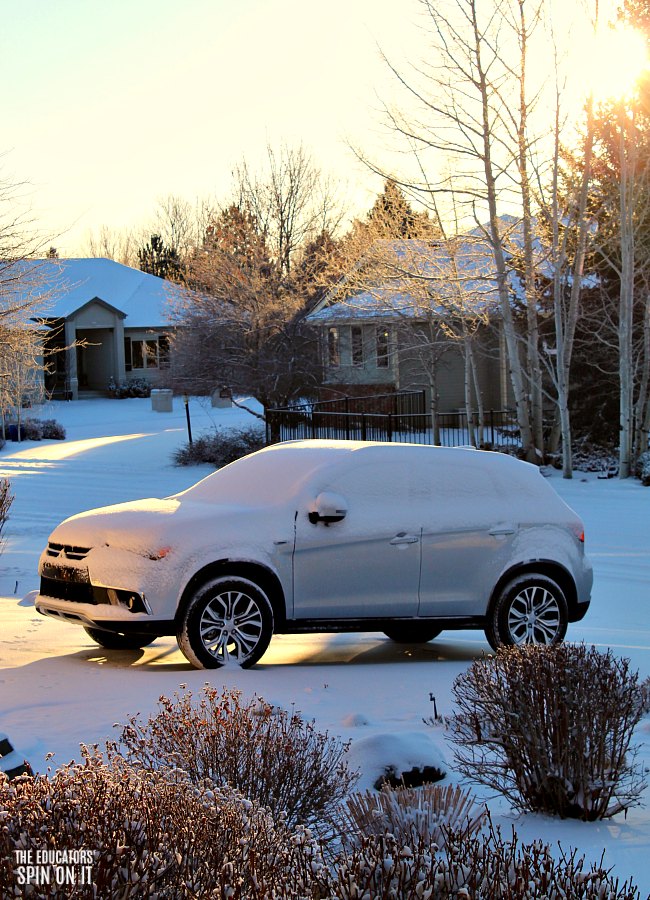 This specific vehicle included several upgrades, if it's in your budget go for it, they were so worth it. My daughters' favorite was the Panoramic Glass Roof that gave them front-row seats to the snow, mountain views and star filled nights.
My personal favorite was the 4 Wheel Drive feature to keep us safe on the icy roads. My husband's favorite was the 7″ touchscreen display with Bluetooth technology. And my son's favorite was the Rockford Fosgate premium audio system
Highlights of the Mitsubishi Outlander Sport 2.4
Super-wide HID Headlights
Panoramic Glass Roof
Heated front seats
2 USB Ports
7" HD touchscreen display
Rockford Fosgate premium audio system
All Wheel Control
Since this was one of my first times driving in snowy conditions, the bonus of the dashboard notifying me of icy roads was an extra layer of caution that I needed.  As you can see you also have the option of driving in 4WD Lock, 4WD Automatic and also 2WD, making this a versatile crossover SUV no matter where you live.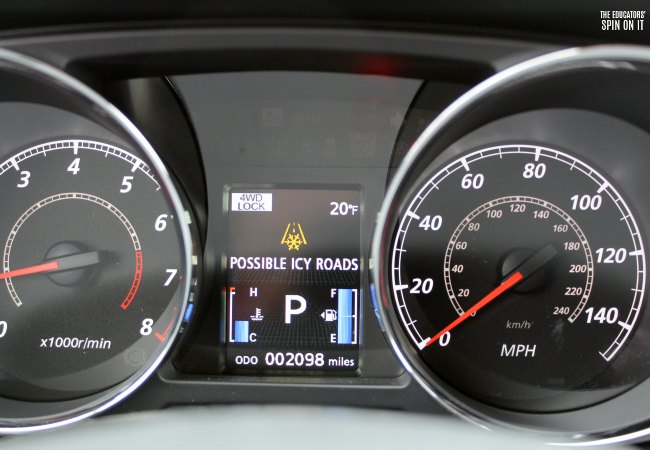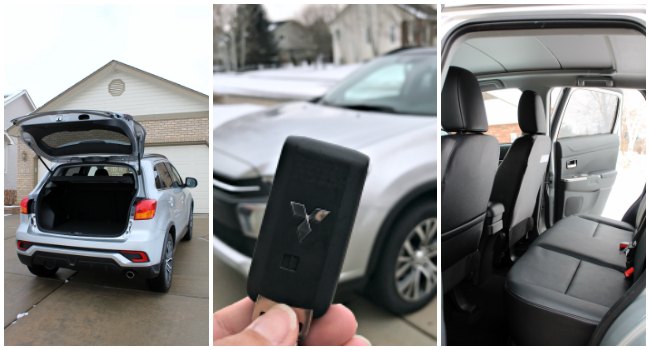 We loaded up the kids and our winter gear into the Outlander Sport for some snow fun in the mountains.  Even though this is a Crossover SUV the trunk space was enough to fit our two sleds and luggage and a few groceries for a couple of nights stay in Estes Park. We don't typically have snow gear and I couldn't believe how much the volume adds up when you're packing it on the go, but the trunk was able to hold it ALL!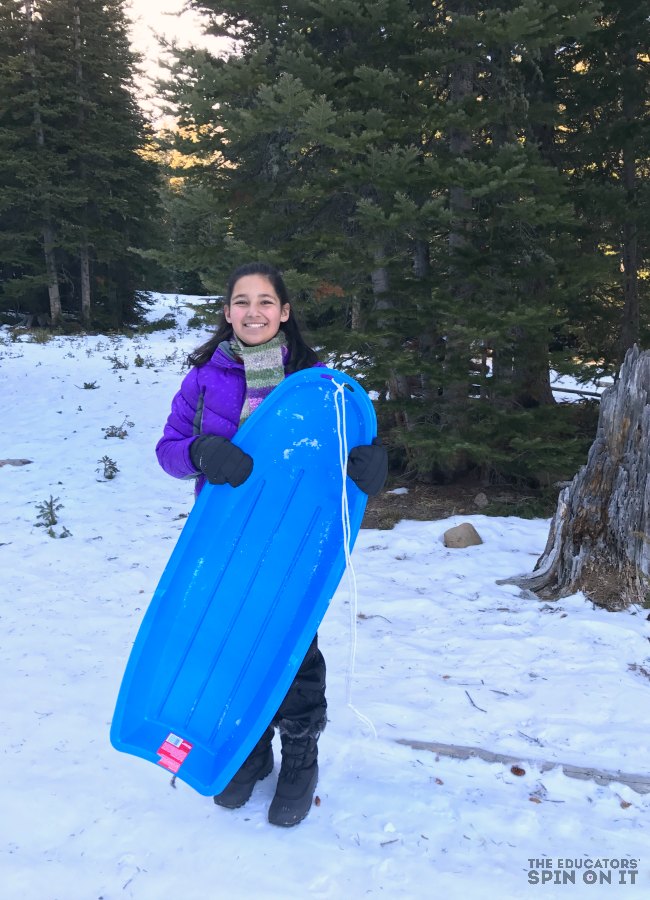 Features of the Mitsubishi Outlander Sport
Here are a few of the features in the vehicle that caught my eye while we were testing driving it to share with you.
Technology at your Fingertips
New for 2018, Outlander Sport has a standard 7" HD touchscreen display audio system. Making calls with Bluetooth® 2.0 technology, picking a playlist from your phone, and getting directions with Apple CarPlay™ or Android Auto™ just got a whole lot easier.
The kids loved that they could request specific songs to be played from our own phone's playlist on the awesome sound system using the Bluetooth Technology. I loved that I didn't get lost and that we could use our typical navigation app that we're used to! It just synced with our iphone and off we were to our mountain adventure. I enjoyed a few new channels on the SiriusXM Satellite radio, a little music history for my kids with flashbacks to the 80's and 90's.
Rearview Camera System
Driving around mountains, there are always hidden boulders or drop-offs to be careful of.  With the wide-angle view feature when you shift in reverse the onboard screen helps you steer with precision when parallel parking or backing out of a driveway or parking spot in the mountains sightseeing.
Rain-Sensing Windshield Wipers
Maintaining visibility on the road is important. The available automatic rain-sensing windshield wipers activate at the first sight of rain and adjust to match the frequency of rainfall so you can continue to focus on what's in front of you. It made it come in quite handy when all the roads were wet from the snow and the vehicles were kicking up water randomly.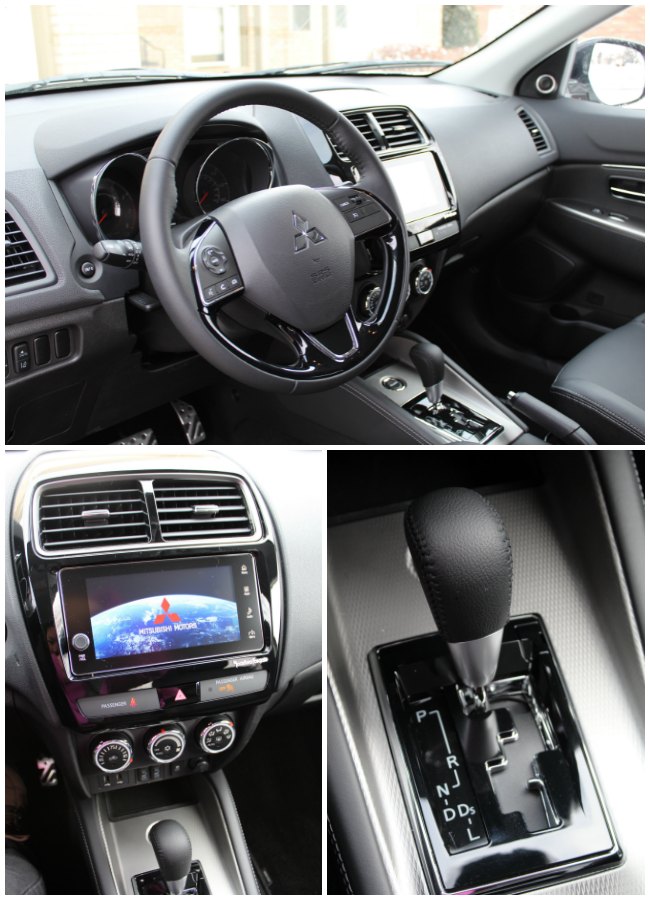 Forward Collision Mitigation
The Forward Collision Mitigation System7 helps prevent or reduce the severity of frontal collisions by warning you of a vehicle or person at an unsafe distance ahead and then applying the brakes as necessary.
Traction and Braking
Performance isn't all about acceleration. It's about stopping too. Outlander Sport features 11.6 ventilated front and 11.9 solid rear disc brakes, four-channel Electronic Brake-force Distribution with Brake Assist, Active Stability Control and Traction Control Logic—all working together to give you superior traction and control.
We were on the lookout for wildlife as we drove through Rocky Mountain National Park. Having reliable braking and traction made me feel so much better about our family's safety. We spotted quite a few elk and deer along the roads.
Or perhaps they spotted US!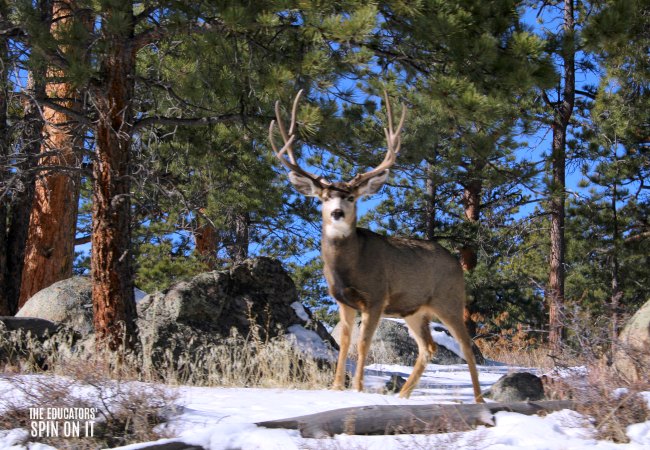 10 Years of Confidence
Mitsubishi vehicles are backed with a 10-year/100,000-mile Powertrain Limited Warranty3, a 5-year/60,000-mile fully transferable New Vehicle Limited Warranty, a 7-year/100,000-mile Anti-Corrosion/Perforation Limited Warranty and 5-year/Unlimited Miles Roadside Assistance.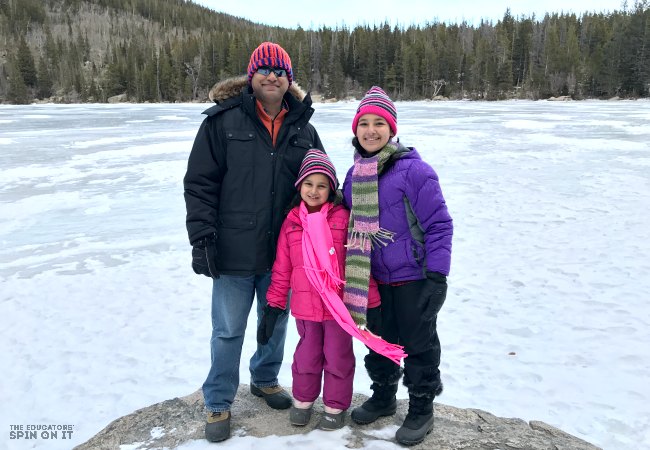 Family Review of Mitsubishi Outlander Sport 2.4
Driving this Outlander Sport from Mitsubishi made me realize it's time for a change from our typical family minivan that I've driven far too many years. My kiddos are growing up and ready for more adventure and don't require as much interior space from the vehicle as before needed. It felt like the Outlander Sport might be our pre-teen version of our family' life on the path to adventure and fun with our kids, even with their own music playing for all of us to enjoy. Plus it might be a good vehicle to pass on in several years to our daughter as she learns to drive….. don't even want to think about those years just yet though.
I can see quite a few more sunset and sunrise adventures with a vehicle this size in our family's future!
Take a look at Mitsubishi Outlander Sport 2.4 and get out on the roads to start your amazing adventure!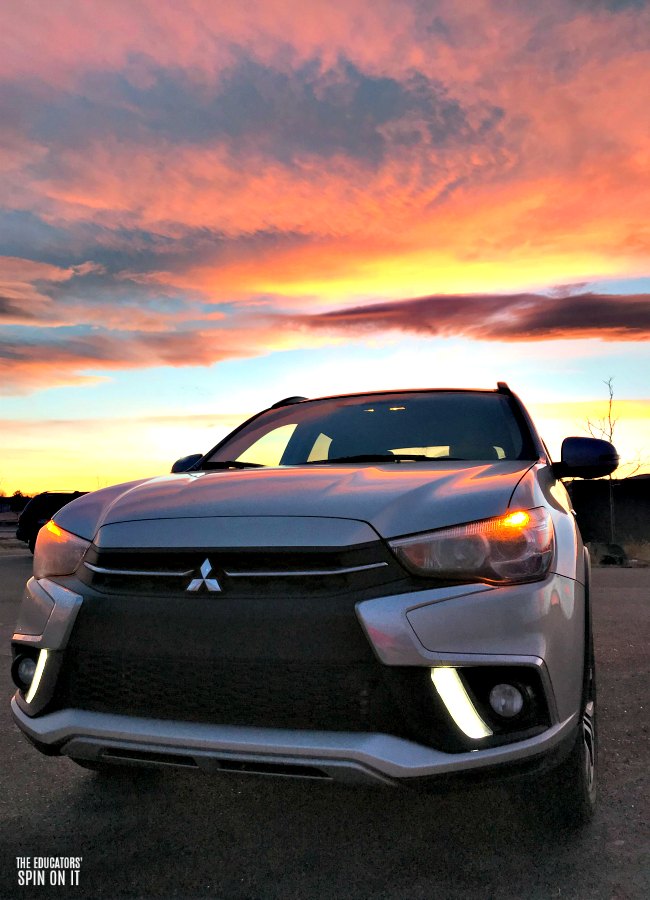 Are you in the market for a new vehicle? Consider visiting Mitsubishi to test drive their Outlander Sport!