Did someone say road trip? Imagine 3 blogging friends, the open road driving a 2015 Kia Sedona SXL! The perfect combo for a weekend road trip in luxury!
Thanks to Driveshop I had the opportunity to experience a weekend getaway to find the top 10 Educational Products while testing the Kia Sedona with friends Jennifer from My Boys and Their Toys and Penny from Penniless Teacher.  
I must admit I spend quite a bit of time in my vehicle with all three of my kids and my hubby. We truly enjoy traveling and just being adventurous as a family. We often have extended family with us too from India. It's the little things that really make daily driving manageable and road trips like this so much easier. I shared a few things that I noticed on our trip on instagram and twitter during our road trip. Below are a few of the images and tweets…
Driving home to Florida in a @Kia from @DriveSTI pic.twitter.com/nXE7JclI9S
— Kim Vij (@EducatorsSpin)
When Jennifer and Penny arrived to pick me up in this Multi-Purpose Vehicle (MPV) I was amazed at the amount of space still left for my luggage in the back. With laptops and luggage for 3 people, there was still room to spare. The Dual Power Sliding Doors and Smart Power Tailgate feature were so helpful as I loaded up my things.
Almost to the Florida Georgia boarder! @Kia @DriveSTI #roadtrip @PennilessTchr @Lovesmytwoboys #kia #I75 pic.twitter.com/MyIKayrMbQ
— Kim Vij (@EducatorsSpin)
Then I jumped in and discovered the amazing seats in the back of the Kia Sedona. I'll admit I'm usually the one in the driver's seat so it felt like a dream to sit back in the rear with my own Rear Air Conditioning and have my USB port to plug in the things and sit back in my own zone.
Plus the dual sun roofs were gorgeous. The name MPV was quickly changed to MVP in my books!
Having fun on our road trip in this awesome @kia Sedona from @DriveSTI #kia #roadtrip @Lovesmytwoboys @PennilessTchr pic.twitter.com/BKF7q9Qi0K
— Kim Vij (@EducatorsSpin)
There were little things about the Kia Sedona that stood out while it was my turn for driving. The Lane Departure Warning System, Blind Spot Detection, Smart Cruise Control, and Surround View Monitor put me to ease as this was a new car to all of us on the freeway. Road trips always make me a bit nervous and these extra layers of safety features where top notch.
Loving the Surround View Monitoring System on the @kia Sedona @DriveSTI #roadtrip cameras on the side view mirrors pic.twitter.com/YB2INvD6rQ
— Kim Vij (@EducatorsSpin)
These award winning features made it so much easier to know while each of us was driving we had an added layer of safety features to keep us alert to our surroundings. I imagine with a car full of my own children it would come in handy too.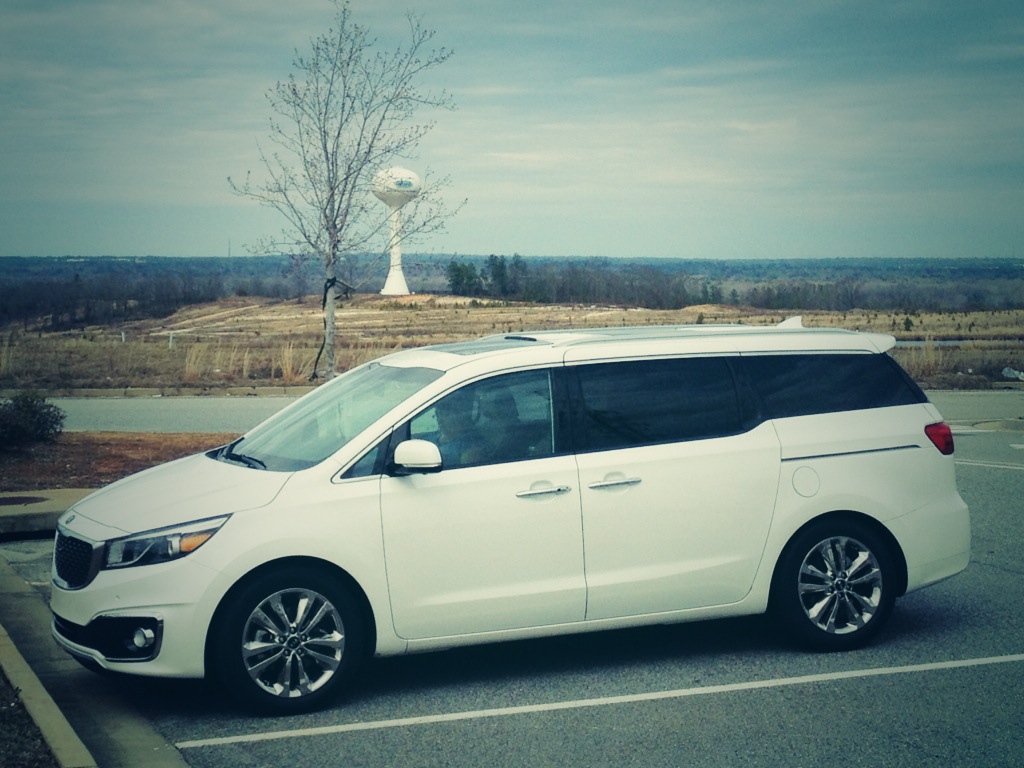 Thanks you to @DriveSTI for letting me experience your @Kia Sedona for our road trip. Must admit I'm in love! pic.twitter.com/wp3ab3uNds
— Kim Vij (@EducatorsSpin)
Kia Sedona is Road Trip Ready for your Next Adventure
This experience with the Kia Sedona has my hubby and I talking about what our next step is with my vehicle. It's always nice to test drive and see how others experience goes.
If you're in the market for a vehicle or even starting to plan for one – I definitely recommend test driving the 2015 Kia Sedona! Stay up-to-date with all the latest Kia news by following them on Twitter and visiting their Facebook
Shopping for a new car? You may also like these car reviews…
A big thanks to Driveshop  for providing this vehicle loan for review. All opinions are mine alone.