It's a new season which means it's time to announce our new Spring Book List for the Weekly Virtual Book Club for Kids. Here are 8 popular children's books for spring to read with your child.
Plus we're featuring 8 spring themes with activities and crafts for preschoolers and toddlers.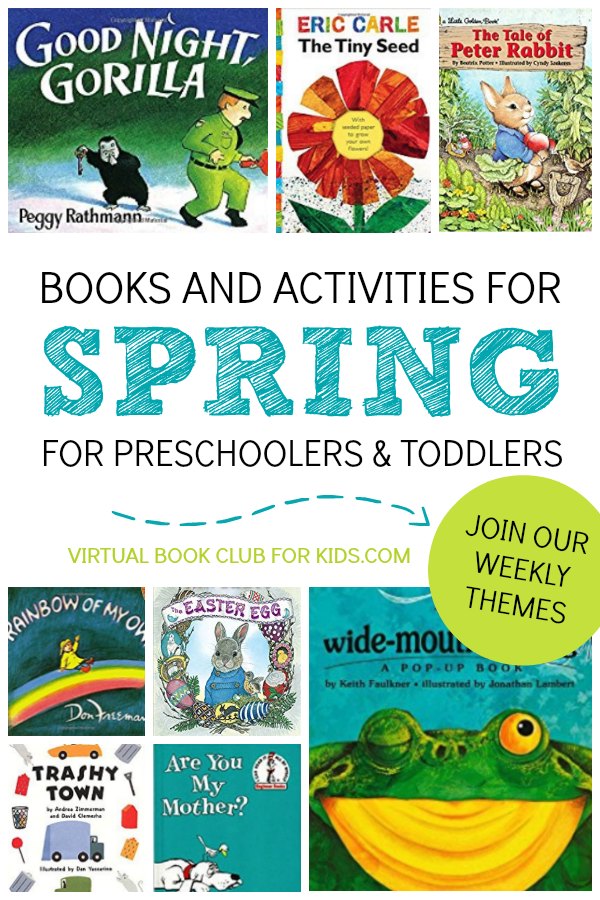 Disclosure: This post contains affiliate links to Amazon where we earn a small commission on the purchase of each book. All opinions expressed are my own. 
Join us this spring in your home as we read through some of our favorite books together. Here's a chance to join an online book club with your child to connect with other moms, grandparents and caregivers as we share fun ideas to go along with these adorable books.  Are you ready to add them to your book shelf?  JOIN OUR BOOK CLUB GROUP! 
Spring Book List for Virtual Book Club for Kids
Our Spring book list is here for our
Weekly Virtual Book Club for Kids
!  Take a peek below to see our favorite picture books for spring. Check them out at your library, look for them in your local book stores or grab them online.  We've included links to amazon for easy shopping.
Many of these books are available with a 
Kindle Unlimited Membership Plan
!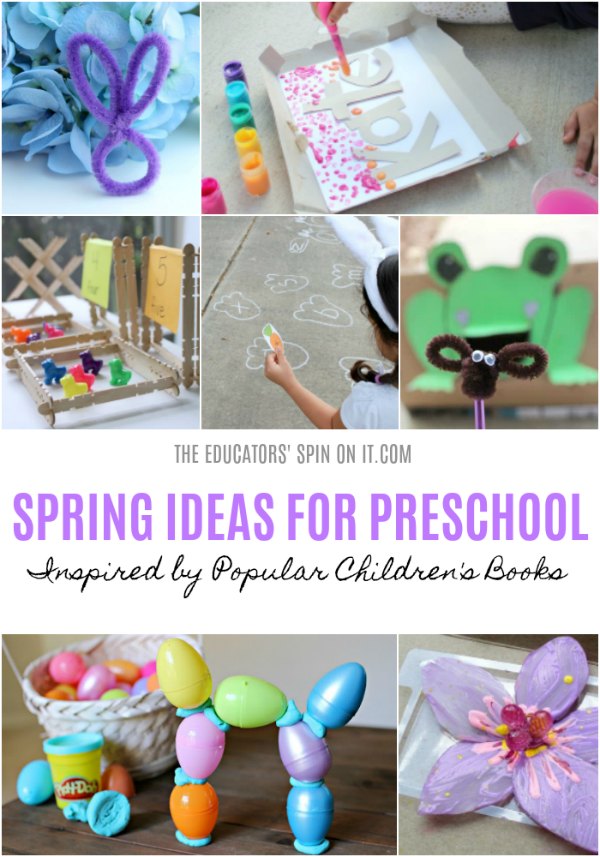 March 5-
Theme: Rainbows
Book: Rainbow of My Own by Don Freeman
March 12–
Theme: Bunnies
Book: Peter Rabbit by Beatrix Potter
March 19–
Theme: Eggs
Book: The Easter Egg by Jan Brett
March 26-
Theme: Birds
Book: Are You My Mother? by P.D. Eastman
April 2- Break
April 9-
Theme: Zoo
Book: Goodnight Gorilla
April 16-
Theme: Community Helpers
Book: Trashy Town by Andrea Zimmerman
April 23
Theme:Frogs
Book: Wide Mouth Frog by Keith Faulkner
April 30-
Theme: Gardens
Book: The Tiny Seed by Eric Carle
Shop for the books online now at Amazon on my Amazon Page! 
Did you join us in January and February?  Click now for our Winter book list! 
Spring Books for Preschoolers and Toddlers
Here's a closer look at the featured books for spring for the Weekly Virtual Book Club for Kids 

A Rainbow of My Own
 by Don Freeman
Theme: Rainbow

The Tale of Peter Rabbit  by Beatrix Potter
Theme: Bunnies

The Easter Egg
 by Jan Brett
Theme: Eggs

Are You My Mother
 by P.D. Eastman
Theme: Birds 
Good Night, Gorilla
 by Peggy Rathmann
Theme: Zoo 

Trashy Town
 by Andrea Zimmerman and David Clemesha
Theme: Community Helpers 

The Wide-Mouthed Frog (A Pop-Up Book)
 by Keith Faulkner
Theme: Frogs

The Tiny Seed by Eric Carle
Theme: Gardening 
So many great books to read this spring with your preschooler or toddler!  Which one is your favorite?
PARTICIPATING IN THE WEEKLY VIRTUAL BOOK CLUB FOR KIDS
Each Monday we'll be feature a different children's book by a favorite author and we'll share a themed activity related to the book. We are inviting YOU to not only read the featured book with your kids, but also try out a book related activity during the week and report back! It's a book buddy system for doing fun things at home with our kids with books!
Bonus is that our VBC co-hosts will also share activities. You'll be able to find all of them on in our Facebook Group each week. JOIN NOW! You can sign up to receive these activities in our Weekly Book Club Newsletter too!
The activities will focus on the early childhood developmental skills needed for success in school.
Alphabet
Names
Pre-Writing
Numbers
Shapes
Colors
Fine Motor
Gross Motor
Cooking
Science
Sensory
A fun way to get your child ready for Kindergarten and fall in love with books and reading!
Grab your books now and get free shipping with your Amazon Prime Membership. Try Amazon Prime 30-Day Free Trial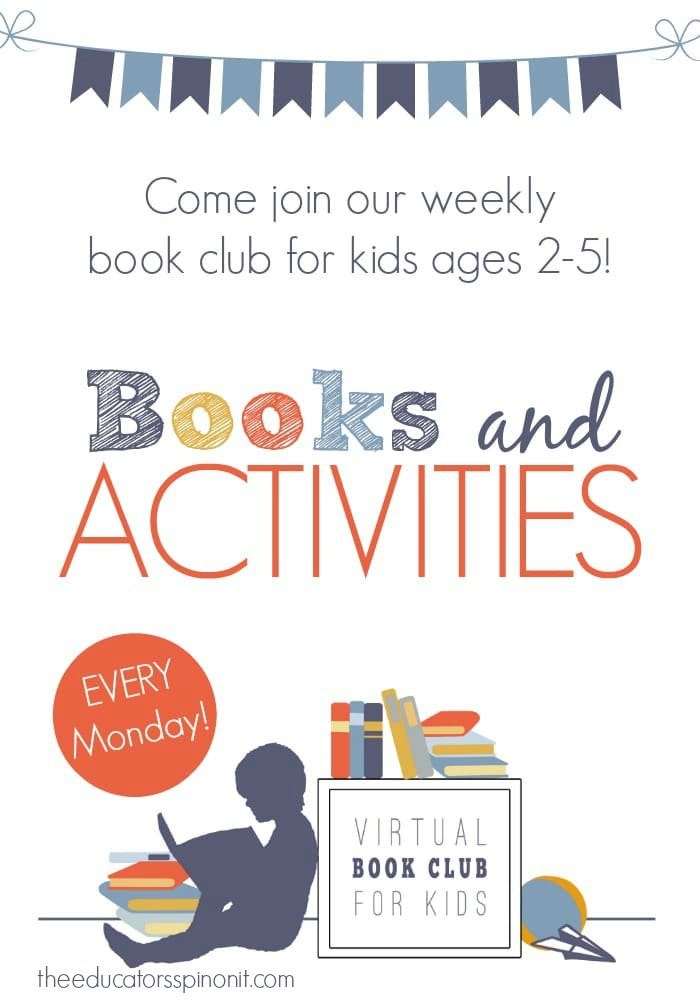 SIGN UP FOR OUR VIRTUAL BOOK CLUB NEWSLETTER TO GET WEEKLY BOOK ACTIVITIES AND CRAFTS!