Explore your adventurous side with a 4×4 Hummer tour in Moab, Utah! A family-friendly activity that's exhilarating for all ages. This guided off-road adventure is packed full of gorgeous views and unforgettable memories with the help of the team at Moab Adventure Center!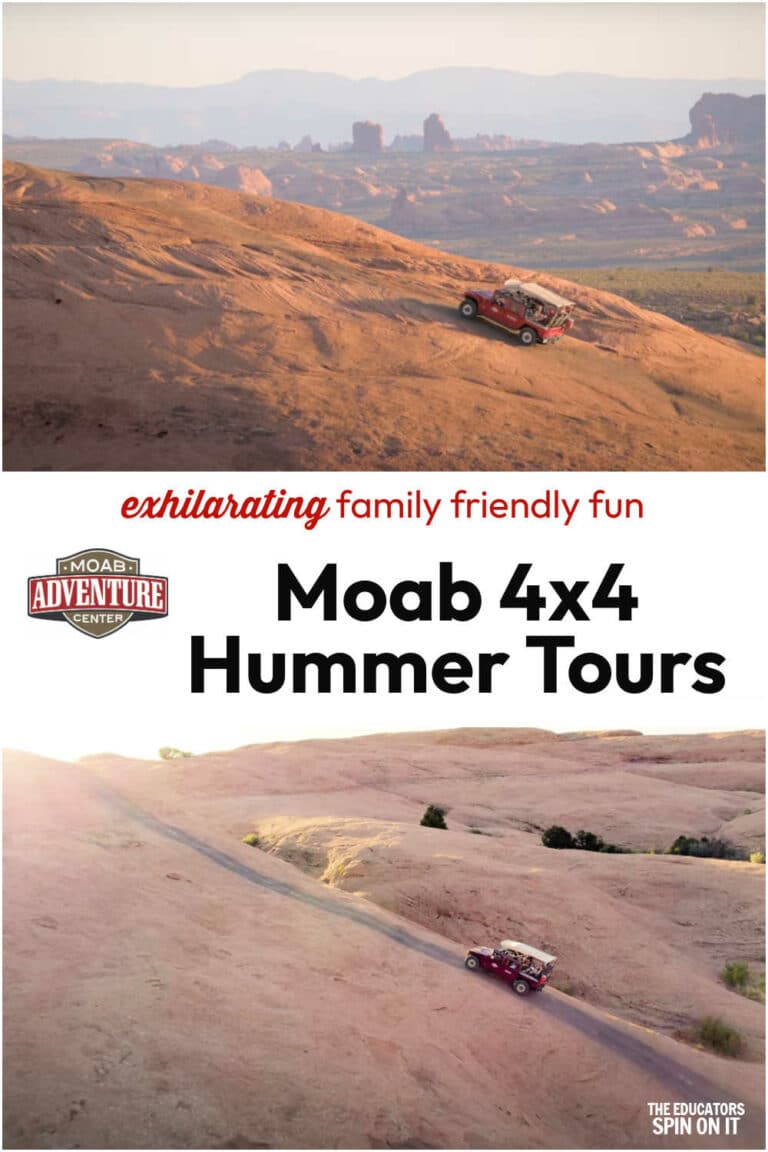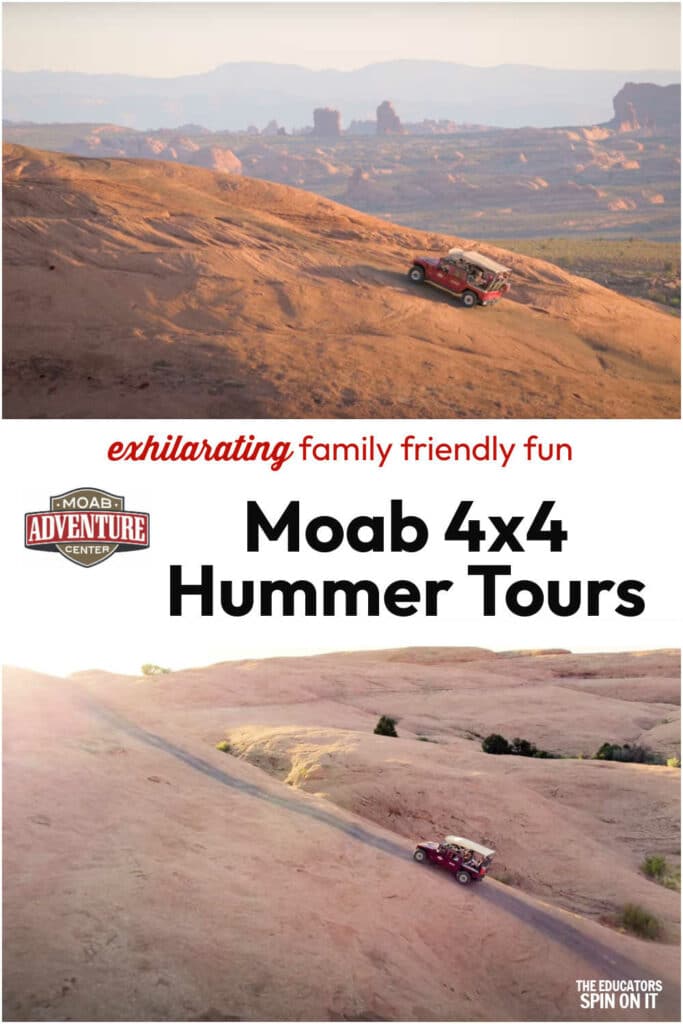 Disclosure: We received complimentary tickets and discounted tickets from Moab Adventure Centure in exchange for sharing our review. All opinions expressed are my own.
Guided Off-Road Hummer Tour in Moab, Utah
Looking for a guided off-road tour near the Mighty 5 National Parks?
On our Mighty 5 Parks Road Trip in Utah, we did a Hummer tour in Moab and it was so much fun for everyone. We had a large group of 10 ranging in ages from 8-74 and everyone had a blast. Our tour guides made sure everyone felt safe and were having a good time.
I would highly recommend this 4×4 off-road tour! The views, the thrills, and the fun facts were amazing!
Let me tell you a few details about our unforgettable off-road Hummer tour in Moab, Utah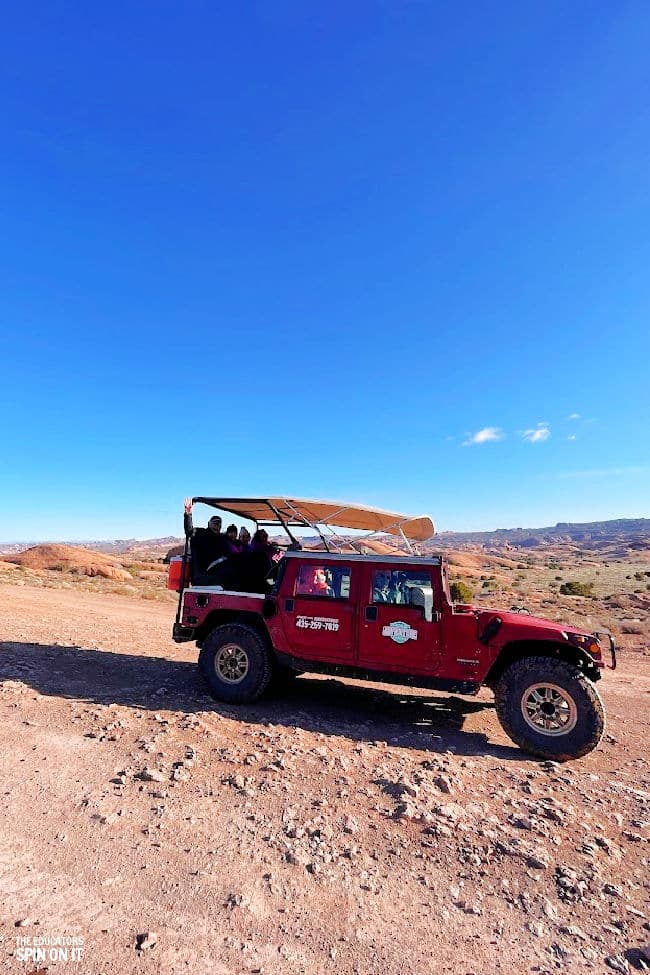 4×4 Off-Road Experience in Moab, Utah
One of the prime locations to stay during our Mighty 5 Parks Road Trip was in this stunning red rock-surrounded city of Moab, Utah. The main reason is that both Arches National Park and Canyonlands National Park are located just north of the city which makes it a good location to stay with your family.
Moab, Utah is unlike any other place in the world. You're surrounded by an immense red rock playground. The area is a gorgeous desert adorned with giant sandstone formations, canyon mazes, and thousands of natural arches.
Plus Dead Horse Point State Park and Manti-La Sal National Forest are located in this area too.
There are many Moab hikes and scenic drives for seeing arches, other than the national park. Plus it's a great hub for delicious restaurants after your adventures!
For these reasons and more Moab is one of the most sought-after destinations in the American Southwest and our stopping point for a few nights on our Mighty 5 Road Trip.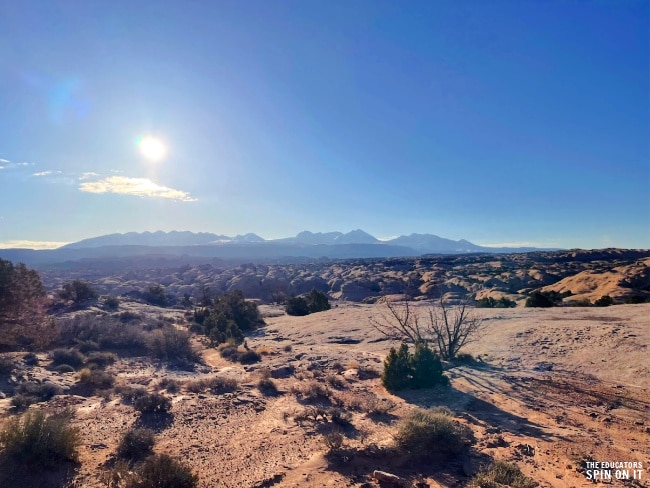 While planning our trip we knew we wanted to include a true adventure for the kids. Moab made for the perfect timing to include this off-road adventure.
The Moab Adventure Center caught my eye online for a one-of-a-kind experience for our family. They offer several types of adventures on land, air, and water but the one that I was immediately drawn to was the 2 Hour 4×4 thrill ride.
Just take a look at this video!
Once I previewed this Slickrock Hummer Safari video I knew it would be an adventure that I was willing to let my family do with one of Moab's experienced & permitted guides, knowing I'd never want to drive it myself. (Or even hike those steep Slickrock domes and fins)
Our professional guides Craig and Chad did an amazing job on the most unique 4×4 terrain called Hell's Revenge 4×4 Trail.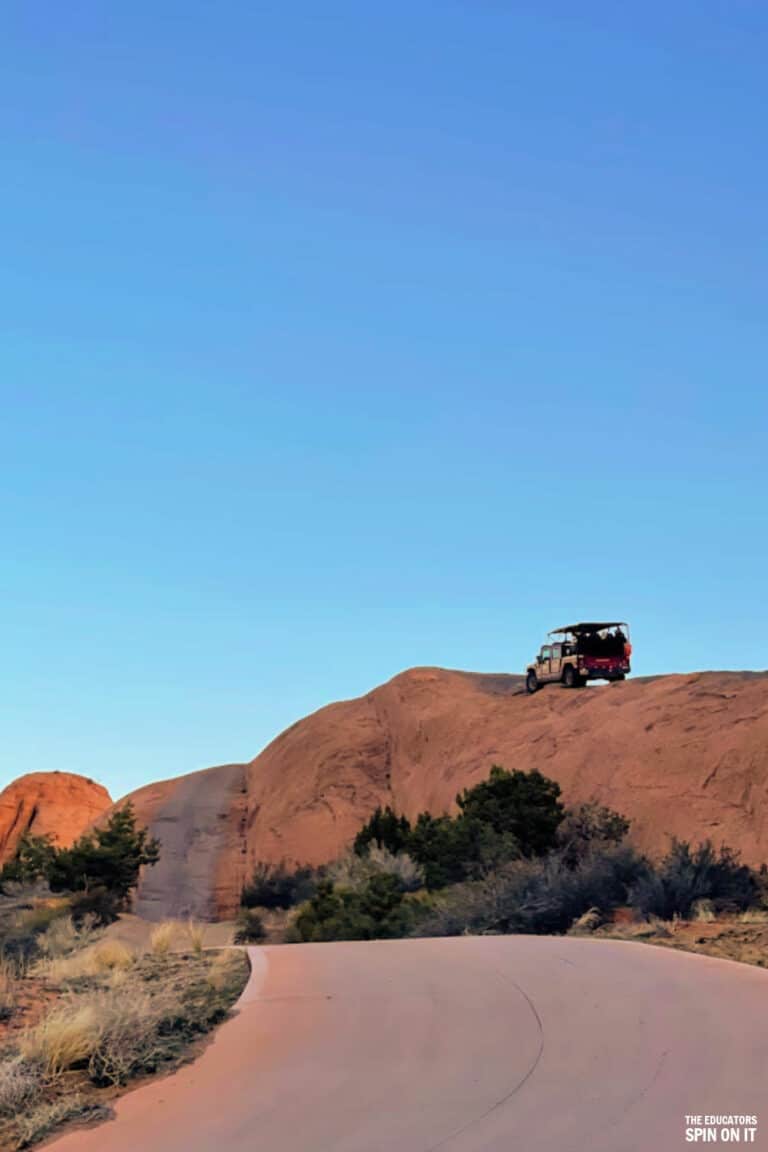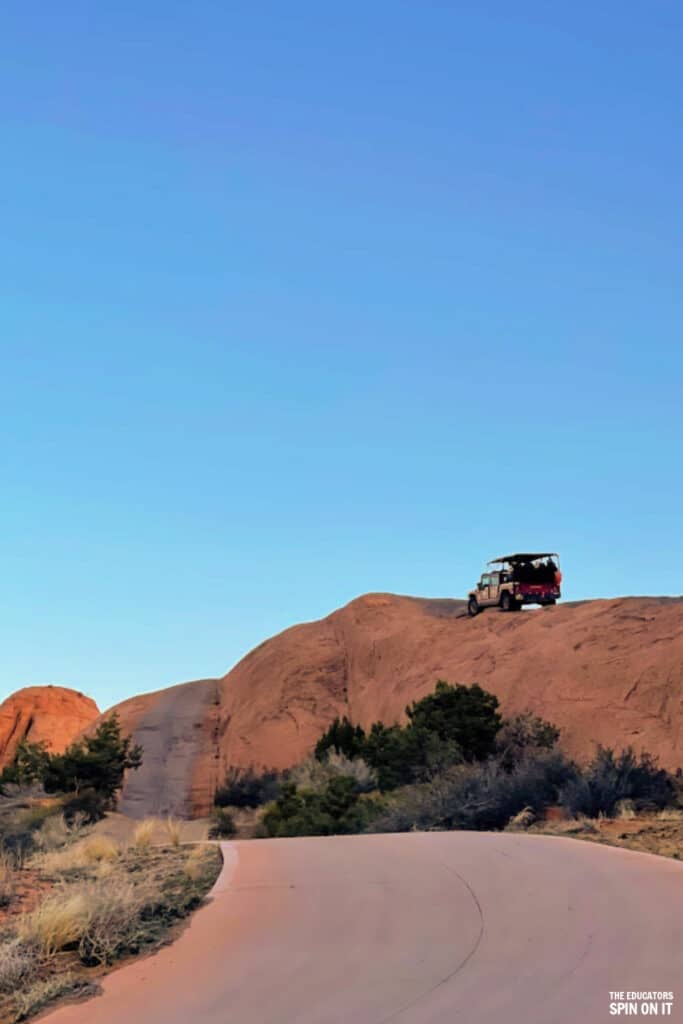 Here's a peek at the very beginning of the trail. Once I saw my sister in laws family up that high on a sandstone fin a few minutes in, I knew we were all going on an exhilarating adventure.
It was time to sit back and hold on!
Hummer Slickrock Safari
We booked our off-road tour with Moab Adventure Center for their 2-hour Hummer Slickrock Safari. Their 4×4 vehicles can climb to the top of seldom-seen, awe-inspiring Moab overlooks.
Within minutes of departure from downtown Moab, our Hummer arrived at the Sand Flats Recreation Area and then was immediately scaling one of Moab's famous red rock fins on our way to an area known as "Hell's Revenge."
During the ride, we experienced their custom Hummer® vehicles with raised seating in the rear for optimum passenger viewing. One thing we liked was that mid-tour the driver has you switch seats so that everyone gets a turn in the rear seating.
Each Hummer can hold up to 7 guests. So our large family group had to split into two vehicles for this off-road tour.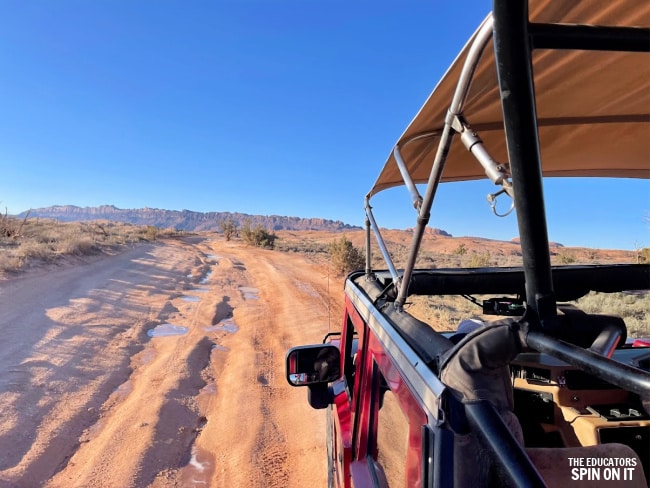 Over the course of the 2 hours, our Hummer weaved in and out of rock canyons, sand dunes, and climbed some unbelievable sandstone domes.
From my raised seat I caught several glimpses of views of "just sky" and "just ground", the horizon seemed to literally disappear at times. It was awesome!! I quickly realized how truly unique of an approach the Hummers can take on these famous Moab domes and fins.
I can see why it's considered the most popular off-road experience in Moab, Utah!
Moab Adventure Center offers the Slickrock Safari Hummer Adventures from February to November at 7:30 AM, 10:00 AM, and 1:00 PM.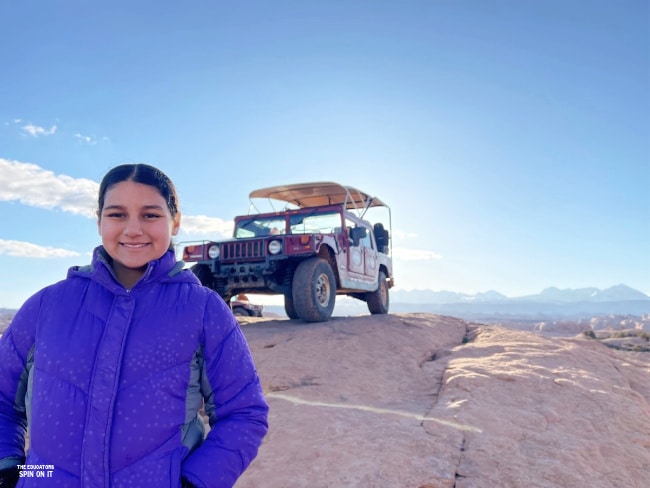 Their Slickrock Safari trips meet at the Moab Adventure Center in downtown Moab, which was helpful and close to our Airbnb for our early morning departure.
We booked the 7:30 AM Hummer Safari so that we'd have time to also explore Arches National Park that same day. The sunlight at this time was gorgeous bouncing off the surrounding desert landscape.
To help with the early March temperatures, our guide had a few sleeping bags to help the family members in the back row who were feeling a bit chilly on our just-after-sunrise tour.
I imagine in the summer months, this time slot is popular before the weather gets too hot.
I think the best part was that we were the only ones out on the trail this early, which made it an even more magical adventure for our family on our Southwestern trip.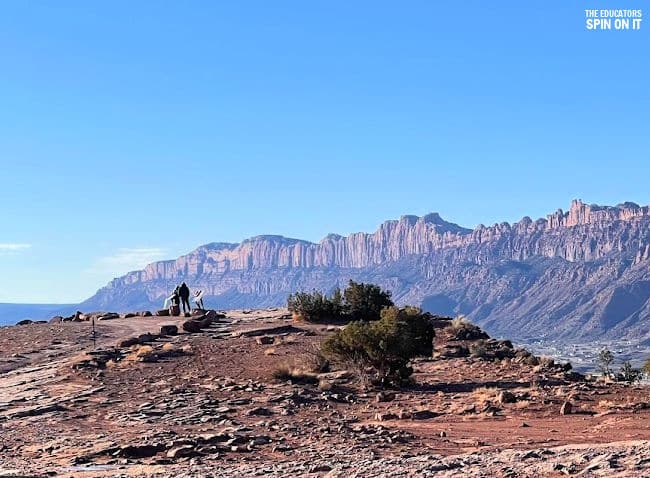 4×4 Trail Ride in Moab
Our professional guide shared with us about the geology, plant life, and unique history of the area throughout the tour. You even stop at one point to see ancient dinosaur tracks embedded in the rock surface.
For those seeking adventure on your vacation, the Hell's Revenge Trail that you drive on during this tour has steep climbs and descents and some edges that are not for the faint of heart. If you're new to off-road adventures like our family, it was pretty mindblowing to experience what a Hummer can handle.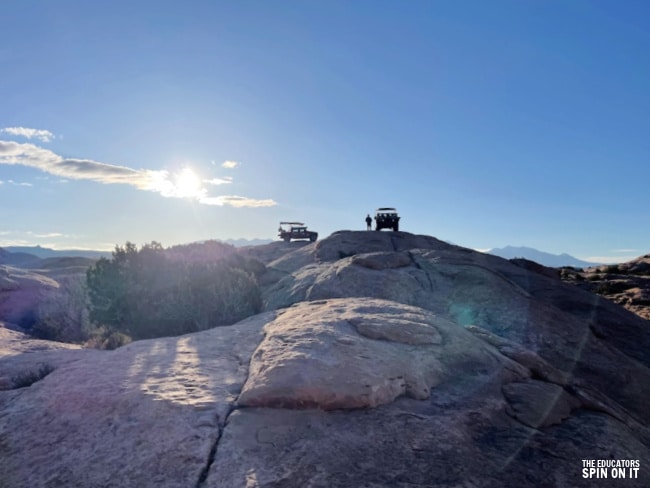 We experienced a spectacular overlook of the Colorado River and in the distance Arches National Park. The guides parked our Hummers and provided us some time to get out and take photos of the incredible surroundings, including awesome views of the snow covered Manti-La Sal Mountains and an overlook of the Colorado River.
Plus they provided a little snack and our very own Moab Adventure Center reusable water bottle to remember our Hummer Trip with. It was quite an exhilarating way to explore Moab's unique backcountry.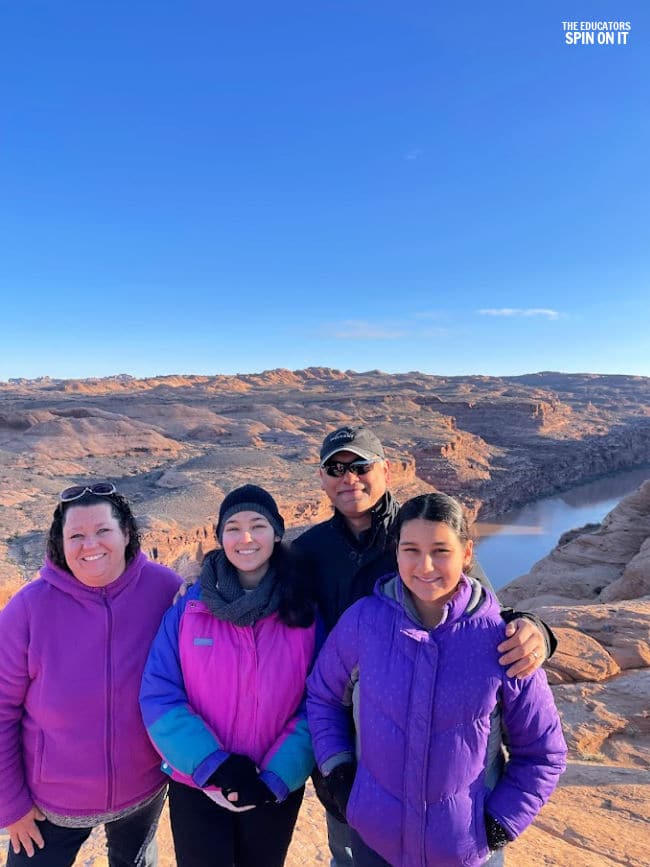 Hell's Revenge Trail
Just to give you an idea of what this vehicle can do that you're going to be riding in on Hell's Revenge Trail…
The Hummer H1 has an approach angle of 72 degrees, a departure angle of 37.5 degrees, and a break-over angle of 32.5 degrees, all allowing the H1 to pass through deep ditches and traverse large dirt mounds without suffering any front or rear end damage.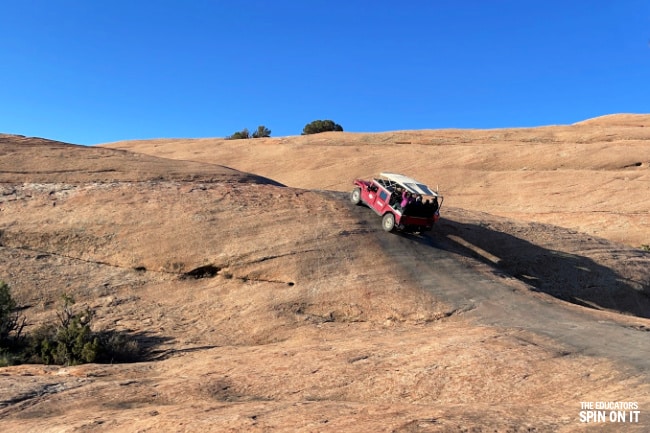 The H1 can scale a 60 degree slope. It felt like we experienced quite a few of those on this adventure. We LOVED IT!!! Think Roller Coaster meets Hummer transforming into the most fantastic and thrilling outdoor adventure with gorgeous 360-degree views.
The Hummer H1 is known as the world's most serious 4×4, perfect for this incredible off-road excursion!
If you truly want to know what you'll be driving over in your Hummer H1, watch this video and know why we went with a professional guide company for this difficult off-road trail in Moab.
For a closer look at the Hell's Revenge Trail go to Google Earth and explore around, be sure you use the 3D option. You can even see the tire marks on the trail from all the vehicles over the years. It's quite an amazing trail!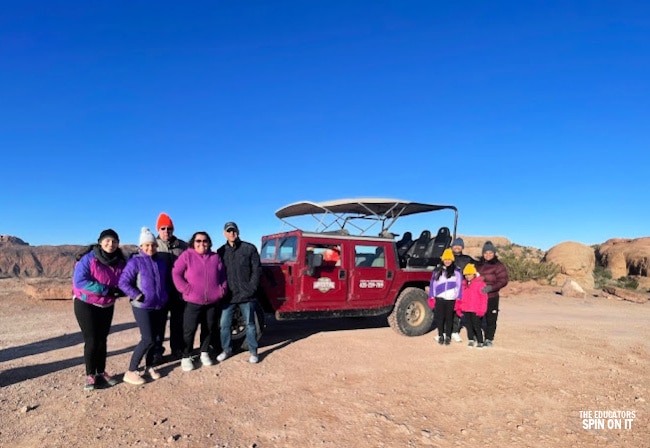 Family Friendly Off-Road Adventure for all ages visiting the Mighty 5
On our Mighty Five Road trip, we were looking to create memories that will last a lifetime for our family group of 10 that included cousins, grandparents, and siblings ranging in age from 8 to 74. It was a hit for all ages as we rode along with their friendly tour guides in our Hummer H1.
We got to kick up a little sand and frozen water while riding on sand dunes and sandstone hills all while taking in the panoramic views. It was breathtaking on so many levels.
The bonus was watching the other Hummer with our family members in it too as their vehicle tackled some of the gravity-defying obstacles on this off-road adventure. And comforting knowing that Moab Adventure Center uses the buddy system with their off-road excursions.
Moab Adventure Center
If you're planning a trip to Moab, Utah block some time for a once-in-a-lifetime experience with Moab Adventure Center on their Sliderock Hummer Safari.
Awarded the "Best of State Award" every year since opening in 2004, the Moab Adventure Center features daily excursions including Moab rafting, Hummer Safaris, Arches National Park Tours, canyoneering, Moab mountain biking, Colorado River jetboat tours, horseback riding, or hot air balloon rides.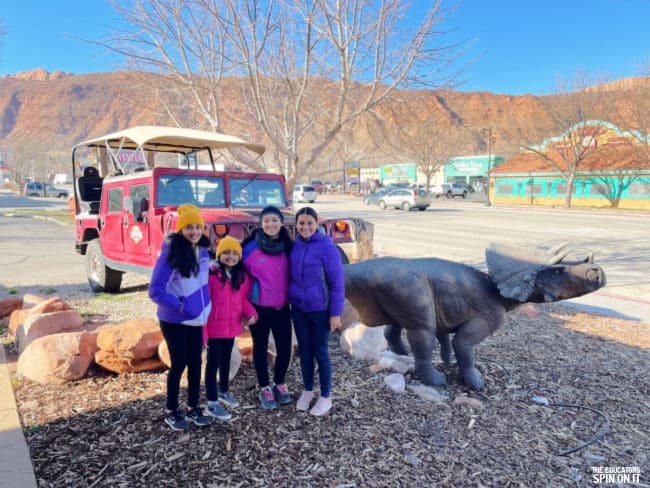 In addition to activities, the Adventure Center also offers information on Moab lodging and Jeep rentals, and much more. They also have an adorable gift shop filled with unique ideas for sovereigns from your trip to Moab.
In addition to the helpful reservation confirmation emails from their team, you can also explore their downloadable Moab Insiders Guide. Their staff provides you with all the essentials for a perfect Moab experience. I always love asking locals what their favorites are when we're in a new place and Moab Adventure Center did not disappoint here.
I can't wait to hear how your off-road Hummer adventure in Moab goes when you plan your next family vacation!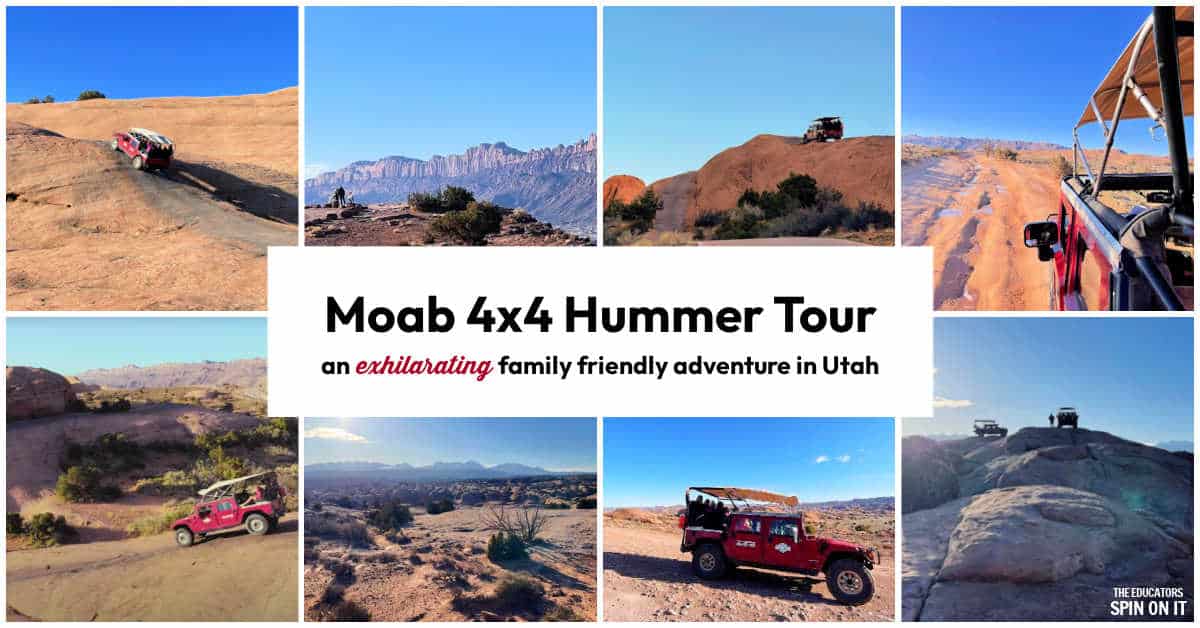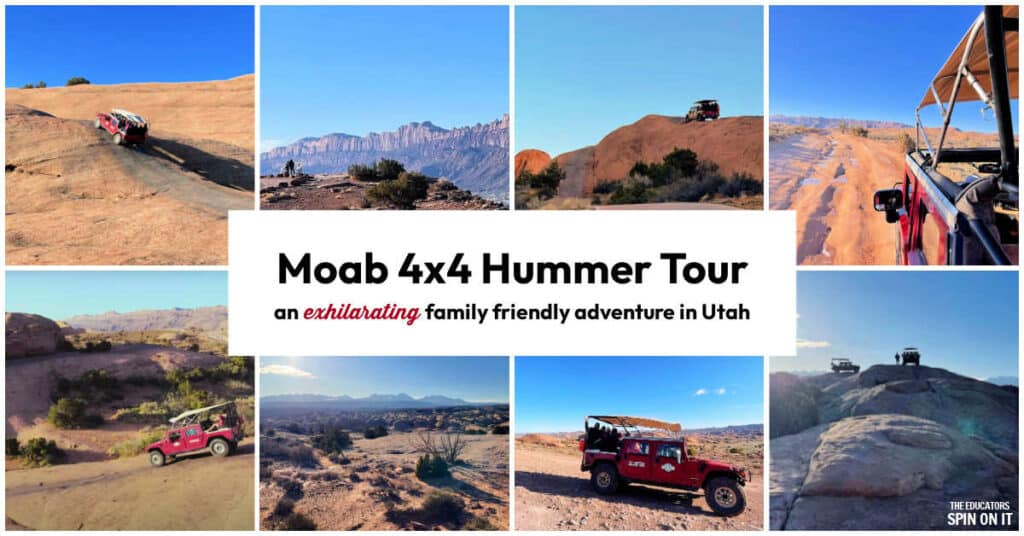 You may also enjoy these family adventures…