The Polar Express Train is a classic tradition in many homes for the holiday season. Create your own moving Polar Express train ride to create special memories with your preschooler.
Here's how to make.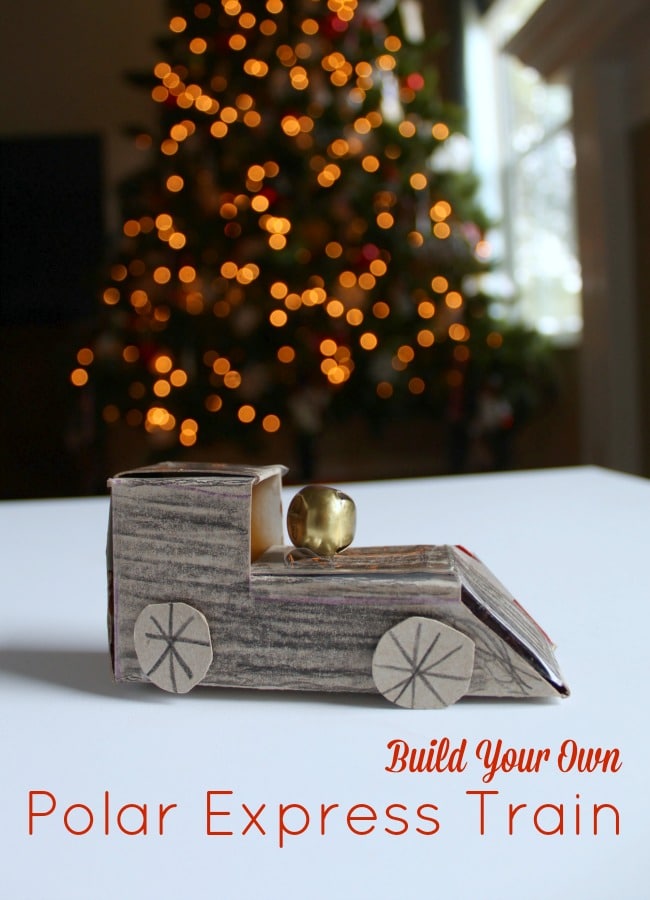 Affiliate links to amazon used
Our featured book this week for the Weekly Virtual Book Club for Kids is the popular book The Polar Express by Chris Van Allsburg. We've shared so many fun learning ideas about trains on The Educators' Spin On it. It's such a popular theme for preschoolers.
You can peek at our Train Activities and Crafts Here.
For this activity, we're going to work on a challenge with your child to see how they can build their own Polar Express train ride and make it move. I know you'll be having quite a few boxes coming to your house this holiday season so it's a perfect one for recycling boxes into a toy just like in our Chalkboard Town.
Polar Express by Chris Van Allsburg
Moving Polar Express Train Ride Craft
Materials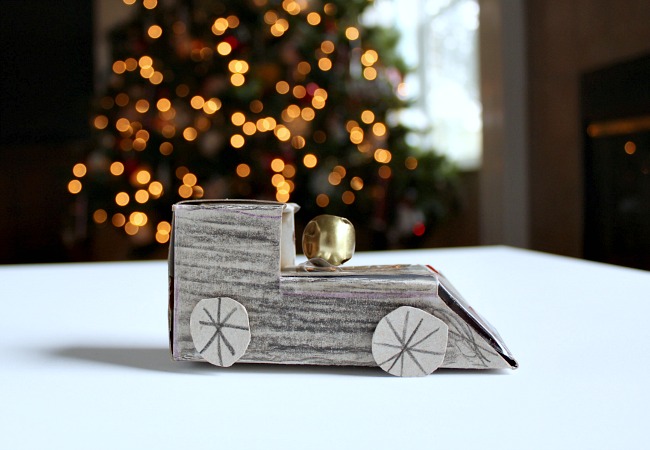 Instructions
1. Read the book The Polar Express with your child. You'll find this book brings to life the magic of Christmas for all who BELIEVE.
2. Challenge them to find a way with you to make their own Polar Express Train that moves just like the one in the book. Have a pile of recycled cardboard ready for them to choose some pieces from with you. * This will be an adult guided train craft.
3. First create your Polar Express Train by cutting out shapes to build your train. Below our train tutorial I've attached some ideas for inspiration. The goal is really to let you child be inspired. The ideal size would be around 4 inches. It doesn't need to be very big.
We ended up experimenting how to make a train together and come up with this design. I'm sharing in case you need some inspiration. The dotted lines mean folded lines and the solid lines are where you cut.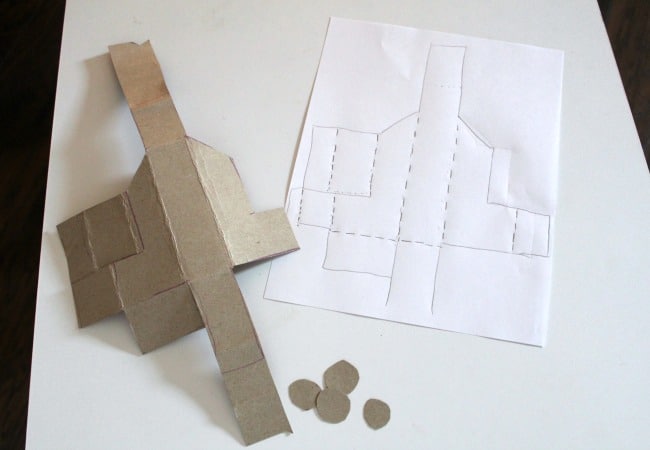 *If you want to opt-out of this DIY train craft you could always use an existing wooden train set that you have at your house.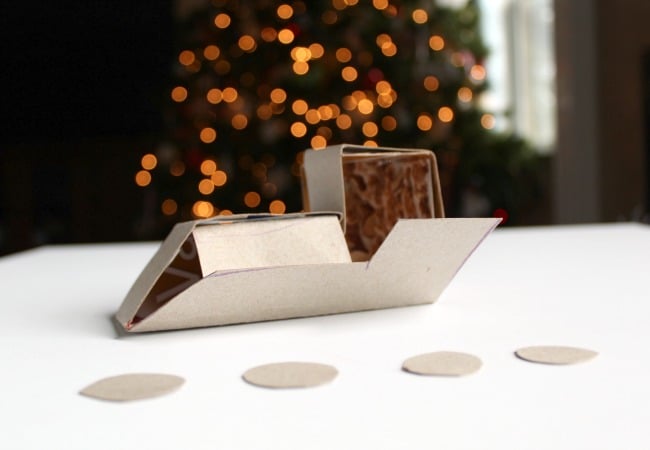 The pieces will all fold up into each other so that you can tape them down to make the train. Don't forget the train wheels.
4. Be sure to decorate your train to match the train in the Polar Express Story by making it black. It has a gold bell on top if you want to add that featured. We used crayons to color our Polar Express Train. Don't forget to add the light to the front and the Golden Text that says The Polar Express on the side.
5. Now it's time to create a place for the train to move on. Take a box and cut it down so that it has around a 3 inches edge all around the sides. Now have your child decorate the inside of the box to match scenes from the movie.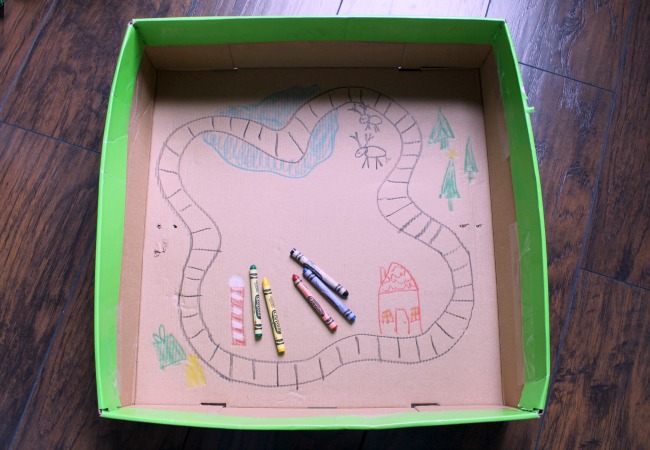 Ideas might include the house, mountains, pine trees, the frozen lake, caribou, and the North Pole.
HOW TO PLAY
Once your Polar Express Train is made it's time to test out your train tracks in the box. Have your child place the Train into the box and then see if they can move their train along the tracks they've created. It will make for hours of imaginary play for your preschooler as they celebrate the book Polar Express and Christmas.
You might want to consider playing some of the music from the Polar Express movie to get them in the Christmas spirit too.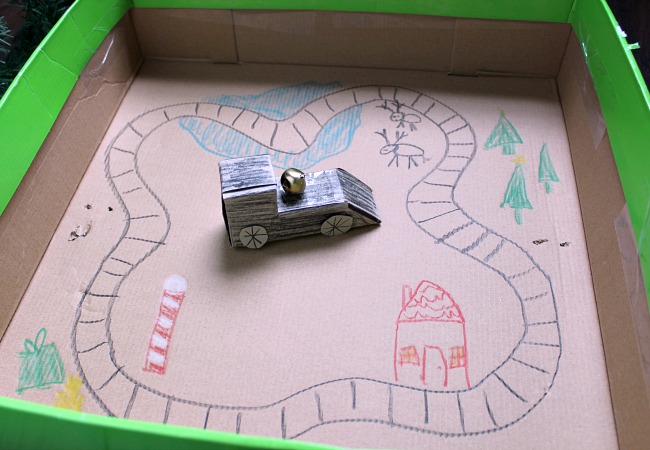 Polar Express Songs to Play for your Moving Train Ride
Polar Express Train Craft Tutorials with Cardboard Boxes
Do you have any other favorite Polar Express Train Themed Activities? We love our Snowflake Number Train and Train Name Craft and Snack Idea
This week our Virtual Book Club for Kids co-hosts have also been creating train themed activities to share with you! Click on the links below to see what they shared!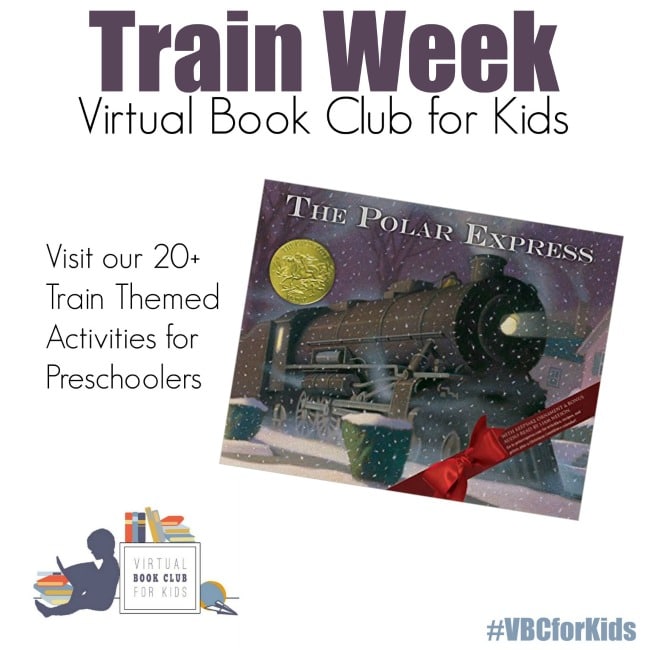 Polar Express Train Themed Activities for Preschoolers
Polar Express Train Track Letter Puzzle – Adventures of Adam
Beginning Letter Sounds Train Ride – Rainy Day Mum
Spell My Name on a Train – Powerful Mothering
Polar Express Printables- Jingle Bell Count – JDaniel4's Mom
Christmas Train – Mama Smiles
Trains & Magnets Sensory Bin – Preschool Powol Packets
Learning colors by Painting with trains – views from a Step stool
Train Pretend Play Fun for Kids– Toddler Approved
Train Ride Yoga – My Storytime Corner
Train Shapes -craftcreatecalm
Looking for more Christmas Ideas for kids? Try these 50+ Christmas Activities for Kids.