This keepsake fingerprint mouse themed ornament is so simply yet adorable and is inspired by one of our favorite characters from the If You Give a Mouse books by Laura Numeroff. Create your own mouse ornament to give to a loved one this Christmas.
Here's how to make…
Disclosure: This post contains affiliate links to Amazon.
There's a popular quote from one of our favorite Christmas books, I'm sure you know it too.
"Twas the night before Christmas when all through the house not a creature was stirring not even a mouse."
You guessed it! The Night Before Christmas Golden Book that ties into the featured story this week for the Virtual Book Club for Kids. We're making an ornament that's a mouse themed fingerprint ornament to celebrate this special mouse.
You can play this adorable If you Give a Mouse a Cookie Game as you read the book.
If You Give a Mouse a Cookie
Merry Christmas, Mouse! by Laura Numeroff
If you're a fan of the If You Give a Mouse a Cookie Series by Laura Numeroff your child will love to join in as mouse decorates his Christmas tree in a holiday counting adventure. Mouse adds ornaments to his tree, one by one. A fun way to your little one to practice counting along with their favorite mouse. BUY NOW!
In the story the mouse decorates the tree using the following ornaments which you can create too with your child.
While I was looking up this book on Amazon I also noticed two more options that would be perfect for this activity! One is a book If You Take a Mouse to the Movies
and the other is actually a Christmas Movie called If You Give a Mouse a Christmas Cookie.
I can't wait to see this with my kiddos this Christmas and make cookies together!

Amazon Original Holiday Specials – Official Trailer
If You Take a Mouse to the Movies
Mouse Themed Fingerprint Ornament
We're using just a few items to make a Christmas ornament that features this special mouse. The best part is that you can personalize it however you want to. We chose to use the quote from another one of our favorite Christmas stories too.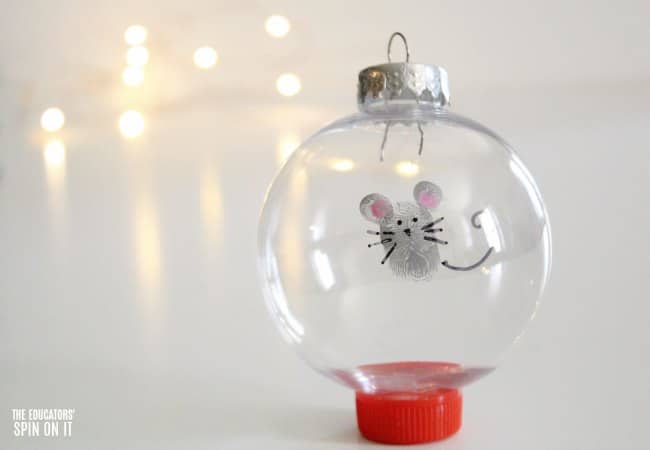 Kid Made Ornament Ideas from the book Merry Christmas Mouse
BONUS IDEA: The mouse fingerprints would make an adorable handmade counting book to go along with this book themed activity.
Here's how to make your own mouse ornament.
MATERIALS FOR TRAIN ORNAMENT
black permanent marker
clear plastic ball ornament
acrylic grey paint
acrylic pink paint
paper plate or plastic lid
Baby Wipes
Directions for Mouse Themed Fingerprint Ornament
1. Read the story Merry Christmas Mouse with your child.
2. Place some grey paint in a dot on a paper plate to use to make fingerprint mouse shape.
3. Encourage your child to make the body of the mouse with their thumbprint.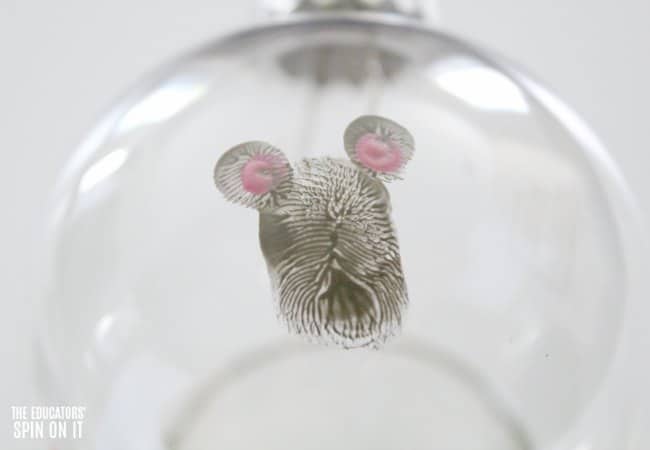 4. Then add to little ears with a smaller finger. Allow to dry.
5. Using a small object you can dab on a little pink paint to each of the mouse's ears too.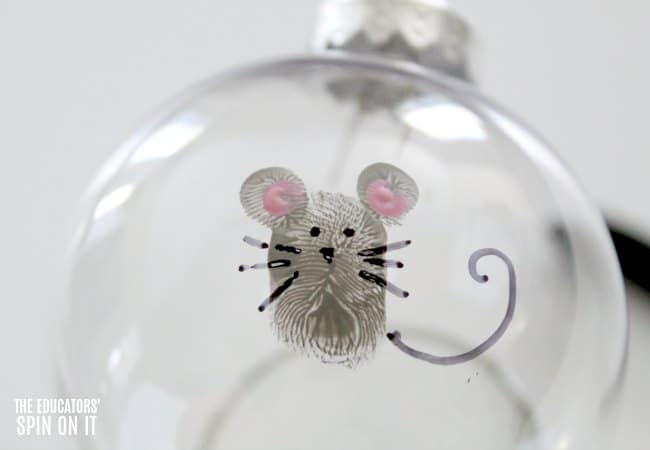 6. Once completely dry have your child add the two eyes, nose, whiskers and tale to the details to create their own fingerprint mouse themed ornament.
Optional: You could add some glitter or dots to add more holiday spirit to your ornament.
Look for more ideas for making ornaments for your tree this holiday season? Take a peek at our favorites we've shared over the past few years on our blog.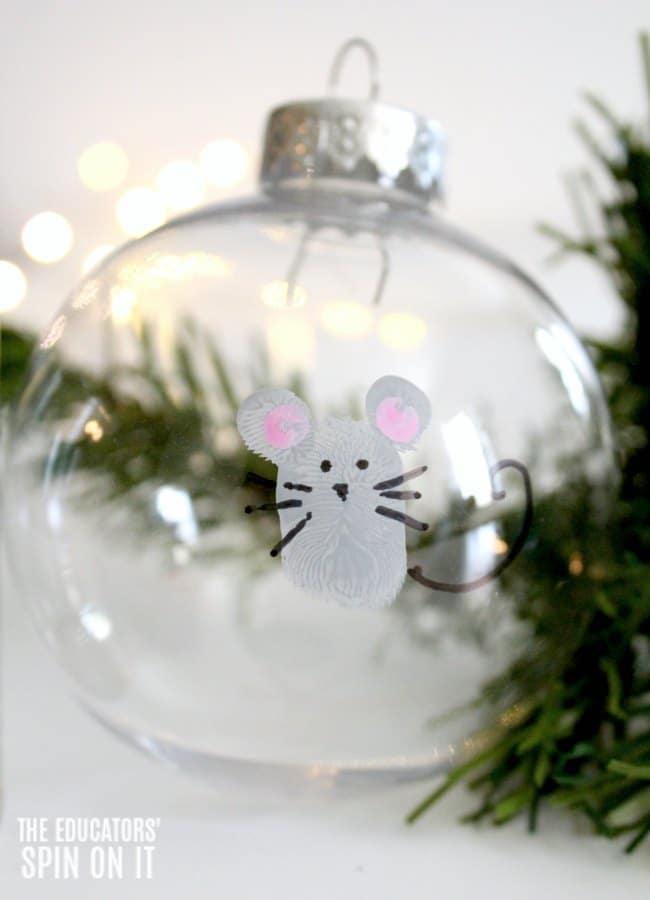 Kid Made Ornaments from The Educators' Spin On It
Be sure to visit my other Ornament Week Cohosts at the Virtual Book Club for Kids to see what ornament themed activities they are sharing with you! They are featured here below.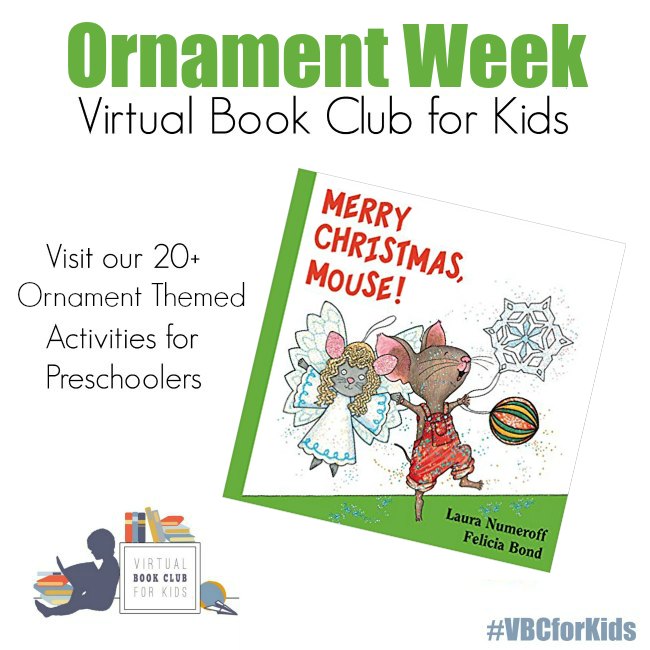 Advent Countdown for Kids- JDaniel4's Mom
Peppermint Cream Mice – Rainy Day Mum
Christmas STEAM: Paint Eruption Ornaments – Preschool Powol Packets
Elf Station Ornament CoLor Sort – Sea of Knowledge
If You Give a Mouse Fingerprint Ornament for Kids – The Educators' Spin On It (That's here!)
Ornaments to Color and Sew – Mama Smiles
Solar System Ornaments- Teach Beside Me
Washi Tape Christmas Babules – Clare's Little Tots
Sparkly Candy Cane Ornament – Toddler Approved
Come share what your'e up to during ORNAMENT WEEK in our Weekly Virtual Book Club for Kids Facebook Group! Share your photos on instagram with the hashtag #vbcforkids too!
Looking for more fingerprint ornament ideas, try these ideas….