Get creative with spice painting! A fun sensory art project for your child. A great way to use up some of those old spices too!
There are so many ways to get painting with spices.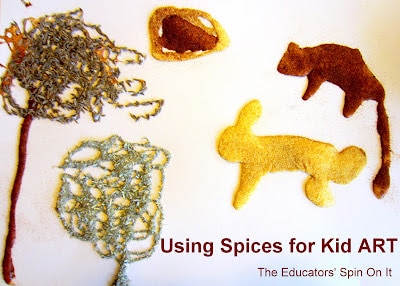 It has been done. Many times, many ways…
Here are just a few!
But have you done it?  Painting with spices that is? If not, it is time to shake those spices out of your pantries and put them to work today… in your kids artwork that is! Remember it is SUMMER – time for fun projects and making memories.
I know that spices cost a fortune (just use the ones that are old or have been sitting unused, not your favorites) just take the leap!
Besides, after gluing/painting with spices, I was surprised with how little we actually used.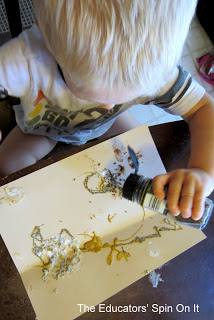 Spice Painting with Kids
I picked out 4 different spices that I don't use much and had way too much of in my pantry, handed the kids a piece of tagboard and a glue bottle each and said, "Have FUN!" They looked at me with confusion, so I explained that today we were going to do something different – paint with spices. They would need to put glue on, then shake their spices on top of the glue. Ahhh. They got it that time and off they went.
My 2 year old went for the shaken version, while my 5 year old really smelled and thought about the textures of each spice.
Their pictures turned out looking and smelling amazing.
So what are you waiting for? Go grab some spices and get gluing!!!!
Additional Spice Crafts for Kids
Lavendar Calming Playdough Recipe
Rosemary Sachet Tutorial for Kids