Explore Diwali with a family through the sweets!  Create a playful hands-on fun using Diwali Playdough to create your won sweet versions of Diwali Sweets.  Plus discover some of our favorite Diwali books for Kids.
Celebrating Diwali with Sweets
I've had the opportunity to celebrate Diwali with my husband and his family for the past 10 years. One tradition is that you share Sweets, Dried Fruits & Nuts with your family and friends. I'll never forget the Haldirams stores in India when you visit. The have a display of sweets that is probably 25 feet long with an assortment of colors, shapes and tastes. Take a peek at what it looks like as you go in.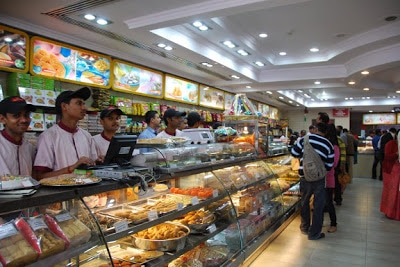 Here's one family's experience.
 Here's an image of sweets being sold at the market in India.
Some of the more common sweets exchanged  and served for Diwali are  Soan Papdi,  Ras Malai, Kalakand, Cashew Burfi, Coconut Burfi, Carrot Halva, and even Kheer.
Diwali Playdough Idea
Even in the UK when we visited there was this one amazing shop that made the best jilabi I have ever tasted. Here's a recipe for it from Manjela's kitchen. Although I would love eating Indian sweets all the time they are pretty sweet.  However we found a fun way to recreate the sweets at our house every day.  My daughter created her own sweet shop for Diwali using Playdough.
We had so much fun creating Jilabi with our Playdough.  It was left over from our Pumpkin Playdough so it was just the right orange color and then it inspired us to make some more indian sweets.
We created Burfi too.  This is our favorite since we added green Cardamom pods.  This traditional spice is used in India and is probably my most favorite scent ever!  In Hindi it's called elachi.
We used my spice Grinder, mortar and pestle  from India actually, to made the pods break and the seeds become powder like.  If you've never ground up your own spices there's something very magical about it!  First we made a batch of playdough together.  Then we added the ground up cardamom.  If you're looking for a good playdough recipes go to Nurturestore, she has so many great ideas!
Then it was time to make some Indian Sweet for the sweet shop!  You can flatten the playdough and have fun making diamonds.  We even added the aluminum foil to look like the real edible flakes they put on indian sweets.  Here's our finished sweet tray ready for delivery!
Here's our sweet tray!  We made some Diyas with the same dough too!
Books About Celebrating Diwali
Here are a few books we'd recommend about the Sweets In India.
Want to learn more about Diwali, check out these books!