Create a patriotic magnetic sensory bottle and discover hands on science fun with this red, white and blue activity for the fourth of July with your child. Grab a few items from around the house to create this sensory bottle with a surprise science element.
Here's how to make your own patriotic activity…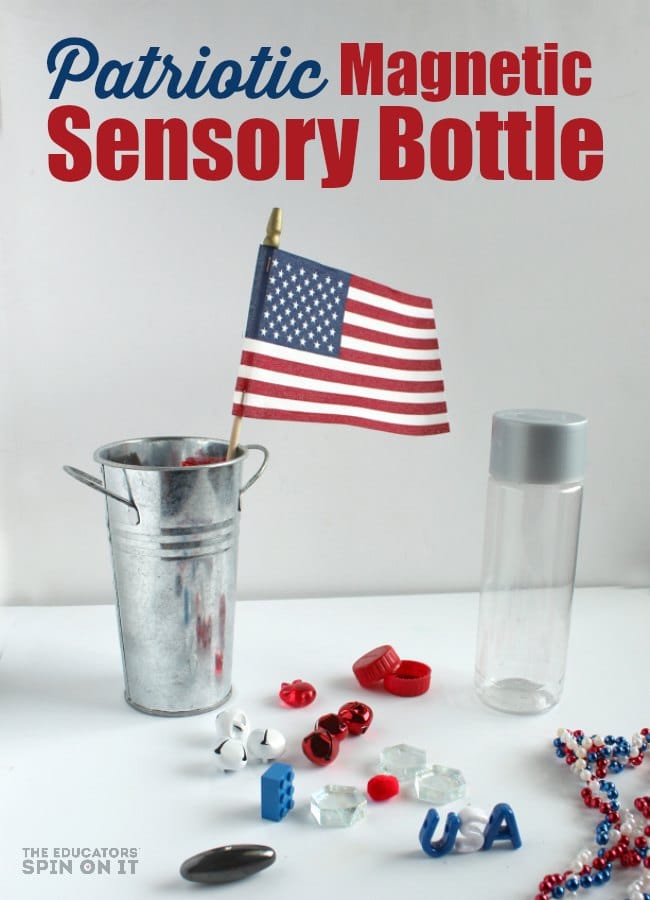 Disclosure: Amazon referral links used within this post.
Patriotic Magnetic Sensory Bottle
This Patriotic Magnetic Sensory Bottle can provide your child with hours of fun and fine motor development as they explore with a magnet. Be sure to seal the bottle tight once all of the treasures are placed inside.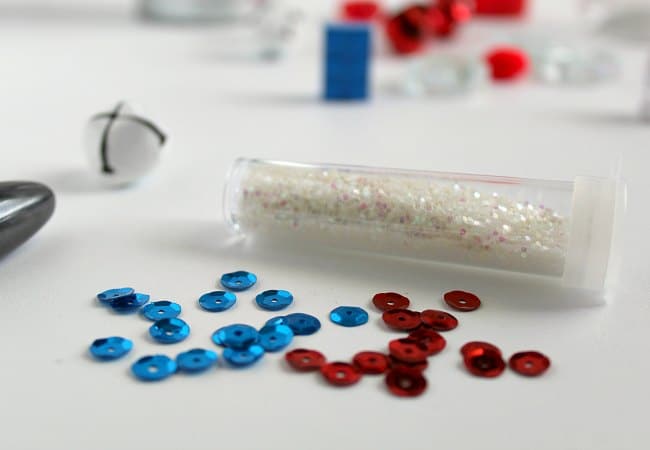 Materials for Magnetic Sensory Bottle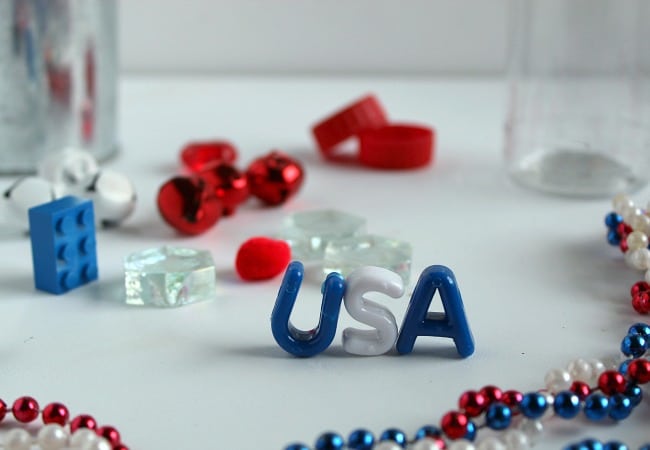 Directions for Magnetic Sensory Bottle
1. Gather supplies for your patriotic magnetic sensory bottle. We went on a hunt through our craft supplies to find things that were metal, plastic and glass that were red, white and blue. Encourage your child to view things as a scientists as you gather your items. See what words they will use to describe them from color, shape and what was made to create it. Once you're gathered them give them some time to touch and feel the items for additional sensory exploration as well. I made sure to have White and Red and Blue Jingle Bells because I knew they would be magnetic.
2. Get a large clear bottle, these are our favorites ,with a lid to place all of your collected items into.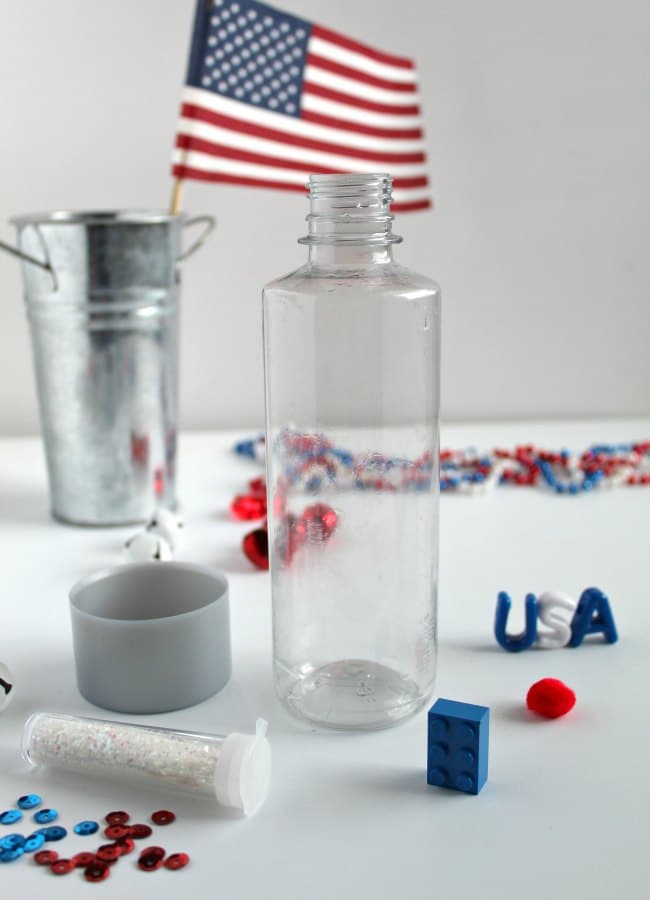 3. Add all of the red, white and blue items into the container. This is great for fine motor skills. Your child will also have to determine if the products will fit into the opening on the container. A skill we all can work on developing in life. Set aside a small container for them to place those items into to help keep track.
4. Once all of the items are in the container add a few Red and Blue Sequins
to add a little patriotic color to the bottle. We also added white glitter to our bottle to make it sparkle a bit more as well.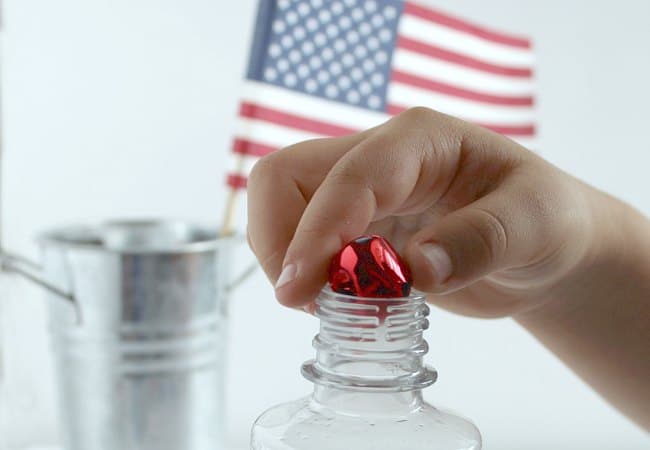 5. Now that you have all your red, white and blue items, it's time to add water. We filled ours up to the top leaving a little space for air for the items to move around with. You can also experiment here and add different things like oil or corn syrup to see how they react with the density.
6. Now it's time to make things challenging. Encourage your little one to shake the bottle and see what happens.
Do things float?
Do they sink?
Do the hover?
MAGNETIC Sensory Bottle CHALLENGE:
Can you use your magnet to find all of the magnetic items?
Can you make your magnetic items stick together?
As you can see we even were able to stick the magnet to the sides of the bottle and let it stay there all by itself. The kids were so excited to see that!
What type of force does magnetism have?
Chat with your little scientists to see what types of scientific conversations you can have while they explore this patriotic magnetic sensory Bottle.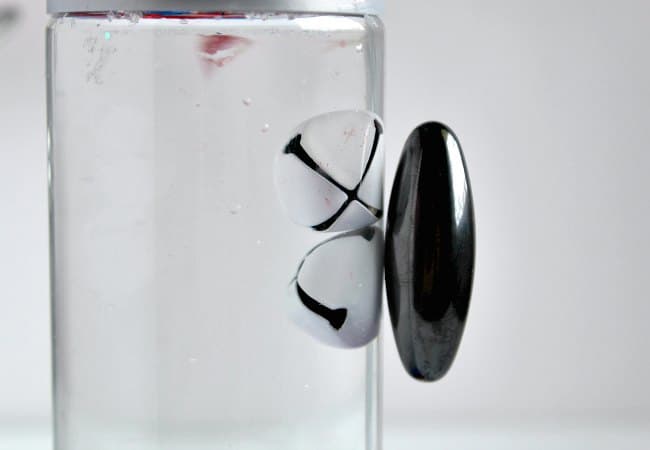 There are so many fun ways to explore with this patriotic magnetic sensory bottle. They are great for when family visits or even for the road trip this weekend. Just be sure to talk with your child about magnet safety and use adult supervision at all time. When it gets boring surprise them and add a few more magnetic items or a bit more glitter for sparkling fun or even a little bit of baby oil and see how you can change things up.
Sensory Bottle Fun with Science for Kids
If you liked this post you might like our Sensory Bottle Math Activity , Summer Sensory Bottles , Hunt for Gold Sensory Bottle, Science Sensory Bottle Experiment with Density .
FOR MORE 4th OF JULY IDEAS VISIT