Educational play dates can be EASY to plan!!! This Patriotic play date is perfectly fun, low mess, low cost and not too sugary!
Explore these red, white and blue ideas with your preschooler and their friends!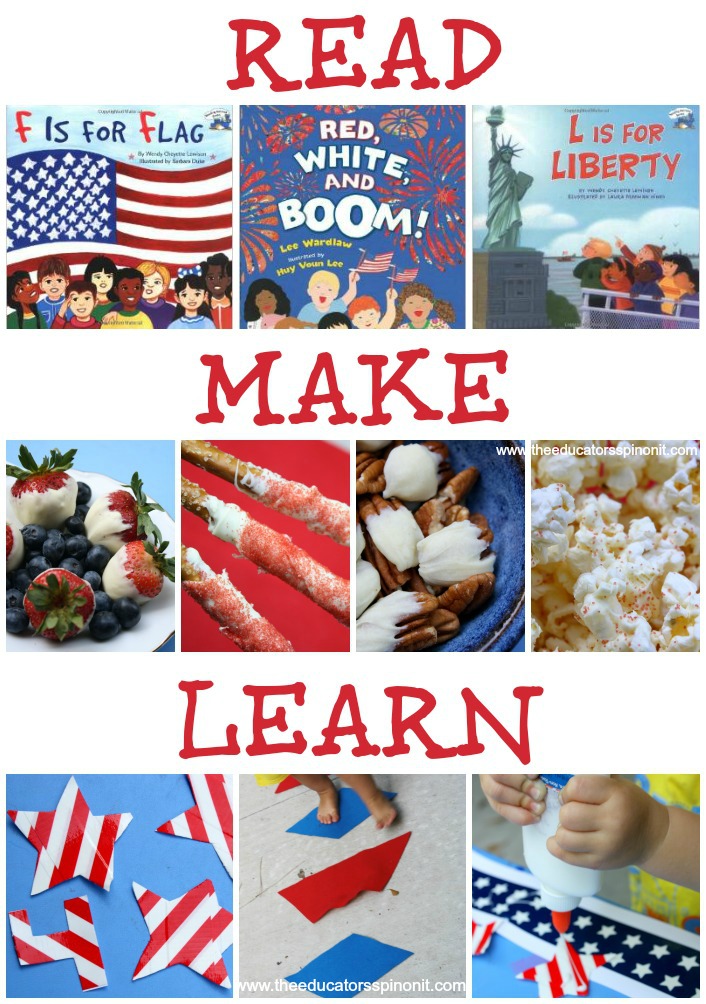 This morning, the kids and I had a ton of fun reading, making, and learning with Patriotic Crafts. Play dates do not have to be over-the-top to be thematic and tons of fun, in fact, simple sometimes goes smoother. I happened to have struck gold at Home Depot this weekend when I picked up a set of 3 craft duct tapes with stars and stripes on it for a total of 99 cents, which inspired all that follows.
Patriotic Party Activity Ideas for Kids Playdate
Here's is a collection of patriotic themed activities to help you plan your patriotic play date with friends. We've brought together ways to read, make and learn all involving patriotic activities for the 4th of July. Let's get started!
READ:
In my opinion, every play date should start with a good book. There are so many possibilities out there, the three I have in my library for the 4th of July are:
Affiliate Links: If you purchase using these links, I receive a small portion of any sales.
Patriotic Books for Preschoolers
Reading helps introduce vocabulary and sets the tone and purpose for the day's festivities. It also gives kids a chance to calm their bodies and start to focus.
Talk about the holiday and its significance of it. Ask children to tell you what they know prior to reading. My four-year-old said, " Red stripes and red stars are important. America has a flag. That's all I know."
Introduce the book to your children. Read the title, the author and the illustrator. During the story ask questions. Encourage them to point out symbols that they see in the books.
After the story, ask them to tell you what they have learned. Turn back to pages in the book and highlight a few main ideas.
Make:
Kids learn SO much by helping out in the kitchen. Many of our kids that go to school during the school year may not spend as much time making and baking. Summer is the perfect time to teach basic cooking skills. Today, my preschooler and I melted ONE cup of white chocolate chips (adding just a bit of shortening to smoothen it out) and came up with:
Patriotic Popcorn Recipe
Ingredients:
1 package of popped popcorn
A spoonful of melted white chocolate
Red or blue sprinkles
Directions:
1. Let your child drizzle the spoonful of chocolate on the popcorn and mix.
2. Have them shake the sprinkles on the warm chocolate.
3. Cool (pop in the fridge for faster setting)
4. Serve and eat!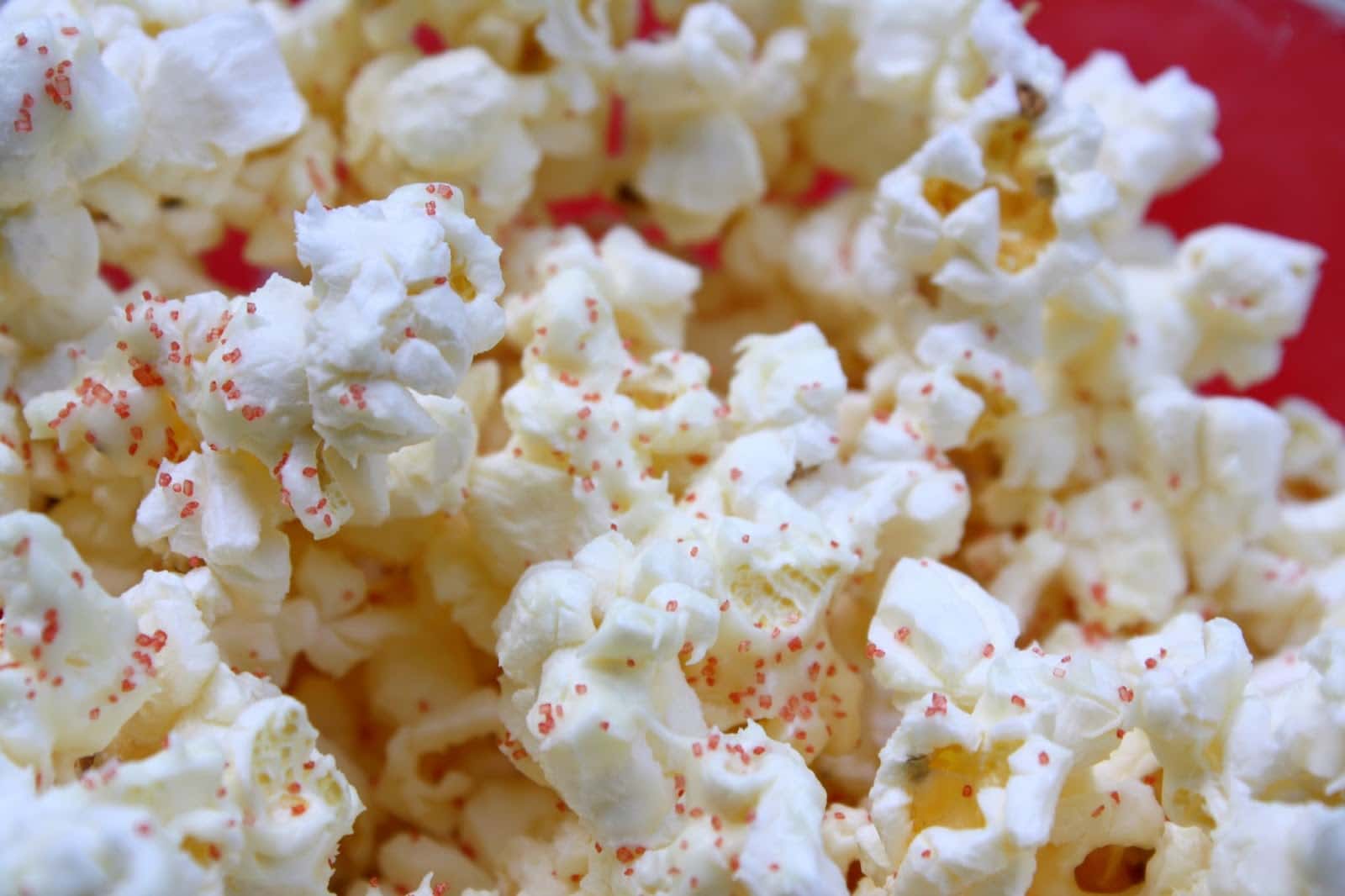 RED, WHITE, and BLUE Berry Blast!
Ingredients:
Strawberries (washed and dry)
Blueberries
Melted White Chocolate
Wax paper
Directions:
1. Dip strawberries into melted white chocolate and gently swirl.
2. Set on wax paper.
3. When cooled (at room temperature), arrange on a small plate.
4. Top with blueberries and serve.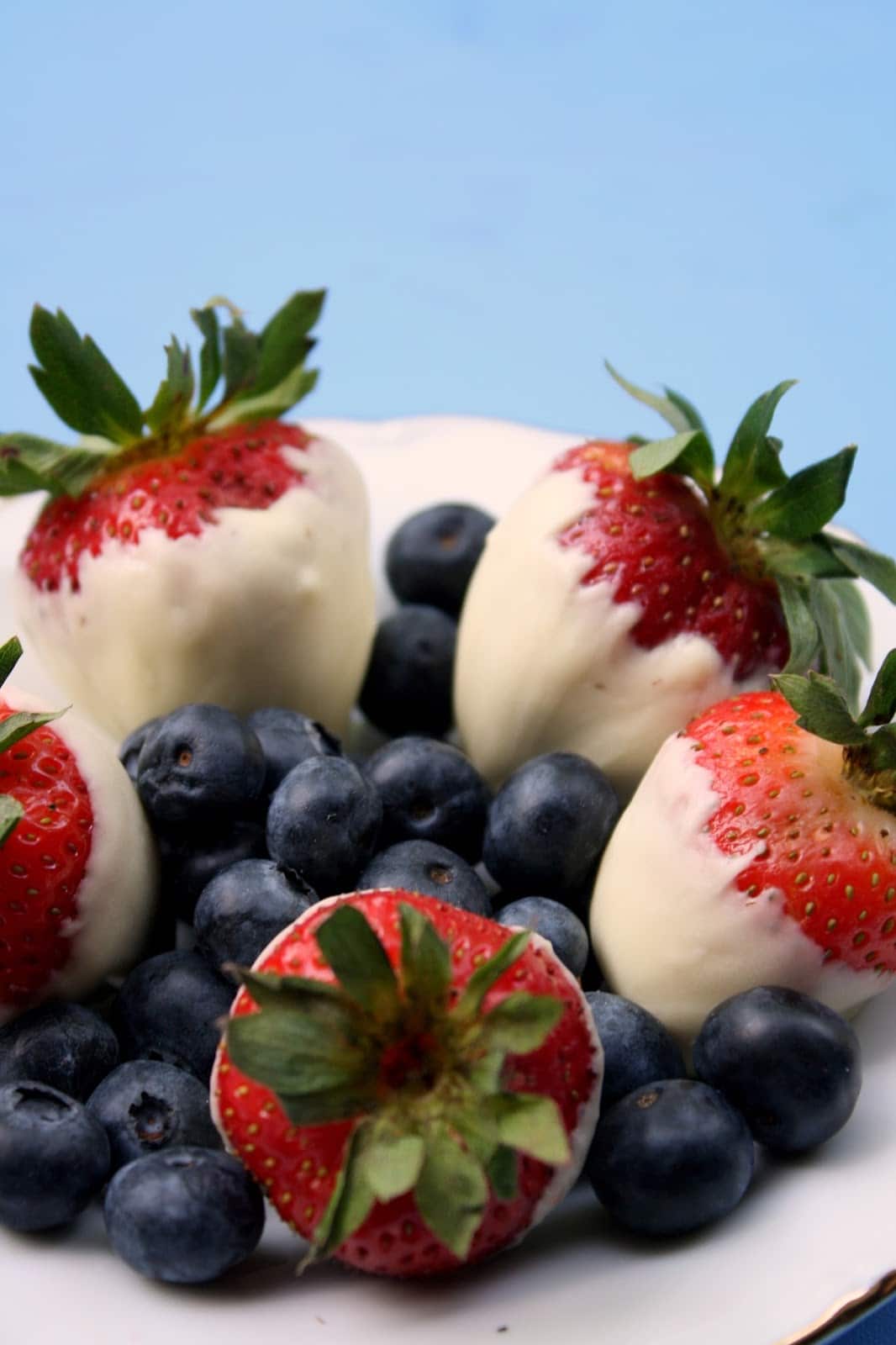 Edible Sparklers AKA Chocolate Dipped Pretzel Rods
Ingredients:
Pretzel Rods
Melted White Chocolate
Red Sprinkles
Wax Paper
Directions:
1. Let your child dip and swirl the rods in the melted chocolate.
2. Top with sprinkles while the chocolate is still warm.
3. Set on wax paper to harden (putting these in the fridge will speed the process up)
4. Serve and eat.
PS- this picture shows you how my child's turned out! He ate the ones right away that were scoops of chocolate and not "for your pictures mom."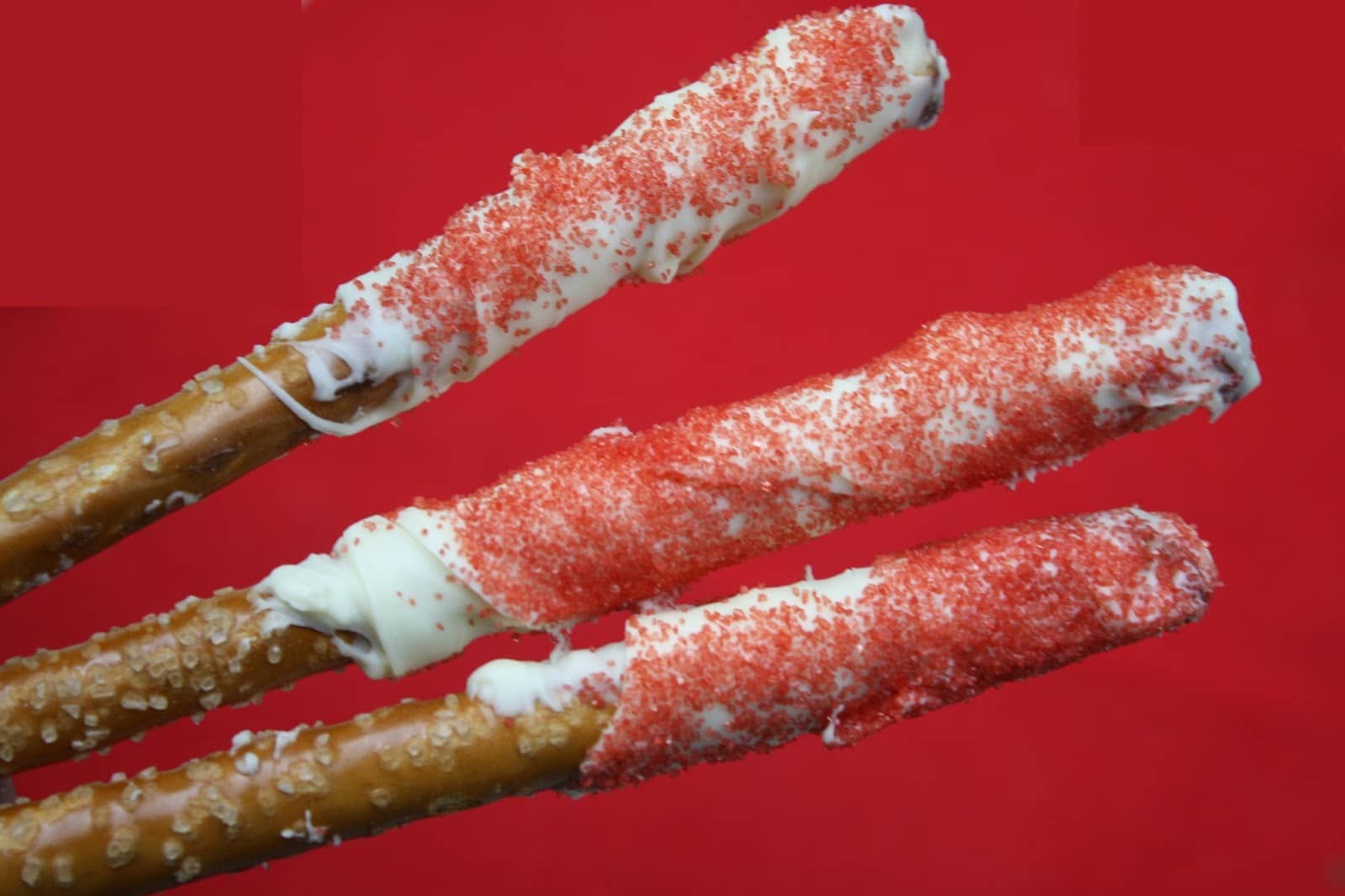 Party Pecans
Ingredients:
Whole pecans
Melted white chocolate (the end of the bowl!)
Directions:
1. Let your child dip the pecans in the remaining melted white chocolate.
2. Ignore the whining of, do I have to dip another pecan or can I just lick the bowl now?
3. Set the dipped pecans on wax paper to harden (the fridge will speed up the process)
4. Let your child lick the remaining chocolate from the bowl (trust me, there isn't much left)
5. Once hardened, put in a festive bowl and serve.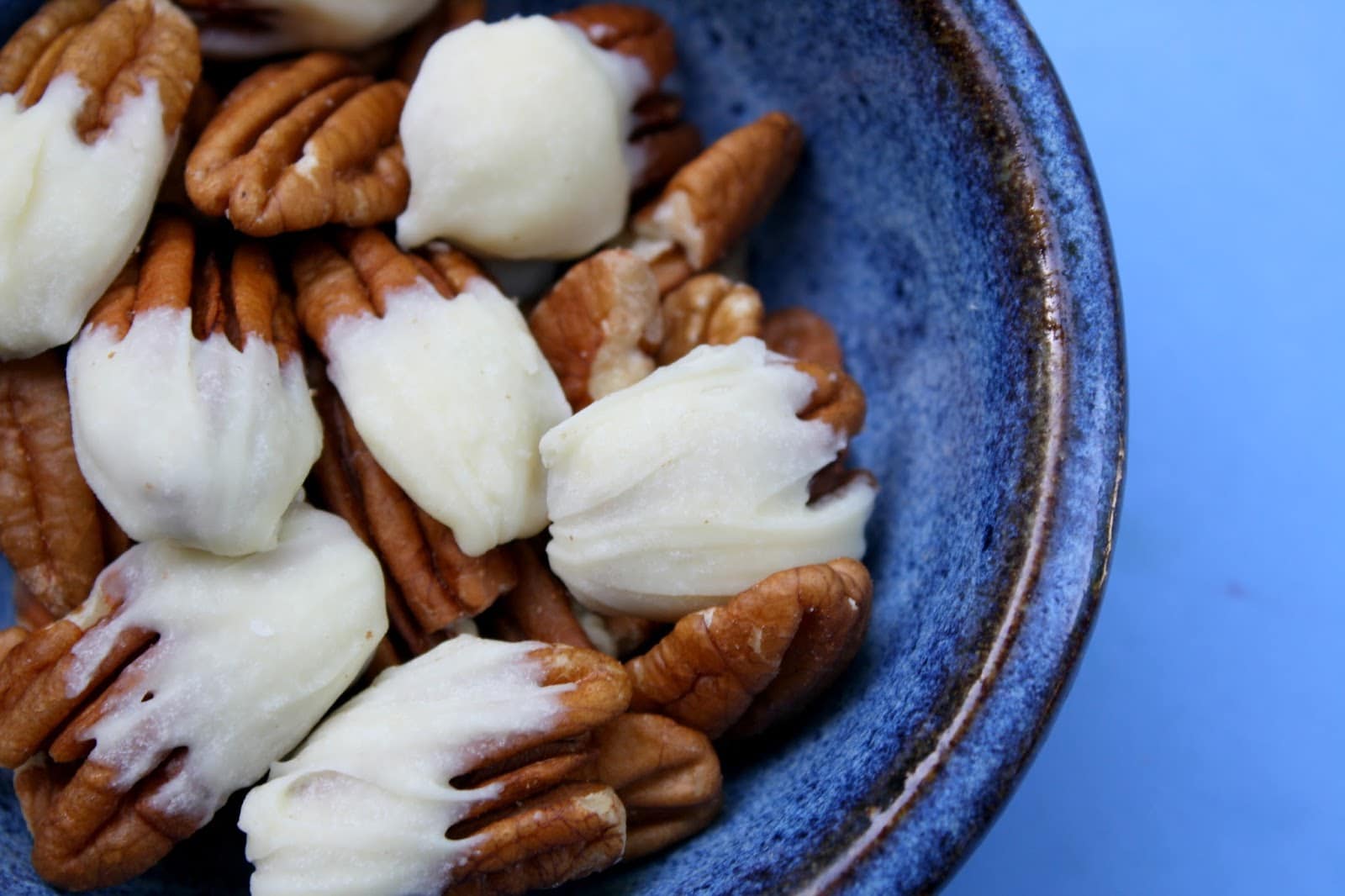 If you are not a white chocolate fan, check out this super cute snack Kim and her kids made:
Patriotic Flag Snack
Learn:
After making snacks in the kitchen, we headed outside for some learning activities. I usually aim for 3-4 learning activities for each play-date. This morning we worked on a little counting, movement, crafting.
Counting and Number Recognition:
We made a bunch of stars and the numerals 1-5. I put a numeral on the table and we counted out the matching number of stars. We used the stars and stripes craft duct tape, but scrapbook paper would also give you the same effect! No tape, no paper in your house? Cut up a cereal box and paint or color it first.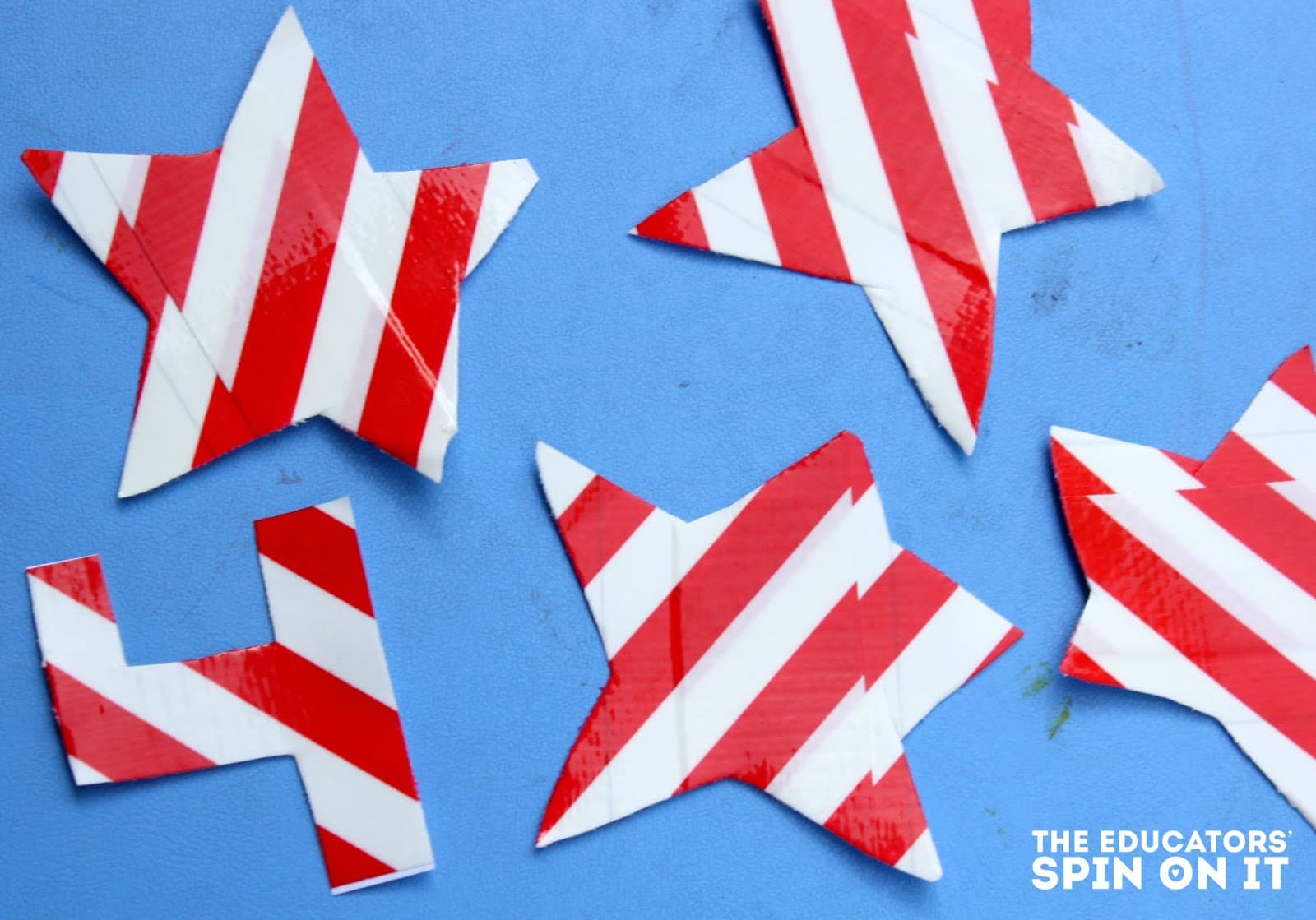 Star and Seek:
When the stars were counted, we kept the number on the table and HID that number of stars in the yard. My kids had a ton of fun "star and seeking." It was a great way to combine math, movement, and being outside!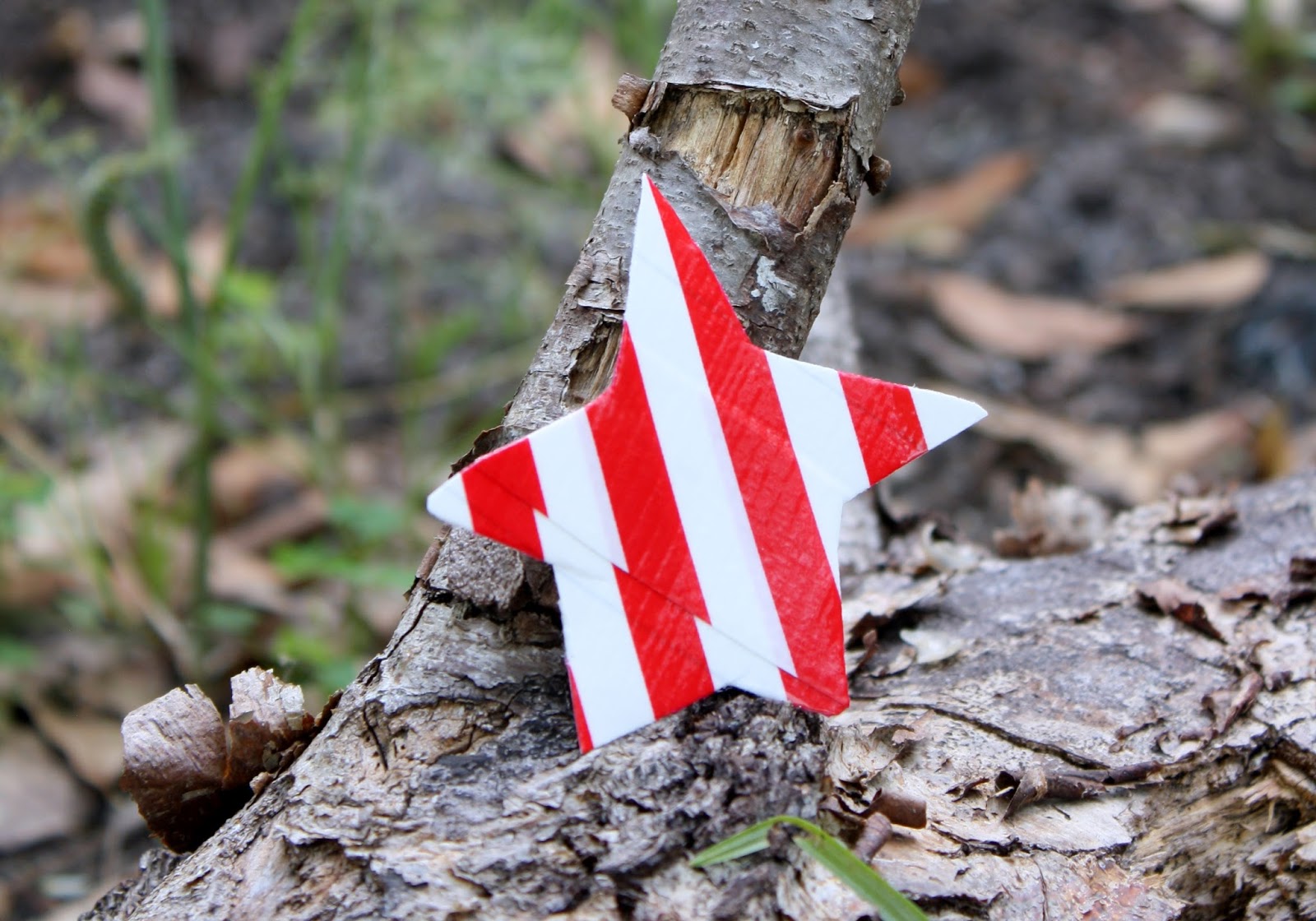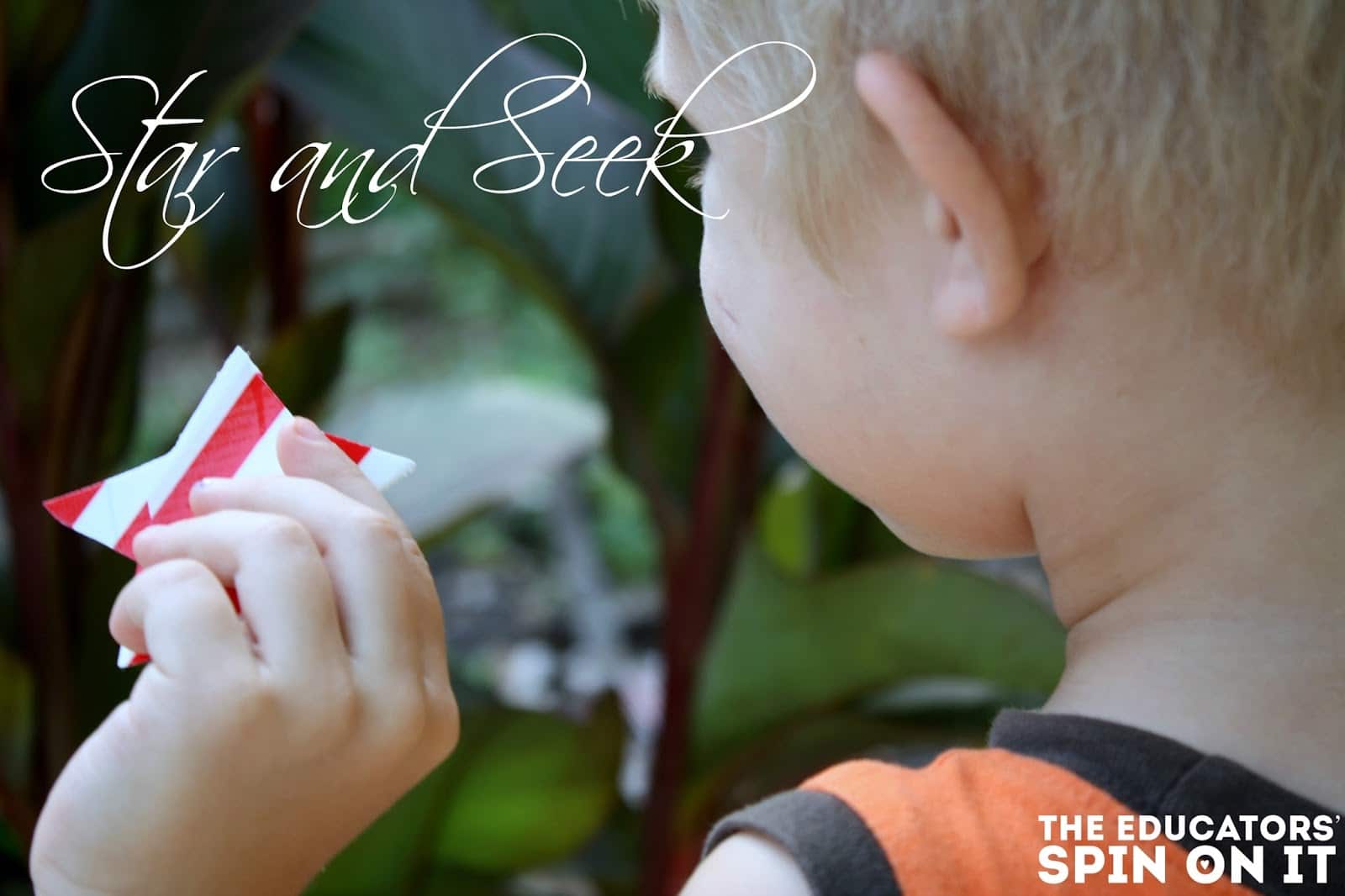 Patriotic Pattern Path:
If you are a long-time reader, you would know that my kids and I have made GIANT PATTERN blocks out of felt. They have come in very handy for many lessons and are fun to use for a variety of purposes. Today, we used the blue diamonds and red trapezoids to make an AB pattern. I encouraged my preschooler to make even more patterns with his body as he hopped. On red, he had hands in the air. On the blue, hands on his hips.
Kids need repetition and to experience learning through a variety of senses. What will your kids come up with?>
Stars and Stripes Headband
No party play date is complete without some festive headgear. Grab your glue and get ready to craft!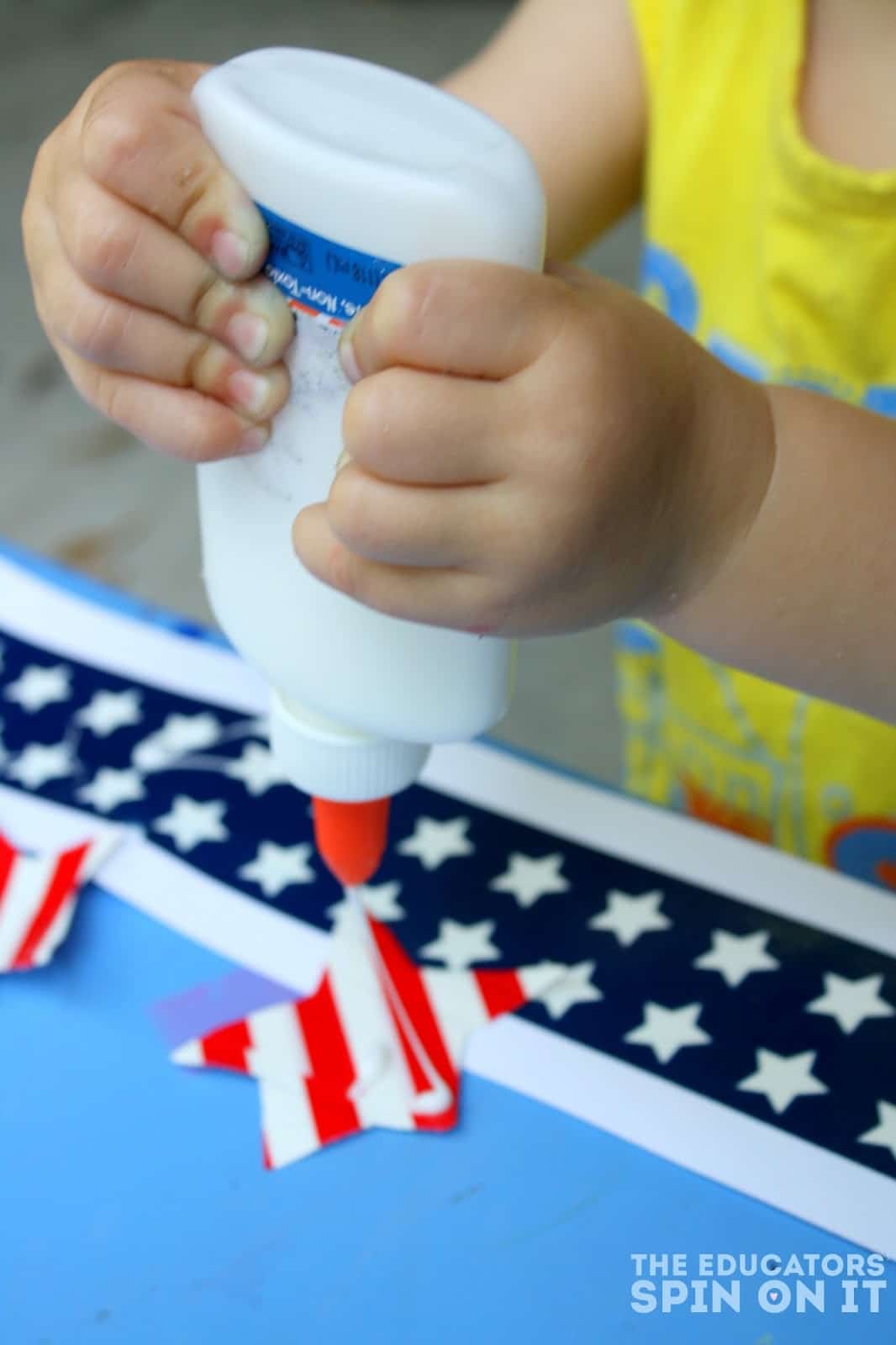 We have completely run out of construction paper, so I grabbed white sentence strips and the kids covered them with tape. Remember those stars we were learning and seeking with? Yes, they are going to be glued on to complete the look. The kids were so sweet, they even made me one =)
More Ideas for 4th of July Fun with Kids
Looking for more preschool activities? Check out our weekly Playful Preschool Planner