Crayons are such an iconic symbol for back to school with kids. Add a sensory bottle math game using a crayon theme for this super colorful math game! Let's have a little math fun with some crayons to celebrate the beginning of the school year!
We'll focus on colors, number recognition, graphing, ordinal numbers and even some fine motor skills.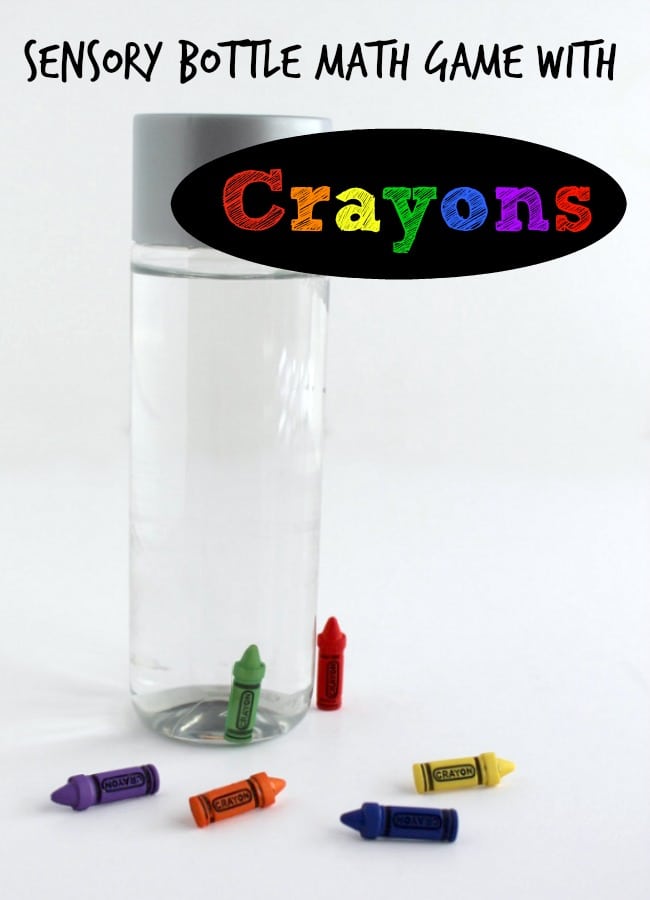 Affiliate links used in the post.
Sensory Bottle Math Game with Crayons
This math game was such a hit in our house after school with my Kindergartner and 5th graders. I can't wait to share with you how to make and play for your kids. It combines the fun of a sensory bottle with a few educational elements to make it a big win for all.
Here's how to make it.
Materials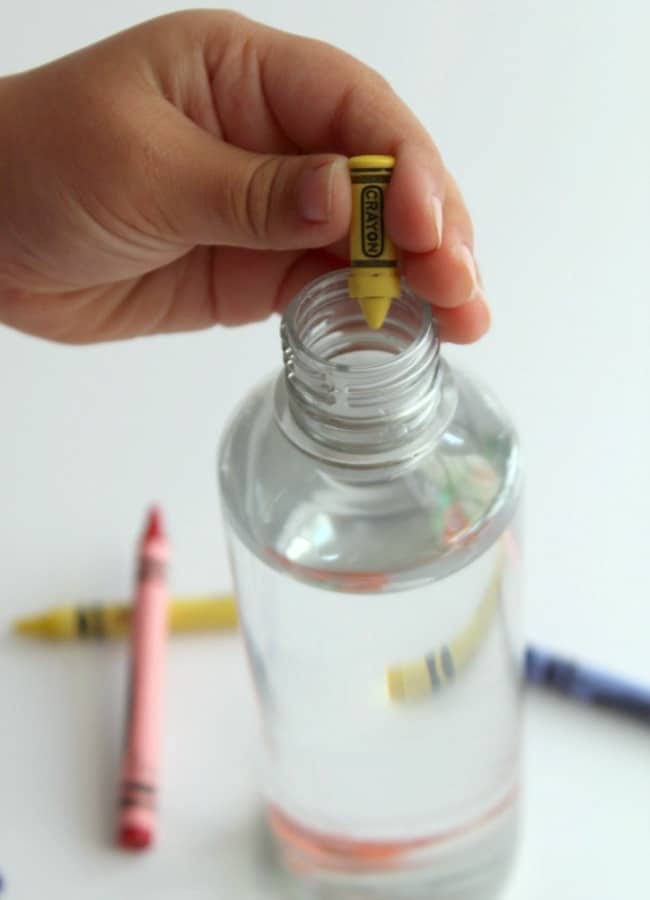 Directions for Sensory Bottle Math Game
1. Place water into the empty water bottle , leave a portion empty to allow for air in the bottle.
2. Have your child add the colorful crayon buttons into the water one by one. Great for fine motor practice and counting. Discuss the colors as you add them to work on color recognition too.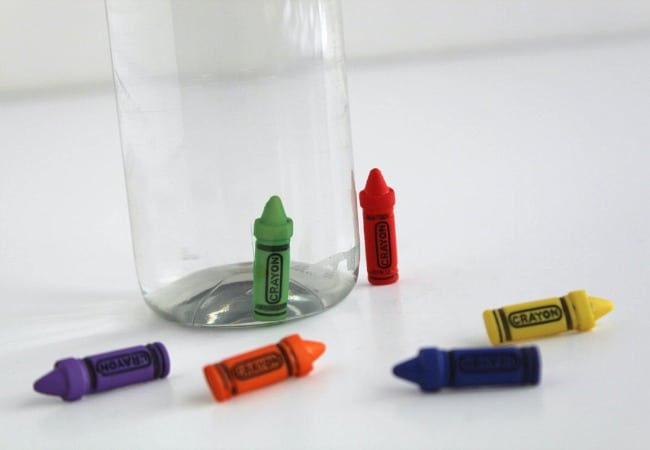 3. You can challenge older kids to see if they can make their crayon button stand up in the water bottle, it's harder that it looks and great for focus and patience.
4. Allow your child to explore with the crayon themed sensory bottle before you begin the math game. Discover how the crayons move throughout the water.
TIP: Back to School Sensory Bottle– This sensory bottle would be a helpful to make as your little one is starting school for the first time. It gives them a positive experience with school supplies and also offers a distraction is they are beginning to get a bit worried about the first day of school.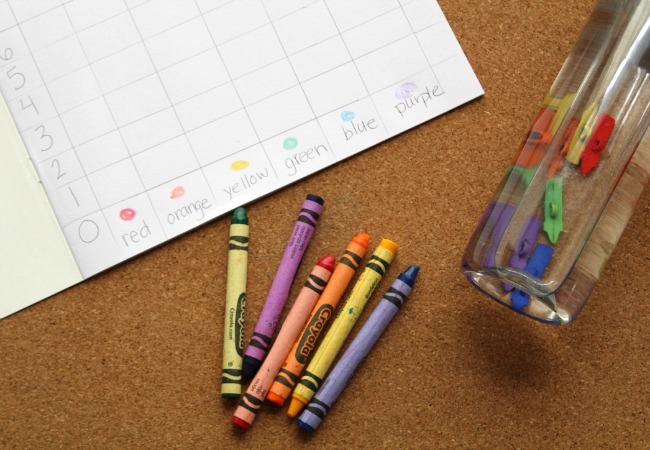 5. Next take your white paper, pen and ruler to create a graph with your child. Take the time to show them how it is set up. Start by listing the color of the crayons they will you are in the bottle. Then create a column for each of the colors. Next add the numbers up the side counting with your child. Finally add the rows for each of the numbers. It's really important to show them how to set up a graph.
6. Once the graph is complete label with the the color words by coloring with the appropriate color. Helps your child begin to read color words too. Show them how they are written on the crayons too.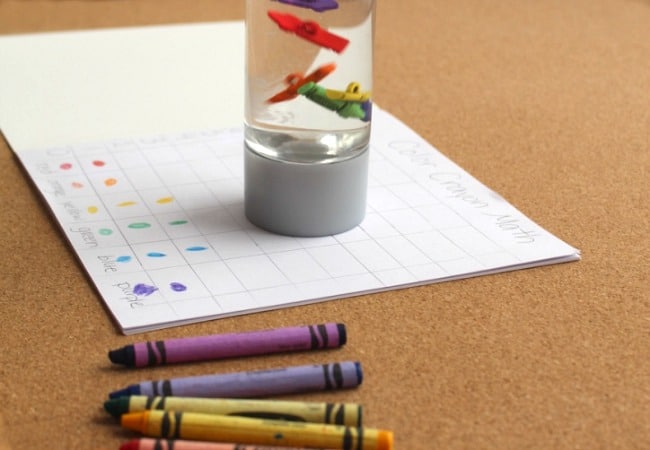 7. Now it's time to play the Sensory Bottle Math Game with Crayons!
TO PLAY: Turn the bottle upside down and watch to see which crayon is first to touch the bottom. Record onto the graph paper under the appropriate color. Model a few times with your child. Then turn the bottle in the crayon race again and again until you've found the winner. The winner is the one who has the highest number on the graph.
Encourage your child to play this game again and again. You'll find they will start to create their very own color graph and begin to truly comprehend the importance of making graphs.
This is a fun game to play with a friend or sibling too. One child can record while the other turns the bottle and calls the winner. Be sure to allow them to switch turns to have the best time together. Good luck with your Sensory Bottle Bottle Math Game.
My kids and I have created a few more games and science activities with our Crayon Themed Sensory Bottles and Crayons that we'll be sharing this week, so keep watching!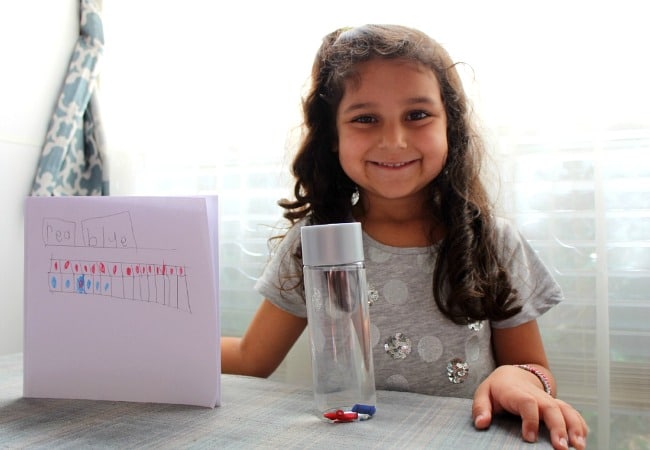 Books About Crayons for Kids
Here are a few of my favorite crayon themed picture books to go along with the Crayon Math Game. Happy reading!
How the Crayons Saved the Rainbow
Do you have a crayon themed book that I missed? Please share we're always adding to our home library. Which one is your favorite?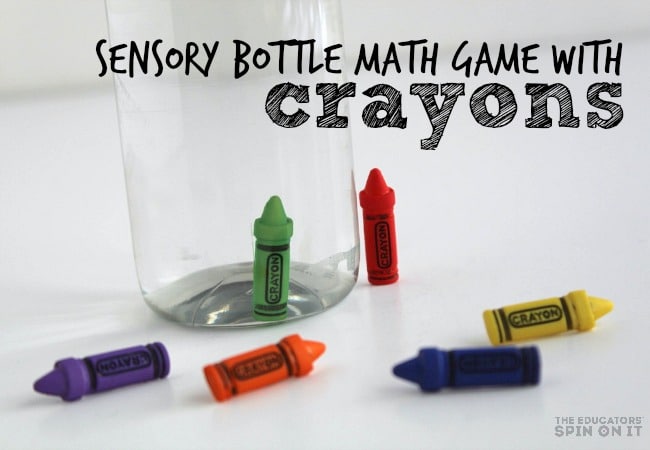 Additional Crayon Themed Crafts for Kids
Explore this Science Sensory Bottle Activity about Density
I'll admit I'm a bit in love with crayons and can't wait to share even more ideas with you about Crayons. Can't wait to hear how your Crayon Themed Sensory Bottle Math Game goes at your house.
Leave me a comment below or share a photo on social media with the hashtag #EDUSPIN.
Looking for more Back to School STEM Activities? Try these…