My mentor teacher the first year I taught kindergarten told me, do not do things for children that they can do themselves. Looking at a classroom full of 28 – 5 year olds, I thought what can they do?
Turns out, young children can be responsible for a lot!
Starting with their very own school bag!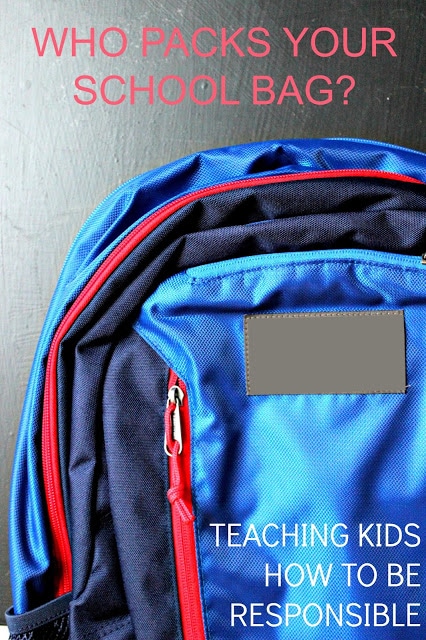 Teaching Kids How to Be Responsible
That's right. Who packs their school bag?
From day 1, I have my kids (ages 2, 5, and 9) be responsible for everything that enters and leaves the backpack. This is their responsibility.
We practice wearing it.
We practice unzipping it.
This year, we even had a discussion on how not to use it (must not be swung over your head or use as a slide down a piece of wood)
Then I begin by teaching the children our household routines. Here is what we do:
1. Give the children ownership over their school bag. Allow them to select the bag within reason. We gave our children 2 choices X or Y, they got to choose one and use it until it wasn't usable.
2. Write their name in the backpack along with the information you would like shared. Some people add grade level or their telephone number as well. Show your child what you are doing. Make sure they understand this is the only time the bag should be written on and that now everyone will know that it is theirs.
3. Let them pack their own back to school supplies and bring some of them to school in their backpack. Even the youngest learners are extremely excited to contribute supplies to the group.
4. If your child brings a water bottle or a lunch from home, set it up so that they are the ones who place these items into the bag. In the hustle and bustle of busy mornings I have been known to toss a lunch box or water bottle in a child's backpack, but for the most part, they fill their own school bag.
5. When returning home from school, make sure there is an area of your home to set backpacks down to be emptied. For us, this area is the hallway. All three kids line up their backpacks and unload the contents. Notice I said the CHILDREN unload and take care of the contents.
6. Have children bring out any paperwork that needs to be signed and homework that needs to be done. Do both as soon as possible and return them to the backpack.
7. Let children take out their school projects and hand them to you. Use this time to ask them about how they made it, what they learned, or what their favorite part of the day was.
8. Prepare the backpack for school the next day the night before together. We pre-make lunches and keep them in the fridge and set empty lunch bags on the counter ready to be filled (I'm sure you guessed it – by they kids!)
*** Must of teaching young children responsibility is building up a routine. Do it with them in the same way for several days. Then allow them to do it on their own with verbal queuing. Soon, they will be responsible for their school bag and supplies on their own, even at 2 years old! ***
Teaching Responsibility to Preschoolers
For more Resources on Teaching Responsibility from the Early Childhood Education Team, we recommend:
If you liked this activity, you may also like these ideas for preschoolers…