Exploring shapes with young children can be such fun when you involve a few animal friends from The Gruffalo. Using playful shapes let's explore the characters in the book created by Julia Donaldson to create Gruffalo Themed Shape Animals.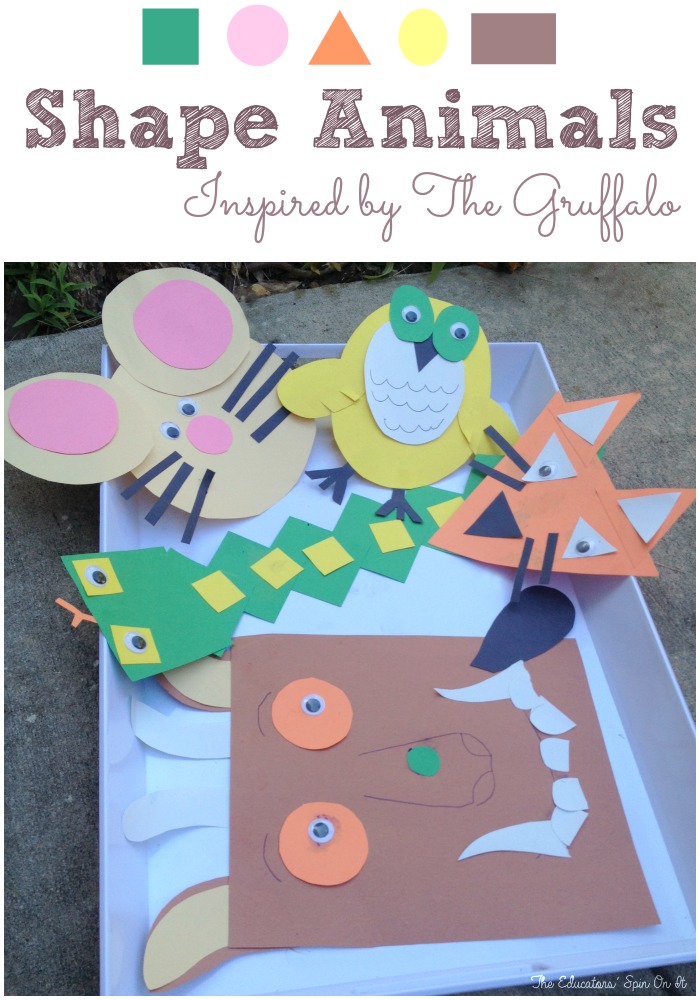 This post contains affiliate links to Amazon
One popular children's book is called The Gruffalo, It is a playful story based on an old Chinese folktale of a fox and a tiger.
Julia creates an imaginative mouse who walks through the woods making encounters with a few animals that would rather have him for lunch. As he protects himself from the various predators including a fox, owl, snake create shares that he is meeting the Gruffalo.
A special Gruffalo that likes owl ice cream, roasted fox, scrabble snake… you get the picture they each run away in fear.
All the while the mouse joking believe that there's no such thing as a Gruffalo, little did he know when the final character he encounters in the Gruffalo himself.
You'll have to read the story to see what happens next!
We've shared quite a few fun ideas to go with The Gruffalo
I wanted to add one more fun way to incorporate math fun and learning for our preschoolers too. So easy and fun to make. Plus it's all about learning shapes. Here's how to make it.
Gruffalo Themed Shape Animals
Once you finish reading the story with your child it's time for an Animal Themed Project. We focused on learning shapes so we thought it would be a lot of fun to create the animals out of shapes. When we're all done we can retell the story and the mouse's journey through the forest.
Supplies Needed
Construction Paper (Orange, Yellow, Black, White, Green, Brown, Pink)
Scissors
Glue
Googly Eyes
Black Crayon or Marker
Directions
Using scissors to prepare the shapes for your younger child, older kids can prepare themselves.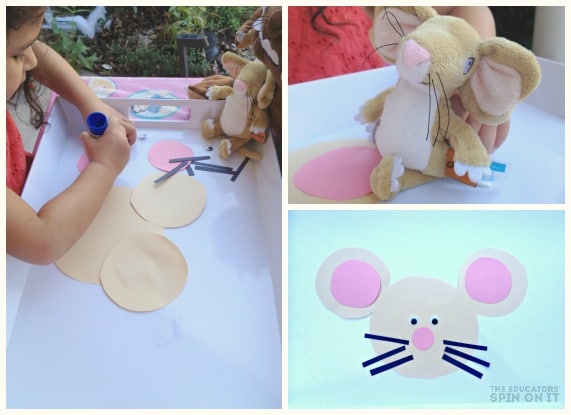 Circle Mouse
One large circle for head
Two medium circles for ears
Two small circles for inner ears
one small circle for nose
6 whiskers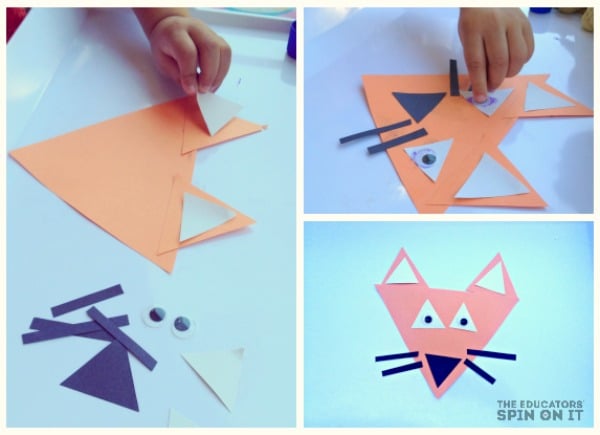 Triangle Fox
Cut one large triangle for head
Two medium size triangles for ears
Four small white triangles for eyes and inner ears
One small black nose
Four black whiskers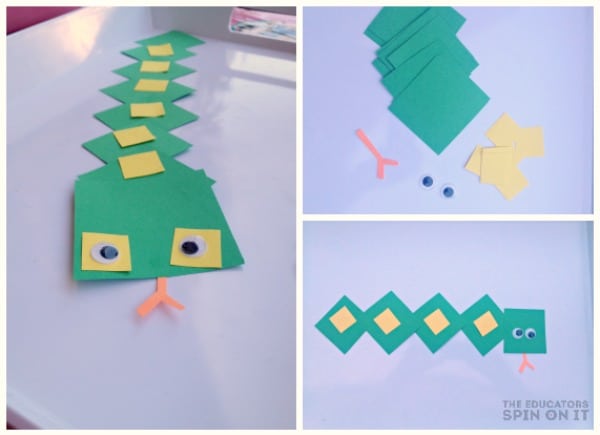 Square Snake
Seven Green Squares
One Large Green Square
Nine Small Yellow Squares
Orange piece for tongue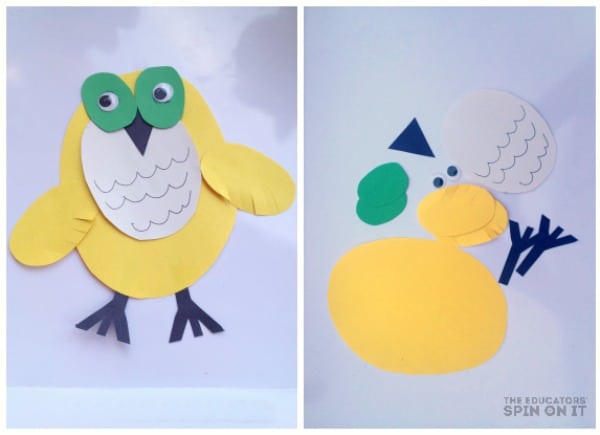 Oval Owls
One large oval for body
One medium oval for body
Two small ovals for wings
Two ovals for eyes
One triangle for beak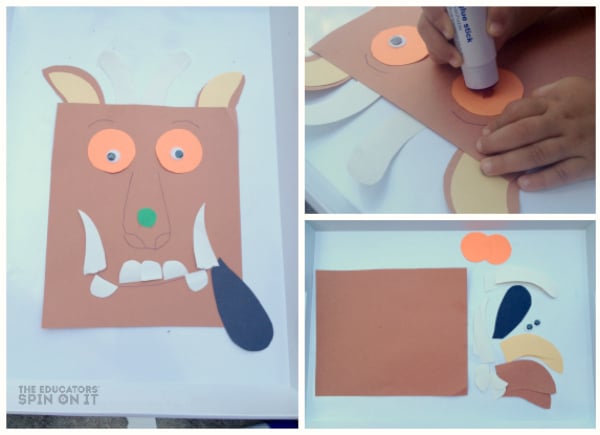 Rectangle Gruffalo
The story itself tells you all the pieces for the Gruffalo from the story… a bet you'll hear your child retelling the story as they build their own Gruffalo
Gruffalo Shape Animals
Taking a fun book and incorporating a concept to learn about can be so much fun for you and your child. Giving purpose to knowing the names circle, triangle, square, rectangle, oval can be a confidence booster for your child.
You'll find your child retelling the story again and again with their new characters.
Now go check out the other ideas that the Virtual Book Club for Kids Bloggers are sharing below.
This month's Virtual Book Club for Kids is featuring the author Julia Donaldson. Here are the three books we're focusing on.
Join us with your child or class for book fun with Julia Donaldson.
How to Join the Virtual Book Club for Kids
We'd love to see the Julia Donaldson inspired activities that you do with your child or class!
Come share your activity Idea and photos on our VBC Facebook Group.
Julia Donaldson Inspired Activities from the Virtual Book Club for Kids Bloggers
Room on the Broom Activities by Inspiration Laboratories
Room on the Broom for a Rhyme by Ready Set Read
Room on a Broom Ordinal Numbers by Rainy Day Mum
Room on the Broom Sensory Bin by Still Playing School
Witch Hat Cupcakes for Kids by Coffee Cups and Crayons
Witches Hat Halloween Treat by The Pleasantist Things
Witch Shape Craft by Toddler Approved
Room on the Broom Coloring Pages by Crystal and Co
Books for Kids: Stick Man by Growing Book by Book
Counting Ingredients into the Caldron by 3 Dinosaurs
Fancy Stick Crown by Mama Miss
Going on a Stick Hunt by Playing with Words 365
Recyled Stick Man Craft by LalyMom
DIY Gruffalo Inspired Mouse Costume by The Educators' Spin On It
Gruffalo Rhyming Tic Tac Toe Game by Royal Baloo
Gruffalo Themed Shape Animals by The Educators' Spin On It
Roll a Gruffalo Game by Playdough to Playto
Julia Donaldson Virtual Book Club by Virtual Book Club for Kids
You'll find even more ideas shared for Books and Activities by following along!