Create a Click Clack Moo Activity with your child. Head to the farm with this shape themed farm activity for preschoolers! Inspired by the book Click Clack Moo this literacy and math-focused activity is inspired by some talented cows on the farm!
Here's how to make…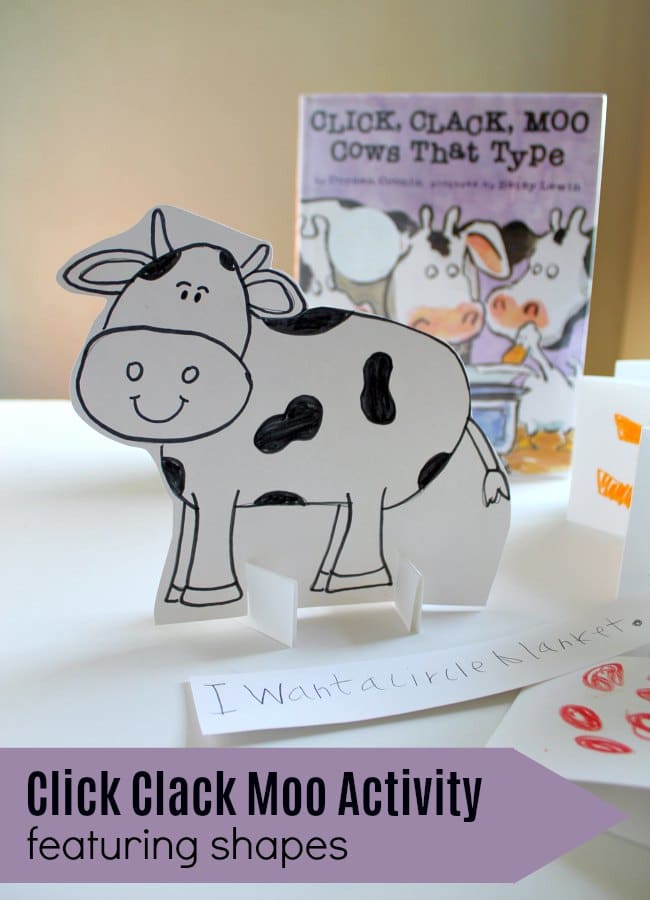 We're down on the farm for our Virtual Book Club for Kids, will you join us with the story Click Clack Moo, Cows That Type. It's our featured book and them.
Disclosure: This post contains affiliate links to Amazon.

Click, Clack, Moo: Cows That Type
by Doreen Cronin
Click Clack Moo Activity with Shapes
Materials
Construction Paper
White paper
Scissors
Black Marker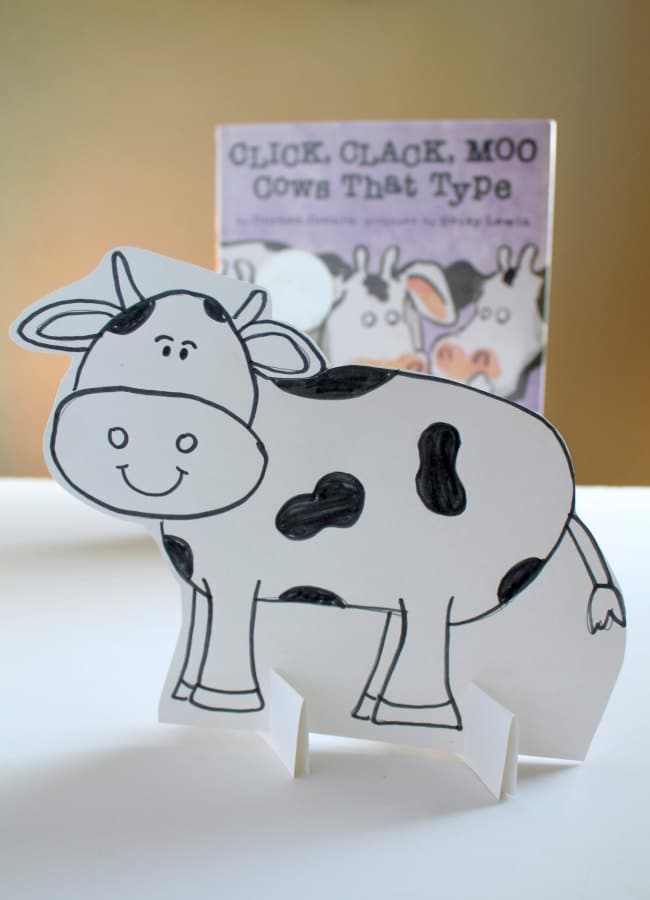 Instructions
1. Have your child draw a picture of a very large cow from the story Click Clack Moo. An alternative is to PRINT the Cow Image from mycutegraphics.com.
Cut out the cow outline and place the cow on two sheets of paper folded in half to create stands for the cow. Cut small slits in both the folded sheet and on the cow at the bottom to connect pieces.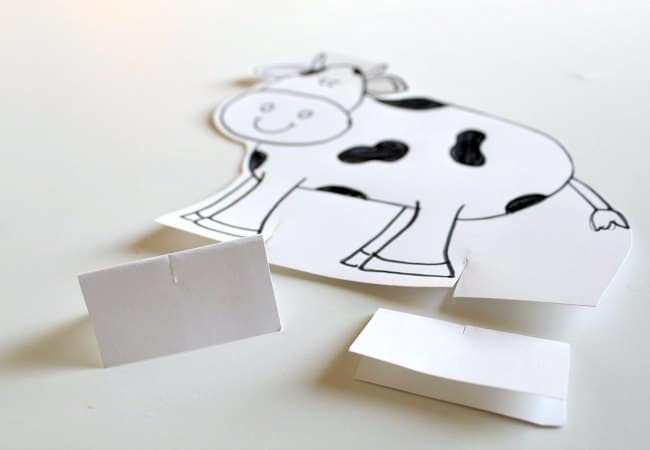 2. Next take your construction paper and cut out 8 rectangles to form 8 blankets from the story. The rectangles should be large enough to lay over the cows body. You can make them from different colors for even more fun.
Cut the edges of the blankets with a little fridge like you would do with grass on paper too, makes it feel a little more like blankets from the story Click Clack Moo.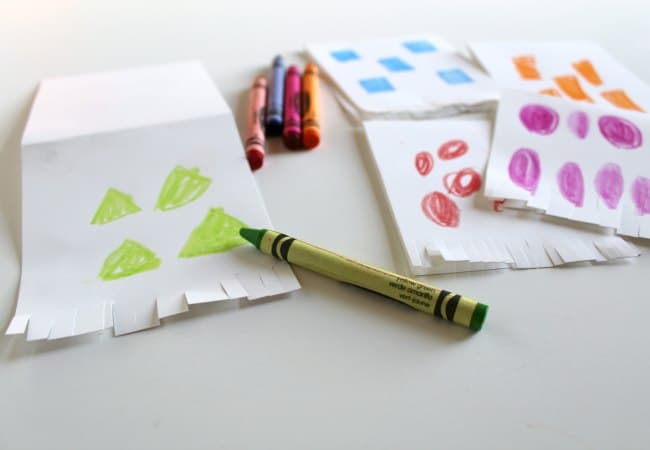 3. You can use crayons to draw the shapes with older kids. We used a different color for each shape.
Or you can use construction paper to make some shapes. Your toddler or preschooler will most likely need you to do this activity. Cut out small circles, squares, rectangles, triangles, ovals and you can even add diamonds, hearts, and stars if your child has a pretty good understanding of shapes as well.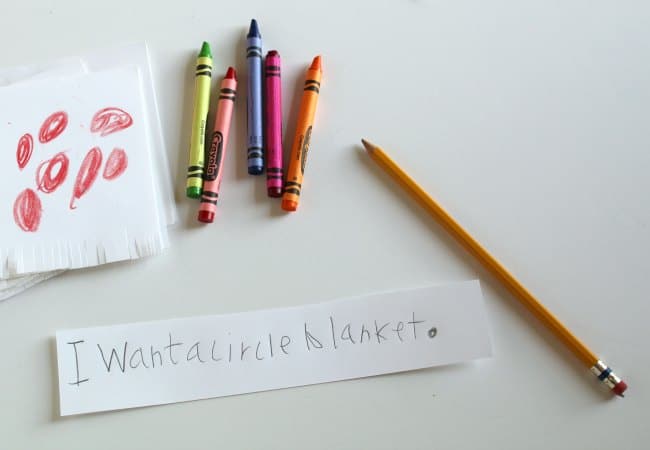 4. On white pieces of paper write with your child….
Dear Farmer Brown,
I want a circle blanket.
Thanks,
The Cow
Have them choose from the shape words as they write the sentences.
You can use the shape terms circle, square, rectangle, triangle, oval, diamond, star, and heart.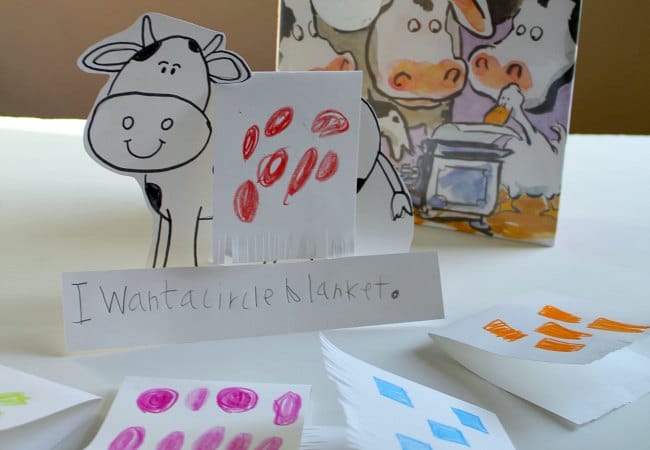 5. PLAY! Have your child mix up the blankets and the sentences and have them pick the matches to place onto the cow. They are working on shape recognition and sight word recognition as they play this game.
Printable Easy Reader about Shapes for Click Clack Moo
I made a BONUS activity to go along with this activity that is a printable easy reader inspired by Click Clack Moo. You can DOWNLOAD AND PRINT this Easy Reader for just 99 cents! CLICK HERE TO BUY NOW!
Share a photo with us how your child creates their Farm Activity in our VBC Facebook group! Join now!
You can visit more FarmThemed Activities at The Educators' Spin On It or you can take a look below and be inspired by the 20+ Farm Themed Activities from our Virtual Book Club for Kids CoHosts!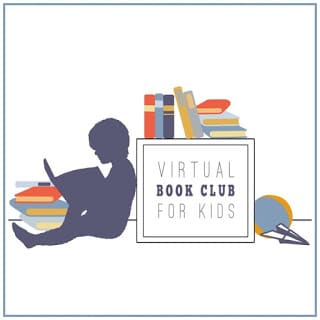 Join our Weekly Virtual Book Club for Kids Facebook Group
YOU'RE INVITED. We're inviting you to join along and share your own farm themed ideas with your child or students using the featured story Click, Clack, Moo: Cows That Type
or one of the other Farm Books. You can share on our facebook page or join our VBC Facebook Group and share there with 10,000+ members!
I'm featuring below here for you to go check out and get ideas for your preschooler ages 2-5.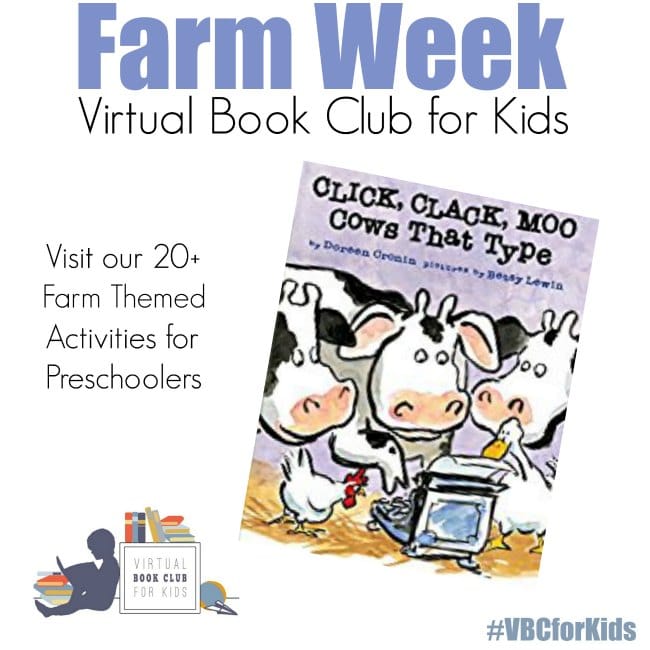 Farm Activities for Preschoolers
Farm First Word Sounds– Teach Beside Me
Click Clack Alphabet Letter Learning Laptop Activity– JDaniel4's Mom
Farm Animal Letter Stamping – Mama Smiles
Farm Themed Name Recognition – Inspiration Laboratories
Farm Animal Math – My Storytime Corner
Farm Themed Sensory Bin-The Moments at Home
Easy Farm Animal Dump and Sort for Toddlers– Toddler Approved
Egg Science Experiment With Inertia – Preschool Powol Packets
Click Clack Moo Pencil Control Printable – Clare's Little Tots
Scissor Skills Printable To Help The Baby Farm Animals Find Their Moms – To Be A Kid Again
Farm Animal Dice Game – My Bored Toddler
Farm Animal Domino Game – Rainy Day Mum
Click Clack Moo Activity with Shapes – The Educators' Spin On It
Farm Activities on The Educators' Spin On It