Move over Frosty the Snowman, we're about to warm up the house with this Snowman Pizza Recipe! Snuggle with your child and read a few snowman books, then head to the kitchen and get inspired by books to make your pizza. Kids can do everything from measuring to decorating!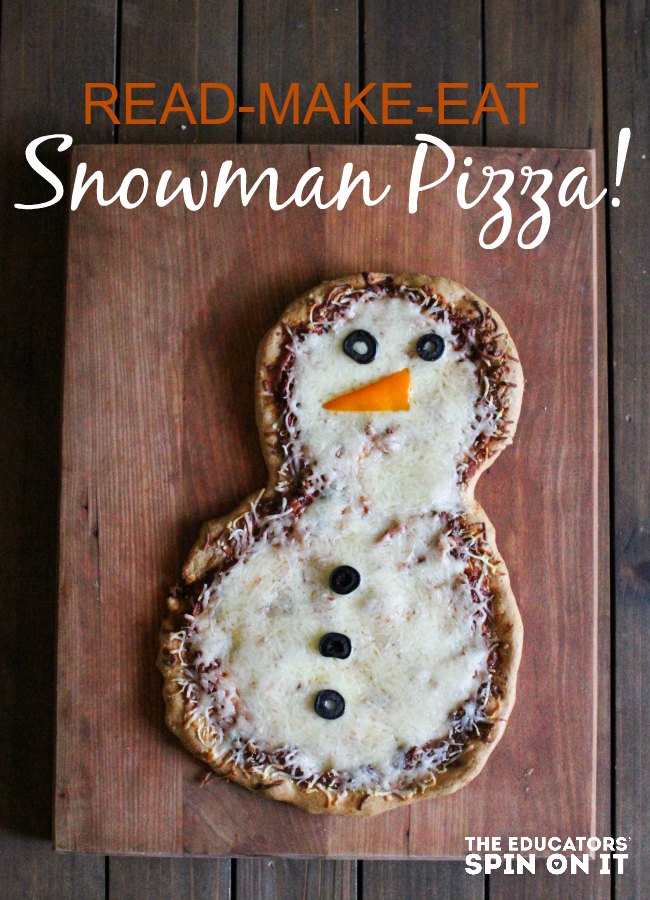 Affiliate Links
Snowman Pizza Recipe
Brrr… It's cold outside. If your kids are like mine, they LOVE snuggling in with a good book. A recent favorite is Sneezy the Snowman. He's sooo cold and can't seem to get warm enough. Sneezy tries everything from drinking hot chocolate to warming up by the fire – AND MELTS every time. Luckily this kids build him up each time and eventually figure out a way to keep his temperature – just right.
Sneezy being freezy inspired this afternoon treat – a snowman pizza! You could read Sneezy the Snowman, or any snowman book that you may have in your house or library. Here are a couple of our favorites:
Ingredients needed for the Snowman Pizza Recipe
Dough. We use the recipes from the The Best of Byerly's: A Recipe Collection I really like their whole wheat crust one, but my 7 year old said it tastes too healthy. He prefers the all white flour option.
Sauce. A gentleman sells the most fabulous homemade tomato basil pasta sauce at our local farmers market. I use this for my pizza sauce too.
Cheese. I prefer to use Monterrey Jack and fresh grated Parmesan cheese.
Olives. One to-go cup is the perfect amount. You can add more if you like olives (none of my kids do, so we just add it for decoration.
Orange Pepper – cut into a triangle shape for the nose.
Making the Snowman Pizza Recipe
First, make or buy your favorite pizza dough.
Then, heat your oven to 425 degrees. Lightly grease your baking sheet. Sprinkle with a touch of cornmeal if available.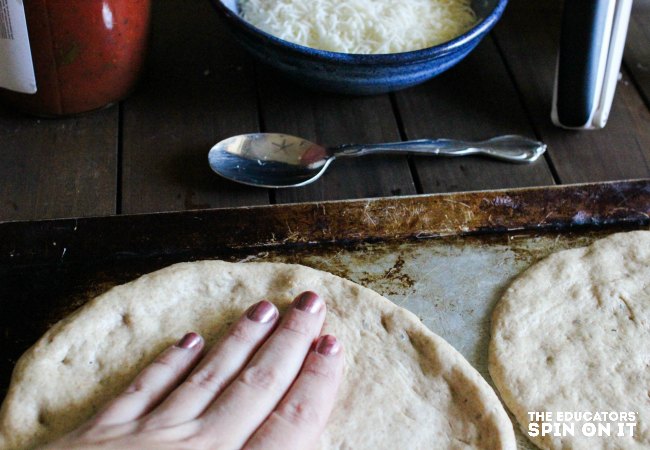 Next, separate the dough in half. Roll each half into a ball. Press the dough on the baking sheet in a snowman shape. Repeat for the other half of the dough. To fit two snowman on one sheet, have their heads facing in opposite directions.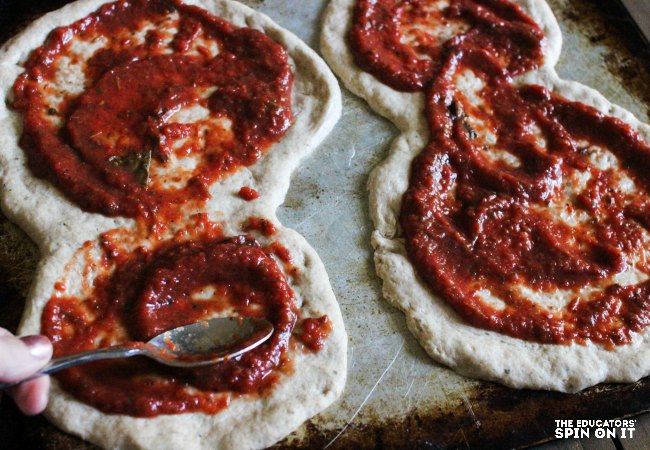 Spread the sauce on the snowman to your desired constancy. Then sprinkle with cheese.
Slice the olives into thirds. Use the olive slices as the eyes and buttons on the snowman pizza.
Add the pepper nose.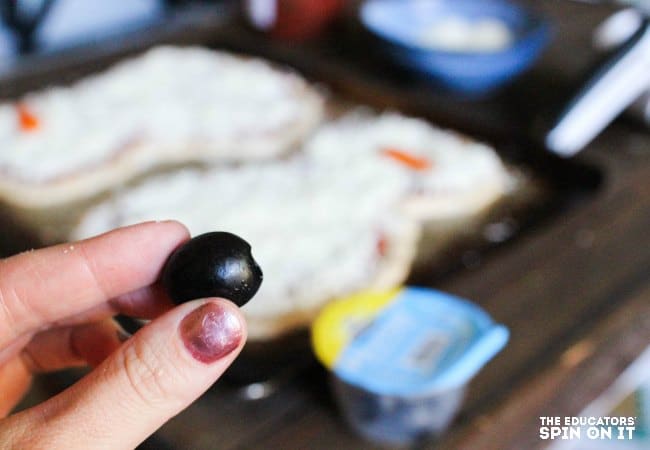 Bake as directed on your dough recipe or package. Ours baked for 15 minutes at 425 degrees. Remove from the oven with baking mitts.
The crusts should look lightly browned. Use a spatula to check the underneath the middle crust to make sure it doesn't look soggy. If it does, bake a few minutes longer.
Don't forget to set your timer!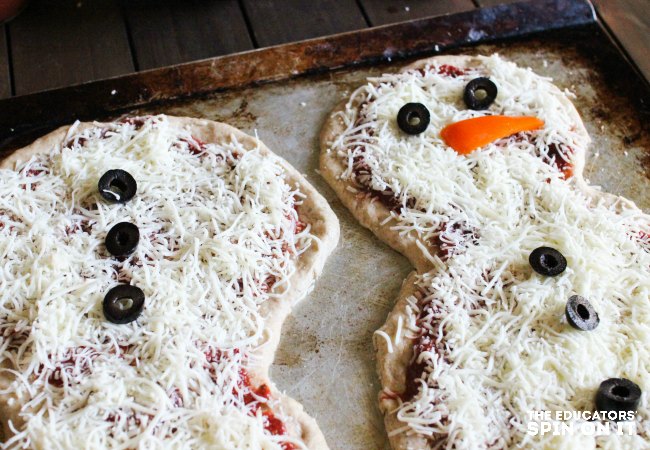 Last, but not least, let it cool, eat and enjoy.
Time Saving Tips for Snowman Pizza Recipe
Purchase ready made dough in your deli selection.
Use a bread machine to knead your dough.
Make the dough up to two days ahead of time. refrigerate. Let dough stand at room temperature for 2 hours before shaping.
Pre-bake crusts. Store in the freezer. Pull out, top and bake later.
You may also enjoy Christmas Tree Kale Pizza and Snowmen Candy bar Wrappers.
Here's a look at a few more fun activities for kids this winter…
Save