Tis the season for Christmas trees – and Kale. Yes, Kale is a fabulous winter garden vegetable. It is prolific and grows well, which means, we are eating a lot of it. Snuggle in and read a few good Christmas tree books with your little one, then head to the kitchen and make this kale pizza tree recipe together.
It's a fabulous after school activity that helps bring literature to life and get dinner made!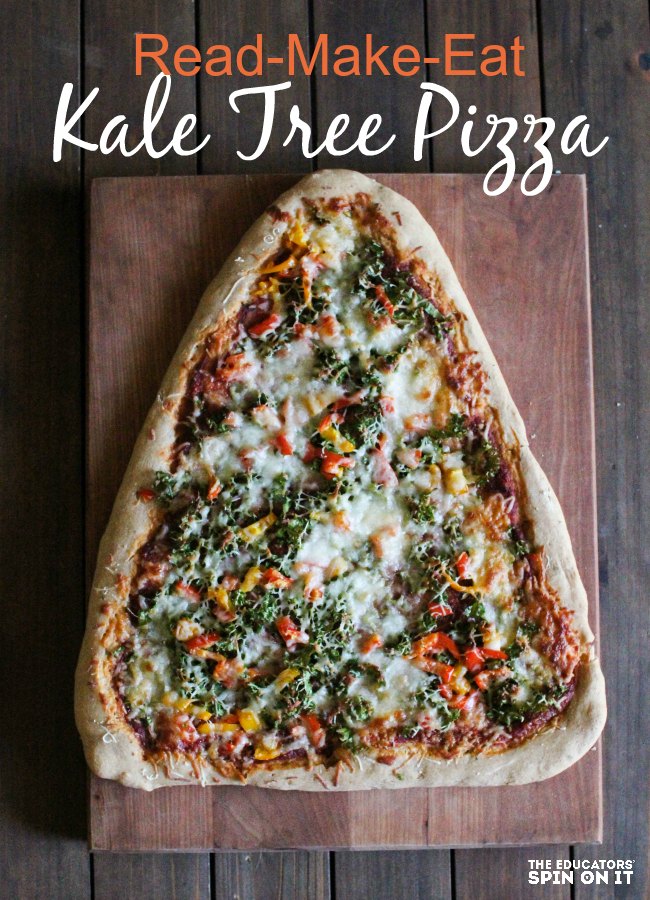 Kale Pizza Tree Recipe
Read a few Christmas Tree books with your child. Talk about the similarities and differences in the trees. Do all of them have ornaments? Are they the same colors? Is the story in the same setting in each book?
Then, select one of the trees from the book to make into a kale pizza tree!
Head to the kitchen and start baking!
Ingredients needed for the Kale Pizza Tree Recipe
Dough. We use the recipes from

The Best of Byerly's: A Recipe Collection

I really like their whole wheat crust one, but my 7 year old said it tastes too healthy. He prefers the all white flour option.
Sauce. A gentleman sells the most fabulous homemade tomato basil pasta sauce at our local farmers market. I use this for my pizza sauce too.
Cheese. I prefer to use Monterrey Jack and fresh grated Parmesan cheese.
Kale
Orange and red peppers
Making the Kale Pizza Tree Recipe
First, make or buy your favorite pizza dough.
While your dough is rising, wash and cut the vegetables. Remove the rib on the kale. That is the thick, tougher part that extends from the stem into the leaf. This part needs more cooking time. For this recipe, I just use the tender leaves.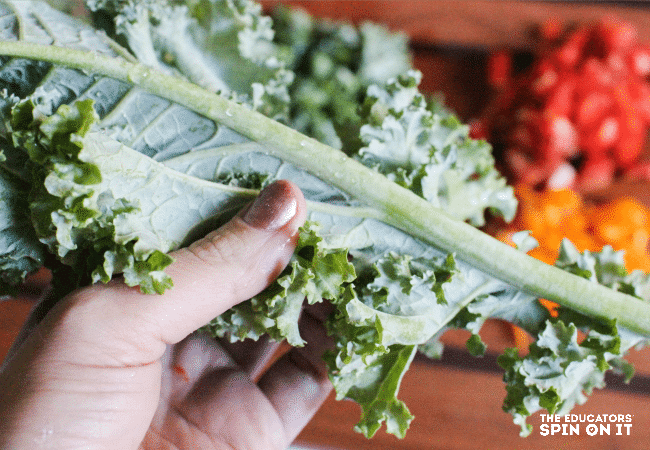 Chop the peppers into bite size pieces.
Then, heat your oven to 425 degrees. Lightly grease your baking sheet. Sprinkle with a touch of cornmeal if available.
Next, separate the dough in half. Roll each half into a ball. Press the dough on the baking sheet in a tree shape. Keep it simple, a tree with lots of branches will bake unevenly.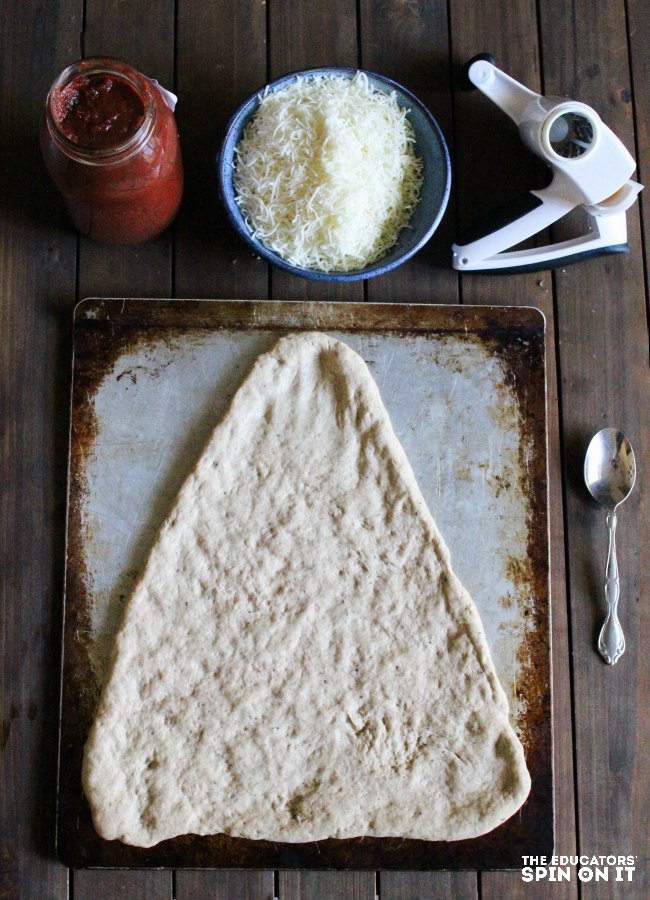 Spread the sauce on the snowman to your desired constancy.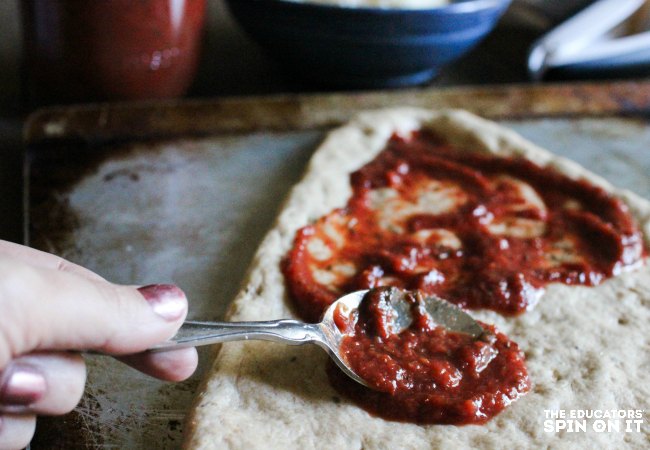 Then add the kale.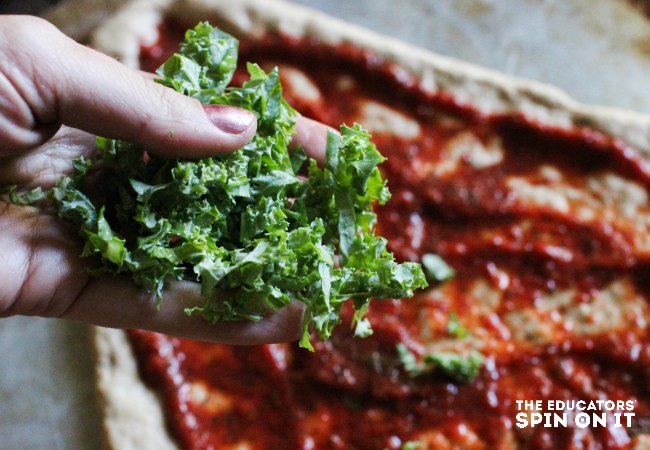 Next, decorate the tree with pepper pieces. The kids call these ornaments.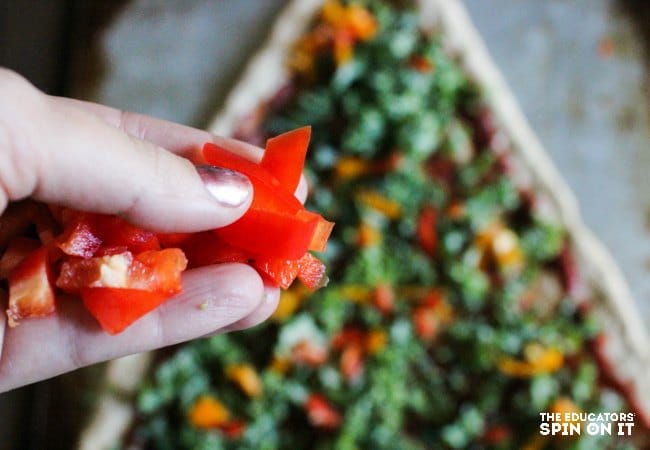 Sprinkle with cheese.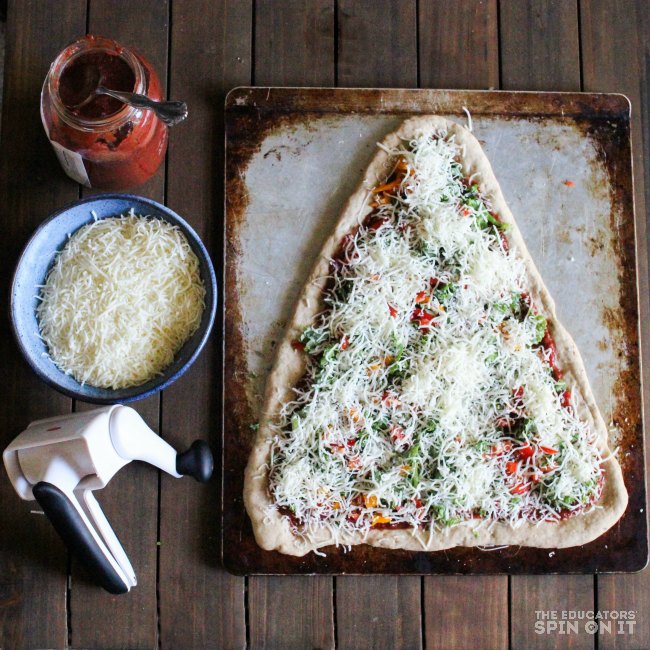 Bake as directed on your dough recipe or package. Ours baked for 15 minutes at 425 degrees. Remove from the
oven with baking mitts.
The crusts should look lightly browned. Use a spatula to check the underneath the middle crust to make sure it doesn't look soggy. If it does, bake a few minutes longer.
Don't forget to set your timer!
Last, but not least, let it cool, eat and enjoy.
Time Saving Tips for Snowman Pizza Recipe
Purchase ready made dough in your deli selection.
Use a bread machine to knead your dough.
Make the dough up to two days ahead of time. refrigerate. Let dough stand at room temperature for 2 hours before shaping.
Pre-bake crusts. Store in the freezer. Pull out, top and bake later.
You may also enjoy Snowman Pizza Recipe and Snowmen Candy bar Wrappers
Looking for more ideas with kids for the holidays? Try these 50+ Christmas Activities for Kids.
Save
Save