I entered the lost and found area at my kid's grade school and immediately came to the realization: It's not just my kid that has lost a jacket. The coat rack was bursting at the seams and the bins underneath spilled over onto the floor. How was I ever going to find my son's favorite blue jacket?
We scoured the piles of over 100 coats with no luck. 
Then surprise… my son remembered he left it on the school playground. We boogied out with our fingers crossed. PHEW, it was thankfully still laying in the dirt where he had left it.
But not everyone is as lucky…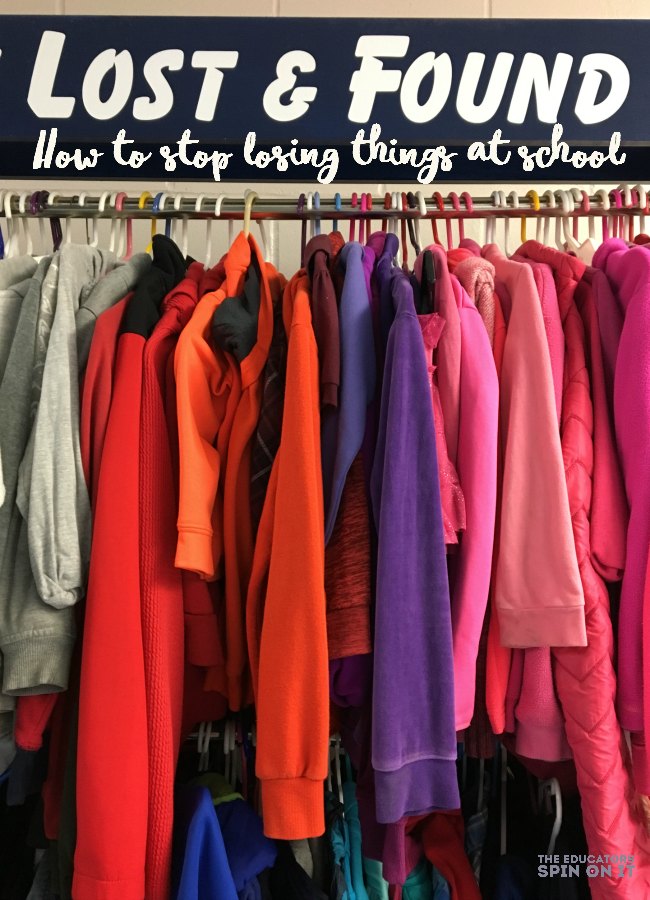 Disclosure: Amazon Affiliate links included in this post.
How to stop losing things at school.
Missing items is an issue in every school. Has your child lost one (or a few) Jackets? Sweaters? Hats? Water bottles? Lunchboxes? The lost and founds are overflowing this time of year, so I know I'm not alone. Read on to see what teachers are doing to help your child and what you can do at home to help your child stop losing things at school.
What "most" teachers do to help children stop losing things at school.
The good news is that most classrooms already have routines and procedures in place to help your child to stop losing things at school.
Everything has a place.
At school, children have a special place to hang their coats and backpacks.  In schools with lockers, students may share or have their own locker to keep outside gear in.  In classrooms with no lockers, some teachers use a bin system, coat racks, or cubbies for each child or pair of children.  The teachers teach children at the beginning of the year how to begin their day by taking care of their belongings.
Most rooms have lost and found items storage areas.
Having taught in 5 different schools, each school also had a centralized area in which lost and found gathered.  This place is usually in a public meeting area such as near the cafeteria or office area.
Teachers routinely try to connect missing items with their owners.
They first check for a name written on the coat.  If it is, then they may ask the student to put it back into their cubby.  If there is no name on the item, a teacher may ask the class, "Who's jacket is this?" As a teacher and as a volunteer in my own son's classroom, I have witnessed an entire class not know who's coats, water bottles, lunch boxes ext. are in their own classroom's lost and found. (I promise they did get there somehow!)
Don't miss these fabulous parent tips on how to write a placement letter. A sample letter is provided for you to use and change to fit your own child.
What to do if your child has already lost something at school?
It happens to most kids at least once in their school years. The best place to start is by taking a deep breath.
Talk with your child. Find out if they remember the last time they had on the item. Walk through the day with your words. Ask questions such as, "What happened next?" or "Where did you go afterwards?"
Send a quick e-mail to your child's teacher. FYI – We are missing a (color) (size) (brand) (item name). If you see it, would you please set it aside for (your child's name).
Stop by the classroom in the morning. Check the lost and found. Then, check the grade level lost and found. Finally, check the school lost and found. Yes, most of the schools I have taught at had lost and found areas in all 3 places.
Repeat the above stops 2 days later if the first day was unsuccessful. Notify the office. Some keep a list of missing items.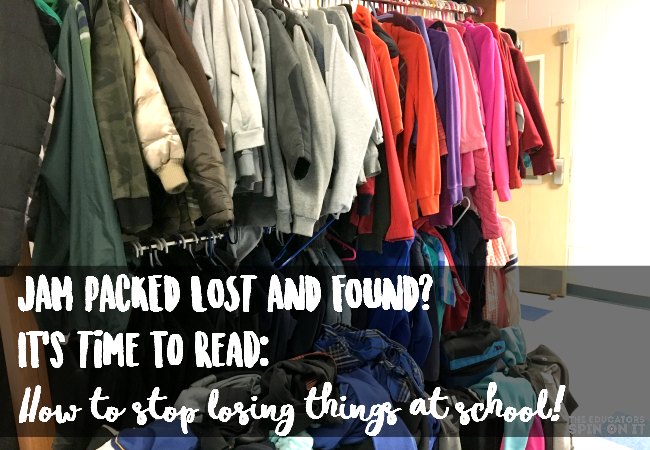 What to do if your child can't stop losing things at school?
So losing something at school may happen to any kid, but what do you do if it becomes a routine? Try one or all of these ideas!
Create a place at home for your child's belongings and remain consistent that they are hung or placed there daily.  If the item is missing, start searching for it the next morning.
Develop routines to teach children how and where to store small items such as hats, gloves, and scarves. Many parents teach children to put gloves and mittens inside a hat. Then the hat gets placed inside the coat sleeve. Do this EVERY TIME.
Buy LESS.  Yes, this may seem counter-intuitive, but when your child has just one jacket, they know what it looks like and they MUST BE RESPONSIBLE for it.  (Mittens are an entirely different issue as they are small and truly get lost easy.  I recommend buying 2 of the same pair. You can't go wrong with having extra mittens.  Plus, if you do lose one, you can still make a pair.
LABEL LABEL LABEL.  If you truly would like to see your kids items again, take a permanent market and write the initials on the tags. You could get fancy with pre-made sew on labels, but a simple sharpie is really all you need. Want to get fancy, try Amazon's best selling no-iron clothing label —- click here for current pricing.
You may also like these school related articles here at the Educators' Spin On It