Looking for a way to keep your kids happy and engaged while traveling? With vacation time approaching and here are some simple ideas for creating a travel bag for your next trip.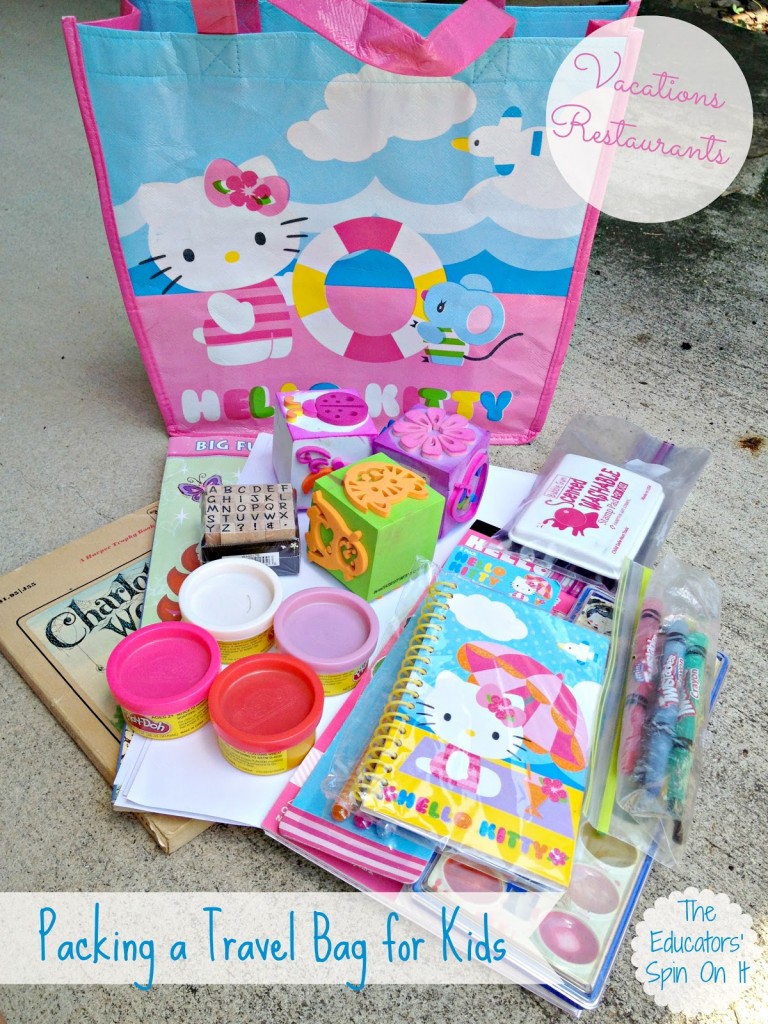 We've found ourselves packing a lot of activities for travel bags for kids over the years.
While traveling with my 3 children in between soccer games, restaurants, visits to a friend's home who don't have kids, road trips, hotels, and airplane travel here in the US and also overseas we've discovered some items that just work well, and worth the space they take up.
Here are some simple items that have kept my kids entertained for hours just about anywhere.
You can find the items just about anywhere too. Check out your local dollar spot at Target, Walmart, Michaels, JoAnns, Big Lots, or Dollar Tree they always have a little something to add to make it fun for very little money.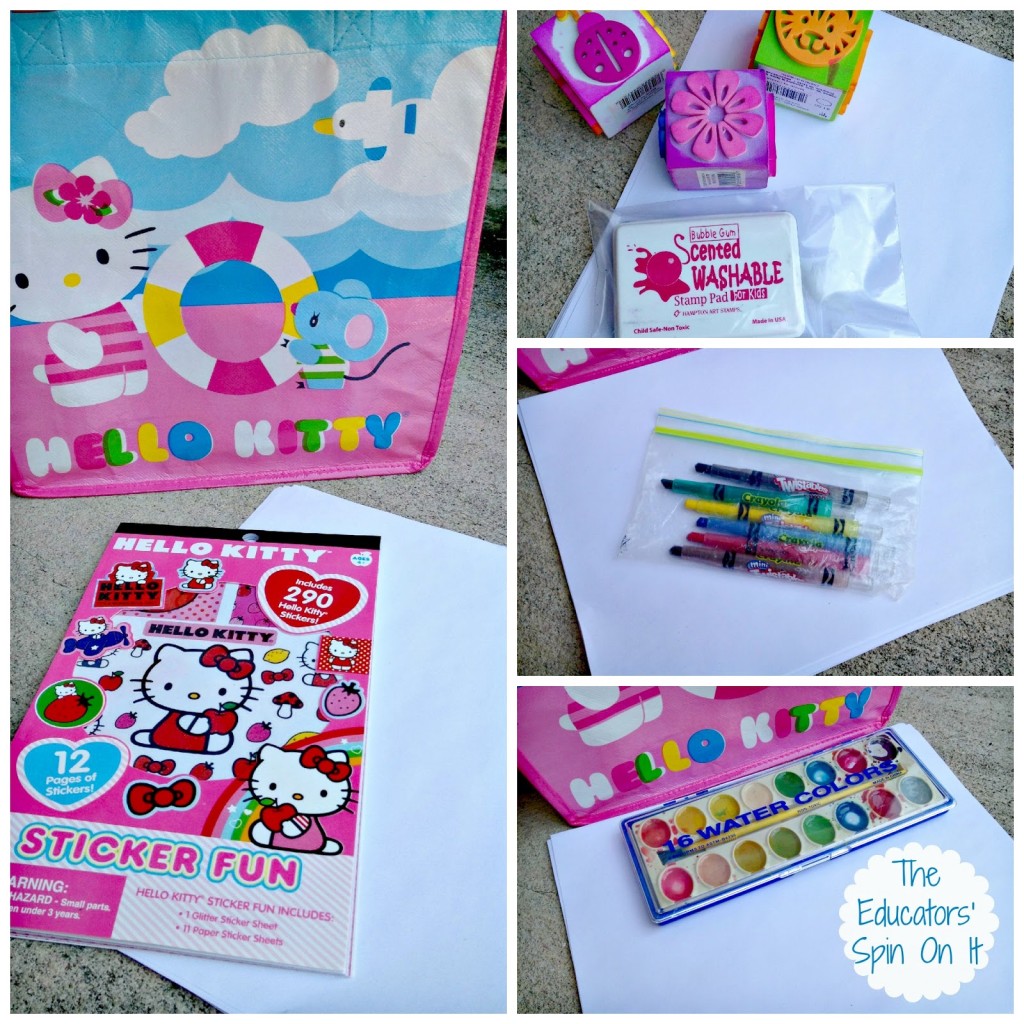 Disclosure: This post includes Amazon affiliate links.
Here's what we include in our bag…
Kid's Activity Travel Bag Items
Stamps (Prestamped work best)
Crayons (we love the Twistables)
Paper
Pen
Book
Bag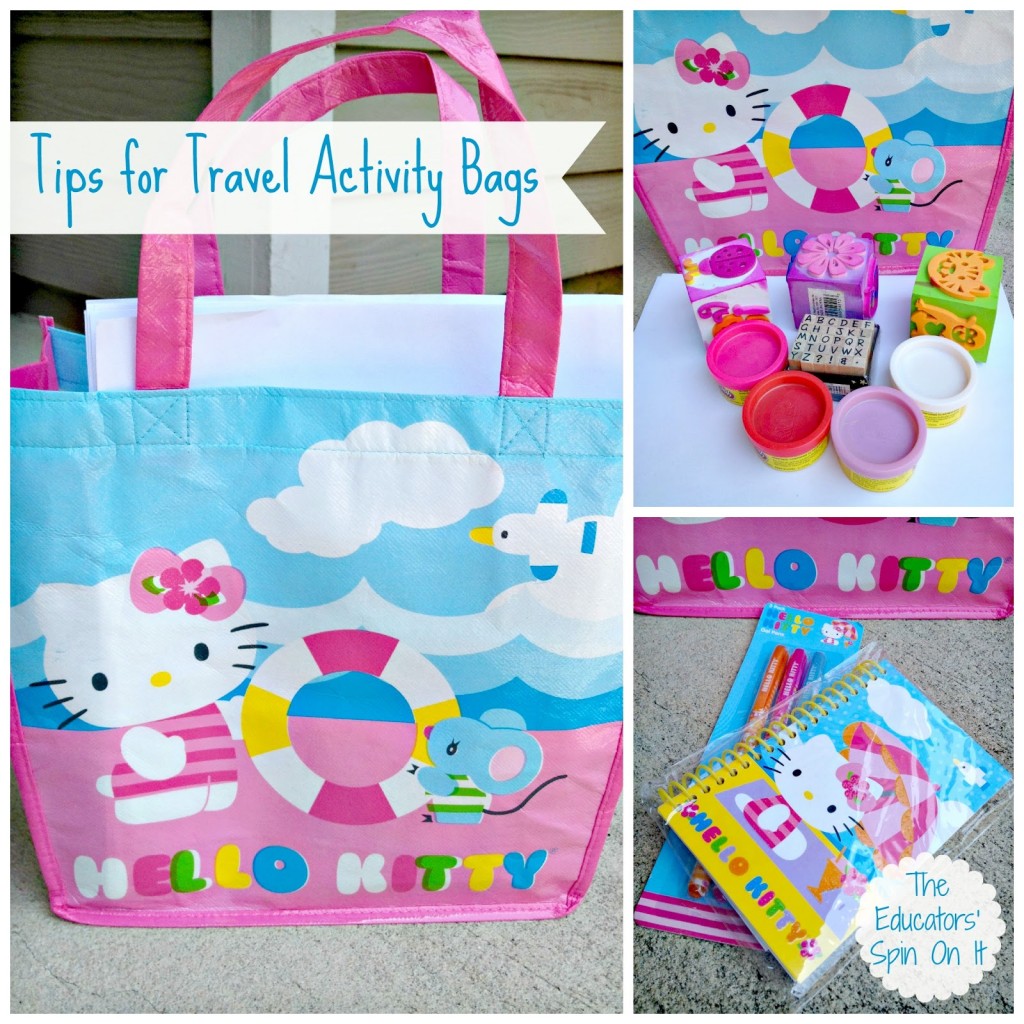 Here are some creative ideas for a travel activity bag for kids to keep them engaged and entertained during your next vacation.
Activity Ideas for Traveling Kids
Use the stamps in the playdough: Works well at restaurants or airplane trays. It's a quiet activity and can occupy them while you're waiting.
Use the stickers: to create a story or as a fine motor skill for little ones. You'd be amazed how much time you can pass just peeling and sticking stickers.
Use a coloring book or activity book: Find books with their favorite character for hours of fun.
Use the blank paper to draw: Make pictures about where you are at or visiting and create a journal of the trip or a story of the event. I encourage you to make two blank books, one for the beginning and one for the end of the trip.
Travel Scavenger Hunt: Create a scavenger hunt game specifically designed for the trip. Include items or landmarks that the children can find during the journey, and provide them with a checklist or a set of picture cards to mark their progress.
DIY Postcards: Pack some blank postcards, colored markers, and stickers. Encourage the kids to create their own postcards depicting their travel experiences. They can later mail them to friends or family members or keep them as mementos.
Travel Journal: Provide a small notebook or travel journal along with colored pens or pencils. Encourage the kids to document their daily experiences, draw pictures, or write stories about their adventures.
Magnetic Playsets: Invest in magnetic playsets that feature scenes such as cities, farms, or outer space. These sets typically come with magnetic pieces that children can move around to create different scenes and stories.
Portable Board Games: Look for compact versions of popular board games like chess, checkers, or Connect Four. These travel-sized games are perfect for keeping kids entertained during long flights or car rides.
Puzzle Books: Include puzzle books with activities like word searches, crosswords, or Sudoku puzzles. Choose age-appropriate ones that cater to your children's interests and reading levels.
Sticker Fun: Sticker activity books can provide hours of entertainment. Look for books that have reusable stickers, so kids can create different scenes over and over again.
Travel-friendly Art Supplies: Pack a small art kit with colored pencils, crayons, or washable markers along with a sketchpad or coloring book. This will allow the kids to unleash their creativity while on the go.
Audio Books or Podcasts: Load a portable device with age-appropriate audio books or podcasts that the kids can listen to during the journey. Choose captivating stories or educational content that will keep them engaged.
Travel Games: Consider travel-sized versions of classic games like Uno, Spot It!, or Bananagrams. These compact games are designed specifically for travel and can be easily packed in a bag.
Remember to choose activities that are suitable for the age and interests of your children. Mixing educational and entertaining elements will help make the travel experience more enjoyable and enriching for them.
For less than $10 you have hours and hours of traveling fun with your kids!
What do you include in your Travel Activity Bag?