Here are Veterans Day activities you can do with kids to help teach them about the day. Veterans day crafts, projects, and books to help them show their support for our veterans on this special day and throughout the year.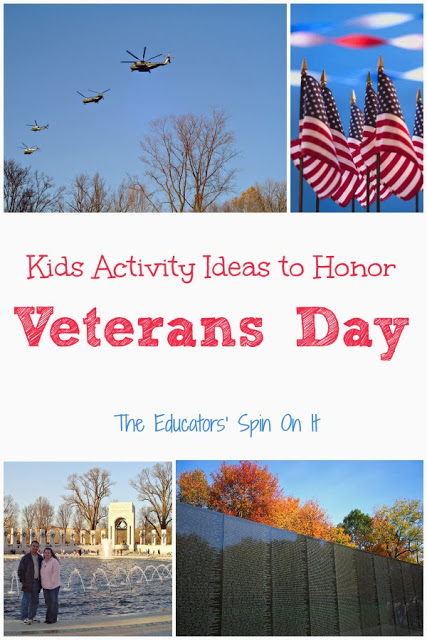 Celebrating Veterans Day with Kids
Veterans Day is the day set aside to thank and honor ALL those who served honorably in the military – in wartime or peacetime. Today take a moment to look around your community to see how you can support your local Veterans.
There are a few ways to just stop in the day and encourage you and your family to think of a way to express our gratitude to Veterans. Maybe it's a simple hand-drawn card by your child that you hand-deliver or inviting a neighbor over who served in the military for dinner.
Here are a few activity ideas for your child to learn about Veterans Day and to also help them reach out to others around the world for this Holiday.
In the United States, it's Veteran's Day but in other parts of the world, it's Remembrance Day and Armistice Day. I fondly thank and remember my Grandfather who was in the Marines serving during the World War II

Our gratitude goes to so many friends whose husbands have served in Afghanistan and Iraq over the past few years. Your braveness and honor make each of so ever so thankful and proud of you!
Veteran's Day Activities for Kids
Book About Veterans Day for Kids
Do you have a favorite book about Veterans Day? SHARE in the comments
Projects that Support our Veteran's and their Families
Consider working with your child is a way that can help support your local units that provide for these programs.
Care Packages for the Troops
Have your children create a card, picture or care package to be sent overseas to a Soldier, Marine, Airman, Sailor or Coastguardsman actively serving. Visit the sites AnySoldier.com or SoldiersAngels.org to discover how and where to send your special items.
Veteran's day is a celebration to honor America's veterans for their patriotism, love of country, and willingness to serve and sacrifice for the common good.

US Department of Veterans Affairs