Spring is here which means it's time for spring break plans. You're invited to join our free virtual Spring Camp for Kids inspired by our favorite bug books! Join now for a week full of bugs and butterflies as your child connects with favorite picture books.
How are you going to keep your kids busy during Spring Break this year?
I am so excited to share my fun and easy ideas with you a 5 day virtual Spring Camp for kids!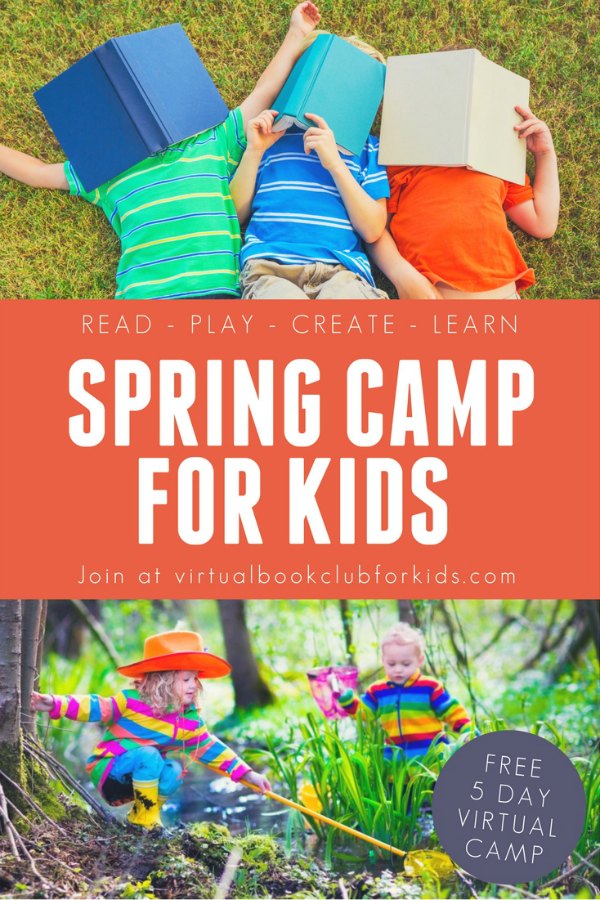 5 Day Virtual Spring Camp for Kids
Create connections and memories with your kids this spring as you delve into the world of creepy crawlies, wiggly worms, slugs and snails, and beautiful butterflies.
Introducing Our 5 day Spring Book Camp for Kids
Make a week of spring come alive create memories and have fun with your kids!. Join us for our FREE Bugs and Butterflies themed Spring Camp hosted by The Virtual Book Club for Kids team which includes Kristina from Toddler Approved and Cerys from Rainy Day Mum and Kim from here at The Educators' Spin On It.
WATCH our Camp Announcement here!  
Our Virtual Book Camp week features hands-on activities designed especially for mixed ages of kids. This week is a fun way to connect classic children's picture books with skills children need to learn!
What Can You Expect
This Bugs and Butterflies Camp was designed for toddlers, preschoolers and school age kids. It's perfect for siblings too!  If you're a parent, caregiver, grandparents or even a educator you're going to love how much fun your child will have with these activities. Over 5 days we will share with you activities with extensions suitable for all ages so that you can get the whole family involved!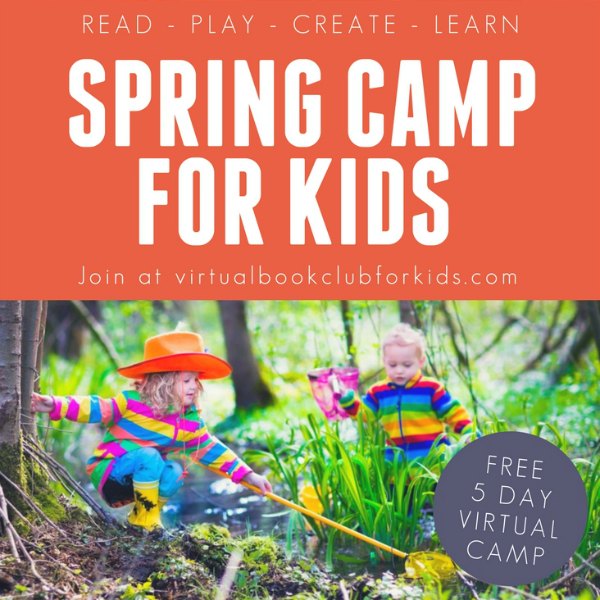 How To Join Spring Camp
You can register here: http://www.virtualbookclubforkids.com/free-spring-book-camp-for-kids/
What is Included in Spring Camp
Our provided supply list uses simple materials that you have at home.
Daily emails containing a link to download you featured activity of the day.
Snack ideas to make and enjoy together.
Additional activities suggested in the email to encourage your children to get active and move around.
It is so easy to participate in Spring Camp! Here's how we'll keep you organized all week long…
We will send you an email every day for five days with just ONE simple activity to try. Spring Camp officially starts on March 26th, but you can sign up anytime during the spring and start whenever it works for you!
We'll give you a Materials list, Book list, and Bonus activities list within the first day after you sign up!
We'll be easily accessible via email or in our Weekly Virtual Book Club Facebook group if you need any additional ideas or help to plan the best spring camp ever! Just reply to our daily newsletter or post in our Facebook group and we'll get back to you ASAP.
Are you ready to join our Spring Camp for Kids?
Join is so easy! Just click on the link below for more information and to register! Once you register, you'll get a welcome email right away!