Learn about the Navajo nation with these easy weaving projects for kids! Explore a collection of Navajo weaving videos and activities for kids. One way to honor Indigenous Peoples Day with your child.
Let's get started on this Indigenous Peoples Day weaving activity!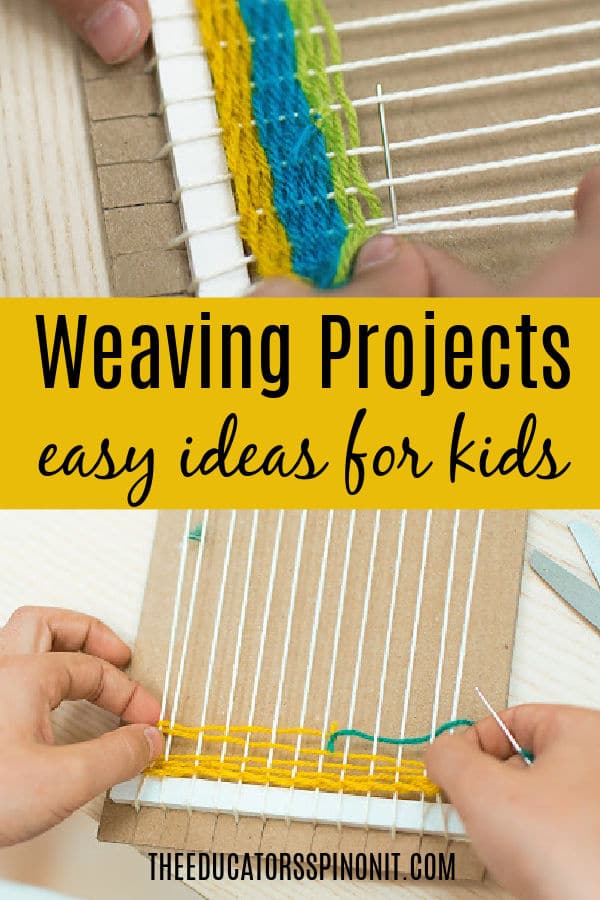 I wanted to take part in honoring Indigenous People's Day with my children. One of the easiest ways to start is by connecting special moments and cultures with a children's book.
The book Ten Little Rabbits helps young children explore Native American Culture and Traditions on a very basic level. Here are my favorite Native American Books here.
This post contains Amazon Affiliate links.
Ten Little Rabbits by Virginia Grossman and Sylvia Long
Ten Little Rabbits Book Activity
One of my favorite scenes from the book is featured on the cover of Ten Little Rabbits with the Native American Woven Blankets tucking them in warmly for the night.
The books also has a special feature page at the back sharing facts on Native American Culture.
Weaving, fishing, and storytelling are all part of this spirited book that celebrates Native American traditions as it teaches young children to count from one to ten.
Go explore your local book store, library or you can even listen to the read aloud shared here on Youtube on the book Ten Little Rabbits.
The book works on counting and math with kids but you can also expand it into a patterning activity with kids with weaving. Here are some beautiful ways that weaving is celebrated in one special native american tribe.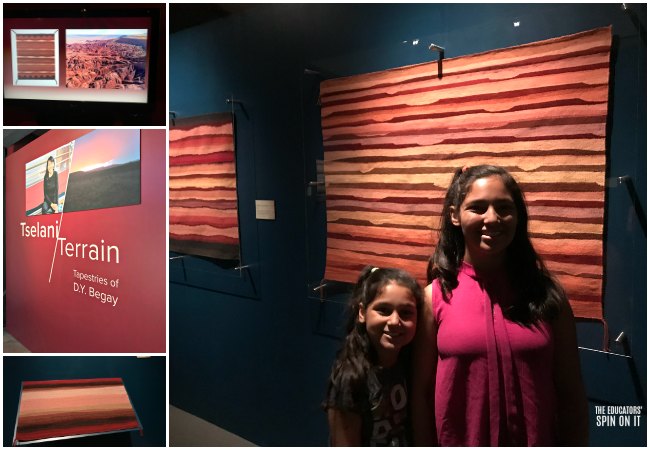 Weaving Projects for Kids inspired by the Navajo Nation
We were so lucky a few years ago to discover the beautifully colorful weaving from the Navajo Weaver D.Y Begay at the Museum of Northern Arizona.
There are 574 federally recognized Indian Nations (variously called tribes, nations, bands, pueblos, communities and native villages) and 6.8 million Americans identify as Native American (about 2% of the country's total population).
Learn more about the 10 Tribal Communities featured at the Museum of Northern Arizona.
Here's an interview with the artist D.Y Begay, which was so inspiring to learn more about the Navajo Weaving Patterns and history.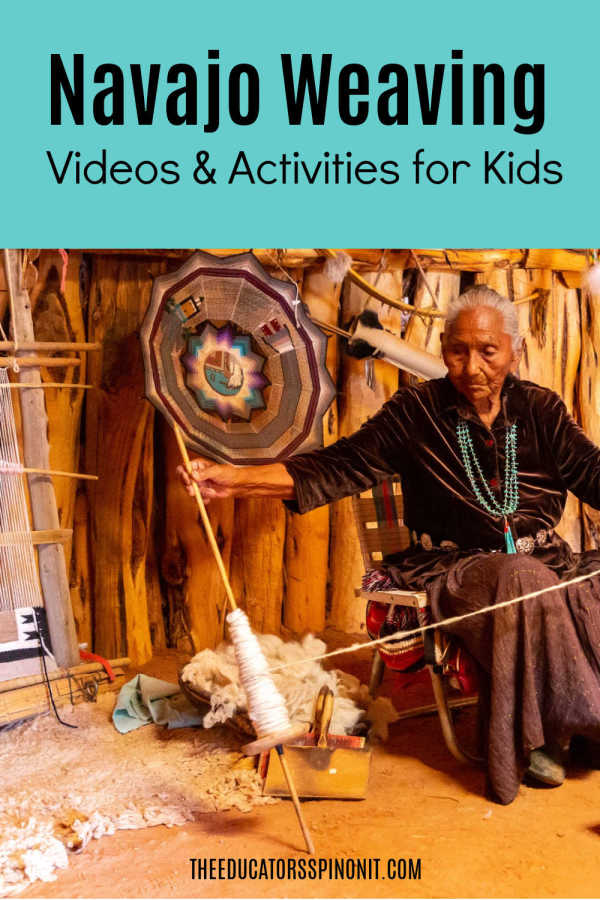 Navajo Weaving Videos for Kids
I've put together a collection of videos for the kids to watch to learn more about Weaving, especially Navajo Weaving inspired by this artist and the Navajo Nation.
There's even a few video tutorals at the end of this article for how to teach your child to weave.
Navajo Loom Weaving with vocabulary terms to learn and know.
Nihi! KIDS TALK to a Weaver
Navajo weavers Barbara Teller Ornelas & Lynda Teller Pete.
Navajo Weaving – Navajo Historian, Wally Brown, teaches a little bit about weaving. Weaving is traditionally done by the women. In this video Wally talks about his mother and how she learned to weave.
Navajo Rug Weaving ~ Monument Valley
Navajo Weaving
From start to finish, you can see the process of Navajo weaving from shearing the sheep to carding the wood to weaving on an upright Navajo loom. Marie Begay is one of five sisters from the Burnham area of the Navajo Reservation in New Mexico who have taken Navajo weaving to level of fine art.
Barbara Teller Ornelas on weaving
See How Indigenous Weaving Styles Are Preserved in Guatemala | National Geographic
Nihi! KIDS TALK Is Weaving Still Relevant?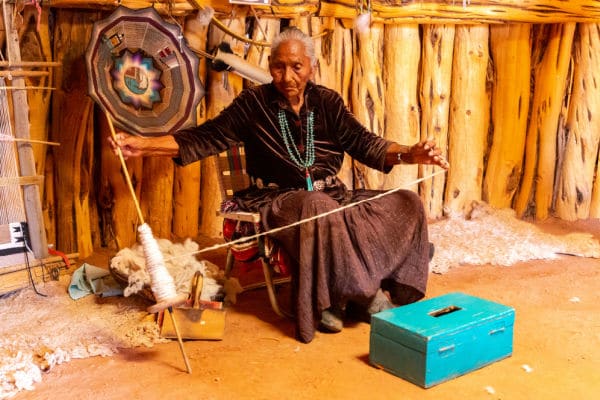 Books About Navajo Weaving
Looking to learn more about Navajo Weavers? Here are a few books to checkout at your library.
There are many more books for kids to celebrate the Native American Culture. We found quite a few during our trip to the Musuem of Northern Arizona. You can view our book list here.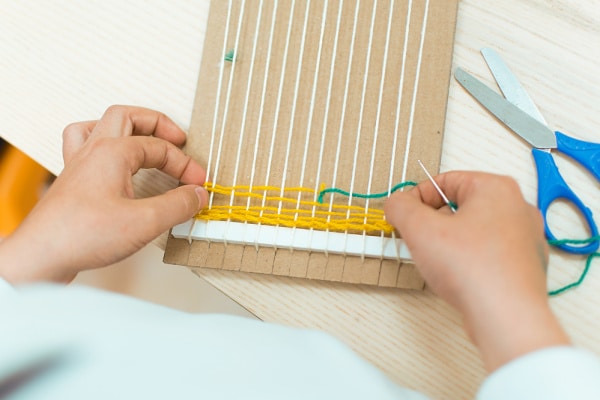 How do you teach a child to weave?
This introduction to weaving for kids is a great craft-at-home activity because it uses just cardboard and basic craft supplies you probably have around the house. Start with a cardboard circle (the center of a paper plate works great). You'll need some yarn, but don't stop there!
Let kids pick from strips of fabric or paper, ribbon, chenille stems, feathers and anything else that's fairly flexible. This weaving craft helps younger children develop fine motor skills and dexterity while getting creative with colors and textures.
Weaving on a Cardboard Loom
Weaving loom made with a shoebox
Weave on a Mini Loom
How to Finger Weave: A Quick Lesson in Basic Indian Braiding
DIY How to make an Aztec style friendship bracelet Step by Step tutorial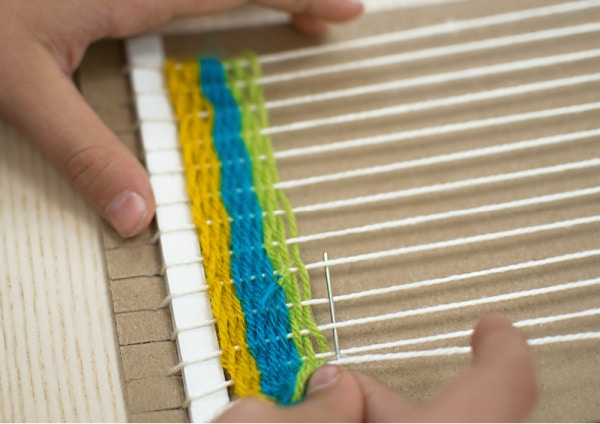 There are so many fun ways to learn about weaving with your child. The next time you're planning an adventure, be sure to plan a visit to the local native american artists who many have their weaving on display or even for purchase.
Please remember how important it is to support original art from the Indigenous People from a specific region, they rely heavily on the income generated from selling their art. Avoid any knock-offs.
What is Indigenous Peoples' Day?
Indigenous Peoples' Day honors the past, present, and futures of Native peoples throughout the US. The holiday recognizes the legacy and impact of colonialism on Native communities, and it also celebrates the cultures, contributions, and resilience of contemporary Native peoples.
It's celebrated on the second Monday of October.
Check here for virtual and local events honoring Indigenous People's Day in your area.
Indigenous Peoples Day Activities for Kids
My goal is to add many more activities to honor Indigenous People's Day with kids. We'll be sharing them here for you on the site. Just like our trip to the Museum of Northern Arizona. If you have any activity suggestions or special spots to visit please share them with me in the comments below.