Create an invitation to learn your ABC's this Halloween with this witch themed alphabet game of hide and seek. With a a playful witches hat, cauldron and magnetic letters you can bring to life this magical alphabet spell with your preschooler.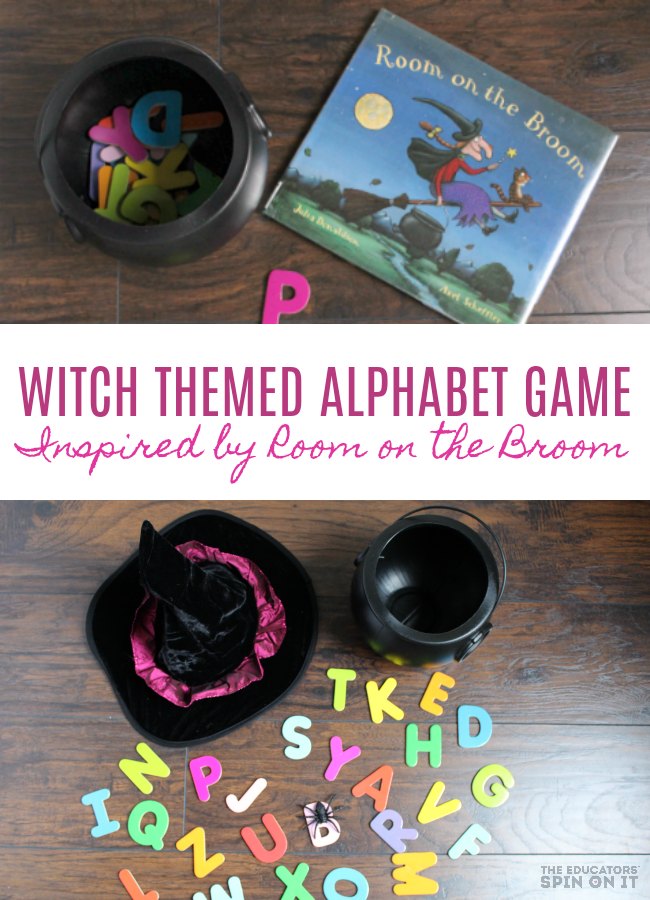 Disclosure this post contains affiliate links to amazon. Witches clipart is from MyCuteGraphics.com
Room on the Broom Activities for Kids
As Halloween approached we thought it might be fun to add a little witch and potions fun to our preschool activities at The Educators' Spin On It! One of my favorite books about witches is called Room on the Broom
by Julie Donaldson.
You might remember her name from our popular Gruffalo activities that featured her book The Gruffalo.

Room on the Broom
by Julia Donaldson
This best selling book from Julia Donaldson invites your child into the world of a witch and her cat happily flying through the sky on a broomstick. Then the wind picks up and blows away the witch's hat, then her bow, and then her wand! Three helpful animals find the missing items, and all they want in return is a ride on the broom. But is there room on the broom for so many friends?
You can print out activities to go along with this book on her website Room on the Broom . The Room on the Broom finger puppets are my favorite!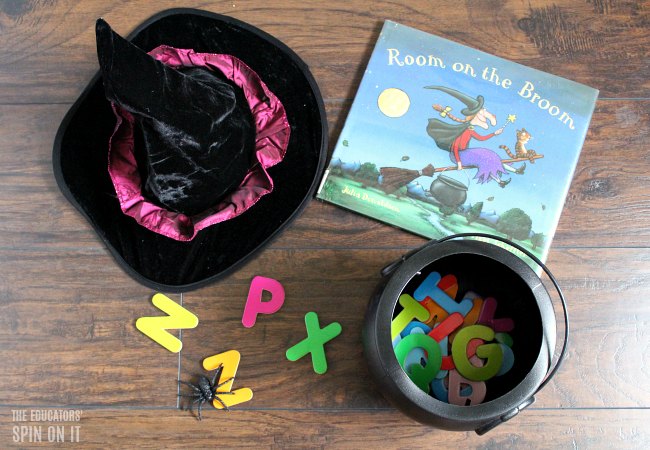 Witch Themed Alphabet Game
Put a witch themed spell on this Hide and Seek Alphabet Game using items that you have already pulled out for your Halloween fun. Your child will learn their letters of the alphabet spooky fast with this game!
Here's what you need…
Materials for Witch Themed Alphabet Game
witches hat
cauldron
magnetic letter or alphabet blocks
How to Play Witch Themed Alphabet Hide and Seek Game
1. Gather your witches hat and cauldron to go on this special halloween hide and seek game with your little one.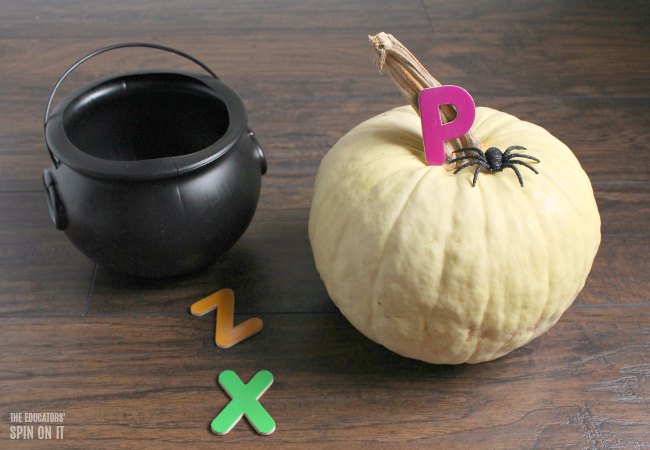 2. While your little witch is covering their eyes with a witches hat "fly around the room on your broom" and hide the letters of the alphabet.
For little ones I would start with just a handful of letters to teach them how to play. You could even start with the letters in their name.
To make the game more challenging you could find items for them to hide the letters by that match the letters that they have in their witches cauldron. There are a few ways to spin this Witch Themed Alphabet Game!
For older kids you could expand to look for their sight words or spelling words.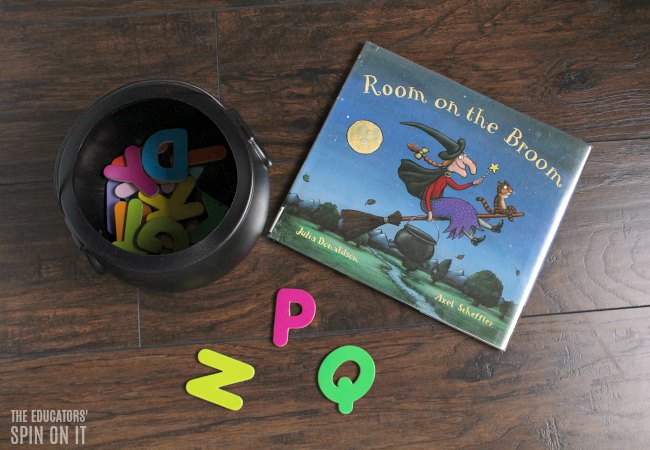 3. Now it's time for them to uncover their eyes and search around the house with their witches cauldron for all of the hidden letters of the alphabet. As they find each letter encourage them to shout out the name of the letter and the sound of the letter. It's a great way to start learning to be confident in their literacy skills.
4. Bring all the letters back in the witches cauldron and encourage them to match them to our Witches Alphabet Printable.
Available for .99 cents!
Click below to download now.
Share a photo with us how your child playing the Witch Themed Hide and Seek Game in our VBC Facebook group! Join now!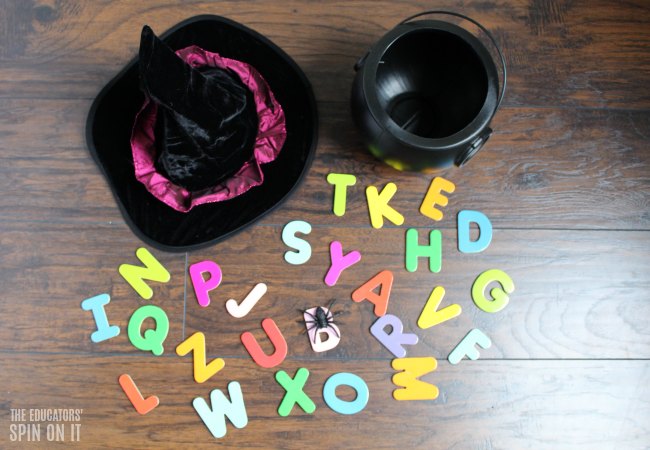 You can visit more Witch Themed Activities at The Educators' Spin On It or you can take a look below and be inspired by the 20+ Witch Themed Activities from our Virtual Book Club for Kids CoHosts!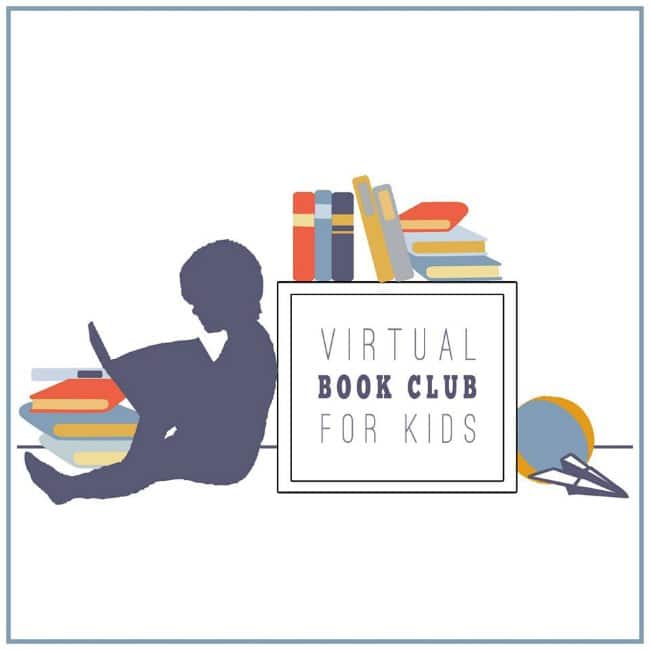 Join our Weekly Virtual Book Club for Kids Facebook Group
YOU'RE INVITED. We're inviting you to join along and share your own witch themed ideas with your child or students using the featured story Room on the Broom
.
You can share on our facebook page or join our VBC Facebook Group and share there with 10,000+ members!
I'm featuring below here for you to go check out and get ideas for your preschooler ages 2-5.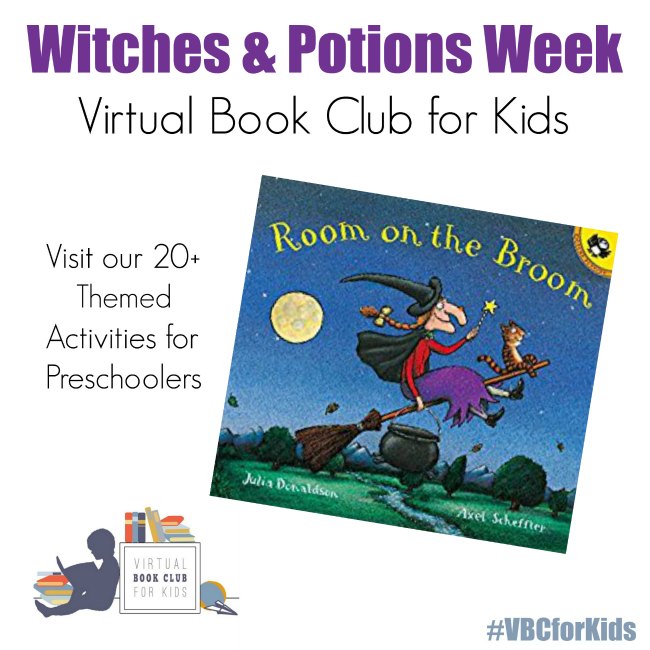 Witches and Potions Crafts and Activities for Preschoolers
Alphabet Activity: Room on the Broom Sequencing– Growing Book by Book
Room on the Broom Ordinal Numbers Activity – Rainy Day Mum
Room on the Broom Preschool Math– My Storytime Corner
Edible Witches Brew Slime– Teach Beside Me
Bubble Games – Blowing Bubbles in a Brew by JDaniel4's Mom
Fizzy Potions Juice Lab – Inspiration Laboratories
Cauldron Drawing Activity – Mama Smiles
Click here to see which books we're reading together with you and your preschooler for the Virtual Book Club for Kids this Fall!
You may also enjoy these spooky activities for kids this Halloween…