Create your very own zoo with this adorable Zoo Animal Counting Activity. Using wooden popsicle sticks and tiny plastic zoo animals your child will practice their number recognition, fine motor skills and build their imagination with this fun zoo activities for preschoolers.
This book activity is a fun way to sneak in math as you read the popular book Good Night Gorilla.
Here's how to play this math game.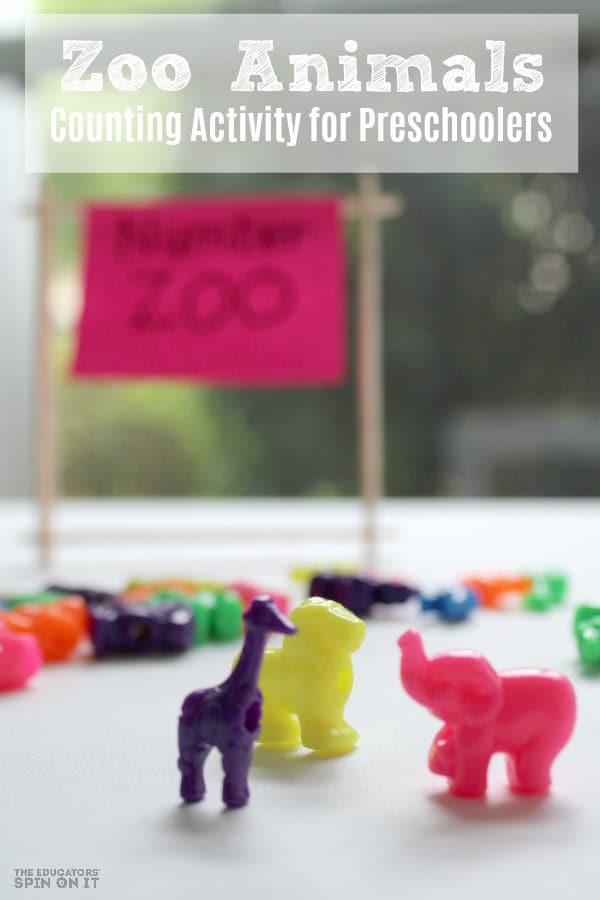 This post contains affiliate links to Amazon.
Our featured book for the Weekly Virtual Book Club for Kids with this book activity is called Good Night Gorilla. It's a must-have picture book for all toddlers and preschoolers. In the story the zookeeper says goodnight to each of the animals as he heads home for the night. However, there's a mischievous gorilla with the keys who has a different plan. Sneak along behind the zookeeper and see who gets the last goodnight in the adorable zoo themed book. Grab your own copy of Good Night Gorilla here.  

Good Night, Gorilla
by Peggy Rathmann
DIY Zoo Animal Counting Activity
We had so much fun making this zoo animal county activity together. It took a lot of fine motor skills to build with these wooden skills sticks  but they were so much fun.  It made for an ideal engineering activity for my little one and me to do together. I'll be adding this to the list of our favorite STEM Activities for Kids. We headed to our local craft store to get these two items to make this activity.  Animal Beads and Wooden Skills Sticks. 
You could easily order them online too from Amazon. I love that we could also use the animals to bead together for a different type of fine motor activity or to create a fun pattern together too.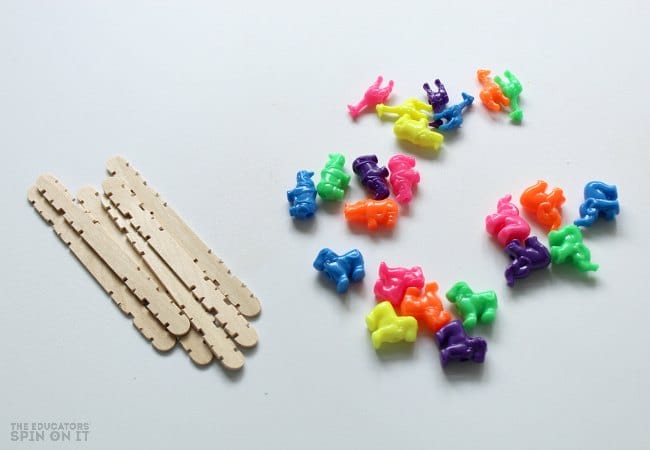 Materials Needed for Zoo Animal Counting Activity

Directions for Zoo Animal Counting Activity
1. We started by building the signs for our Number Zoo. We used colorful post-it notes to label our zoo sign and then to label each of the numbers. Starting with numbers 1 to 5 we created together. Later on, my daughter continues on with the numbers to go from 1 to 10.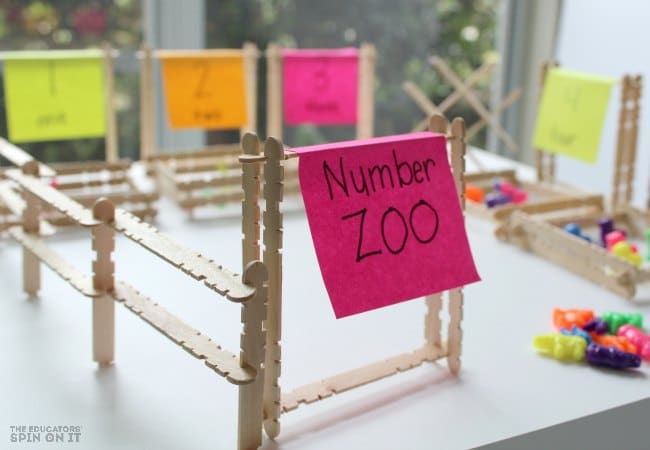 2. To build the standing zoo number signs take 6 wooden skill sticks. You simple use the groves in the sticks to connect them together.  We used two sticks on each end to attach one on the other end. Then you can stand them up to create your signs for the zoo animal county game.
3. Then attach the post-it notes with numbers onto the standing signs. Place around the area to design your own zoo.

4. Once all the number signs are placed it's time to build the areas for all of the animals in your zoo.  We simply used the same design that my daughter came up with using 6 sticks and laid them flat on the ground.
You could easily create other designs too to make your zoo. You can see below in the far back of this photo that we made a more containerized structure that she pretend was her reptile house.
The ideas are limitless when you design your own zoo exhibits for animals. It makes for a great conversation about zoo habitats and how to make them as close as you can to their native surroundings and why it's important.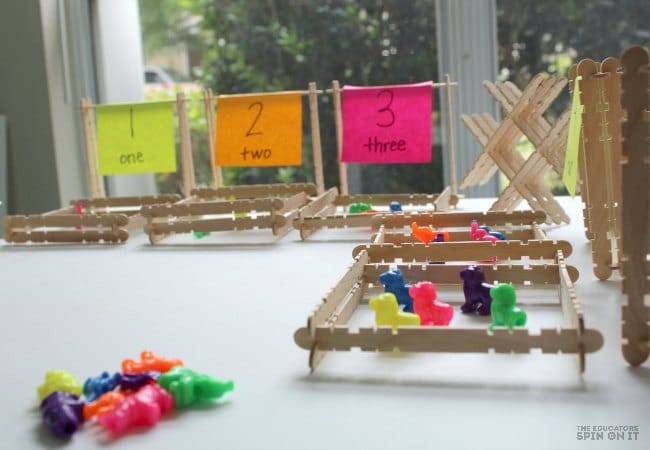 5. TIME TO COUNT! Now is the fun part where your child can being to count out how many zoo animals go into each designed number area according to the number signs that they've created for their number zoo.
You may have a few conversations about how certain animals have to stay with their own kind for their protection but how others can be together.  Always fun to sneak in some science into their math activities too.
Here's a peek below at how my daughter set up her Zoo Animal Counting Activity…

Looking for more number activities for your child? Try these zoo preschool math worksheets.
Zoo Themed Books for Preschool
No matter the age young children seem to always love books about the zoo and all the animals that live there. Here are a few of my favorite zoo books.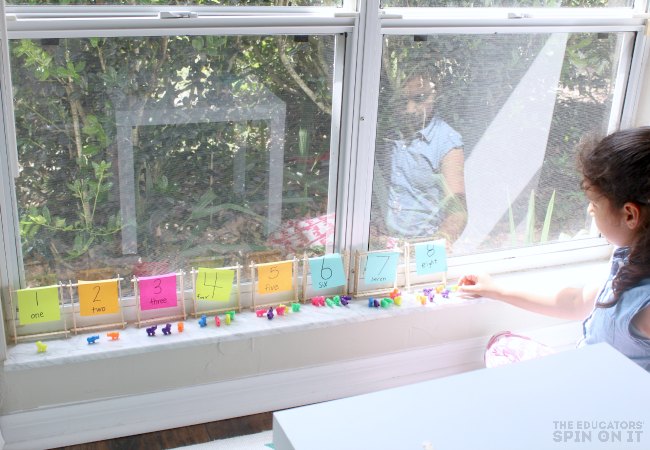 Zoo Theme Math Activities
There so many fun way to use these adorable Zoo Animal Beads for your math activities. You could also create addition and subtraction problems to do in each of the number signs for your older kids.
You could use the animal beads to create math patterns on pipe cleaners or onto strings.
Here's a peek below at additional Zoo Themed Activities for your Preschooler to do to go along with the book Good Night Gorilla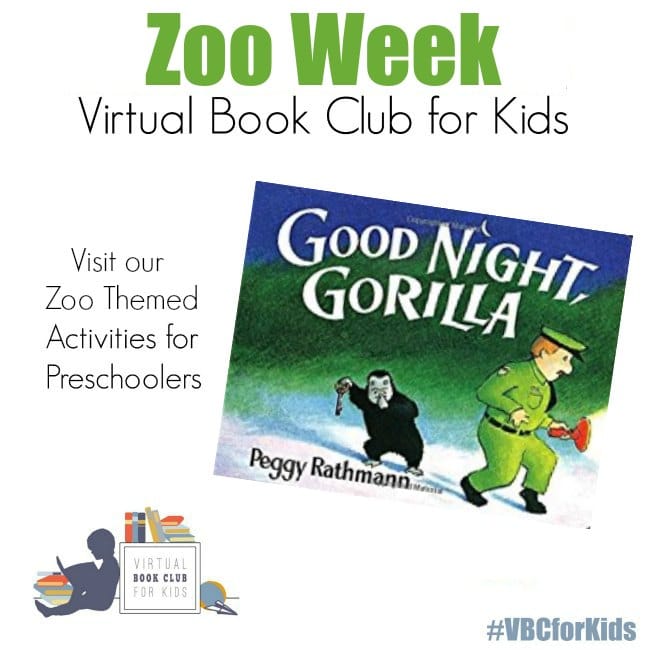 Zoo Themed Activities for Preschool
Come share in our Virtual Book Club for Kids Facebook Group your own zoo ideas too!
** LIKE IT? PIN IT FOR LATER! **