This Valentine's day craft helps to teach children kindness and how to express to others. Create a Valentine's thumbprint card inspired by the book The Lion and the Mouse with your child.
Let me show you how easy this Valentine's Day Card is to make with your child to express Kindness.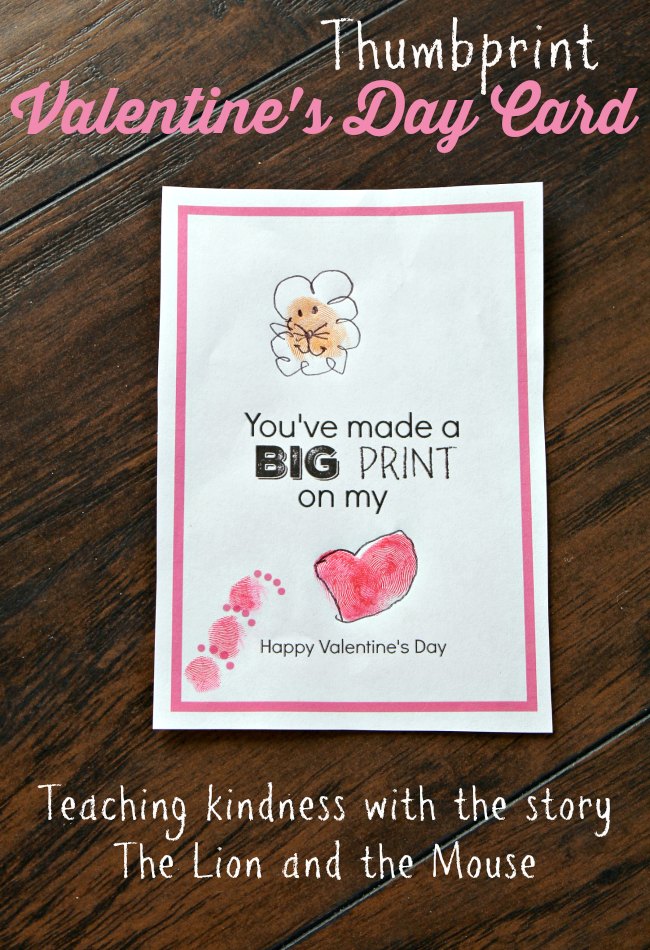 In this post I'll share with you an adorable way to encourage kindness as we approach this season of Valentine's Day. With this Valentine's day craft idea you can help to create a culture of kindness in your child's friend circle and within your community. Are you ready to focus on raising nice kids together?
This post contains affiliate links

The Lion & the Mouse
illustrated by Jerry Pinkney
For the weekly Virtual Book Club for Kids we're featuring the theme of Kindness with the featured book The Lion & the Mouse in this wordless book illustrated by Jerry Pinkney. In this fable by Aesop, a lion threatens a mouse that wakes him from sleep. The mouse begs forgiveness and promises to repay him for not killing him. The lion then agrees and sets the mouse free. Later, the lion is netted by hunters. Hearing it roaring, the mouse remembers its promise and frees it by gnawing through the ropes. The moral of the story is that mercy brings its reward and that there is no being so small that it cannot help a greater. You can take a peek at Jerry Pinkney explaining his inspiring behind illustrating this story.
This story inspired our adorable lion themed thumbprint Valentines' Day Card.
Lion Thumbprint Valentine Card
Materials
ink
paper
marker
scissors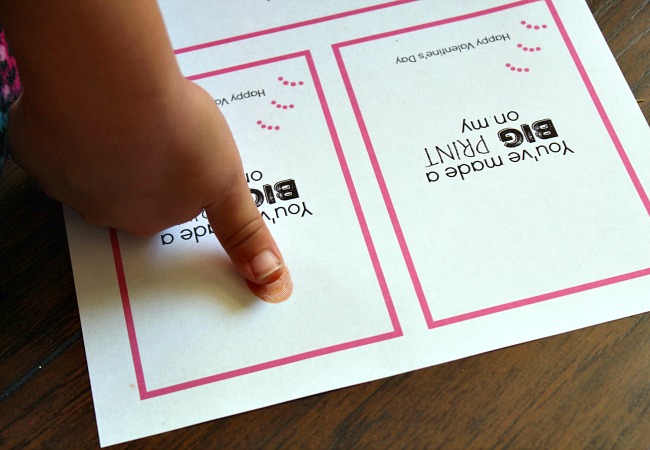 Directions for Lion Thumbprint Valentine Card
1. Read the story The Lion & the Mouse
with your child. Discuss how kindness was expressed in the story with the mouse and the lion.
2. Print out on paper or cardstock this template to create a Lion Themed Valentine's Day Card
3. Using the ink make a thumbprint to make the lions heard above the text.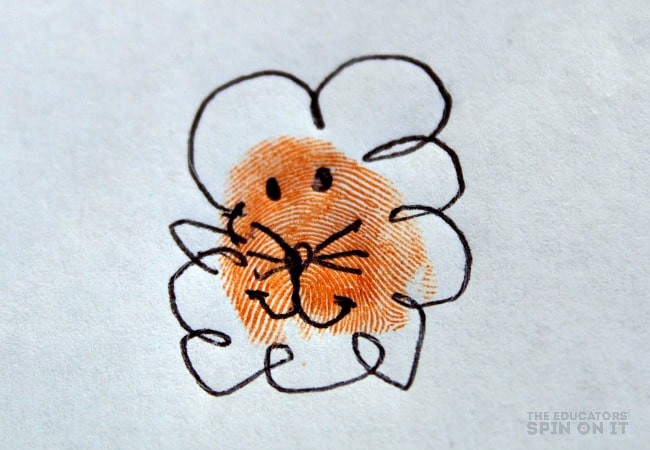 4. Use a market or crayon or pen to make the Lions face and mane.
5. Under the text use two thumbprints to make a heart.
6. Under each of the tiny 4 circles create a tiny paw print with your pointer finger.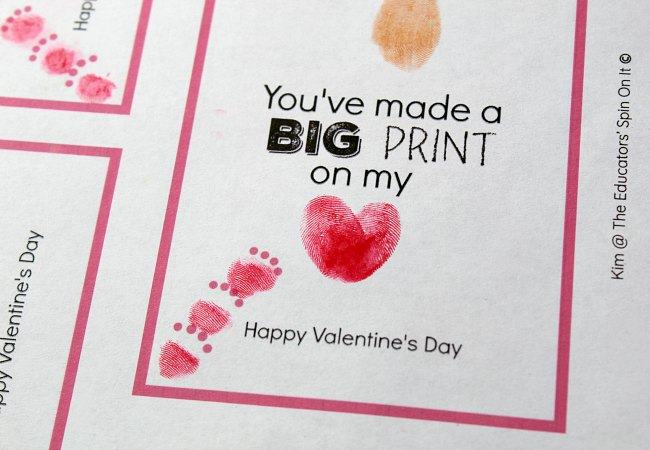 7. Take the thumbprint valentine card and cut to the approach card size
8. Write your name to share with someone special as an expression of kindness.
Click HERE to DOWNLOAD PRINTABLE
You can make this thumbprint valentine card with any animal you want to, we simply choose the lion. I think one as a mouse thumbprint would be adorable too. Here are two quick printables below you can download to use too if you wanted your child to give someone a quick gift to express their kindness to others. You might be wondering how can you teach children to take care of others? It takes baby steps as we begin to teach kindness activities and this thumbprint card is a great start.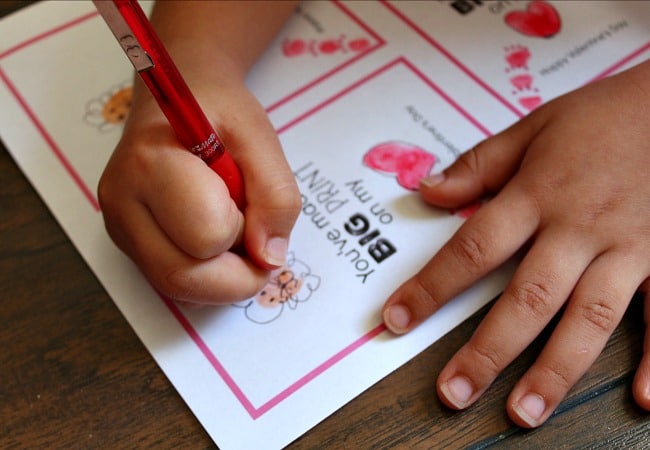 Teaching Kids about Kindness
Take this sweet thumbprint valentine card and have your child make and share with someone who's making a daily impact in their lives….
You can surprise a family member in the mail.
Leave at the front door of a neighbor
Share with a teacher
Give to the Post Office Employee or Delivery man or even Waste Management team that stops by each week.
Share with a playmate or classmate.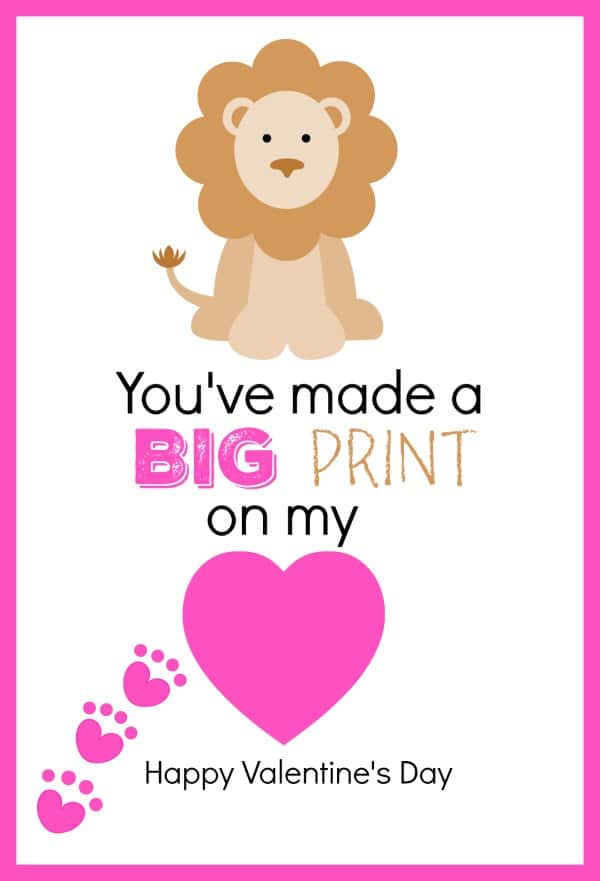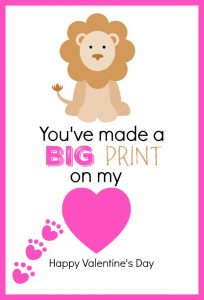 PRINT this VALENTINE'S DAY CARD HERE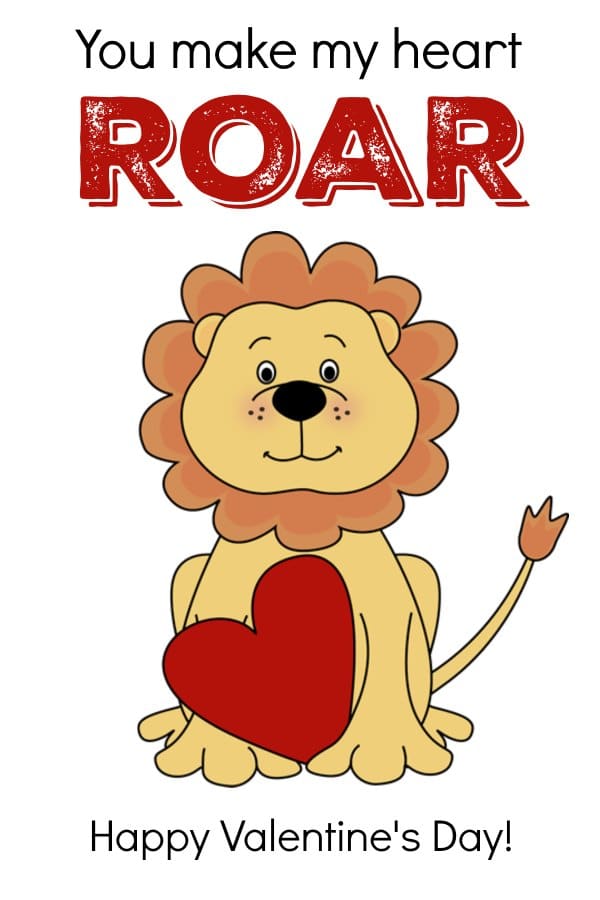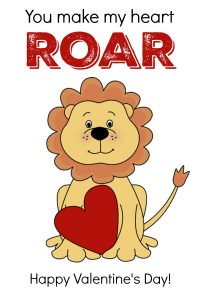 Lion Image from MyCuteGraphics.com
There are so many sweet ways to teaching children how to express kindness. Here's are some of my favorites from The Educators' Spin On It.
Quick Movement Activities to Learn about Kindness
Create several lion paw prints and mouse paw prints and have your child name acts of kindness to write and draw on them. Then have them lay them around the room and jump from act of kindness to the other as they read them with you. Pick one each day this month to join the 100 Acts of Kindness Challenge!
Books About Kindness for Preschoolers
Here are some of my favorite books that highlight expressing kindness towards others. You can print the list in our vbc facebook group.

The Kindness Quilt
by Nancy Elizabeth Wallace
Ordinary Mary's Extraordinary Deed by Gibbs Smith
Have You Filled a Bucket Today?: A Guide to Daily Happiness for Kids by Bucket Fillers
Last Stop on Market Street by Matt de la Peña
Those Shoes by Maribeth Boelts
Horton Hears a Who by Dr. Seuss
We All Sing With the Same Voice by J. Phillip Miller
Should I Share My Ice Cream by Mo Willems
Be a Friend by Salina Yoon
Little Blue Truck by Alice Schertle
We are so excited about all of these ideas for even more kindness themed fun.
Activities to Develop Kindness With Preschoolers
Check out the other activities below from our VBC Co-Hosts this week:
We'll all be sharing even more ideas for teaching kindness to kids in our weekly virtual book club group on Facebook. Click below to join for FREE. Plus you can share your ideas too.
NEXT WEEK we're featuring the theme of Penguins with the book Penguin and Pinecone
by Salina Yoon