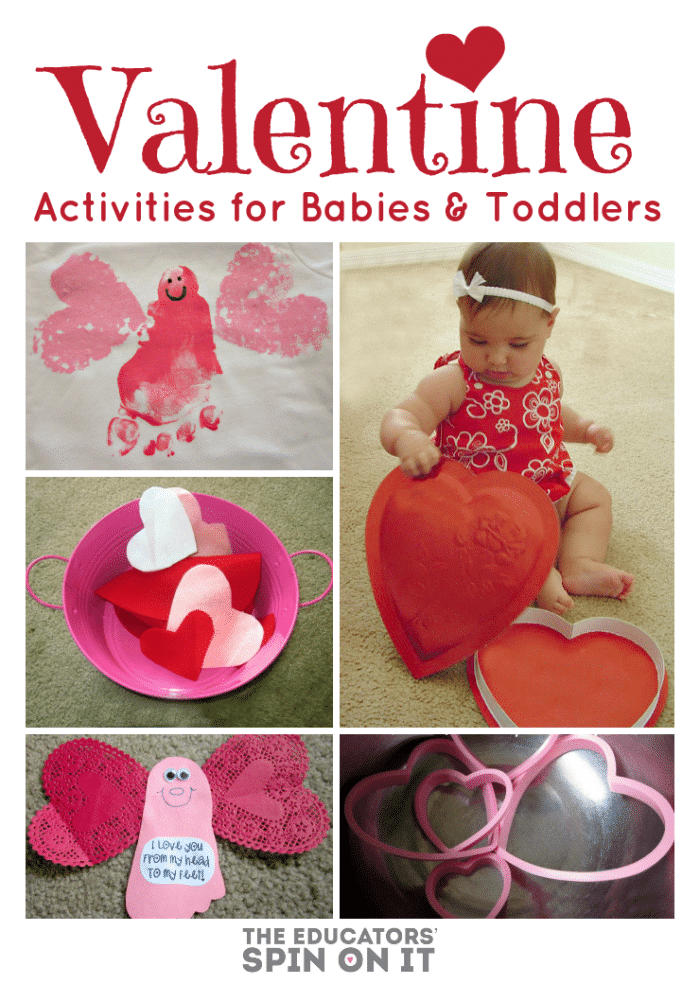 It's hard to believe my littlest one is going to celebrate her second Valentine's Day.  Last year we were taken sweet pictures of her the size of a chocolate box and this year we're playing with chocolate boxes. My oldest daughter was 6 months old for her first Valentine's Day.  She was in love with the box of chocolates.  Here's are some heartfelt activities that I know your little ones will enjoy!
It's always fun to give your baby something new to explore.  We're using Felt Hearts for playtime.  I cut out some felt hearts in various sizes so that we could explore the hearts.  I also gave her a container to keep them in.  I made sure to make the hearts in both matching color and shapes so that she could find the same.  Creating learning opportunities to sort objects and demonstrate new vocabulary is important at any age.  We used words like big, small, same, different, red, pink and purple.  They would make a cute Valentine gift for your child!
 I took her scribbles and cut out some Hearts in various sizes to decorate for Valentine's Day.  Then we took the hearts and glued them onto a paper to create butterflies.  We hung them up on our fridge but you can also make Valentine's Day card for Daddy or Grandparents with them.  When we glued them I made sure not to put glue on the end so that their wings could lift up off the paper as though they are flying.  Here's how our Butterfly Hearts from Scribbles turned out.
We explored using a heart cookie cutter to make prints with washable paint.  I added a few drops of soap into our already washable paint to make it a little bit easier at clean up time.  Before we started  using the cookie cutter I gave her some time the day before playing with it.  It's important to let you child experience the art supply before expecting them to create something with it.
Love Bug Footprint T-Shirt
Valentine Snack Time
We enjoyed our Heart Breadsticks from Little Hands That Cook with Books.  If you haven't checked it out you might want to for a little special snack for family or friends.  My daughter loved the heart bread stick  and they were super simple!
Valentine's Day Shopping List

Acrylic Felt Value Pack – Red, Fuchsia, Dark Pink, White (25 Sheets Per Colour)
Steel Fun Pail, Hot Pink
Hope you enjoy this special time with your baby.  Take the moment to really see your baby and loved ones.  Validate them and express to them they are a person who's important to you.  Taking the time to say I Love you with hugs and kisses and smiles. I promise you, your child will love you forever for those moments and grow up happy, confident and loved!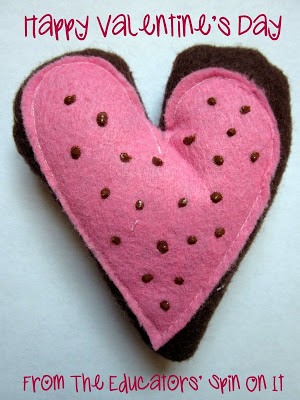 The Educators' Spin On It Activities are suggestions to play with your child with together. 
Please use at your own risk and provide adult supervision at all times. 
You know what's best for your child and are your child's first and most important teacher.