Handmade gifts can be as easy as 1-2-3!  To keep costs to a minimum try to make projects using the materials you already have on hand.
Handmade Gift Ideas for Kids
 For a sweet little toddler in our life, we decided to make a basket of sweets!  Although hand-made felt food is cute all by itself, what toddler doesn't love a basket or bag with handles to put things in and out of and drag around?  And what parent doesn't like a gift that comes with an organization built in?  I know I sure do!
Make a Fabric Bowl Gift
The fabric bowl was first. I bought fabric in 2 colors that matched her bedroom colors and then added in some scraps from my own stash to make this soft fabric basket with handles.  There is no need to make a tutorial because my friend Vanessa over at the Crafty Gemini already rocked this project with an easy how-to video. She uses the thicker cording.  I use the medium weight one and have found it was much cheaper at Walmart in the clothes-line section than JoAnn's.
Create Fabric Foods
I then started on making the cupcakes!  I thought I had a pre-made pattern on hand, but couldn't find it and just made my own.  Add a few donuts and cookies and you are all set for a bakery or cooking playtime!  Felt food is great for parents on a budget, but my warning is that it does take a LOT of time to make each piece.  I can hand sew in the car and took these on trips to finish them.
Here are some Felt Pretend Food Patterns and Tutorials:
Learning with Play
Now, I know pretend play is SO beneficial to young children, but I like to add a twist to kids play so that they are exposed to letters and number concepts from an early age.  Fabric numbers and letters have been around on many blogs like
From the Hive
,
Happy Together
and
Counting Coconuts
. I just sewed a white fleece between 2 cotton layers, top stitched them together and used my pinking sheers to keep them from fraying.  You could spell out the little ones name for another idea.  I wanted her to be able to put the numbers out and match a sweet to a number for practice in 1:1 correspondence and beginning number sense. So there are 9 sweets (The cupcake I was finished on the way to her house is not pictured) and the numbers 1-9.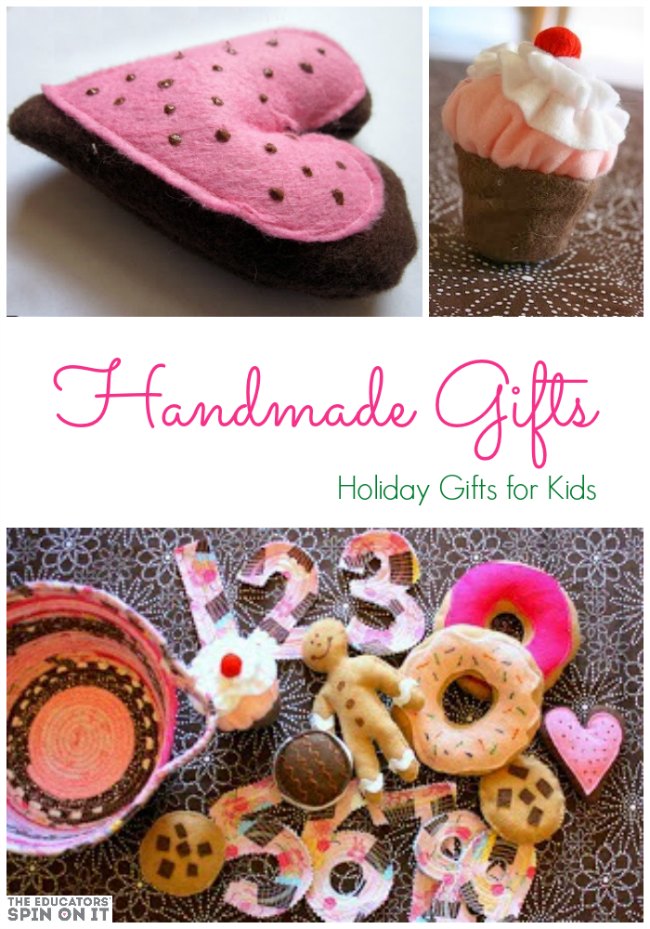 Crossing my fingers she loves them
Save