We're approaching the 100th Day of Kindergarten with our children, or as I like to say 100 Days Smarter! We did a few activities to learn about 100 and thought we'd share.
I love these ideas because they teach multiple concepts in one.
We enjoy providing learning opportunities and projects for our children afterschool and/or on the weekends with our 5 year olds. Because our time is limited, it's great when we can tie in multiple concepts into a project to help save on time and most importantly to make it more meaningful.
Here are a few activities that we created that relate to our 100th day of school that we're celebrating this week but also ties in Valentine's Day, Random Acts of Kindness, plus teaching Math and Reading.
Bird Seed Heart Shaped Feeder
We found a special Valentine's Day Poem and thought it would be nice to give the birds their very own Valentine. We've been working on Random Acts of Kindness the past month.
We printed out the poem for our wall to memorize and then created our Bird Seed Heart.
Here's the Valentine's Day Poem
Valentines
I gave a hundred Valentines.
A hundred, did I say?
I gave a thousand Valentines
one cold and wintry day.
I didn't put my name on them
or any other words,
because my Valentines were seeds
for February birds.
by Aileen Fisher
Make your Own Bird Seed Heart
Supplies
Peanut Butter
Bird seeds
Black Sunflower Seeds
Heart cutout
String
Directions:
Draw a heart onto cardboard and cut it out.
Create a hole at the top to attach the string from at the end of the process.
Then generously spread peanut butter onto the cut out heart cardboard.
To create our Bird Seed Heart we collected 100 Black Sunflower Seeds to line the outside and then sprinkled our "1000" seeds in the middle on the front.
Make sure you press the seeds down so they don't fall off when you pick them up.
Then insert the string into the hole.
Hang outside and observe.
Hang up the Poem somewhere on your fridge to remember the special poem.
Here's a Printable for you to use.
100th Day of School Activity
Grab 10 Stamps and 10 Paper Strips and get stamping to 100!
You can use themed stamps to create many different crafts!
We'll be making Valentine Cards, Family Mailbox and Valentine Patterns with these too!
We worked on learning the concept of 100 by grouping things into groups of 10. I had my daughter choose 10 different stamps and then she stamped them on 10 strips of paper to make a paper chain.
We practiced counting by ones and by tens to 100 as we created it and using the 100 Number Chart.
Here's our finished project, she couldn't wait to hang it up. On the back we have Happy Valentine's Day too!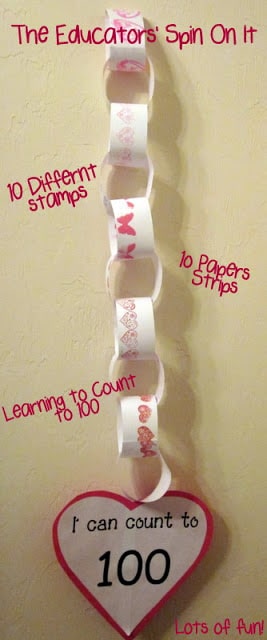 Making 100 using Base Ten Blocks
Base ten blocks are cool to begin with and a great way to show numbers in a concrete way! At our house, we have been working on building numbers from 0-100!  I've been trying to use our light box more and this was the perfect actvity.
We found a set of transparent pink and blue base ten blocks at a garage sale last year and were able to see them very clearly with our light box.
These are great because they connect together and form a 100 block, which we can stack on top of the pre-made hundred block to compare and then to count by 100's. Isn't math just exciting
100th Day of School Books
We had to read a few stories too about the 100th Day of School. Here are some of our favorites.
More Ideas for the 100th Day of School
100th Day Printable Activities from Mrs. Plant
100th Day of School from A Teacher Obsession
100 Day Pinterest Board and Song from Debbie Clement
Get more ideas with this 100th Day of School Activity with Water Beads